Buzz Lightyear Step Back
by
Joan Feder
Feature Article
This article appeared in the April 28, 2020 (#1074) edition of ALL EARS®
Editor's Note: This story/information was accurate when it was published. Please be sure to confirm all current rates, information and other details before planning your trip.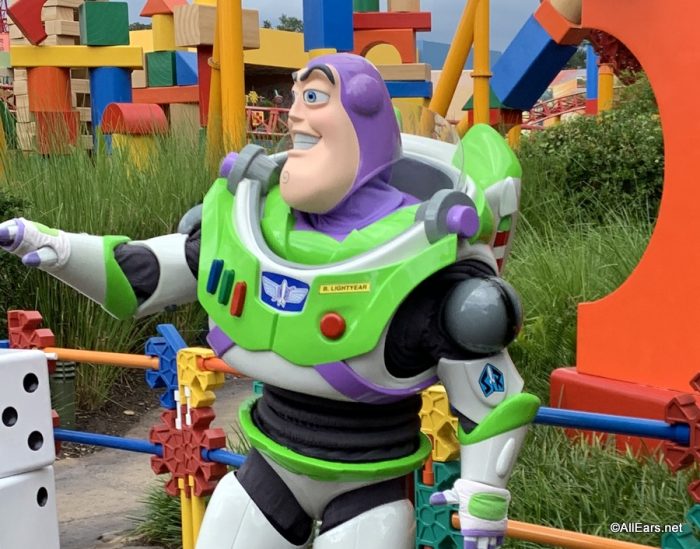 Join us on our monthly journey into the past as we explore the history of Walt Disney World and the Walt Disney Company. This time we look back to May 2008, when Buzz Lightyear traveled to infinity and beyond.
The astronaut character in Toy Story was originally called Lunar Larry. Deciding this name was less than stellar, Pixar changed it to something flashier with a historic bent. He was renamed Buzz Lightyear after Apollo 11 astronaut Buzz Aldrin, who was the second man to walk on the moon.
The first Toy Story movie was released in 1995. A 12-inch-tall Buzz Lightyear figure was part of the merchandising campaign. In 2008, Disney and NASA announced that one of these original Buzz toys would head into space. Buzz was going to fly to the International Space Station!
Buzz's trip was arranged as part of the Toys in Space Program that started in 1985.  Disney worked with NASA to create educational content that would get kids excited to study science, math and technology. There were online games to play, and video of Buzz's mission would be beamed to Earth from the Station.
Before he could take off, Buzz went to NASA to get ready for his journey. He had to lose some weight and learn some safety tips.  He was even briefed by his namesake, Buzz Aldrin before his launch. 
On May 31, 2008, Buzz took off from the Kennedy Space Center aboard the Space Shuttle Discovery. His pal Woody waved goodbye, along with thousands of launch-watchers at Veterans' Memorial Park in Titusville Florida. 
Discovery docked with the Space Station on June 2, 2008. Buzz opened his wings, put out his arms and flew aboard. 
The purpose of Discovery's mission was to deliver a new section of the Space Station. It was the size of a large tour bus and would become the Station's largest laboratory.  
Buzz had his own assignments. He took part in experiments illustrating concepts like gravity and weightlessness. He also helped demonstrate what life was like aboard the Space Station. 
Buzz Lightyear orbited the Earth for 467 days before his return on September 11, 2009. His was the longest single flight in space. His mission beat the former record, held by Russian cosmonaut Valery Poyakov, by a month. After more than a decade, Buzz still holds the record today!
When he arrived home, Buzz was greeted as a hero. There was a ticker-tape parade held in his honor, on October 2, 2009 at the Magic Kingdom.  The parade was led by Buzz Aldrin, followed by Space Station commander Mike Fincke, each in a classic convertible. Bringing up the rear was the man of the hour, Buzz himself, riding on his pal RC. 
Buzz retired to the National Air and Space Museum in Washington, DC on March 29, 2012. He is still there, in a place of honor in the "Moving Beyond Earth" gallery. The shuttle Discovery is also on display at the Steven F. Udvar-Hazy Center in Virginia.  
Want to learn more about Buzz's mission? Check out these videos on YouTube:
https://www.youtube.com/watch?v=NQef-oyaEiw&t=91s
https://www.youtube.com/watch?v=Yo4vespbJC8