April 2020: Bits and Bites
by
Joan Feder
Feature Article
This article appeared in the March 31, 2020 (#1072) edition of ALL EARS®
Editor's Note: This story/information was accurate when it was published. Please be sure to confirm all current rates, information and other details before planning your trip.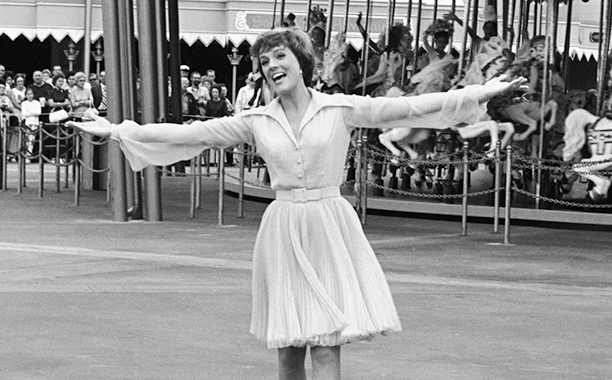 Join us on our monthly journey into the past as we explore the history of Walt Disney World and the Walt Disney Company. This time we look back at Disneyland in April 2008, when a very special lady got a very special honor.
The King Arthur Carrousel was an opening day attraction at Disneyland. It was purchased from a Toronto amusement park where it had been running since 1922. Some parts of the Carrousel are even older and may date all the way back to 1875. It is the oldest ride in any Disney park!
Walt Disney was personally involved in the Carrousel's restoration. Initially a variety of animals were mounted on the ride. Walt wanted only horses, and they had to look like they were galloping, not standing still. He also insisted that the replacements be hand-carved antiques, just like the originals.
Yet despite the similarities, every horse had to be unique. There are 68 horses, and no two are painted alike. This gives every mount its own personality. Each horse on the Carrousel also has a name. A complete list is available at City Hall on Main Street.
Jingles is the lead horse on the Carrousel. She is named for the rows of golden jingle bells that she wears. This special horse was Walt's favorite, and she is treasured by guests as well.
In 2005, Disneyland celebrated its 50th anniversary. Jingles was painted all in gold just for the festivities. She even got off the Carrousel and became a photo opportunity for guests as part of the celebration.
Disney Legend Julie Andrews played an important part in Disneyland's 50th anniversary as well. She was the Official Ambassador for this "Happiest Homecoming on Earth." Andrews also provided the narration for the special anniversary fireworks show "Remember…Dreams Come True."
In 2008, the Walt Disney Company wanted to thank Julie Andrews for her (then) 44 years of contributions to the company. They wanted to do something unique. Since she had ridden a carousel horse in Mary Poppins, they chose to dedicate Jingles in her honor!
In preparation, Jingles had her most glamorous makeover yet. This new look features Julie Andrews and her iconic role as Mary Poppins. Jingles returned to her "natural" white, accented with 18 carat gold leaf and special hand-painted designs. Her saddle features a robin, high-button boots, the initials "JA," and Mary Poppins in flight. Other details include a parrot-handled umbrella and the title "Honorary Ambassador."
The dedication ceremony was held in front of King Arthur's Carrousel on April 8, 2008. Jingles gleamed proudly in her new finery. Julie Andrews was there, along with Marty Sklar. Thousands of park visitors were also in attendance. As part of the tribute, Julie Andrews was given a miniature replica of Jingles for her very own.
According to the Disney Parks Blog, about one in five Disneyland guests rides King Arthur's Carrousel. Over the years, Jingles has had thousands of riders. Were you one of the lucky ones?
link to a brief YouTube of part of the ceremony: