A Wild Africa Three-Hour Tour
by Debra Martin Koma
AllEars® Senior Editor
Feature Article
This article appeared in the July 12, 2011 Issue #616 of ALL EARS® (ISSN: 1533-0753)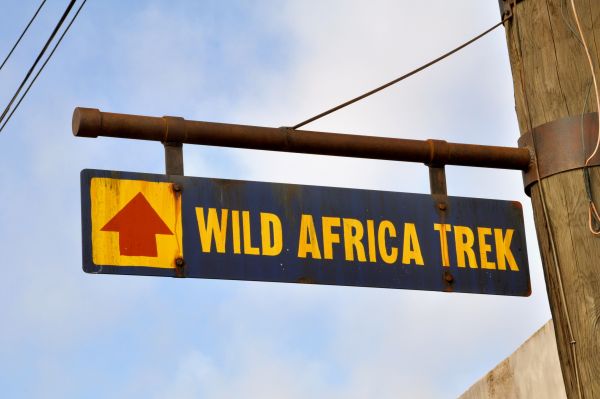 In January of this year, Disney's Animal Kingdom began offering a new "experience" — the Wild Africa Trek, billed as an "expert-led" chance to "explore the most remote reaches" of the theme park's Harambe Wildlife Reserve. Sounded exciting, if a little dangerous, to me. Especially the part where they talked about clipping into a harness attached to a safety line, and crossing a rickety rope bridge over the Safi River, home to crocodiles.
OK, why not? Sign me up!
It took me a few months, but on a very hot and humid May afternoon, I finally had the chance to join in on this new three-hour tour, when I was at Walt Disney World for the Media Resort Showcase. (Disney picked up the tab for my Wild Africa Trek, but don't worry — I promise that hasn't influenced my review of the experience!)
You have to check in for the tour about a half-hour beforehand behind the Dawa Bar in Animal Kingdom's Harambe. It's a little intimidating to have to read all the warnings and sign the waivers asserting your good health and exempting Disney from any liability if you should come to some harm, but, as I said earlier, why not? Let's do this!
After being introduced to my co-trekkers and our guides Meghan and Andy, we were weighed to make sure we met the weight limits — there's a minimum of 45 pounds and a maximum of 310 pounds. A weigh-in? That was almost the scariest part of the experience! This caused a few of the other participants to balk a bit, but the guides tried to be fairly discreet. Then I had to stow my incidentals (wallet, cell phone, etc.) in their lockers, and was suited up in the necessary gear: a heavy vest/harness combination with straps that fastened somewhat uncomfortably in between the legs and around the waist. I clipped my small digital camera to a carabiner I had brought with me, but large clips and an insulated, filled water bottle, are provided. Be forewarned, though, that anything that can't be clipped onto the vest or worn securely around your neck can't be brought on the tour.
After crossing a small-scale practice suspension bridge, just to get the feel for what we were going to encounter, we were given a chance to hydrate a bit with Animal Kingdom's special "jungle juice" and water. We were also encouraged to spray ourselves with insect repellent and sunscreen before embarking on our three-hour tour, a three-hour tour. (Why did I hear strains of the "Gilligan's Island" theme in my head?) They also armed each of us with earphones and a wireless transmitter, so that we could hear the guide, who was wearing a wireless microphone, as she explained what we were seeing. Very cool, as I never missed a single word that was said, no matter whether I was in the front of the group or bringing up the rear.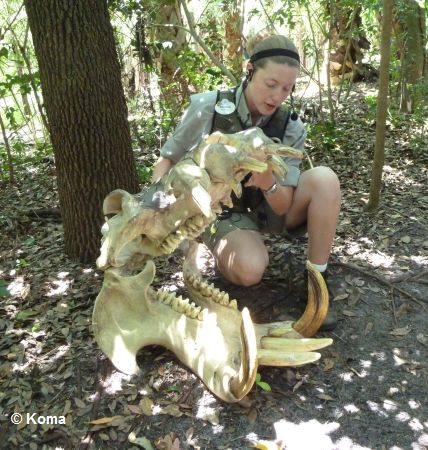 Our guides gave us a brief introduction to what we'd be seeing and doing, then led us through Harambe, and on to the Pangani Forest Exploration Trail, stopping for a moment to see the black and white, bushy-tailed Colobus Monkeys.
From there, the real trek began, with Meghan leading the way, and Andy on photographer duty. Negotiating narrow, uneven and overgrown paths lined with branches that reached out and hit me in the face if I wasn't careful, we encountered a large skull, which Meghan explained was used as a landmark in "real" Africa. Many in our party guessed that the skull, with huge tusks, was that of an elephant, but it was actually a hippo's, a good indication of what our first major stop was going to be: the Hippo Pool.
On reaching the pool, which was at least 10 feet below us, we were instructed on how to hand over the clips attached to our harnesses to the guides, so that we could be tethered to a line along the edge of the cliff above the pool. Once safely strung up, I could walk carefully along the edge of the path and actually lean way forward to get a great view of the hippos munching on their lettuce, cabbages and other vegetation.
After many photo ops, and additional background information on the hippos from a third guide who appeared from out of the blue, we moved once more along the path, eventually coming to what is arguably the tour highlight: the suspension bridge.
As excited as I was, I have to admit that the thought of crossing the suspension bridge had been giving me some concern. What if I panicked and couldn't make it across? I don't really have a fear of heights, but… And then I saw them. Yes, them. There was not one, but TWO consecutive bridges, longer and higher than I had imagined. (About 120 feet long, I later learned, and 30 to 40 feet high. Wow.) Suspended over scads of seemingly smiling and hopefully well-fed crocodiles. Yikes.
I watched carefully as my fellow trekkers were clipped securely onto the zipline-like contraption that paralleled the bridges, and one by one made their way across the twin spans. I could see that the bridges had been designed with an eye to creating some Indiana Jones-type peril — some slats were missing, others were broken in half, as if the bridge had been there for centuries and the support lines might SNAP! at any minute, leaving an unsuspecting tourist dangling above the crocs. But my common sense told me that it would be very bad PR for Disney to feed its guests to the crocodiles, especially my group, which consisted mostly of members of the media. So I gulped when it was my turn to hand my clip over to the guide, and trusted that she was hooking me up as securely as possible. Then I started out, with my camera in hand, determined to make a short video of the journey across.
What I didn't count on was that a number of the slats were irregularly spaced — I had to take giant steps to be sure that I didn't miss the next board. (I'm a rather vertically challenged 5'1" with legs sized accordingly.) A stray thought entered my head: This tour takes 8-year-olds, but they better be long-legged kiddos! There was a net right under the boards, of course, so that if I had missed a step, it wouldn't have been the end of the world, but I didn't want to take that chance. I concentrated on my feet, while trying not to look down, down, down into the chasm below — all while attempting to video the experience. The resultant 30-second snippet at least gives you an idea of what it was like. The squeaking you hear is my tether as it glided along the pulley on my zipline: http://youtu.be/Pf3z62Y4u0E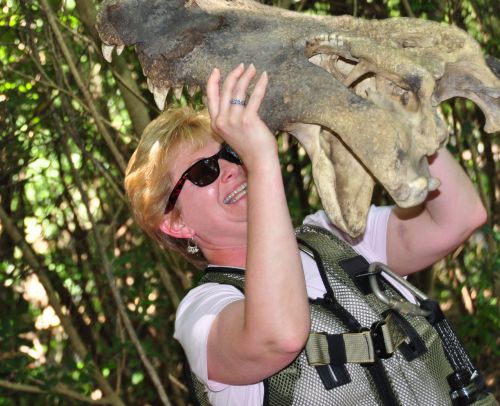 After the second bridge, we ran into our second skull landmark, that of a crocodile. This skull was a bit smaller and lighter than the hippo's had been, so we each had a turn hoisting it up and posing with it. Some of us may have gotten a little carried away, in fact. Not pointing any fingers. We also learned a good deal about the crocs — did you know that in the colder months they don't need to eat but every few months? It was interesting, but I have to say that on such a hot day the smells emanating from their pool were more than a little overwhelming. I was happy to get out of there fairly quickly.
Once past the challenge of the two bridges, the tour shifted gears, so to speak, as we were then able to take off the cumbersome vests and boarded a truck that drove us out onto the savanna, the same savanna traveled by the Kilimanjaro Safari ride. In fact, this part of the tour is not unlike the Safari attraction, with the exception that you're in the back of a truck, rather than a jeep, and the truck stopped often to allow for photo opportunities. (We were also given nifty instant-cold-and-wet cloths to help us cool down a bit. On this particular 90-degree day, they were much appreciated!)
About two hours into the tour, the guides drove us to a part of the savanna that sits a little higher than the regular safari ride route, to a covered observation deck that looks out over the peaceful terrain. After a chance to freshen up at what they called the nicest restrooms in East Africa (and they certainly were nice, and quiet, too), we were treated to a light lunch with more jungle juice or water. Brought in a two-layered camp kit, the food, prepared by Tusker House, featured a sampling of tasty finger foods (though you were given a flat bamboo "spoon" to help with eating): shrimp, roasted red pepper hummus and bread, tropical fruit salad, dried beef, prosciutto, chicken salad, even an edible ornamental orchid. Each table came with its own binoculars, and after all the exertion of the previous hours, the chance to relax and enjoy the view was most welcome.
After eating, I wandered around to the back of the overlook, which has a boardwalk addition that is new since the tour's inception. This area looks out onto the part of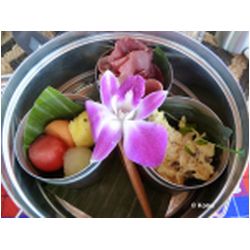 the savanna that is home to the rhinos, and, in the distance, the lions. There were a pair of conveniently placed telescopes on the deck, so that you could get a close-up view of the lion, as he lay regally up on Pride Rock. The rhinos, however, were a bit shy that day, and chose to mostly show me their backsides. Still, it was great to have the chance to view them in these quiet surroundings, in an unhurried way.
We were given about a half-hour before we had to board our vehicle again, and we continued on the safari ride path, even encountering poachers and Little Red at the end. We disembarked at the Kilimanjaro Safari unload area, and walked back to our point of origin, where we recovered our personal belongings from the locker. Oh, and one last thing — a portion of the trek's cost goes to the Disney Wildlife Conservation Fund, so we had the chance to designate how we'd like our donation to be allocated. By dropping a stone into a marked compartment in a box, we could opt to donate to the conservation efforts of Big Cats, Elephants, Rhinos, or the general fund — a nice touch.
After making sure that they had my address correct so that they could mail me my PhotoPass CD (with all the photos the guides had been snapping along the way), they gave me a FastPass for the Safari ride and allowed me to keep my water bottle as a souvenir.
And that was the end of my three-hour tour, my three-hour tour. No mishaps, no lost trekkers, just lots and lots of happy faces and the satisfaction of having yet another truly unique experience at the Most Magical Place on Earth.
So, you're probably wondering, was it worth it? In a word, yes. Obviously, it's not for someone who has a fear of heights, or does not think they could meet the physical challenges of hiking (possibly in very hot weather) for several hours. It's also not something you'd do every time you visit Walt Disney World — it's too expensive and too time-consuming for that. But I'd say it's definitely something to consider doing at least once. For your money, you get the fairly personal three-hour tour, a light lunch, a PhotoPass CD, and the opportunity to spend an extended amount of time on the Animal Kingdom savanna animal-watching (and the water bottle). If you love Disney's Animal Kingdom and the animals, and especially if you enjoy photographing the animals, you'd probably enjoy the Wild Africa Trek.
= = = = = = = = = = = = =
RELATED INFO
= = = = = = = = = = = = =
The Wild Africa Trek is currently booking through the end of September. Times vary throughout the year, but right now, the tour is offered every 45 minutes between 8 a.m. and 5 p.m. The price of the tour varies depending on the season, but is currently $189/person. Book the tour by calling 1-407-WDW-TOUR.
There are a number of restrictions associated with this tour. Participants must:
— Wear closed-toe shoes with a backstrap, or hiking boots. Skirts/dresses are not recommended.
— Weigh at least 45 pounds and no more than 310 pounds.
— Be at least 48 inches tall.
— Be at least 8 years old.
— Be in general good health, and ambulatory, with sufficient stamina. Pregnant women should not attempt the Trek.
There is a maximum of 12 participants per Trek.
= = = = = = = = = = = = =
RELATED LINKS
= = = = = = = = = = = = =
Wild Africa Trek Photo Gallery: http://allears.net/btp/wild-africa-trek.htm
Crossing the Suspension Bridge: http://youtu.be/Pf3z62Y4u0E
Hiking through the Reserve: http://youtu.be/WHduGPQJW6Q
Jeanine Yamanaka's Blog about the Trek:
http://land.allears.net/blogs/lauragilbreath/2011/02/wild_animal_trek_animal_kingdo.html
AllEars® Readers Rate and Review the Wild Africa Trek:
http://land.allears.net/reviewpost/showproduct.php?product=592&cat=66
Other Disney Tours and Experiences: http://allears.net/btp/tours.htm
=-=-=-=-=-=-=-=-=-=-=-=-=
ABOUT THE AUTHOR: Debra Martin Koma, AllEars.Net's Senior Editor fell in love with Walt Disney World on her first visit there — when she was 35! She's lost count of how often she's returned to her Laughing Place in the ensuing (16!) years, but knows that she still isn't tired of it… and doubts she ever will be. Read more of her writing for AllEars® here: http://allears.net/btp/dkoma.htm
-o-o-o-o-o-o-o-o-o-o-o-
Editor's Note: This story/information was accurate when it was published. Please be sure to confirm all current rates, information and other details before planning your trip.