We go to Disney World every day, and we know EXACTLY what to wear to be comfy and prepared for whatever weather we encounter.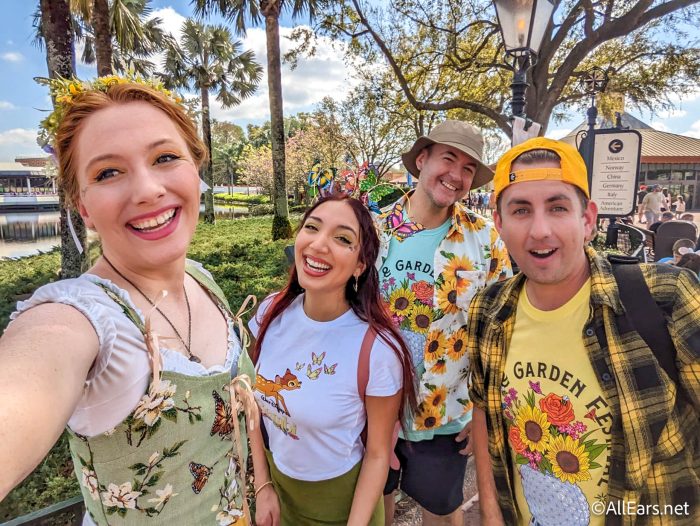 But here's the thing — you can be both comfy AND stylish without sacrificing one for the other. Of course, we also pack some necessary accessories in our park bags (water bottles, chargers, etc.), so we're going to tell you all about our essentials when we visit Disney World.
Spring can be weird in Disney World. It can be hot. Or it can be not so hot. Early spring, in particular, could be sweatshirt weather, but if you want to do something themed, how about adding a Princess-Themed Sweatshirt to the mix for your layering?  The Cinderella Sweatshirt is classic Cindy blue with flowers, while the Aurora Sweatshirt is pink with flowers. You can also grab a Snow White Sweatshirt with some animals and the poison apple on it.
Our team members also have their favorite park essentials — Fry Bucket prefers a cute t-shirt and denim shorts with a fun backpack. In that backpack, you'll find Sunglasses, a Water Bottle, and a Mobile Charger (a MUST because we use our phones a LOT in Disney World). Comfy shoes that channel Minnie Mouse vibes complete the outfit.
Quincy is also all about dressing for comfort, preferring pairing Joggers with a comfortable pair of Chacos sandals. She's also bringing a mobile charger, as well as Ear Buds and a Water Bottle in a handy backpack. Don't forget you can get FREE water in Disney World, as well as refill water bottles at water bottle refilling stations throughout the parks.
Emma's go-to park essentials include Bike Shorts and Tank Top, as well as Sunglasses, and yes, a Mobile Charger (we will ALWAYS recommend that). For carrying stuff, she prefers a Fanny Pack, and well, you also always have to have Ears, right?
And there you have it — your park essentials and outfits. If you need even MORE style ideas, be sure to head to AllEars Style to create the perfect Disney looks for any occasion!
To see more style-inspired posts, click the links below. And check back with AllEars often for Disney news and more!
Which of these outfits is your favorite? Tell us in the comments!