Things could be changing in a big way for one attraction at Disney California Adventure Park in Disneyland Resort.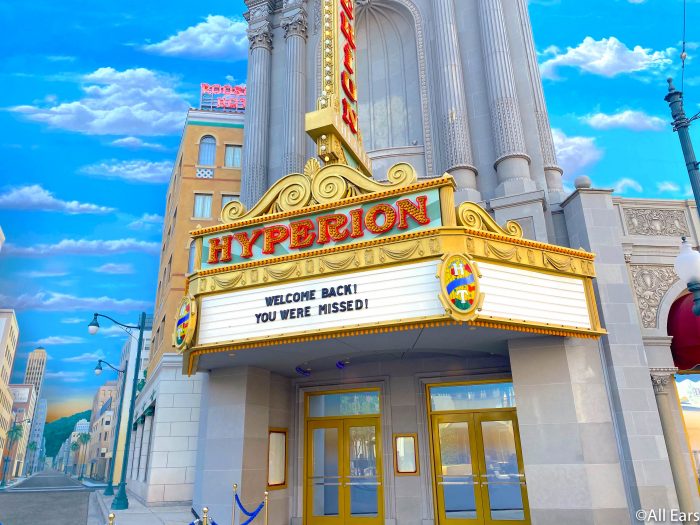 The Hyperion Theatre within California Adventure was once home to Broadway-style productions of Aladdin and Frozen. But some recent audition notices posted on Disney's website could indicate what the future holds for this space.
The Disney Auditions website currently lists a notice for auditions for singers/actors for a NEW limited-run musical at The Hyperion Theatre in Disneyland.
Specifically, they note that it will be a musical project, a Broadway-caliber production, and it'll only be available for a limited run. The show is set to come to life thanks to work being done by Disney Live Entertainment in partnership with "book writer Hunter Bell." It will also feature "music by Emmy-nominated and Grammy-winning composer Christopher Lennertz."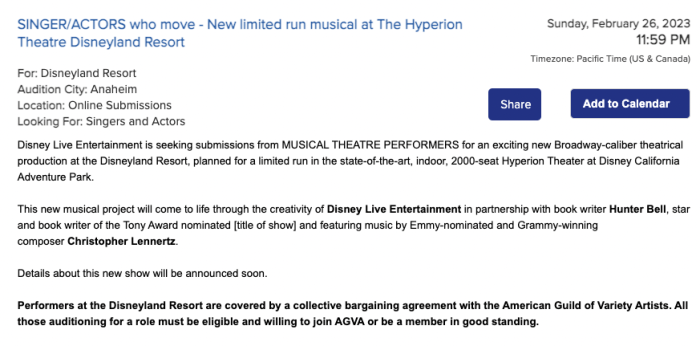 The notice doesn't reveal what show they're casting for, but the description of the roles they're looking to cast could give us a clue!
They're looking for 3 female identifying roles that are "proficient with harmonization and ability to sing in many styles from Destiny's Child to Andrew Sisters." They describe them as a "fun, energetic and musical sisterhood that acts as the occasional 'Greek Chorus.'" Hmmm…anyone getting some Hercules vibes?!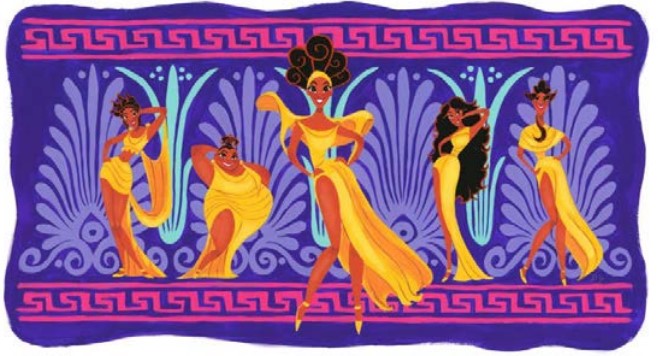 Another role is described as female-identifying playing a character that is "brave, resourceful and intelligent."
Then there's a male role being cast and that person will be playing a character described as a person "coming into his greatness." Okay, we're starting to hear "I Can Go the Distance" in the back of our minds right now.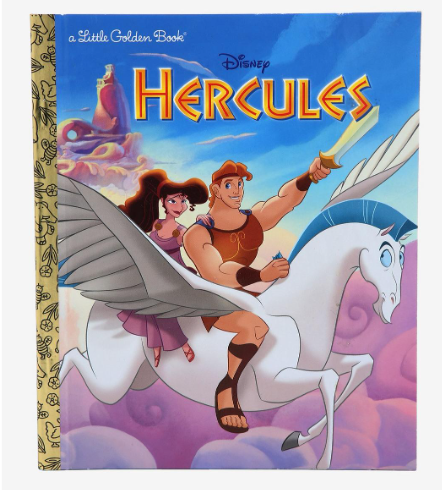 They're also seeking someone to play a male role that is "decisive, capable, principled and has a wry sense of humor."
Plus another individual will play a character that is "noble, loyal, idealistic, and romantic do-gooder, who does not give up easily." You can read the full descriptions below.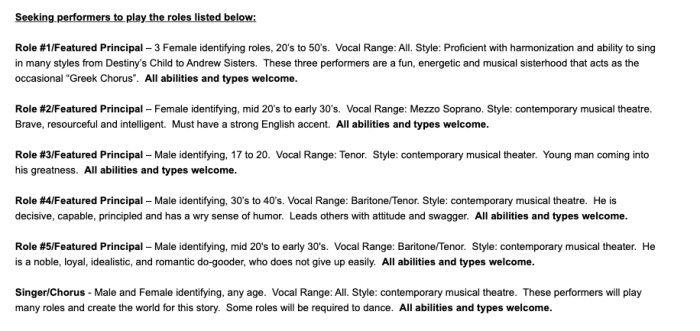 Submissions must be sent in by February 26th and callbacks will follow.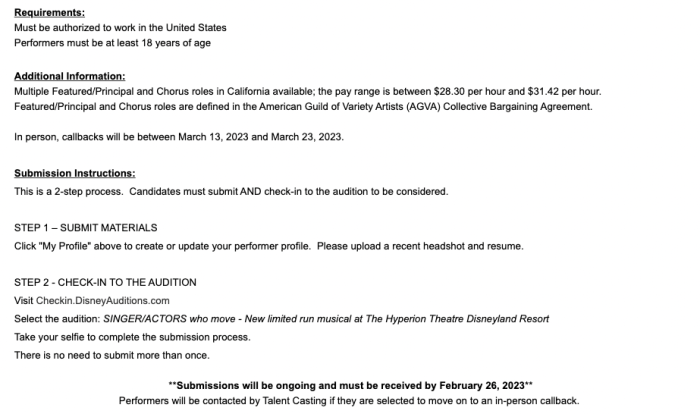 Disney has also posted a notice strictly for dancers for the new show.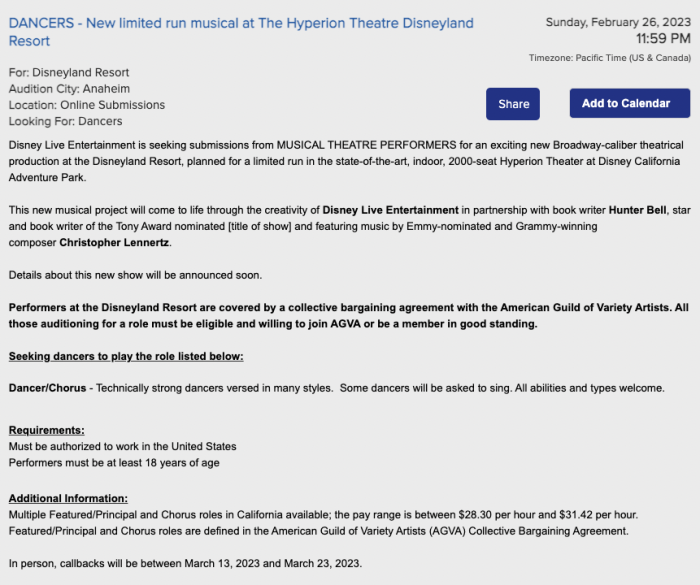 Scott Gustin (via Twitter) points out that "Bell [Hunter Bell — who is working on this project] wrote the "Villains Tonight!" show for Disney Cruise Line and Lennertz [Christopher Lennertz — who is working on the music for this show] most recently worked on Wondrous Journeys."
He also noted that while things in the casting call seem to point toward a Hercules show, Hunter Bell did work on that Villains Tonight show which was more of a mash-up, so something similar could be explored here.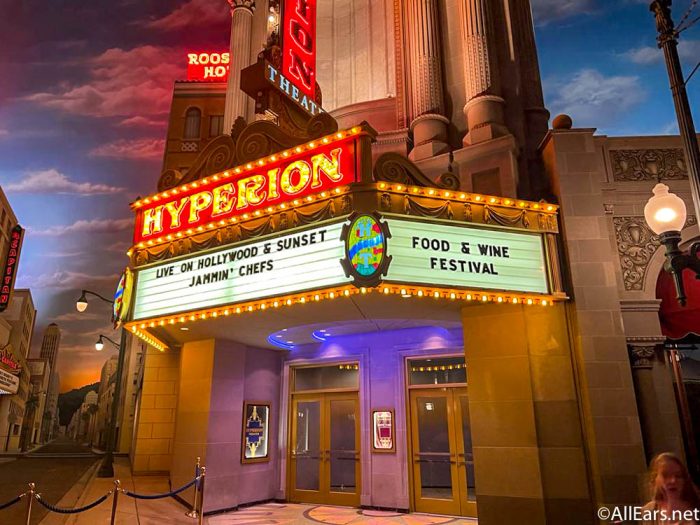 Interestingly, Disney has been working on a production of Hercules that is set to come to the Paper Mill Playhouse in mid-February. It has new songs written for the stage, and a new book by Kwame Kwei-Armah and Tony Award® winner Robert Horn.
We'll definitely be keeping an eye out for updates on this and we'll let you know what we find out. But wait…there's MORE! We also wanted to point out that
Disney has posted an audition notice for Character Look-Alikes for the role of Hiro Hamada from Big Hero 6.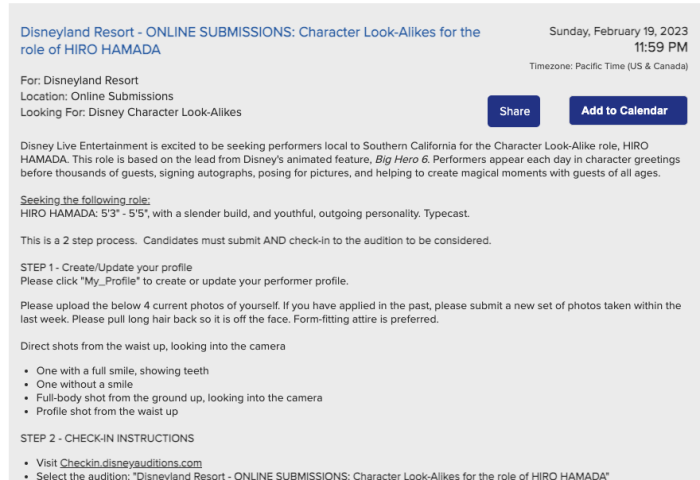 This is again a Disneyland position. Disney had previously announced that Pacific Wharf would be transformed into San Fransokyo, the city from Big Hero 6, so we expect this could be related to that change!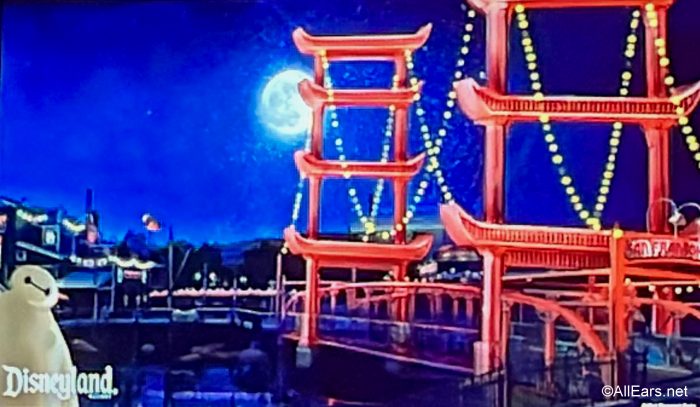 For more Disneyland news, see our posts below!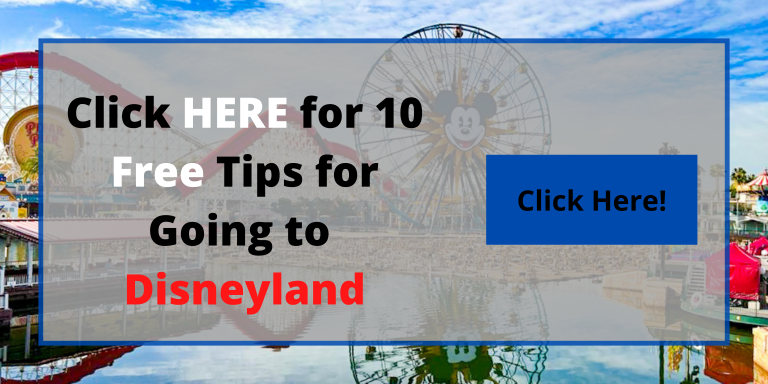 What show do you hope makes its way to the Hyperion Theater? Tell us in the comments.