We've seen a LOT of unique Disney things listed on eBay over the years.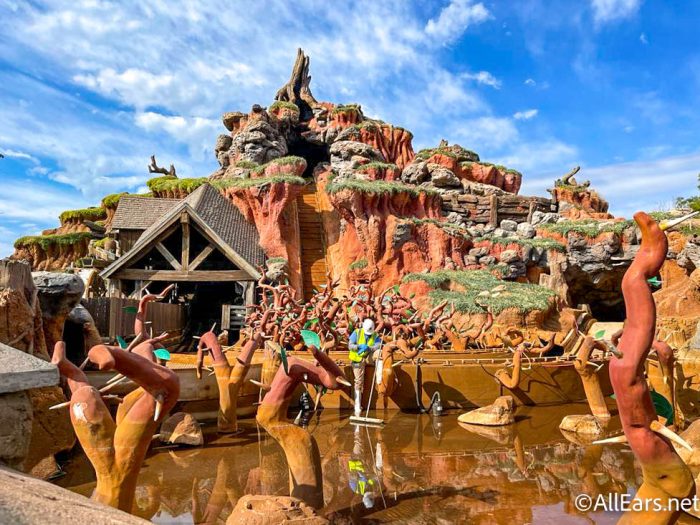 From Figment popcorn bucket resale drama (and a unique piece of art!) to exclusive collectibles, there are plenty of Disney items to find on the site. But now, your searches for Disney souvenirs might lead you to a rather interesting set of items from a permanently closed ride.
Splash Mountain has officially CLOSED in Disney World. Its last day of operation was January 22nd. It will now be closed for an extended period of time as it transforms into the Princess and the Frog-themed Tiana's Bayou Adventure ride (opening in late 2024).
We've already seen construction walls go up around the ride, some of the water drained from the ride, and mentions of the ride removed from other attractions and items in the park. But now, something else has happened…and it might not be what you'd expect.
Maybe you're thinking to yourself, "Okay, Splash Mountain has permanently closed so I bet people are selling their old Splash Mountain souvenirs for MEGA bucks on eBay." But did you expect people to attempt to sell Splash Mountain…water?!
Oh yeah, friends, it's REAL. Search for "Splash Mountain Water" on eBay and you'll be met with various listings from sellers claiming to have bottled up some of the water from the attraction prior to its closure.
On the cheaper end, you'll find some bits of water for as low as $0.99.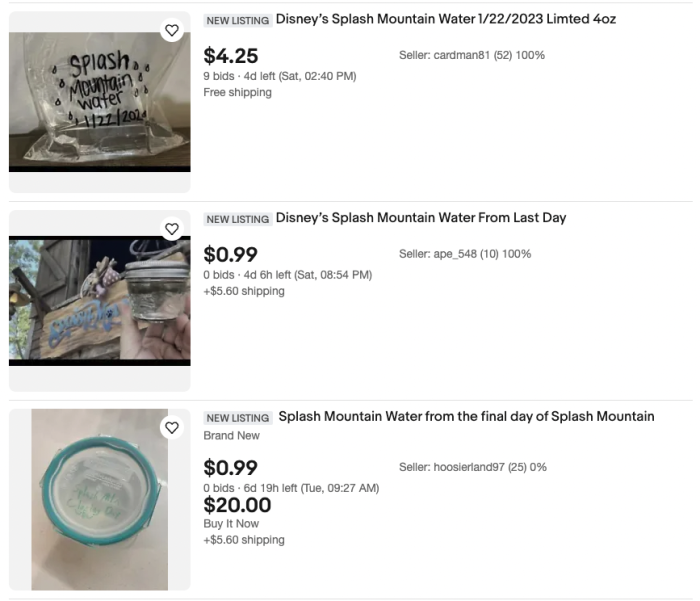 But one seller truly said "GO BIG OR GO HOME" and has listed "genuine splash mountain water circa 2021" for sale with a starting bid amount of $1,000. 😮 No bids have been made on this one…yet.
Others, however, do have active bids on them. For example, this one listing for Splash Mountain water from the last day of the ride has 4 bids and is up to $202.50. 

It appears multiple sellers are utilizing the same image of some water in a container held up by a Splash Mountain sign, so that's just something to note.

Considering the fact that there are Disney VHS tapes listed for $1,000,000 (or best offer), perhaps it's no surprise that "Splash Mountain water" has been listed for sale. How could one verify that it is in fact Splash Mountain water remains a bit of a mystery.
One seller joked around by posting a Splash Mountain bag with "tap water from my sink." It was listed for a cool $25,000 entirely in jest and the listing has since ended.
We'll continue to keep an eye out for updates all about Splash Mountain's transformation into Tiana's Bayou Adventure. To read more about the upcoming attraction and the changes made in Disney World, check out our stories below.
What is the strangest Disney souvenir you'd be willing to pay BIG MONEY to get? Tell us in the comments.