Hurricane Ian has officially made landfall in Florida, with the Category 4 storm expected to make its way across central Florida tonight into tomorrow.
Yesterday, Disney World announced they would be closing the theme parks and water parks during the storm, effective both September 28th and 29th. Additionally, Disney Springs is closed on September 28th, and will likely remain closed on September 29th. Despite the parks' closure, we received a weird notification on our phones.
While the parks are closed today and tomorrow, we still received a notification from Disney alerting us to request our place in the Guardians of the Galaxy: Cosmic Rewind virtual queue tomorrow, September 29th.
Since the parks are closed tomorrow, more likely than not this notification was sent out automatically. However, if you're in Disney World and received a similar notification, take note that nothing has changed regarding the parks' closures tomorrow.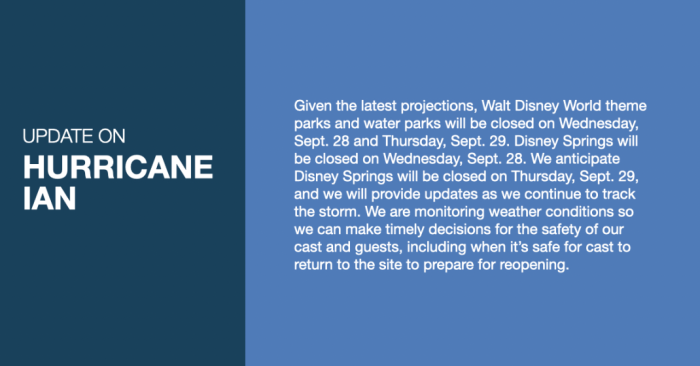 If you are in Disney World during Hurricane Ian, here are a few helpful links on cancelation policies and more regarding Disney World's closure.
We're hoping everyone in the impacted areas are staying safe. We'll continue to bring you the latest updates on the storm.