With the passage of WonderCon this year, the first season of in-person conventions in the last two years got underway.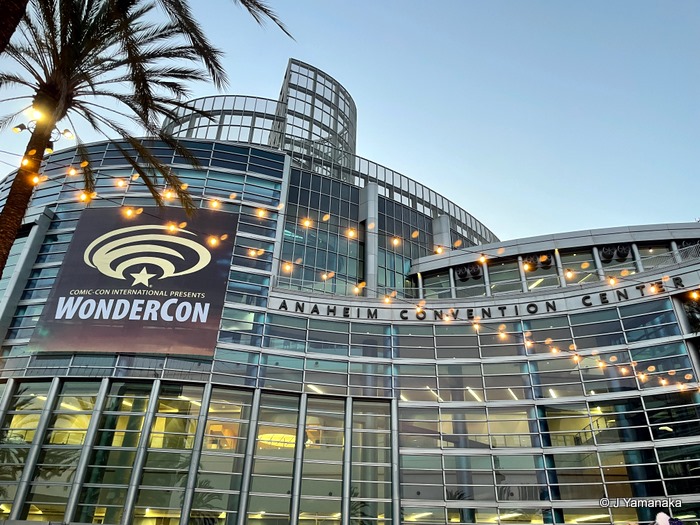 Although the schedule was still light with a lot of the bigger companies and studios not in attendance, there was still much to see and do throughout the three-day weekend.
The Programming
While much of the presentation schedule was made up of fan-based discussions, Disney did present filmmaker and cast panels, along with trailers, and in some cases whole episodes, of new seasons and films for their ongoing properties.
Fans of the 2014 ABC series The Quest will be intrigued to see Disney+'s return to Everealm in this eight-episode reboot.  Switching from adult to teenager contestants in order to make it a more family-oriented show, the original production team returned to bring more paladins to save the kingdom in this hybrid of scripted/reality television show.
Synopsis:  "For thousands of years, Everealm has been a land of unrivaled beauty and powerful magic.  Now, the realm is threatened by a powerful evil Sorceress.  As a last hope, the noble Fates summon eight strangers known as Paladins from a world beyond to work together to fulfill an ancient prophecy and vanquish the Sorceress.  The Paladins must unlock the hero within through a series of challenges that push their limits to restore balance to Everealm.  If they fail, all will be lost.  Heroes will rise.  Kingdoms will fall."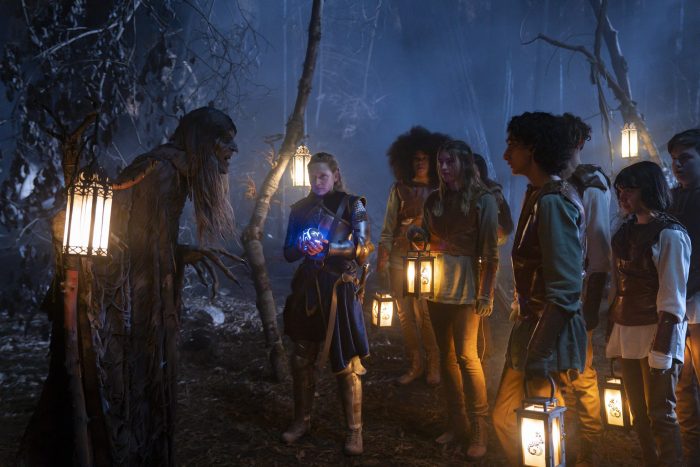 Elise Doganieri and Bertram van Munster, executive producers, New Media Collective:  "What makes 'The Quest' so unique is that it's a true hybrid of scripted and reality.  It's a groundbreaking new genre where we place real teenagers in a reality competition and bring them into a fully realized fantasy world that is built on a scripted mythology of intrigue and adventure played out alongside actors for a completely immersive experience."
The Quest will premier exclusively on Disney+ on May 11th.
From Hulu, comes the second season of The Hardy Boys.  Based on the original long-running juvenile mystery book series, teen brothers Frank and Joe Hardy investigate mysterious phenomena in their town of Bridgeport.
Synopsis:  "The second season picks up six months after the events of Season 1, building on the mystery and drama of the inaugural season and welcoming new friends and suspects. In Season 2, when a Bridgeport classmate mysteriously disappears, Frank (Rohan Campbell) and Joe Hardy (Alexander Elliot) drop their new normal routine to get back to detective work. But when they discover the mystical relic they destroyed last year is still in play, it becomes clear their simple missing person case is actually part of something far more sinister. The Hardy boys and their friends must quickly learn who they can and can't trust as they race against time to unravel the truth, and ultimately realize that no one is safe from their past."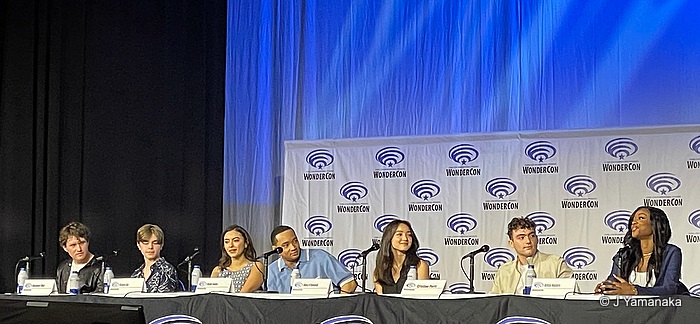 The Hardy Boys will premiere on Hulu with all 10 episodes on Wednesday, April 6, 2022.
From 20th Century Studios, the trailer for The Bob's Burgers Movie debuted, along with an exclusive look at the first six minutes of the film for the conventioneers in the audience.
Synopsis:  "The Bob's Burgers Movie is an animated, big-screen, musical comedy-mystery-adventure based on the long-running Emmy®-winning series.  The story begins when a ruptured water main creates an enormous sinkhole right in front of Bob's Burgers, blocking the entrance indefinitely and ruining the Belchers' plans for a successful summer.  While Bob and Linda struggle to keep the business afloat, the kids try to solve a mystery that could save their family's restaurant.  As the dangers mount, these underdogs help each other find hope and fight to get back behind the counter, where they belong."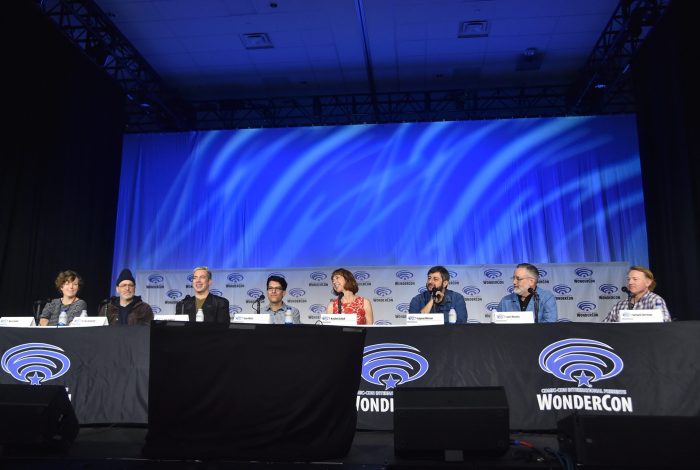 The Bob's Burgers Movie will open in U.S. theaters on May 27, 2022.
Beyond the tv/film presentations, Disney fan favorite and voice of Ahsoka Tano from  Star Wars: The Clone Wars, Star Wars Rebels, Star Wars Forces of Destiny, and Star Wars: The Rise of Skywalker, Ashley Eckstein headed up two panels on some of the current activities going on with her renowned "fangirl fashion" company, Her Universe.  The first was an update on the annual Her Universe fashion show that will be making a return to San Diego Comic-Con later this year, and a discussion on the 2021 Her Universe Fashion Show winners' Jurassic World collection for Hot Topic.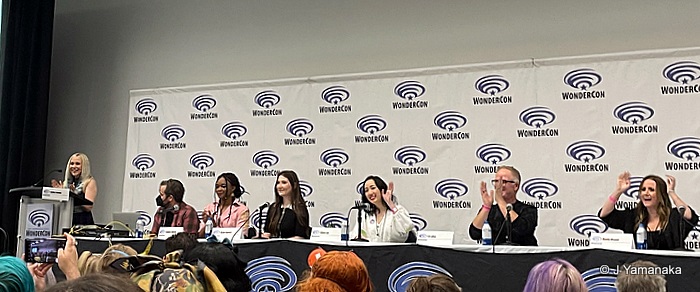 The next Her Universe panel talked about the long road they journeyed with  Hot Topic to establish a relationship with Studio Ghibli and get approvals to create a fashion collection based on the famed animation studio's works.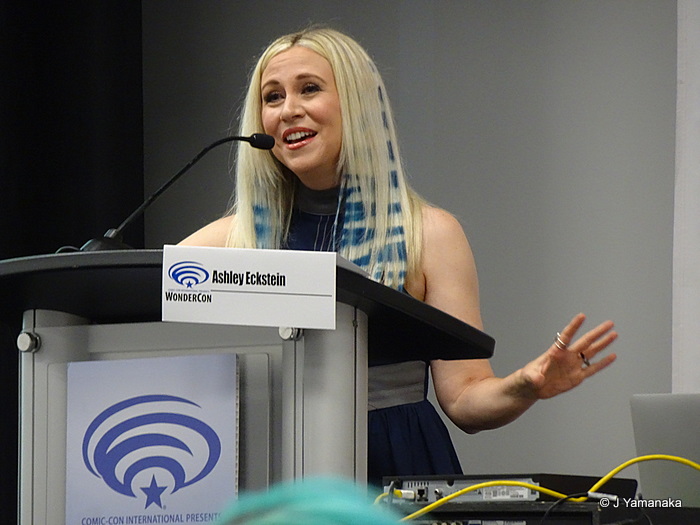 Voice over has always been a strong subject matter for panel presentations at WonderCon, and this year was no exception.  In "Voice Actors Improv Blast-Off!" a variety of popular voice actors demonstrated the versatile and often wacky skill of improv, reading scripts multiple times as different characters.

Panel actors included Lex Lang (Star Wars Resistance,) Daniel Ross (Donald Duck in Mickey and the Roadster Racers/Mickey Mouse Mixed-Up Adventures,) John Omohundro ("Shake It Up,") Amber May ("Barbie Big City, Big Dreams,") Adam McArthur ("Star vs. the Forces of Evil,") and John Bailey ("Honest Trailers.")
Diversity was a well-represented topic, as popular a concept for discussion at WonderCon as it is in real life.  In the presentation "Animation and Diversity in the Age of Black Lives Matter,"  the panel consisted of Aaron Grizzell (The Black and Brown Comix Arts Festival; Northern California Dr. Martin Luther King, Jr. Community Foundation,) Darius Gainer (Black Representation in the World of Animation, San Diego: Amatl Comics), John Semper (Spider-Man: The Animated Series, Fox Kids Network), Angelique Roché (Marvel Voices; My Super Hero Is Black), and Sean Brown (PECAN Studios.)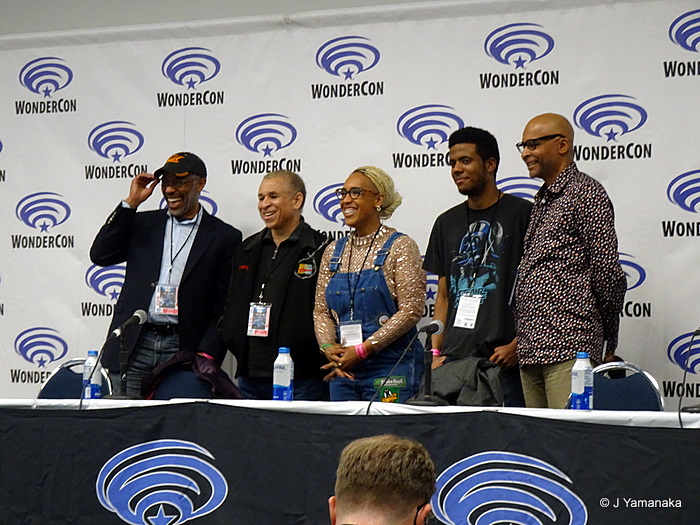 They discussed their careers in animation, the way the industry has changed for people of color, and what continues to hamper the industry's inclusion of more diverse voices.  Ultimately, they observed that there is as much to celebrate as there is to improve in the ongoing quest to amplify underrepresented voices and diversify animation throughout all levels.
The Exhibitor floor continues to hold an abundance of interesting displays and different types of merchandise for every time of fan imaginable.  Without the big studios/networks booths taking up space and drawing huge numbers of hysterical fans, the floor had a much more laid-back feel to it, with space in the aisles to actually examine exhibits and peruse merchandise vs just trying to scoot through to the other end without getting crushed.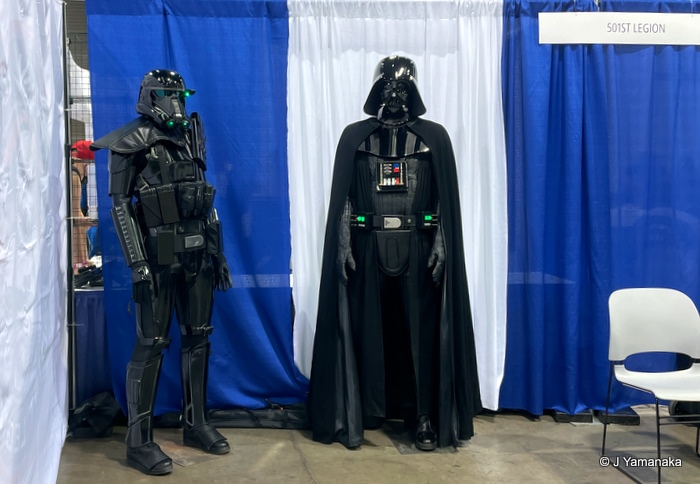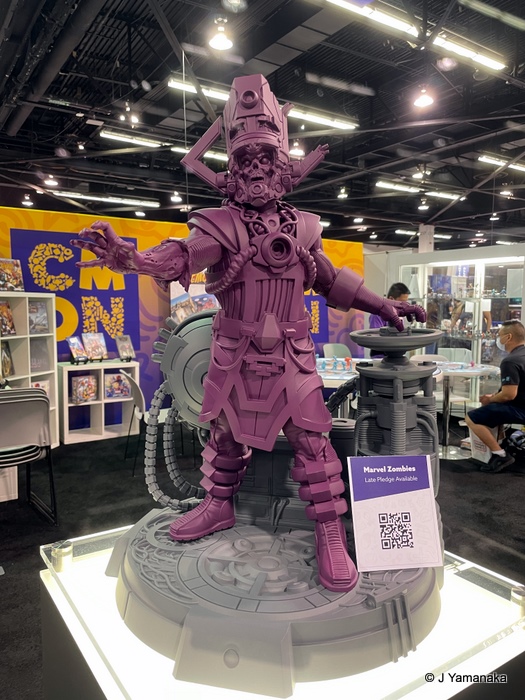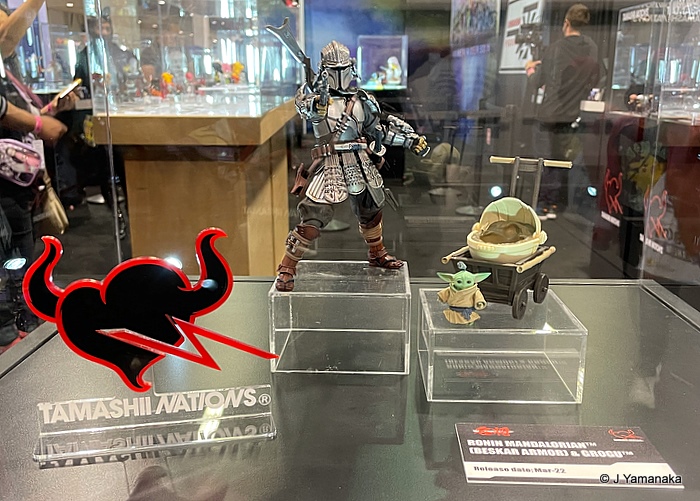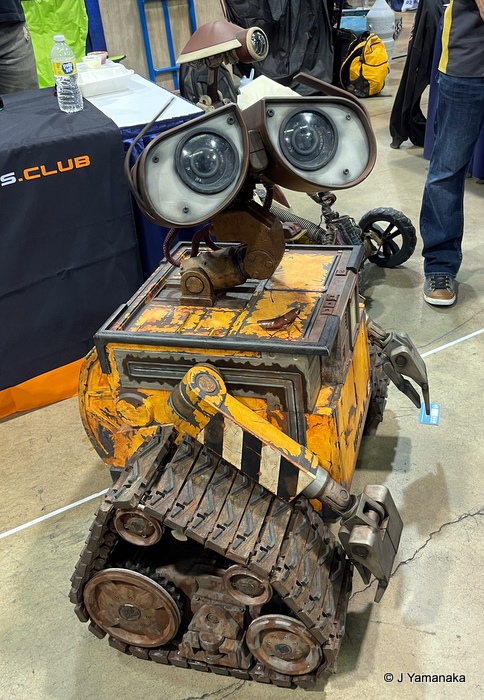 Cosplay has largely returned as well, although like everything else, not quite in the same pre-COVID numbers it previously enjoyed.  The Masquerade was limited to 25 entrants as opposed to the ~35 it's had in the past.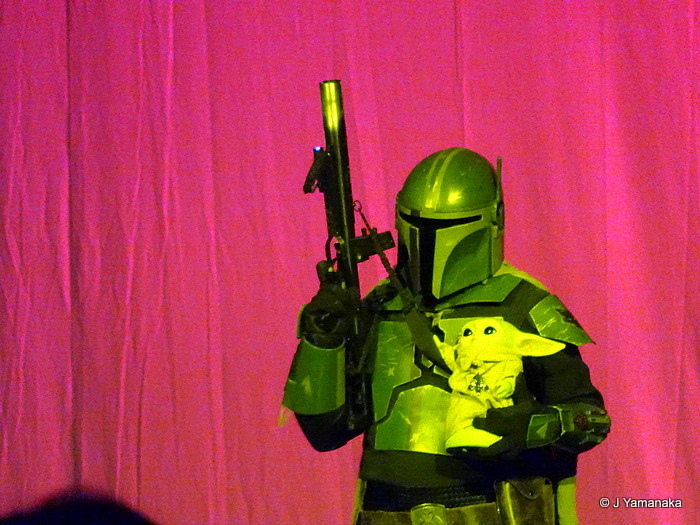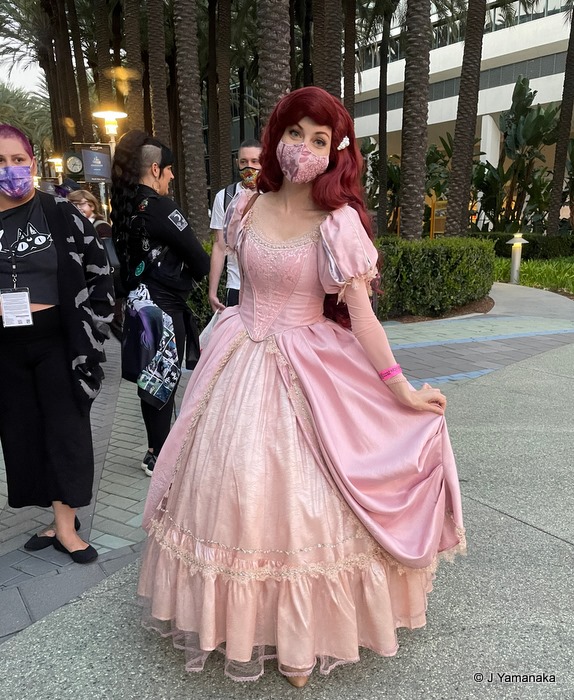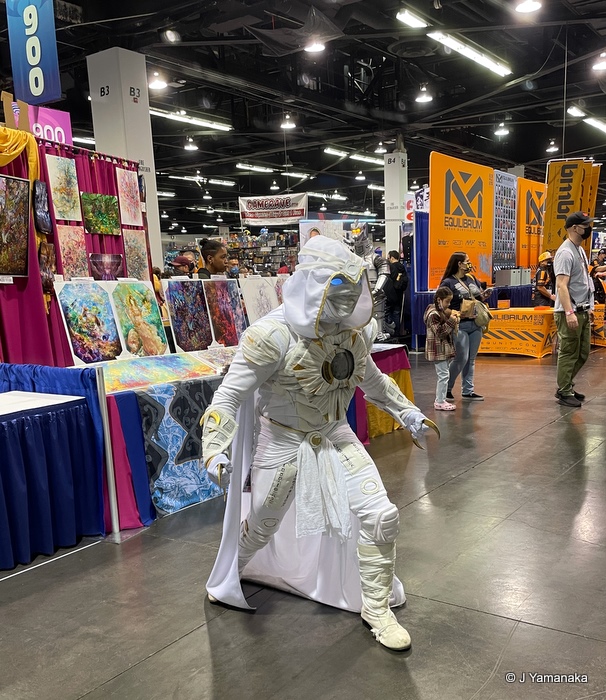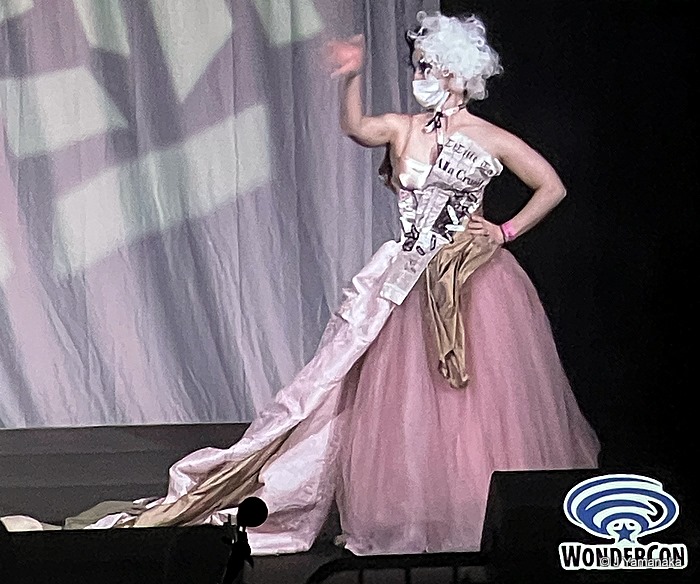 All in all, WonderCon gave a good show for a convention coming back to largely untrodden ground.  Certainly, there are no guide maps for how things should work in these uncertain times of health and security concerns, but the security measures they put into place–masks, vaccination/testing records– were well-implemented and non-demanding.  The compliance with masking was certainly reduced from last year's Comic-Con Special Edition but at least the presentation rooms showed a reasonably high degree of adherence–a good start to the convention season, in unprecedented circumstances.
Be sure to follow @allearsnet on Instagram and Twitter!
Check out our YouTube Channel for reviews, news, information and more!
Click below to subscribe to the AllEars® newsletter so you don't miss any of the latest Disney news!