Premiering on January 15th, 2021 is Marvel Studios' first television series for Disney+, WandaVision.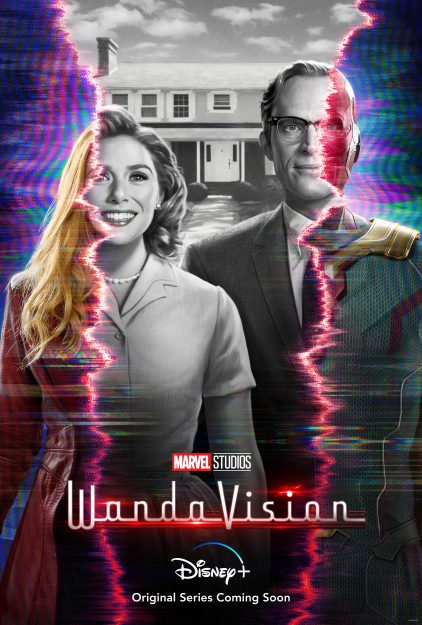 WandaVision shows us two of the most powerful MCU superheroes living an idyllic married life in the style of classic television sitcoms.  Their attempts to fit into typical suburban life are as filled with wacky hijinks as you'd expect from a witch and an android…but is there something else lurking in the background?  Suspicious symbols and the occasional bleed-through of era-inappropriate sounds and colors hint of the typical intrigue and action we've come to expect from Marvel Studios.
At a recent virtual press conference, director/executive producer Matt Shakman and writer/executive producer Jac Schaeffer were joined by series stars Elizabeth Olsen (Wanda Maximoff), Paul Bettany (Vision), Teyonah Parris (Monica Rambeau), and Kathryn Hahn (Agnes), as well as producer Kevin Feige, to discuss '50s era acting, television, and Dick Van Dyke.
Press Conference highlights:
Olsen on performing before a live studio audience and acting influences:
"It was the first thing we shot.  It was so nerve-wracking and there was a lot of adrenaline.  There were a lot of quick changes and it totally confused my brain…the idea of not playing to an audience but feeding off an audience and having a camera.  I was really grateful when we added the fourth wall for our second episode.
"…I think it was like an amalgamation of Mary Tyler Moore and Elizabeth Montgomery, and I think I accidentally threw in some Lucy in the 70s just because there was so much physical comedy."
Bettany on holding true to Vision:
"I was worried about that initially.  I was like, wow, this feels so different, as I read the script and how do I keep him the same? And then I realized he's always been becoming something else, you know.  He's Jarvis, he's part Ultron, he's part Tony Stark, and he's omnipotent but he's also this sort of naive ingenue.
"And then I realized, well, I'll just throw a little bit of Dick Van Dyke in there and a little bit of Hugh Laurie…little smidges, you know. So…I think what Vision is is just decent and honorable and exists for Wanda, and then you're safe."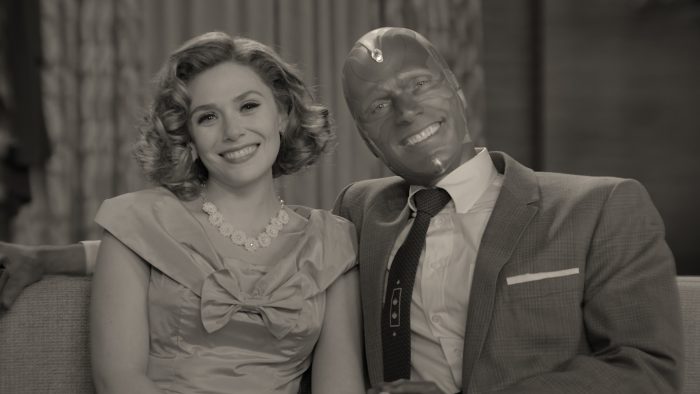 Shakman on recreating classic sitcoms:
"Well, we wanted to be as authentic as possible.  That was one of the biggest goals and so production design, cinematography, costuming, everything was about going on this deep dive, and with the actors, we all wanted to do the same thing.  So we watched just a ton of old television episodes, talked about how comedy changes, because it really does.  The approach to comedy in the 50s, 60s, 70s is really different. 
"And as Lizzie said, the doing it in front of a live studio audience, which is this weird quasi theater-TV, thing–it really adds to it.  Lucille Ball…I Love Lucy, Dick Van Dyke–you can feel the energy of that sort of theatrical performance working with the audience.  And then when you get into 60s shows like Bewitched or I Dream of Jeannie, it is a fourth wall, and all of a sudden it's much more like doing a movie these days, and that laugh track is all canned and brought in.  It changes the energy, the approach, the style, everything.  So we also worked with a fabulous dialect coach, to work on how the people would sound in that era, how they would move…we just did everything we could to make it as authentic as possible."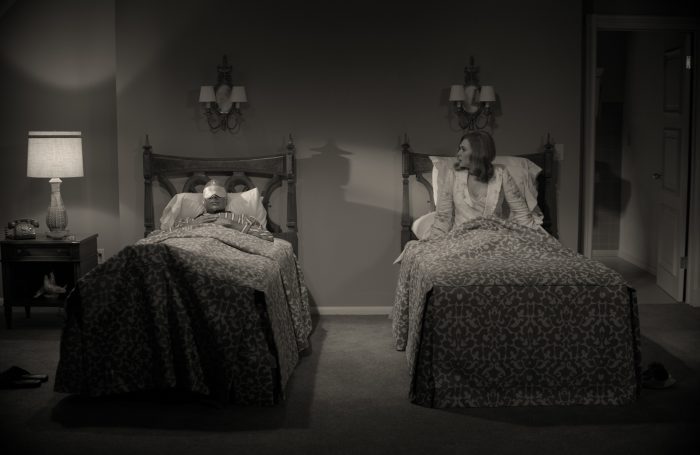 Feige on The Mandalorian:
"Well, I think we were all underway on WandaVision long before we saw The Mandalorian. There is lots and lots, of The Mandalorian that has inspired us at Marvel Studios, not the least of which is the Stagecraft, technology that they pioneered that we're using on some upcoming project.
"I think though, it was wonderful to see, the amazing job that Disney and Disney marketing did in event-izing that.  One of the things I was always concerned about was to say anything that we do we want to event-ize.  We want to make people understand these projects on Disney+ are as important as the projects going into theaters, and we want to feel that same excitement and the Disney marketing team is best in the world, best of all time frankly, right now.  They certainly showed that, on Disney+ with Mandalorian, and also the fun week to week discussion, which I guess happens on all week-to-week television.  Sometimes series drop all at once on, streaming services, and Disney I think was very smart to do the week by week 'cause that conversation that happens every week between episodes I think is very important and frankly just a lot of fun, and so each time I witness that and experience that and joined in that with Mandalorian, it got me excited for the way we had already been building WandaVision to be unveiled.
Schaeffer

 

on Wanda and Vision's relationship:
"I think that Wanda and Vision are really as a couple a fan favorite because their love story has been so very tragic but also really kind of warm and intimate, and we've seen them in these
really beautiful kind of stolen moments in the MCU.  It's actually been a small amount of screen time but very powerful and very soulful.  What we have with WandaVision which is really I think a treat for all, is we're sort of opening up the stage and the space for them and they're in this like, domestic sphere.  We get to see them doing dishes and in the kitchen and being cute and just all the sort of homebody stuff that you would never get to see a superhero participate in.  So we really go from these enormous sort of dramatic moments…in the MCU and then in WandaVision, it's a lot of cute-cute until it's not."
Shakman on picking sitcoms to fit the show:
"The key reference points are family sitcoms, because there are so many legendary sitcoms throughout time but Taxi doesn't really relate to this show, you know?  So Brady Brunch does.  There are key reference points that were about this idea of family and I think that oftentimes, does age pretty well.  I think also the key references that we were looking at are those miraculous shows that have managed to be timely and timeless. You know, they resonated in their moment and somehow you watch the Dick Van Dyke show today and it's just as good as it was back then.
"So what's the magic behind that?  I remember Kevin and I had this amazing lunch with Dick Van Dyke, that remains one of the great afternoons of my life, and we asked him what was the sort of governing principle behind The Dick Van Dyke Show?  Why did it work so well?  And he said if it couldn't happen in real life it can't happen on the show.  Right, so if you're drawing something that's grounded and it's real and it's resonating with everyone's experience at home, you can do crazy things.  You can tumble over ottomans.  You can be goofy.  You can be anything, but as long as it's grounded in real life, that makes it work.  So I think a lot of the reference points that we gravitated towards were those kinds of shows."
WandaVision will stream exclusively on Disney+ beginning Friday, January 15, 2021.
In case you've missed it, here's the new series' trailer:
Questions?  Comments?  Suggestions?  Drop us a line below.
Be sure to follow @allearsnet on Facebook, Instagram and Twitter!
Check out our YouTube Channel for reviews, news, information and more!
Click below to subscribe to the AllEars® newsletter so you don't miss any of the latest Disney news!