To all who come to this photo trivia game, welcome! Along the way, the photos can make us relive memories and see details that Walt's Imagineers put into everything we love in Walt Disney World!
So glad to see you all again, Players!

And Happy Rosh Hashanah to everyone celebrating!

And now: Challenge #654:
And here's the answer:

The Animal Kingdom Lodge! I was with my sister Terry on vacation and asked her to pick a favorite thing and without hesitation, she picked this! It's a favorite of mine too.
Everybody is a winner this week including as a big thank you for your patience!
Karen Fichter was the first to send in the correct answer! Congratulations to Deb Ragno, The Kertes Family, Brian Gallant, Bonnie Jean, Beau Harrison, Barbara Hicks, Michelle Fure, Sandy Gempp, Theresa Maradei, Janet T Thorn, Joseph M. Zafia, Joann Albrecht, Barry Gruber, Tracy Luzzi, Ken Maikowski, Glenn And Nancy Motson, Mis Jamie Marie, Vera And Izzy Williams, Tom Patton, Barry Gruber, David Crockett, Claire Gregory, Linda Hoffman, Blake Schmidt, Arlene Vicek, Jim Wieczorek, Linda College, The Gunnels Gang, Les Whitten, Barry Gruber, Brian Richmond, Robert Wescovich, Adolph And Kimberly Timm, Sandie Albrecht, Linda Grau, Jim Finley, Gloria Martin, Aljaneen Curtis, Luis Rodriguez, Michael P Weeman, Axel Beer, The Kuroly Family, Cheryl Costello, Theresa Rucando, Andreas Beer, Dee Dee Kenney, Bob Patterson, The Parker Family, Shannon Benton, Debby Stailey, Mark Hardy, Patty, Grumpies Groupies, Colin Moore, Jeremy Reichelt, Barry Sklenar, Sandra Ceplecha, Phyllis Hestnes, John Debow, Sue Bridges, Sandra Debow, Martha & Justin Collins, John Phillips, Tony Bivens, Team Hill, Caroline A Burmester, Holly Baxter, Melody Odonnell, Kathy Maffei, Alan Gates, Donald Purney, Jim & Lorie Sonnen, Laurie Walker, Laura Sponaugle, Jodie S., John Paul, Ken Savage, Kristi, George Mundy Jr, Sherry Knoster, Sue And Ed Adams, Fred Terluin, Tammy Warmouth, Ed Suscreba, Nancy Cole, Jane Johnson, Vicki Britt, Paul And Kelli Grundman, Jeff & Isabel Blank, Mark Brooks, Andy Hickey, Tricia Petty, Vincent Degasperis, Sherri Pell, and The Wolf Family!
______________________________________________________
Challenge #655 Where in the world is this?
A little harder? Feel free to use the Hidden Mickey website and if you want to narrow it down more: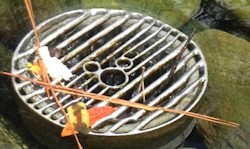 Do you know? Do you have a guess? Send in your answer before the end of the day on Thursday, September 24th by clicking on the blue box below. Please do not post your answers on this blog post.
See you soon, Players!

_____________________________________________________________________
Everyone who sends in a correct answer to a Where in the World Challenge this month will be entered in a drawing at the end of the month for some special AllEars® goodies!
Be sure to follow @allearsnet on Instagram and Twitter!
Check out our YouTube Channel for reviews, news, information, and more!
Click below to subscribe to the AllEars® Newsletter so you don't miss any of the latest Disney news!