To all who come to this photo trivia game, welcome! Along the way, the photos can make us relive memories and see details that Walt's Imagineers put into everything we love in Walt Disney World!
Did the Challenge show up for everyone? I guess if it didn't, you wouldn't be able to tell me. If you can see this, I had someone check my tags etc. and they're ok. So it's something bigger. Please let them know; they want to make sure it's not people going to the wrong place for the blog. I'm sorry you're going through this. Players.

Thank you to everyone who sent messages about my dog, Daytona. His surgery went well and he's walking on that leg again so it's a good sign. It's hard to keep a dressing on it
Challenge #637:
And here's the answer: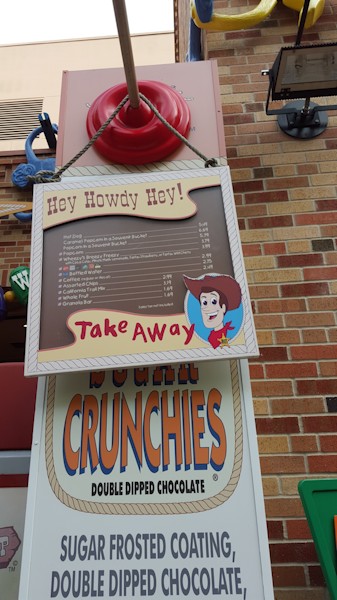 It's the menu sign for Hey Howdy Hey Takeaway, the wagon-shaped kiosk is located across from Pixar Place. I'm not sure if it's still there since they built Toy Story Land; some places still list it.
Maddie Inman was the first to send in the correct answer! Congratulations to Maddie Inman and to all our winners this week!  The Parker Family, Grumpys Groupies, Brian Gallant, Martha & Justin Collins, Al & Kerry Ganter, Janet T Thorn, Barclay Bakkum, Steve Knapp, Maureen and Warren Handy, Jodie S., Phyllis, Jeff Blank, Vera and Izzy Williams, Vinnie DeGasperis, Blake Schmidt, Kenneth Jackson, George Mundy Jr, Vicki Britt, Shannon Benton, Arlene Vicek, The Gunnels Gang, Dee Dee, Hunter Armstrong, Mike haeberle, and Debbie Hayden!
______________________________________________________
Challenge #638 Where in the world is this?
Switching parks again. Everyone got their bands? Standard or special ones? OK, this could look familiar or maybe it's an odd angle. If so, hint: its song is famous. FAMOUS. I can give you lyrics in the middle of the song "And a smile means friendship" and you'll get it.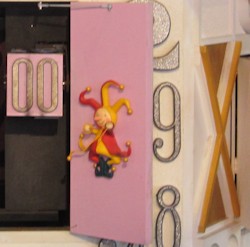 Do you know? Do you have a guess? Send in your answer before the end of the day on Thursday, May 14th by clicking on the blue box below. Please do not post your answers on this blog post.
See you soon, Players!

_____________________________________________________________________
Everyone who sends in a correct answer to a Where in the World Challenge this month will be entered in a drawing at the end of the month for some special AllEars® goodies!
Be sure to follow @allearsnet on Instagram and Twitter!
Check out our YouTube Channel for reviews, news, information, and more!
Click below to subscribe to the AllEars® Newsletter so you don't miss any of the latest Disney news!