FastPass+ has changed the way we tour and experience Walt Disney World. It saves many of us from waiting in long and winding lines at the Disney Parks and has become an important tool for planning an efficient vacation.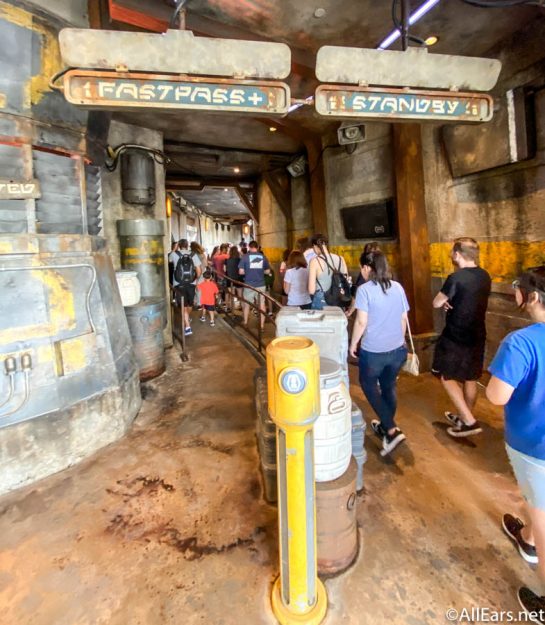 However there are some attractions that it can be almost impossible to get a FastPass for and a few attractions that you won't ever need one for.  Luckily Disney builds fun and interactive queue areas for those times when you're waiting in line instead of scanning your band for the FastPass+ line.
Here are some of the
queues we don't mind getting stuck in

at Walt Disney World.
Haunted Mansion
Haunted Mansion is one of our favorite attractions, and sometimes the line can get really long during the holidays. You may want to get a FastPass (especially on busy days like Halloween!), but if you weather the line you get rewarded with puns and an interactive graveyard. First we see a series of busts, each with a short poem on the pedestal. Each poem hints at who killed whom. If you are standing there long enough, break out your notebook and try to solve the murders of the Dread family.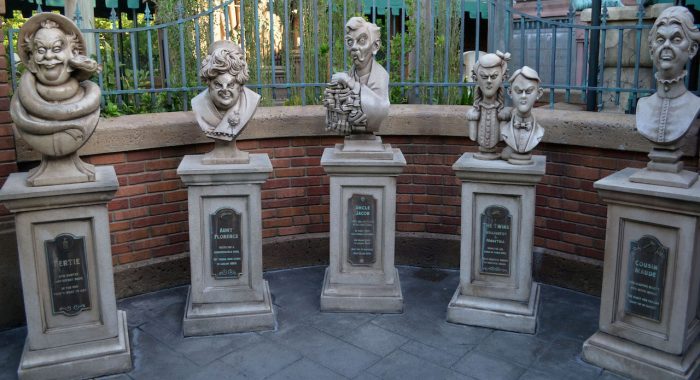 Next we enter the graveyard proper and get to walk by a tomb with musical instruments embossed on the side. On one side we get traditional instruments, and on the other side we get ghostly ones. The instruments will play different tones when you touch them.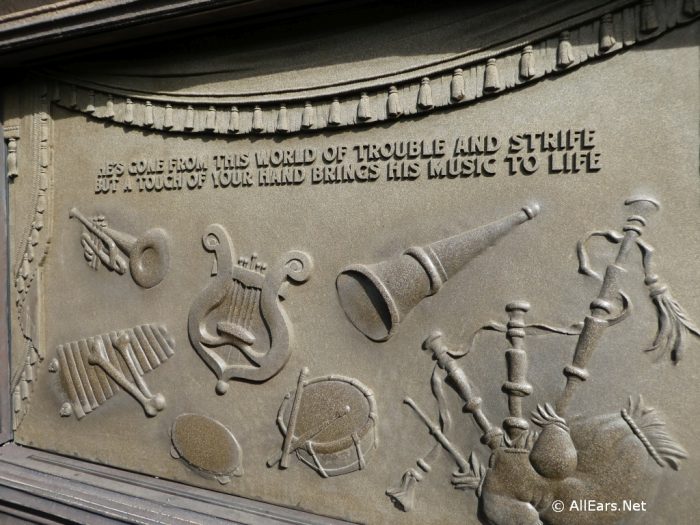 Throughout the graveyard queue there are other fun interactive items including a bubbling water squirting bathtub tomb of a sea captain, a bookshelf where the books spontaneously pop out, a pipe organ, and a fortune telling book. Next time, unless the line is super long, choose the graveyard.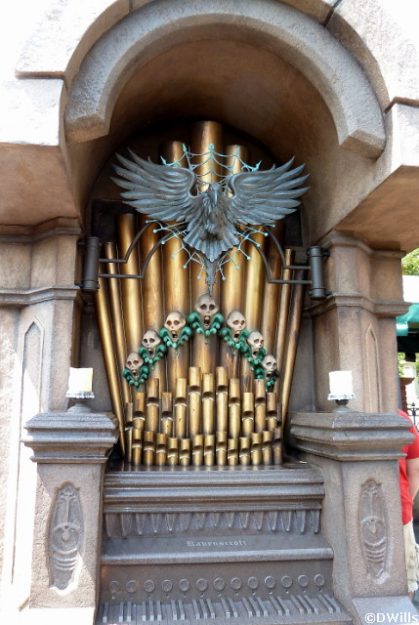 Dinosaur
Dinosaur is one of our favorite attractions in Animal Kingdom. It's tucked in the back of Dinoland, and the wait is rarely prohibitive. If you end up waiting a few minutes you'll be treated to a display that's similar to what you might find in your local natural history museum. There are display cases of different reptiles and fossils in the main entrance. Once you turn the corner into the main room you are presented with a giant Carnotaurus skeleton. If you are in the queue for more than 10 minutes, then you will be gifted with the dulcet tones of the 90's greatest scientific mind, Bill Nye the Science Guy.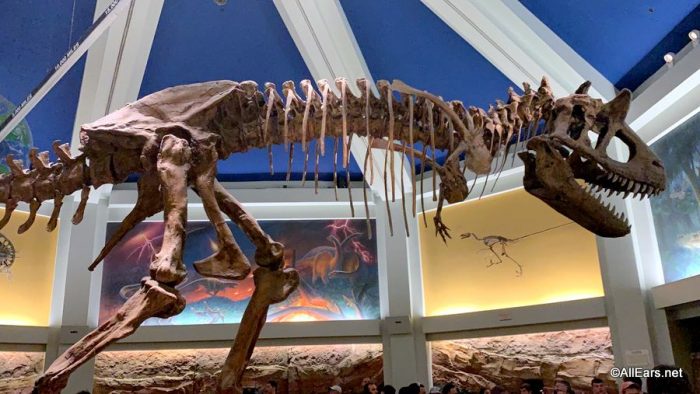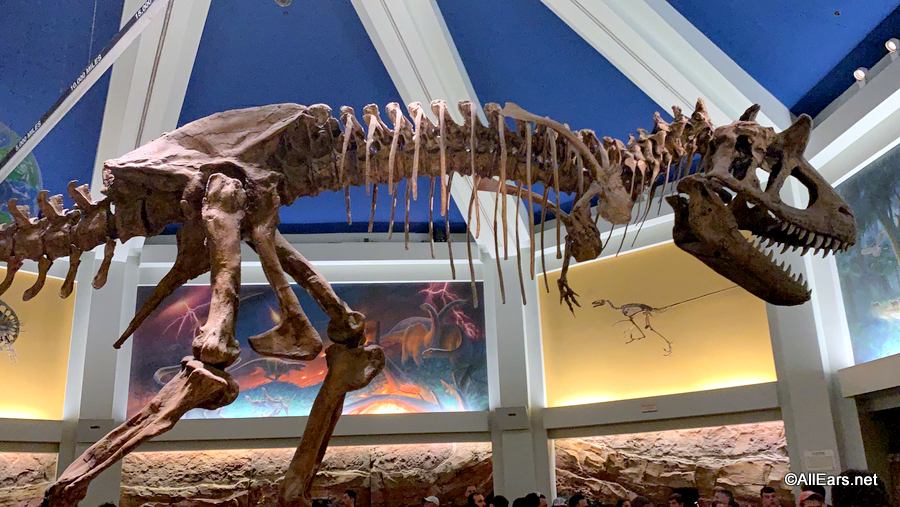 Bill Nye takes us through some basic prehistory and talks to us about when the meteor hit and killed all the dinosaurs. There is even a charming model showing the meteor flying toward the Earth. If you stay in here long enough, you'll see the whole pre-show, you'll learn about a few different species of dinosaur around the room from Bill Nye. It is a great contradiction to the "futuristic" way we see dinosaurs later in the attraction. It also takes us right back to school field trips.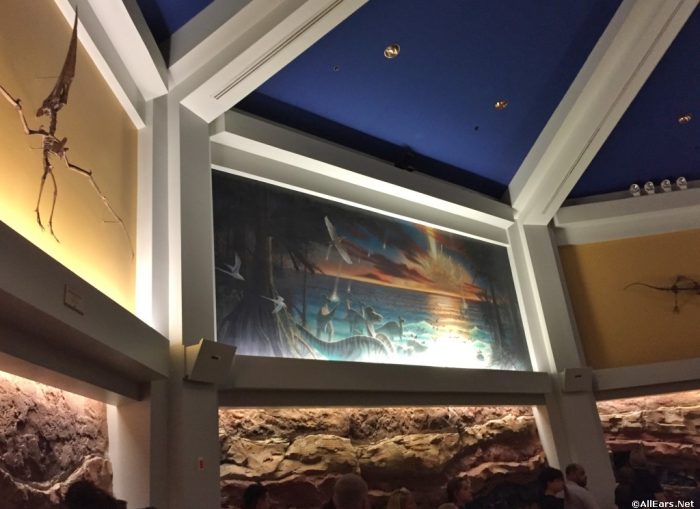 Big Thunder Mountain
Big Thunder Mountain is one of the more popular attractions in Magic Kingdom. You can usually get a FastPass for Big Thunder Mountain, unless it is a busy holiday, but if you don't get one there are some fun little things to keep you entertained along the way. Once the queue enters the main building, you feel like you've traveled back to an old mining company. As you go through the queue there are funny signs about all the different rules and the different employees at the mining company.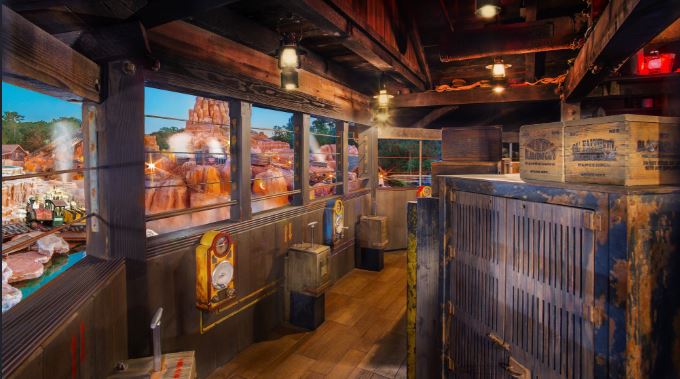 Throughout the queue there are also tons of dials, cranks, and plungers to play with while waiting. It is perfect for super active kids to keep them busy while waiting in a long line. If you want a great look at the whole queue, there is a video from 2013 where an Imagineer walks us through the queue and some of the fun things we find there.

Star Tours
Star Tours is the original Star Wars attraction in Hollywood Studios, before Galaxy's Edge took over the park, and honestly we still love it. In Star Tours there are three main queue areas, one outside and two inside. The outside area is in the forest on Endor and underneath part of an AT-AT Walker. It immediately gives you the feeling that you are actually in Star Wars.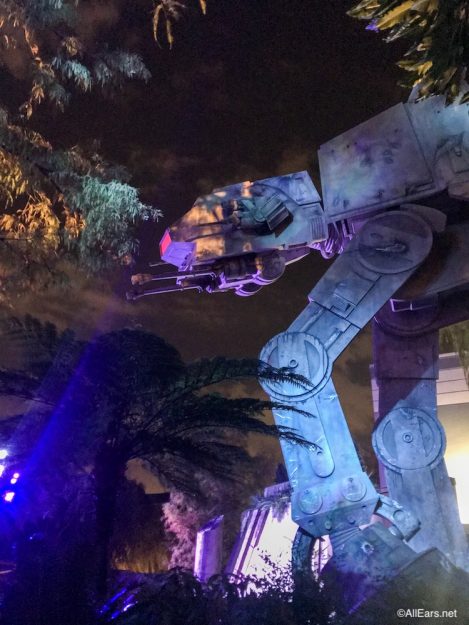 Once you get inside we get the first look at the Star Tours ship that we will be flying on. Next to the ship we see C-3PO and R2-D2 preparing for the flight. Along one wall there are the departure and arrival times for different flight going to all the classic Star Wars planets. The board goes between Basic (English) and Aurebesh (the written language of Star Wars). On the opposite wall there is a control room with two Mon Calamarians and a "window" that shows different Star Wars species walking to their flights.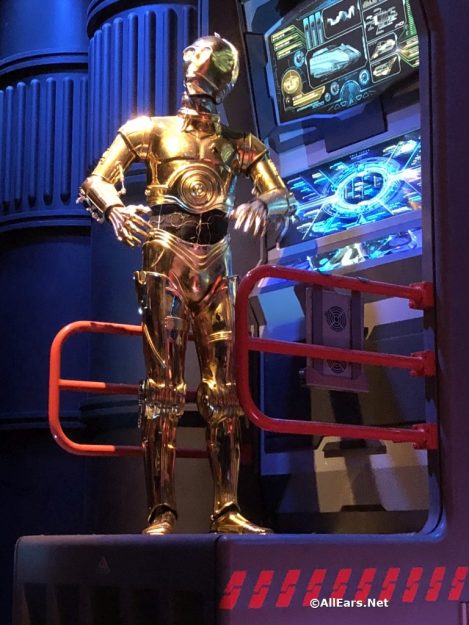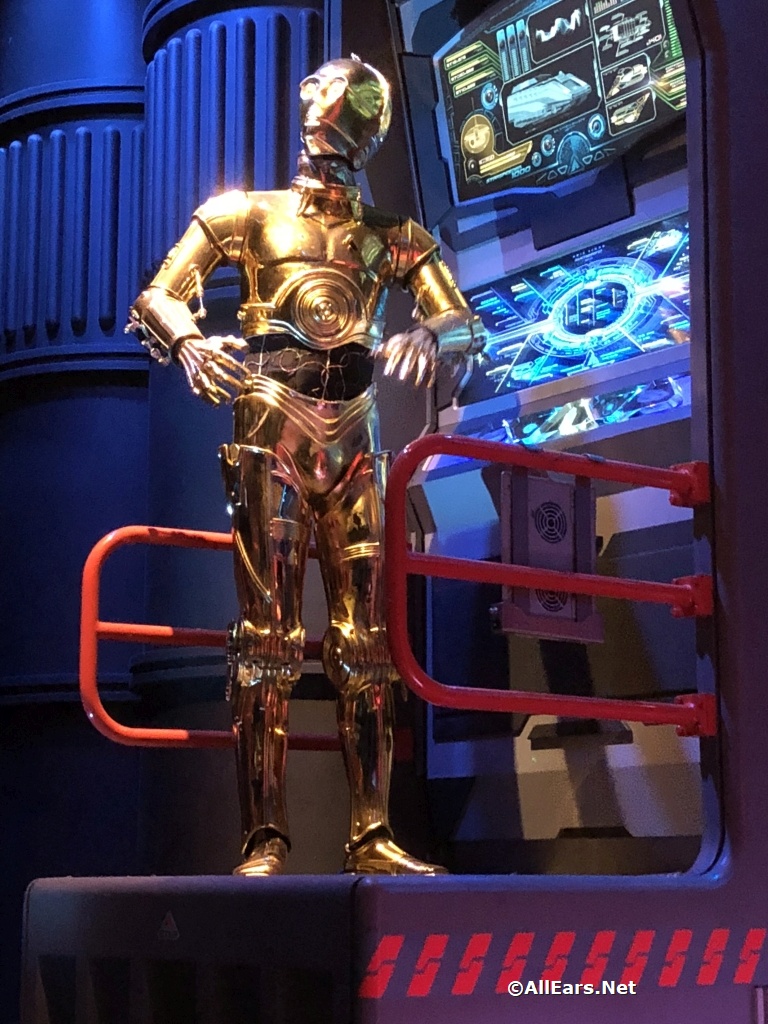 The second indoor waiting area is probably our favorite. Here we get to see some of the Star Tours baggage handling area and some of the droids employed by Star Tours. On the left side on the lower area, we get to see various astromech droids being loaded into luggage. On the right is the security droid, G2-9T, in charge of scanning the baggage, and if you watch you'll see some funny things show up in the baggage. You might see some familiar characters like Chip and Dale trying to sneak aboard the flight. The next droid is another security droid, G2-4T, who is scanning the passengers before the head towards the flight. And if you listen closely you may recognize the voice from another Disney World attraction. G2-4T is voiced by Patrick Warburton who also appears in the safety video for Soarin'.
Peter Pan's Flight
Peter Pan's Flight is by far one of the two most popular attractions in Magic Kingdom. The wait is usually at least an hour or longer, and if you can get a FastPass then you probably should get one. But the line has plenty to see and do if you've got to wait. A few years ago the queue had a complete makeover and interactive elements were scattered throughout. The bulk of the fun interactive areas are in the Darling children's bedroom. There are different spots where pixie dust appears and moves around. There are items in the room that move and Tinkerbell can even be freed from being trapped in a lantern. If you look on the wall you'll also see shadows of the Darlings playing.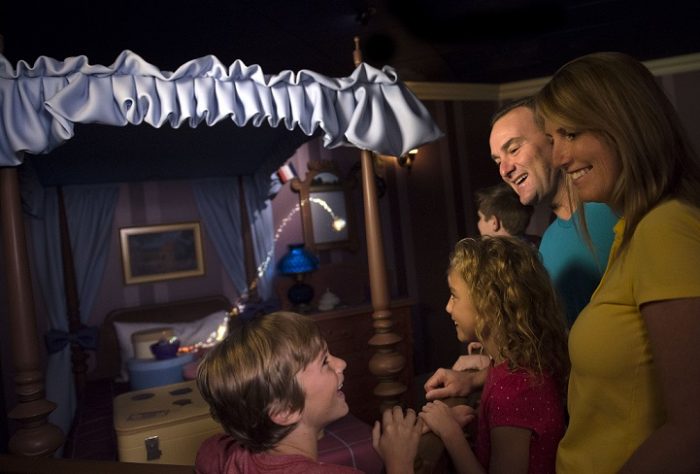 Our favorite part is actually right after the bedroom, there is a hallway where if you clap you'll see pixie dust and fairy sparkle appear around the room. This is a play on the scene in Peter Pan where Peter and Wendy clap to bring Tinkerbell back. If you find yourself in a hallway with blue all around, try clapping and see what happens.
Muppet Vision 3D
Now we are at my favorite waiting area for any attraction in Disney World, Muppet Vision 3D. Now there isn't so much of a queue area as there is a big waiting room filled with Muppet props. At one point the line would go out of the waiting room into the hallway, but it isn't so popular anymore. The hallway has doors that are covered with great Muppet references and puns.  There is a sign saying "Back in 5 minutes." Look under the mat when you're there and you might find the key.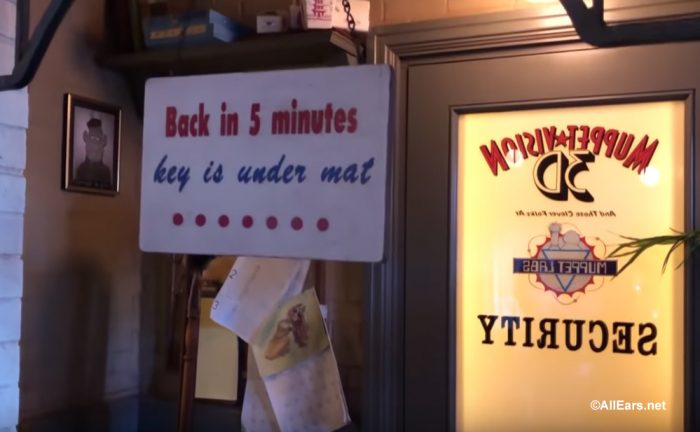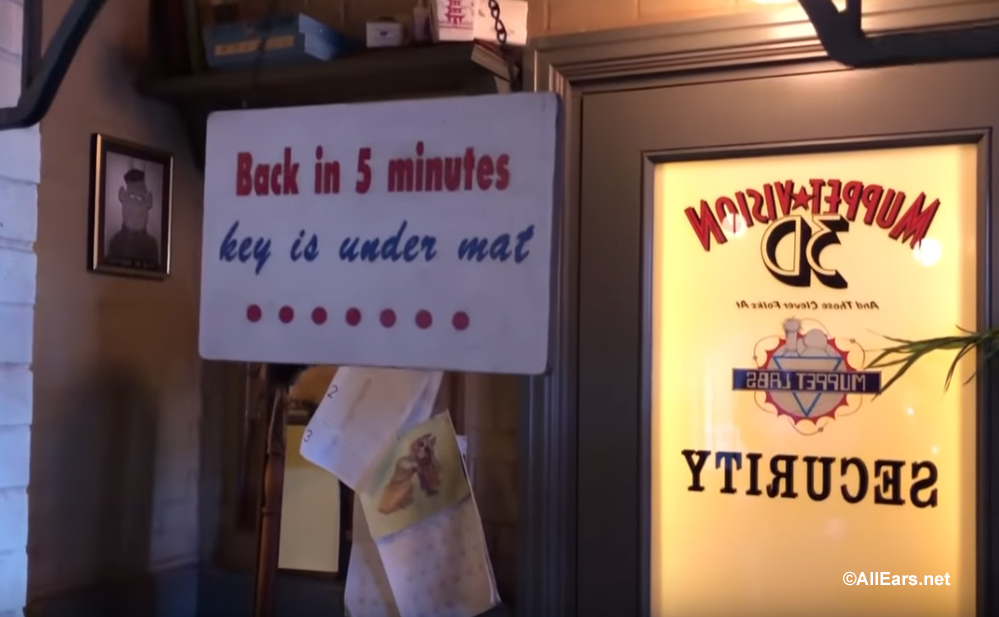 After that you enter the giant waiting area full of props from every Muppet production imaginable. While waiting look around and you'll see something new every time. If you show up early enough you will get to see the wonderful pre-show video in full. We've talk about the video before, to learn more read here. Next time you go to Muppet Vision 3D, take some extra time to explore the room before the show.
What are your favorite queue in Disney World? Let us know in the comments.
Join the AllEars.net Newsletter to stay on top of ALL the breaking Disney News! You'll also get access to AllEars tips, reviews, trivia, and MORE! Click here to Subscribe!