Waiting in lines at Walt Disney World is one of the least enjoyable aspects of a trip, even when, in the end, you get to go on an awesome ride or see a dazzling show.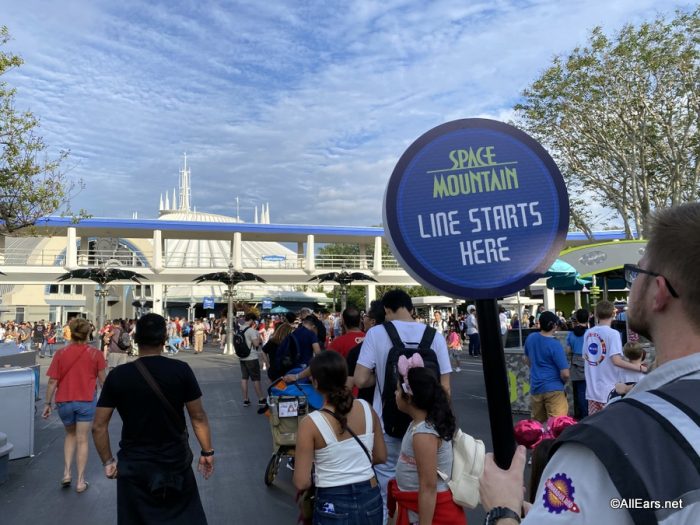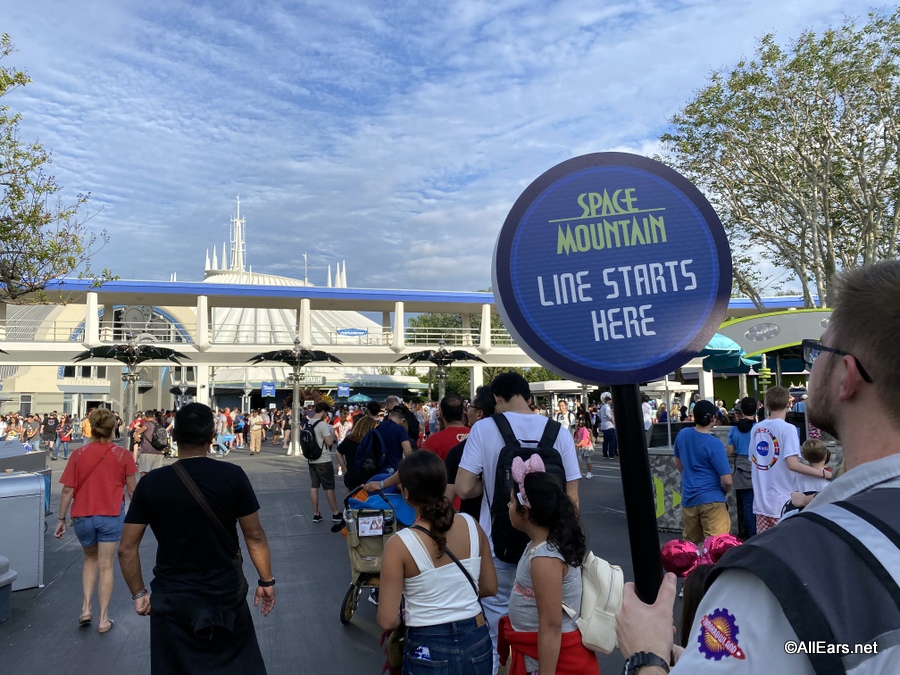 But Disney knows waiting in line is the pits, so they've devised a variety of tricks to distract you from the crushing boredom of waiting. And one of our favorites is the pre-show.
A pre-show is an opening video or experience that comes before the actual attraction. Sometimes it's something simple like spinning barrels in the line for the Seven Dwarf Mine Train, but other times we get an actual mini-show with endearing characters.
These shows are used to entertain us while the group before finishes the attraction. Pre-show characters set the tone for the attraction, guide us through the experience, and sometimes let us know how to stay safe on the ride.
Here are a few of our favorite characters that only exist in pre-shows at Walt Disney World.
Clyde and Claude –– Enchanted Tiki Room
First off, the Enchanted Tiki Room in Magic Kingdom's Adventureland. A trip to Disney World doesn't feel complete without a Dole Whip and the Tiki Room. But before you enter the Enchanted Tiki Room to view a Polynesian Musical Melody with a flock of funny animatronic birds, you have to wait in line for a few minutes. In the last four minutes before the next show, guests are treated to a toucan comedy duo called Clyde and Claude.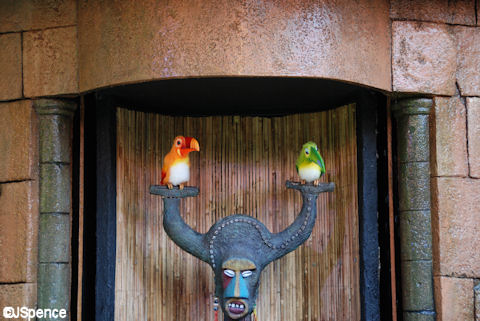 Claude is British and refined, while his pal Clyde is a little more relaxed with a Southern accent. Sitting atop a tiki idol that represents a fictional God of Health, they tell how they came to be at the Tiki Room. With a classic comedy duo vibe that harkens back to Laurel and Ollie, it is worth showing up at least four minutes before the next show to catch them in the pre-show!
Ghost Host –– Haunted Mansion
The Haunted Mansion has one of the best interactive queues in Walt Disney World with a lively graveyard with funny tombstones, a musical crypt, and a fortune-telling book. Once you enter the Mansion, you are directed into a portrait gallery with a disembodied voice called the Ghost Host. The Ghost Host immediately sets the tone for the ride with some dark humor and a few scares.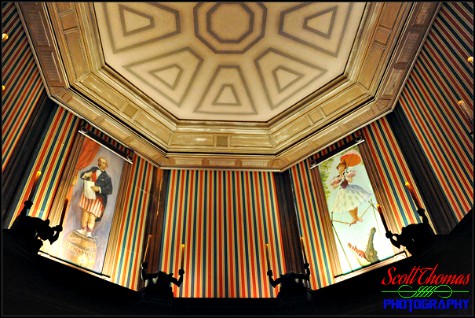 The Ghost Host guides guests through the Mansion and narrates the whole experience, which isn't the only time that a character is introduced in the pre-show and haunts guests until the end. Some believe the Ghost Host is the owner of the Mansion, sometimes referred to as Master Gracey. One of the charms of the Haunted Mansion is that there are many legends and stories about the characters, but very little is confirmed or canon for the ride (including the Hitchhiking Ghosts' names). It makes the Haunted Mansion feel mysterious and like it is ever-changing.
Melvin, Bluff, and Max –– Country Bear Jamboree
Howdy, folks! If you want some rustic charm and catchy (slightly inappropriate) tunes, you have to go see the Country Bear Jamboree. This rousing Jamboree of Bears playing country tunes starts off with an intro from Melvin, Bluff, and Max who are stuffed heads mounted on the wall. They're a moose, a buffalo, and a stag. 
They crack jokes about their predicament and occasionally heckle the bears performing. These three give guests the feeling that everything in the room is alive (like the Tiki Room). Before the 2012 refurbishment, they had more banter at the start and end of the show. Now they mostly heckle and offer one-liners, but we hope they aren't going anywhere anytime soon.
Chief Flight Attendant Patrick –– Soarin'
Patrick Warburton has the deep voice of an angel and delivers what could've been a dull safety video with a level of comedic charm we don't deserve. Patrick is the flight attendant who walks us through what to expect from Soarin' Around the World and how to keep all of our belongings safe.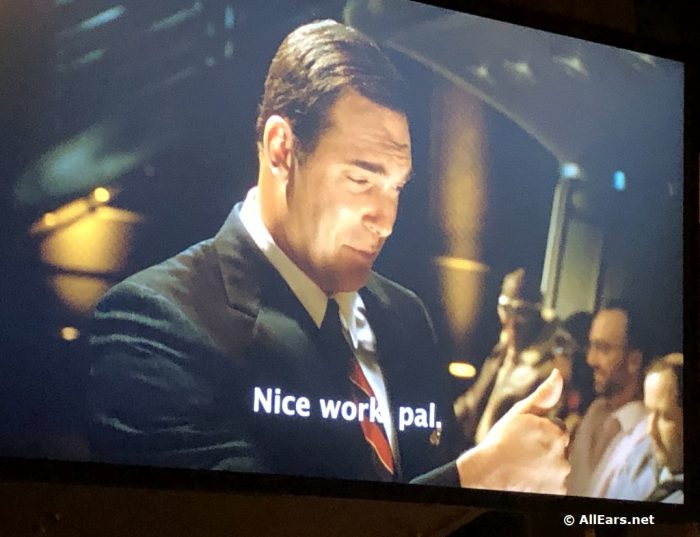 Patrick even gets to deliver a great line about removing Mickey ears. Once you hear it you'll have trouble calling them anything but "little beauties."
Capcom –– Mission Space
MISSION: Space has gone through changes over the years, getting less intense by adding a new Green, family-friendly experience and recasting the pre-show video. From when MISSION: Space opened in 2003 until 2017, Gary Sinise played Capcom in the opening video. From 2017 onward, Capcom was changed to Gina Torres. We went form Lt. Dan to Zoey Washburne.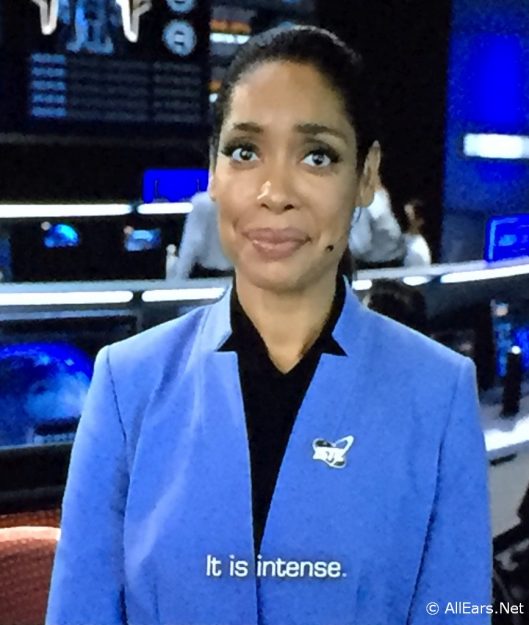 Both are awesome in their own right and help lend to the reality of being sent on a mission to space. We may miss Gary Sinise's Capcom but can think of no one better to lead us on our next mission than Gina Torres. It also helps us live out our Firefly larping dreams.
Aly San San –– Star Tours
Since Galaxy's Edge opened last August, Hollywood Studios has been swarmed with Star Wars fans, but there is one Star Wars attraction that has had a shorted line since Black Spire Outpost opened: Star Tours. With a long, winding (mostly) indoor queue, we get to feel like we are actually waiting for a flight in a galactic airport. Throughout the line, there are a few different droids checking luggage and scanning passengers (including one voiced by Patrick Warburton, believe it or not!), but the droid that jumps out at us is Aly San San.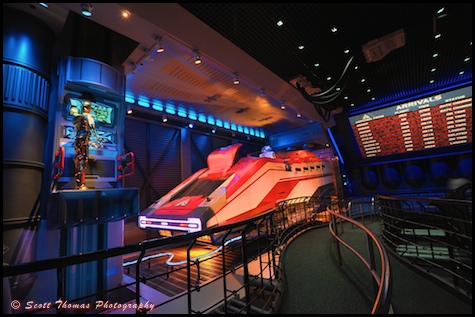 Aly is the flight attendant droid that gives us our flight safety information before we board the shuttlecraft. She is voiced by Allison Janney, best known for her roles on The West Wing and Mom. The video is mostly informative about safety and stowing your space luggage, but there is a fun comedic part when she changes from English to Spanish. Her most memorable moment is actually after the ride when she tells everyone to disembark and utters two syllables that you can hear guests mimic as you walk to the gift shop: "Buh-bye!" At one point, Disney even sold an action figure of her. We wish they would do it again!
Lt Bek and First Order Officers — Rise of Resistance
If you haven't ridden Rise of Resistance yet and want to be surprised, please skip to the next section. Okay, everyone has been warned. There are about 4-5 pre-shows on Rise of Resistance, and all of them help immerse you in the Star Wars universe. We are going to look only at two of them for now. The first is the escape shuttle that you are loaded on to get off of Batuu piloted by the rebel hero Nien Nunb. On this shuttle, we are given our orders by a Mon Calamari (same race as Admiral Ackbar) named Lt. Bek.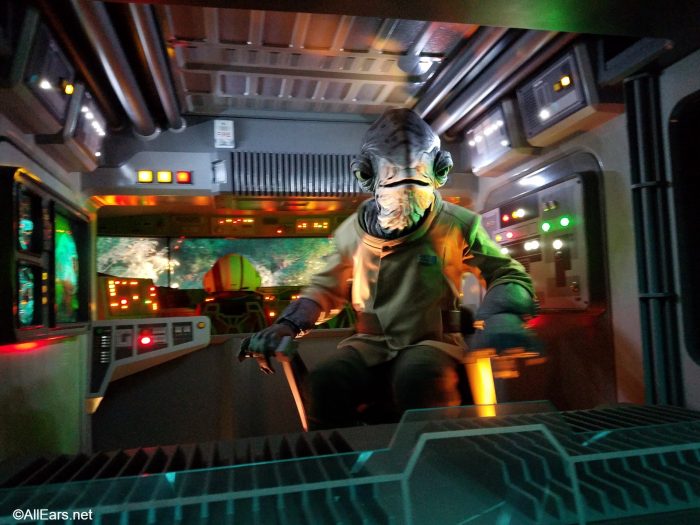 Bek does his best to get us away from the First Order and safely off-world, but it doesn't go according to plan. We are suckers for a cool new alien Star Wars character, especially if he looks like one of our favorites, Ackbar.
After you are taken by the First Order, you're led right into the next pre-show where you're escorted by terse, by-the-book First Order officers and brought aboard a Star Destroyer. The sheer size of the room is enough to make you want to turn in Rey and her friends. But what really makes this feel real are the First Order cast members. They corral everyone into lines and then successfully distract from the continued wait with threats of torture. Sounds fun, right? It is! 
They never break character and make it incredibly hard not to burst out laughing. We saw a small child tell First Order Officer Perry that he was going to kick his butt, and Perry's unflinching response was Oscar-worthy. It's almost worth the wait just to get threatened by First Order Officers.
Construction Workers –– Muppet Vision 3D
When you first set foot in Muppet Vision 3D you are bombarded with wonderfully cheesy sight gags and clever wordplay. The lobby is full of more Muppet references than one person can count. If you show up far enough before the actual show starts you can check them all out, and you will also be treated to a pre-show video that feels just like a classic episode of the Muppet Show. 
It starts with a group of construction workers (some human, some dog) putting up the Muppet Vision 3D signs, and in perfect Muppet style, it doesn't go well. There are also tons of short sketches involving the show prep not going as planned. When the construction workers finally get the signs up again, it doesn't last.
Dr. Seeker and Dr. Marsh –– Dinosaur
Hello, there! If you didn't immediately hear that in Dr. Seeker's voice just then, you haven't ridden DInosaur enough. Here is the second pre-show on this list to feature humans and not animals or ghosts. When you enter the Dino Institute you are greeted by Bill Nye's voice, and he walks us through some interesting Dino facts, followed by a video talking about the future of paleontology. Dr. Marsh (played by Phylicia Rashad) explains that we are going to go back to the past in a time rover and see dinosaurs for real! Then Dr. Seeker (played by Wallace Langham) cuts in to tell us we are going to go on a different trip a little closer to when a meteor hit.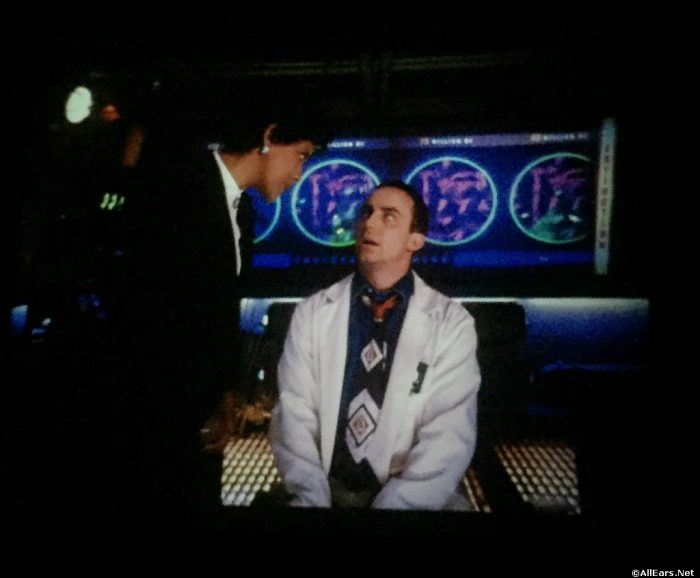 Dr. Marsh and Dr. Seeker
Dr. Marsh puts a stop to that and has Dr. Seeker walk us through the safety procedures of time travel. He then utters the single greatest line in any Disney pre-show: "We were just talking about seatbelts. Plug them in. Use them." If you don't walk away quoting the pre-show video, ride again. It's a gem and worth waiting in line just for that.
Dishonorable Mention: Dr. Stevens — Flight of Passage
Unlike the above listed characters, Dr. Stevens in the pre-show video for Flight of Passage is arguably the worst part of the ride. He tends to ramble while he's providing some background on the experience, but he is distracting for all the wrong reasons.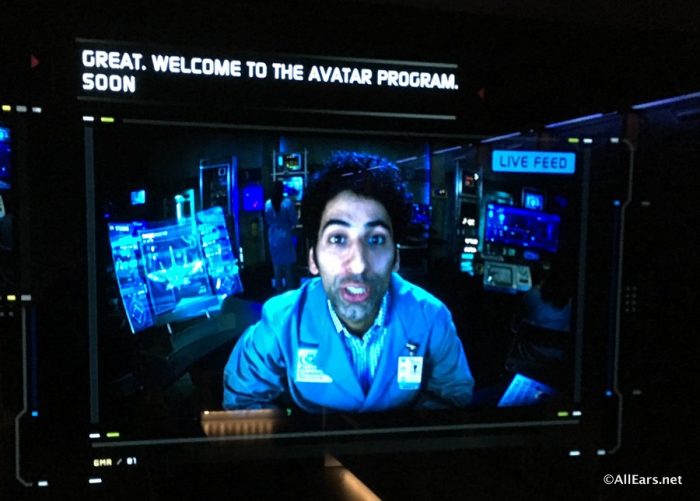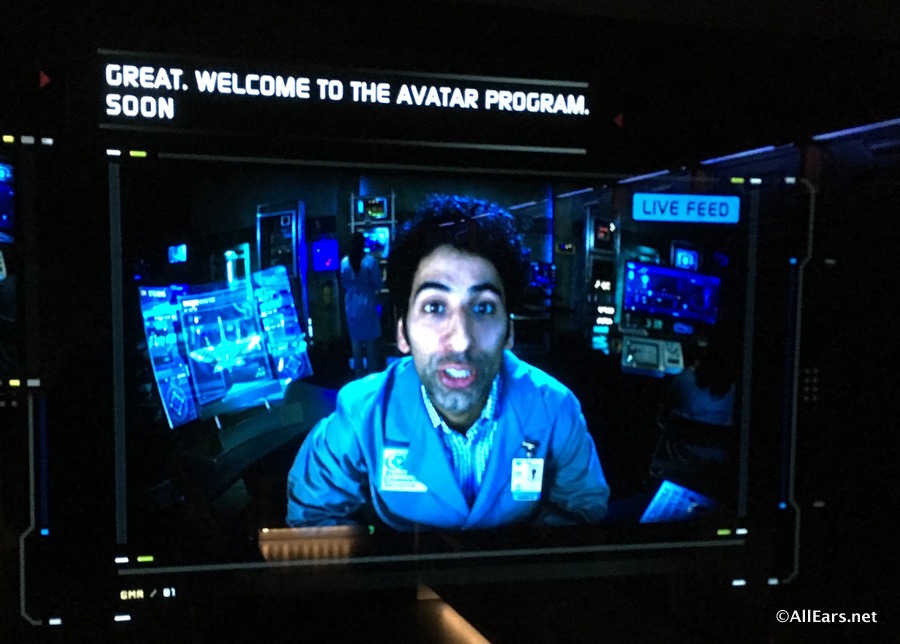 Many guests' number one complaint: Dr. Stevens says um and uh like he is getting paid for each one. We would pay just to skip his part of the ride. All that being said, we do love D.r Jackie Ogden. She is the stand-in for the Sigourney Weaver character from Avatar. She comes off as a genuinely enthusiastic anthropologist studying a new group of people. Maybe they can just extend her part and get rid of Dr. Stevens? Uhhh, we'll have to think about it.
Honorable Mention: Dapper Dans –– Main Street, USA
Think of these dapper fellows as the ultimate pre-show — the pre-show before the big show that is all of Magic Kingdom. The Dapper Dans are a joyous treat for anyone who comes across them on Mainstreet. This barbershop quartet have wonderful voices and seamlessly weave a medley of old-time favorites together with vaudevillian humor. If you can, take a break from running to rides, and stay to watch their whole show.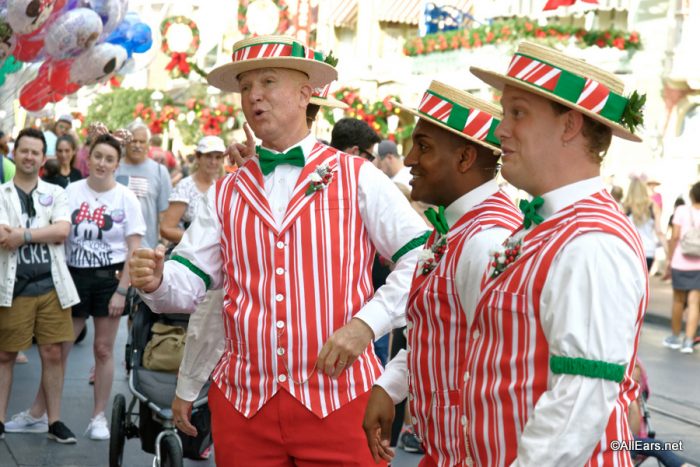 There are tons of other pre-shows that are worth the price of admission, ranging from Flik in It's Tough To Be A Bug to Hondo Ohnaka in Smugglers Run. Next time you're at Walt Disney World, take a moment to enjoy these treats before you get on the attraction.
Do you have a favorite pre-show? Let us know in the comments.