To all who come to this photo trivia game, welcome! Along the way, the photos can make us relive memories and see details that Walt's Imagineers put into everything we love in Walt Disney World!
The US celebrates the life of Dr. Martin Luther King Jr. on Monday and the fight for Civil Rights.

Now for Challenge #621
And here's the answer:
Muppets 3D! I was enjoying my love for the Muppets by going through shows and movies, so I came here when it was time for the Challenge. This is a great attraction, a near perfect Muppet experience! I understand people who say this should be updated (updated, not removed!), but for me… it's Jim Henson's last performance. I hate to lose that.
It's like when they used Walt performing Mickey's voice in "Get A Horse". I squealed like they found a previously unknown recording.
I'm sorry; I see that I didn't update the description of the new challenge leading someone to think it's in the Magic Kingdom, so I did accept those.
Bonnie Jean was the first to send in the correct answer! Congratulations to Bonnie and to all our winners this week! Anabelle Mcginley, Andreas Beer, Axel Beer, Adolph And Kimberly Timm, Beth Mcmeekin, Joe Calomeni, Joann Albrecht, Glenn And Nancy Motson, Kris Nixon, Laurie Walker, Tina Fait, Team Hill, Janet T Thorn, Janet, Janet, Bruce Hinterleitner, Grumpys Groupies, The Gunnels Gang, Nancy Cole, Deb Ragno, Karen Fichter, Tammy Warmouth, Jim Wieczorek, Terry Gengler, Vera And Izzy Williams, Sands Family, Luis Rodriguez, Sherry Knoster, Jim Finley, David Crockett, Chris Kelly, John Thompson, Belicia, Maureen And Warren Handy, Scott C., The Kuroly Family, The Kertes Family, Arlene Vicek, Smitty, Kenneth Jackson, Martha And Justin Collins, Terri Rothfusz, Herb Miller, Phyllis, Theresa Maradei, Beau Harrison, Robert Hicks, Claire Gregory, Robert Hicks, Jeff Blank, Karen Schlumpf, Michael P. Weeman, Charise Hampton, Joseph M. Zafia, Jeremy Reichelt, Cathy Connors, Mark Hardy, George Mundy Jr, Michelle Fure, Mark Potosky, Tricia Petty, Maddie Inman, The Patterson Family, Vicki Britt, Mis Jamie Marie, Colin Moore, Mike Obrien, Michaela Obrien, Karen Obrien, Mike Obrien, Michaela Obrien, Karen Obrien, Ken Savage, Barry Sklenar, Sandra Debow, John Debow, Sue Bridges, Ward Conolly, Mike Haeberle, Sandra Gempp, Jamie Poynton, Emily Hudson, Theresa Rucando, Tony Bivens, Karen Bidus, Tammy Cronin, Karen Bellamy, Shannon Benton, Donald Purney, Jeff Mcginley, Jim & Lorie Sonnen, Sue And Ed Adams, Vincent Degasperis, Marilyn Lewis, Robert Flaherty, and Jane Johnson!
______________________________________________________
Challenge #622 Where in the world is this?
You might be able to tell from the film that this was taken awhile ago, early 90s I think, but it hasn't changed much.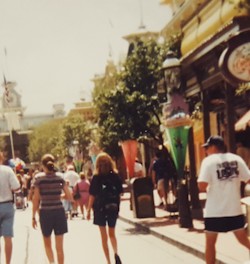 Do you know? Do you have a guess? Send in your answer before the end of the day on Thursday, January 23rd, by clicking on the blue box below. Please do not post your answers on this blog post.
See you soon, Players!

_____________________________________________________________________
Everyone who sends in a correct answer to a Where in the World Challenge this month will be entered in a drawing at the end of the month for some special AllEars® goodies!
Be sure to follow @allearsnet on Instagram and Twitter!
Check out our YouTube Channel for reviews, news, information, and more!
Click below to subscribe to the AllEars® Newsletter so you don't miss any of the latest Disney news!