Yesterday we took a tour of Walt Disney World's Riviera Resort, the newest Disney Vacation Club Resort and the first stand-alone DVC Resort in well over a decade! You can read our first look at two model Riviera Rooms and get a feel for some of the amenities offered at Riviera here.
But now it's time to eat.
Rather, it's time to check out a few of the cuinary offerings of Riviera Resort. The preview included a few plated dishes and a quartet of samples. Let's dig in!
Topolino's Terrace — Flavors of the Riviera
Topolino's Terrace — Flavors of the Riviera is the Resort's most anticipated restaurant. This table service spot will offer a character breakfast, a Riviera-inspired dinner menu, and sweeping views. Topolino's Terrace is rooftop dining, and from the looks of the model (seen below), there will, in fact, be a terrace.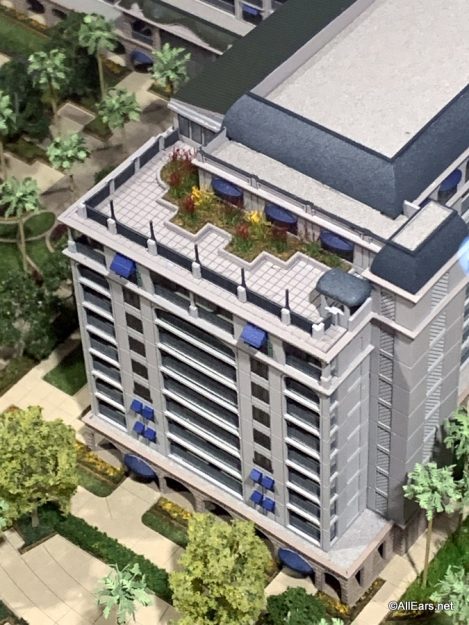 Concept art — which held very true in the case of the model rooms we saw yesterday — paints a picture of warmth, comfort, and style. And the menu? It's got those characteristics, too!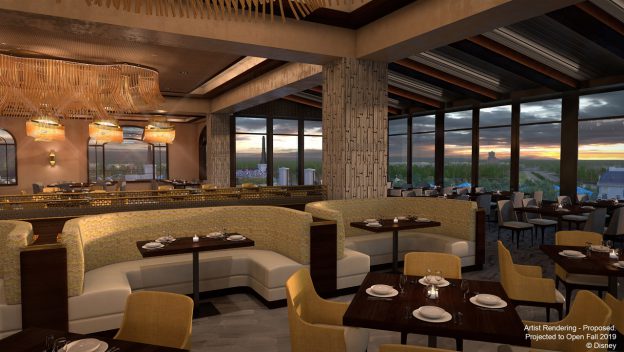 We checked out the Fruit Plate which include seasonal fruits, honey yogurt with seed granola, and toasted sunflower butter. It sounds like a light and fresh way to start the day.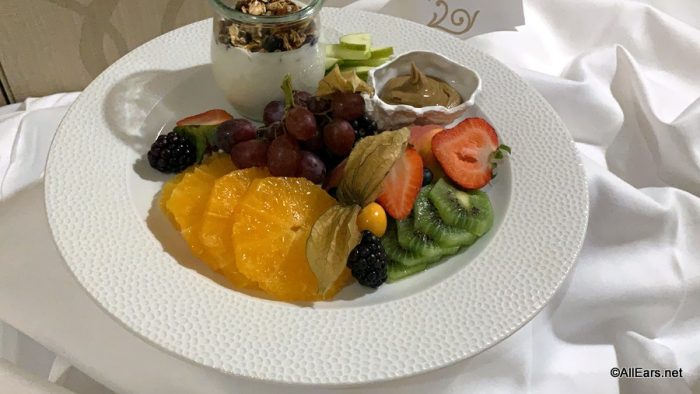 The Quiche Guyere was a dish we saw plated (below) and had a chance to try. To say this is delicious is an understatement. It was amazing!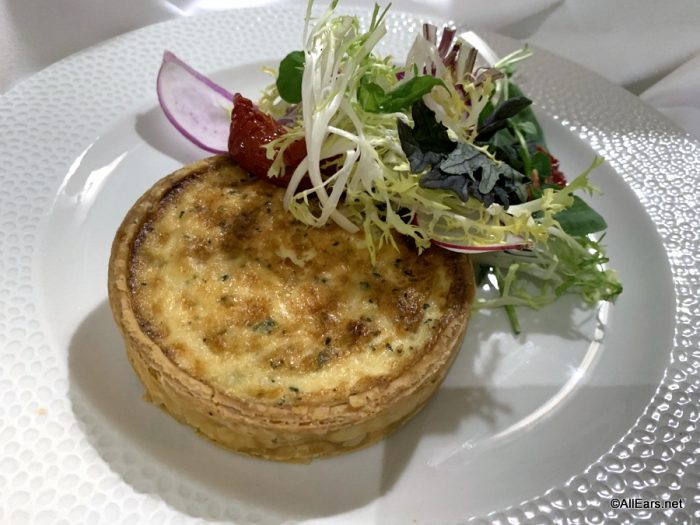 The house-made pancetta is the smoky star of this egg tart, and field greens with lemon vinaigrette added some nice contrast. Seriously: if you're enjoying a character meal at Topolino's, get this dish!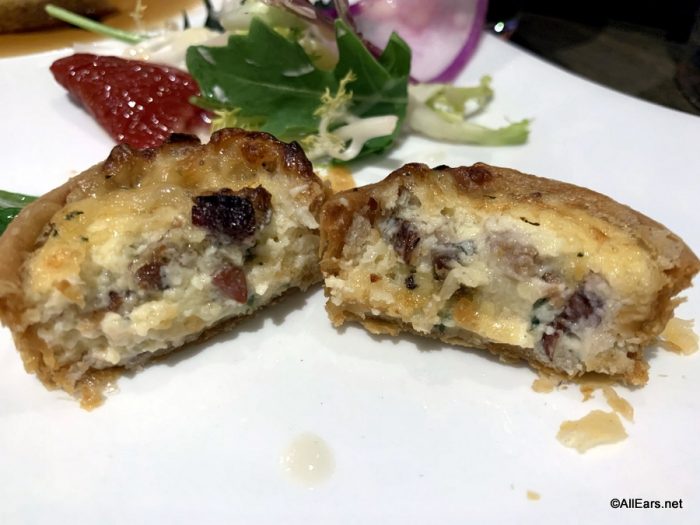 We didn't get to try this next dinner dish, but Burrato Con Panna sounds like a dream! This Antipasto includes black winter truffle, olio d'oliva, seed lavosh, and sea salt. Simple, high-quality ingredients we want to try tres vite!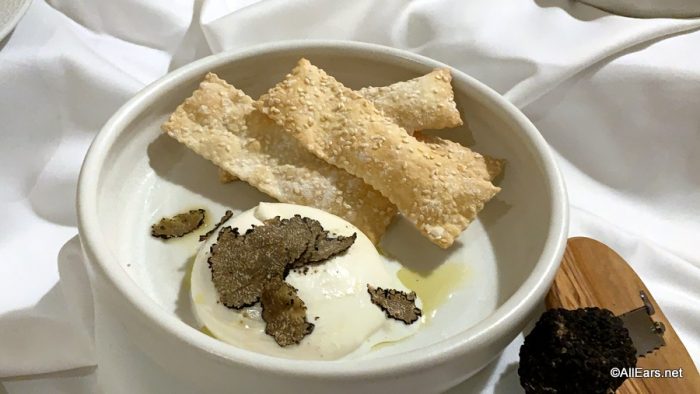 Mariné Olives are another dinnertime Anitpasto. These are olives marinated with lemon, garlic, marjoram, and bay leaf. Again: simple ingredients that surely sing.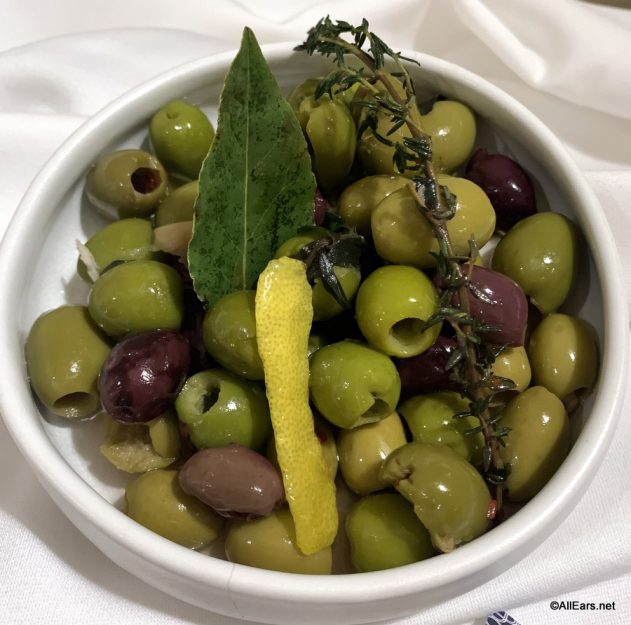 We did get to try the Pomegranate Dip Cooler, a combination of Odwalla Lemonade, pomegranate, and mint. This simple drink was delicious (and we thought it would be an excellent adult beverage with a smidge of vodka added).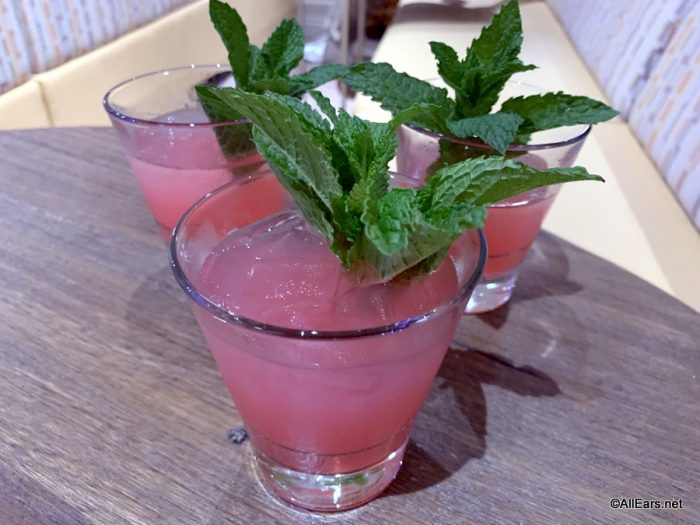 Bar Riva and Primo Piatto
Bar Riva will be Riviera Pool's pool bar, and Primo Piatto will serve as the Resort's quick service dining location, but it looks like they'll be dishing out some identical menu items!
First up was our favorite sampling of the day: Blueberry Lemon Pancakes.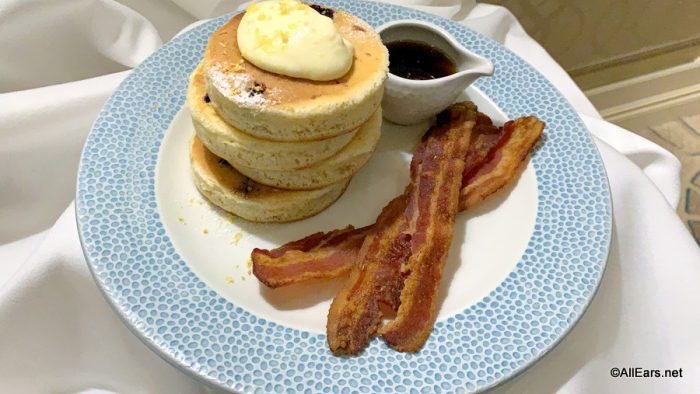 These fluffy blueberry pancakes come topped with lemon marscapone cheese, and that, our friends, is the highlight.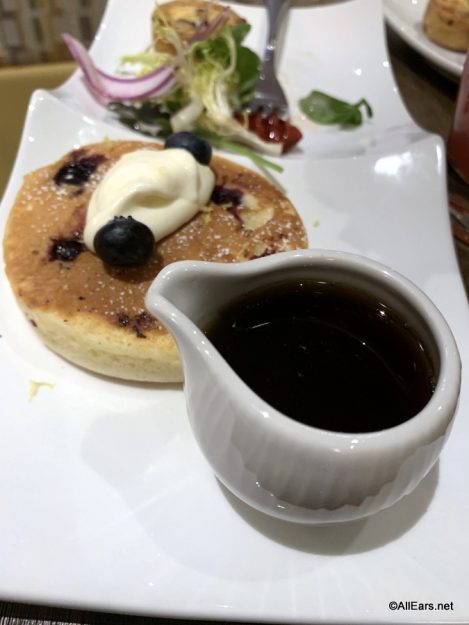 The lemon was bright, the cream was… creamy, and the combination of pancake and lemon marscapone was truly awesome. Ten out of ten.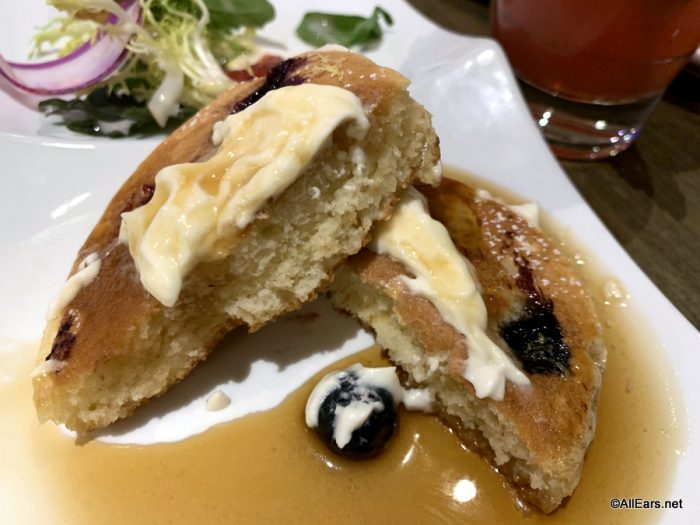 The second dish we tried from Bar Riva and Primo Piatto was the Acai Yogurt and Berry Parfait.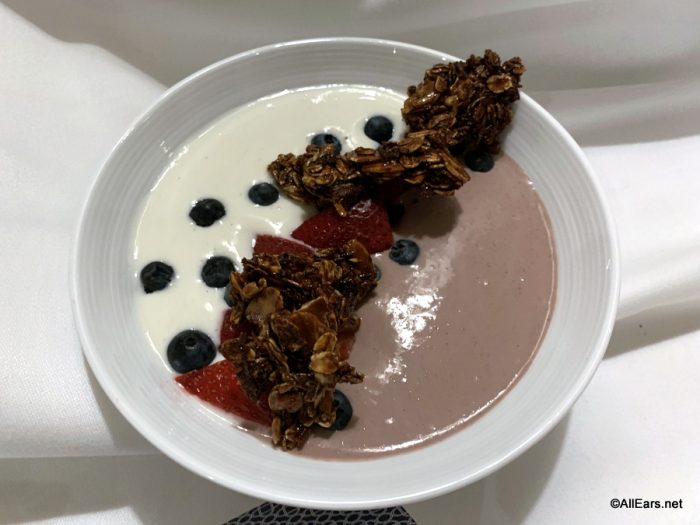 We tried a sample of this simple-but-delicious breakfast item, and it hit all the right yogurt parfait notes. And because there's acai and granola and fresh fruit, it would be a wholesome way to start the day!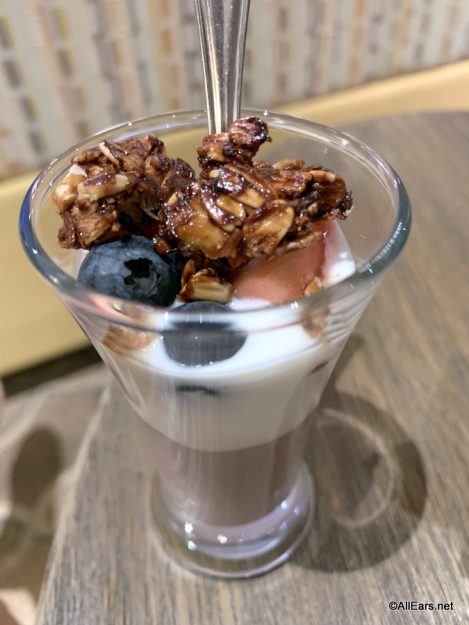 We also got to see the colorful, plated Tuna Nicoise Salad with dijon dressing. This is another apparently light meal, and for tuna fans, it looks like it could be a big hit!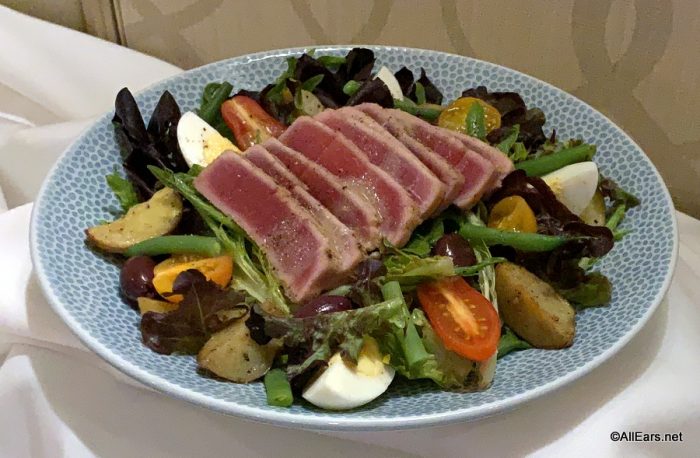 Le Petit Cafe
The last item previewed was from Le Petit Cafe. This bakery in the morning/wine bar in the afternoon/evening will be located off the Resort's lobby.

The Lemon Madeleines look like the perfect French treat, and we're looking forward to enjoying these with a cup of coffee or tea. (Who are we kidding? We'll eat them while we enjoy some wine, too.)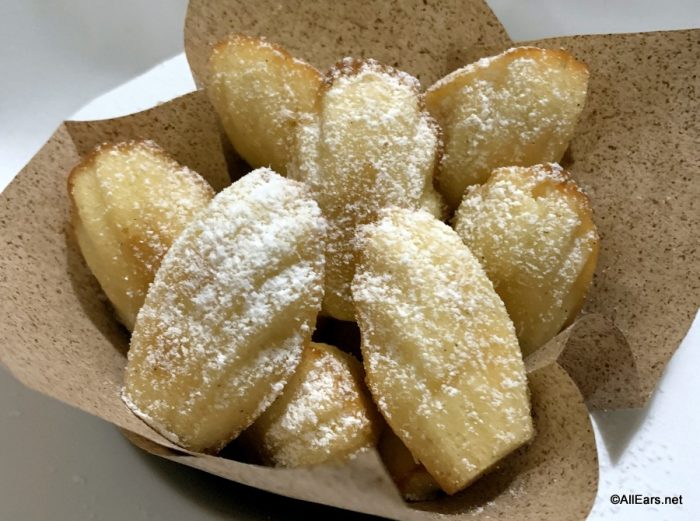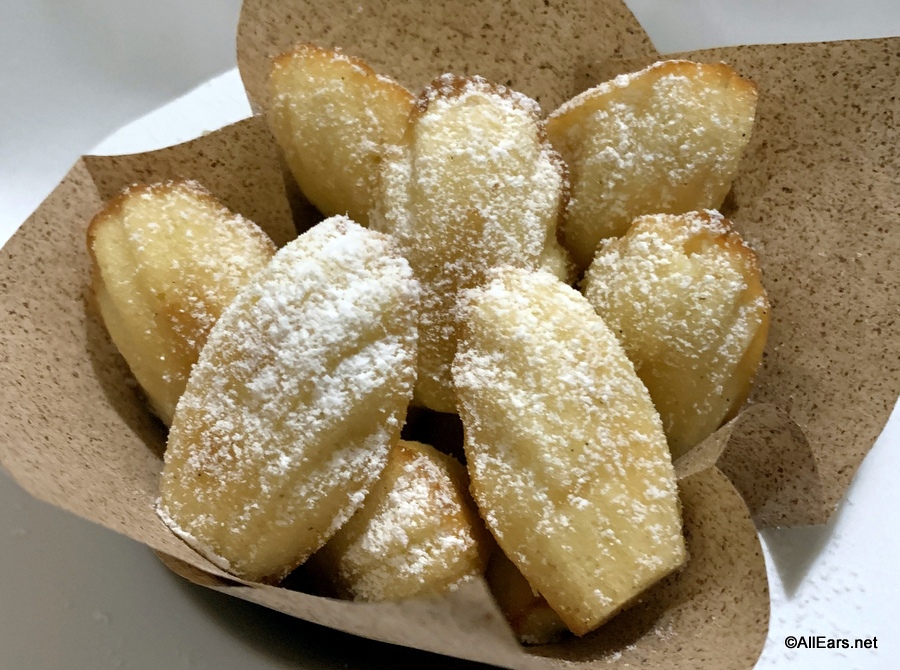 Is it December 16 yet? Normally we don't like to rush time, but we're excited to sample all of these menu items and check out more from Riviera Resort when it opens in just under three months!
Are you excited about Riviera Resort? Let us know what you think about these menu offerings! Comment below!
Disclosure: We were invited by Walt Disney World to attend the media preview of Riviera Resort. This did not affect our reporting of the event — our opinions are our own.