While D23 Expo had its fair share of big star-studded presentations and impressive announcements, a large part of its appeal has always been the closer, more detailed look it affords guests at some of Disney's famed attractions.
In "The Music and Sounds of Star Wars: Galaxy's Edge," Imagineers and musicians gathered to discuss their creative process in stitching together the sound landscape of the new land.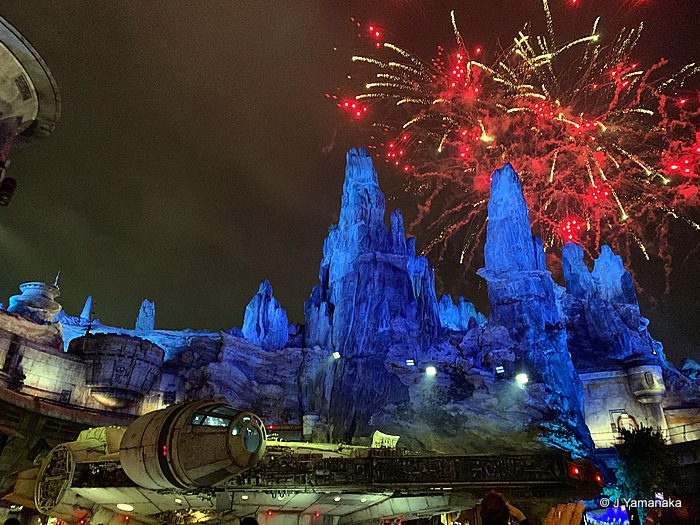 In the first segment of the panel,  vice president of Walt Disney Imagineering Music Studio Matt Walker spoke with John Dennis, executive music producer Walt Disney Imagineering Music Studio, and William Ross Arranger/Producer about integrating John William's famous score into various parts of Galaxy's Edge, and in particular, Savi's Workshop.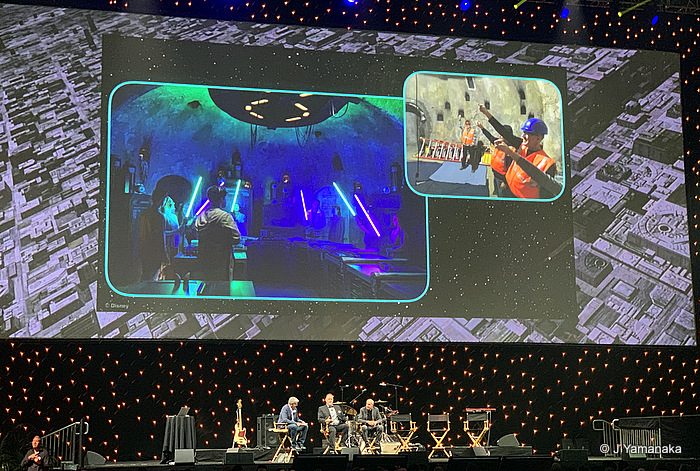 In order to connect people's park experience emotionally to the films, care was taken to select familiar and contextually appropriate music from the soundtrack.  During the light saber building process, music from Star Wars: The Empire Strikes Back swells as guests subliminally relate their ceremonial act of creation with Luke's and Yoda's training on Dagobah.
John Williams was not present but sent a taped message expressing his gratitude for being a part of Star Wars all these years, and his appreciation for the guests that, through their act of listening, complete the park experience.
The next part of the panel focused on the ambient noise and sound effects that make up the immersive soundscape of Batuu with John "JK" Kestler, principal audio media designer, Walt Disney Imagineering Show Studio.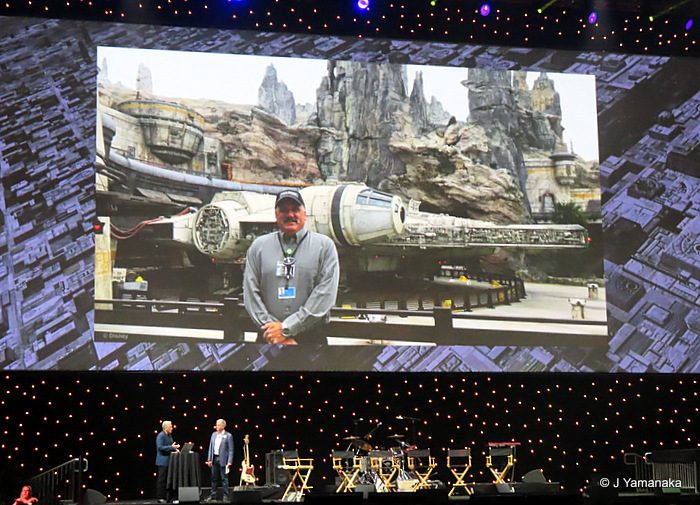 Kestler played for us some of the over 2,900 sound files created for Black Spire Outpost.  From air/spacecraft take off noises, to galactic radio stations, to a loud family of Wookies that live above the marketplace, the sounds (which change throughout the day) are designed to weave a convincing reality.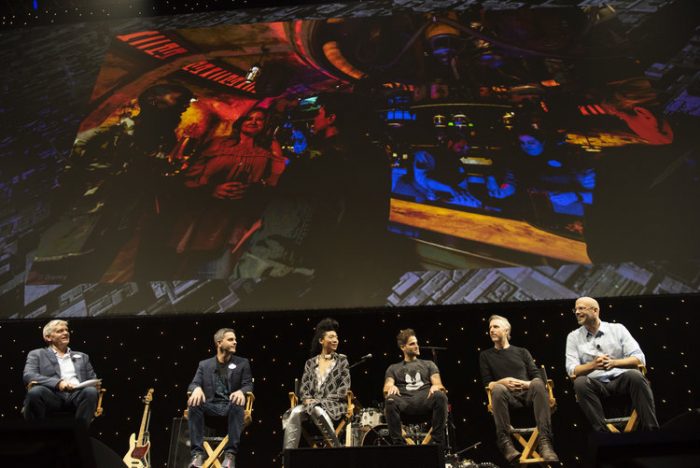 Finally, Yaron Spiwak, senior music producer Walt Disney Imagineering Music Studio, singer Judith Hill, producer Jason Mater, editor Matthew Wood, and producer Adam Dorn gathered to talk about the music in Oga's Cantina.
While Dorn was initially impressed with the pressure of remixing such iconic music as the Cantina Song, the approbation he's received from both guests and John Williams alike have made this an amazing project for him.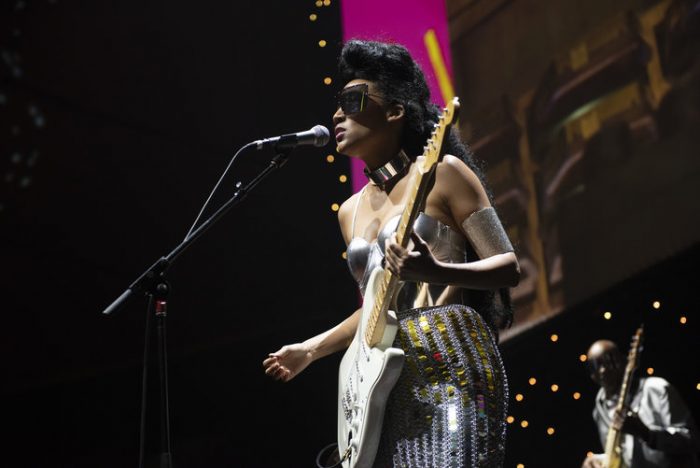 To close out the panel, Hill and her band gave a live performance of "Oola Shuka" with Hill performing as the in-world singer "Gaya."
Star Wars: Galaxy's Edge Oga's Cantina: R3X's Playlist #1 is now available for your galaxy's edge listening pleasure on a variety of streaming services.
Questions?  Comments?  Suggestions?  Drop us a line below.
Be sure to follow @allearsnet on Facebook, Instagram and Twitter!
Check out our YouTube Channel for reviews, news, information and more!
Click below to subscribe to the AllEars® newsletter so you don't miss any of the latest Disney news!