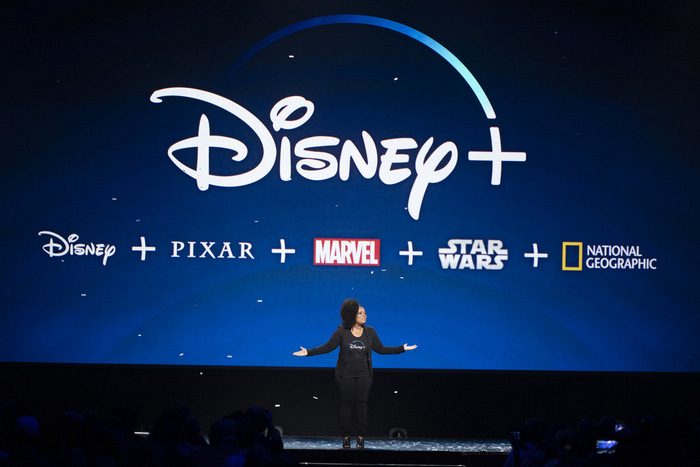 Probably the focal point of D23 Expo this year was Disney+ , the new video streaming service launching November 12, 2019 with all-Disney content.  Its robust lineup includes content from all the various IP Disney has accumulated through the years, including Pixar, Marvel, Star Wars, and National Geographic, as well as the Disney Channel and various original documentaries and features currently in production.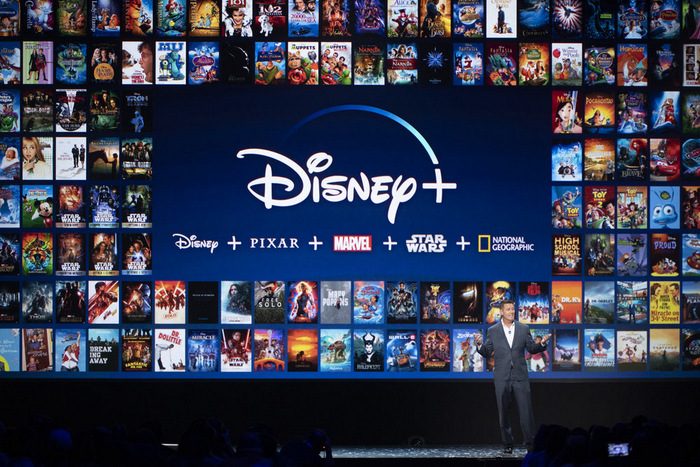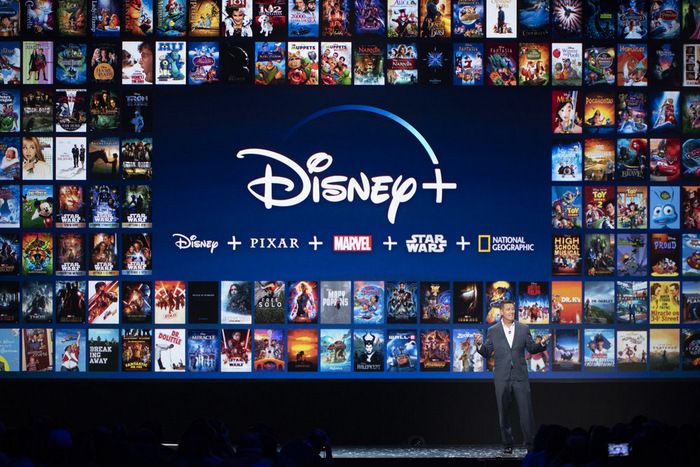 While the major announcements coming out of the Disney+ Showcase have already been reported here, it might be worth taking an overall look at what Disney+ has announced in its offerings, in a market already stoutly anchored with companies such as Netflix and Amazon Prime.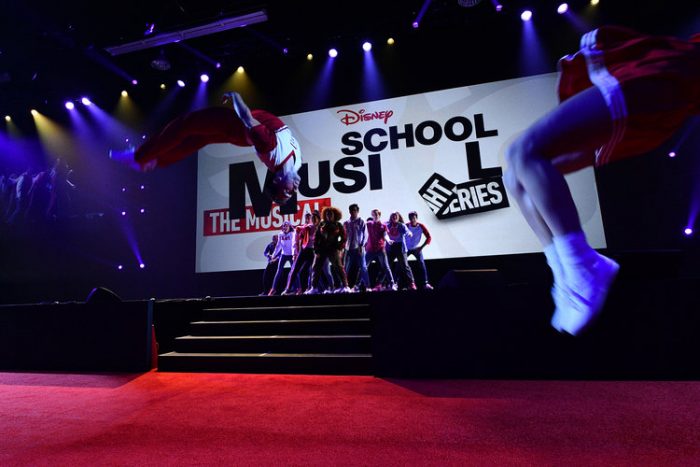 The cost:  For some, money is no object.  For me, personally, money is virtually the only object, so the fact that it's being priced at a pretty reasonable $7/month or $70/year already makes it an attractive option.  Currently, D23 is offering a "Founders Circle" discount which brings it down to $140.97/3 years.  While some might balk at committing to that long of a subscription right off the bat, it's been reported that they will be adhering to a more traditional weekly release of content for their sequential properties versus the Netflix model of making a whole season/series available at once.  This is bad news for binge-watchers but does make it possible for Disney to better control the pace of the watching experience.  In any case, it doesn't sound like it's going to be possible for people to sign up for a trial month (if they even offer one) and then watch everything before cancelling, so a longer subscription may end up being the easiest way early viewers can ensure themselves a complete story.
The content:  Now that Disney owns a huge chunk of all pop culture, there's a huge amount of pre-existing content funneling into Disney+ from the get-go.  Over 5,000 episodes of Disney Channel and Disney Junior shows will be available off the bat along with the traditional Disney Vault films.  Building off of that, new features (Phineas and Ferb The Movie: Candace Against the Universe) and series (Lizzie McGuire, High School Musical: The Musical: The Series) will continue to expand familiar universes and feed the nostalgia monster inside the millennials and the millennials at heart.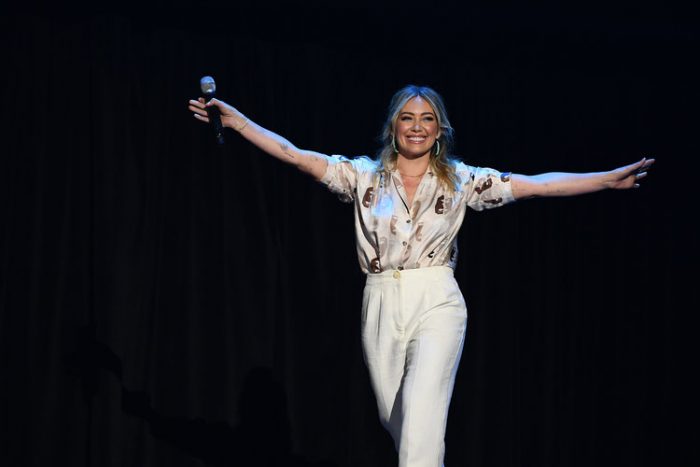 On the Pixar side, Toy Story 4 and Tony Hale get the short-form spin-off series Forky Asks a Question which will likely see returning cameos of familiar Toy Story characters attempting to widen Forky's limited worldview.  Monsters Inc.'s sequel series Monsters at Work follows a recent Monsters University graduate who finds that his expertise in scaring children is outdated in a world where energy comes from laughter instead of screams.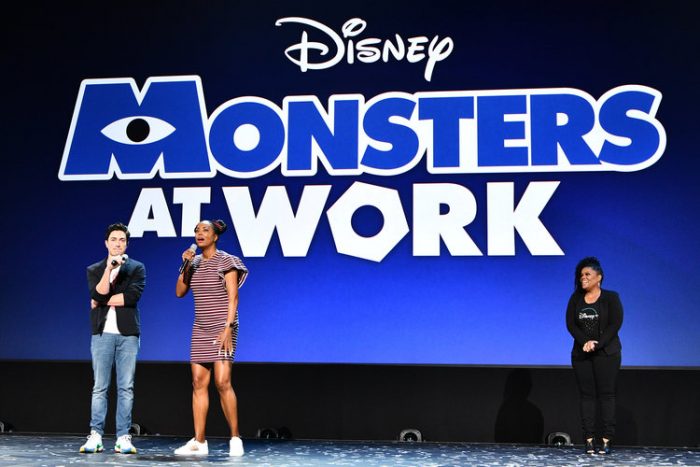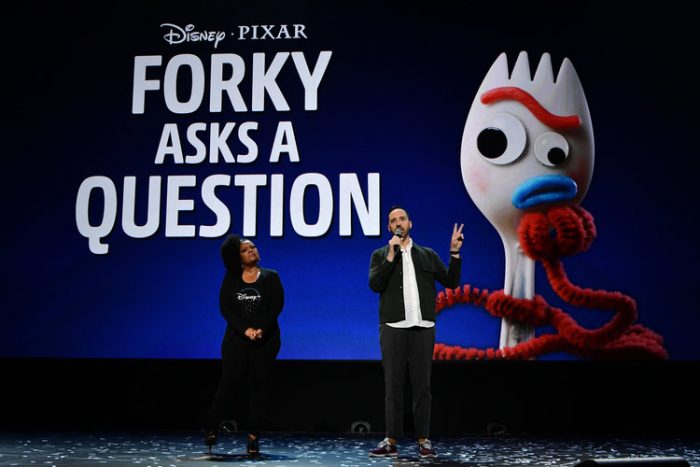 Where the showcase presentation really switched into high gear was, predictably, when Kevin Feige took the stage to talk about all the Marvel offerings.  Avengers: Endgame, currently the number one film of all time, will be streamable exclusively on Disney+ after December 11th.  Moving on to new content, Marvel will debut its first animated series What If…?  which will follow the original comics in which Uatu The Watcher (voiced by Jeffrey Wright) had the ability to see and show us all possible realities.  Apparent episodes show a storyline where an explosion occurs during Steve Roger's Super Soldier treatment resulting in Peggy Carter taking the serum instead and fighting crime with what appeared to be Rogers in an Iron Man suit.  Another clip revealed what looked like a zombie Captain America fighting Bucky.  Haley Atwell will return to voice her popular character, as will many of the original MCU cast.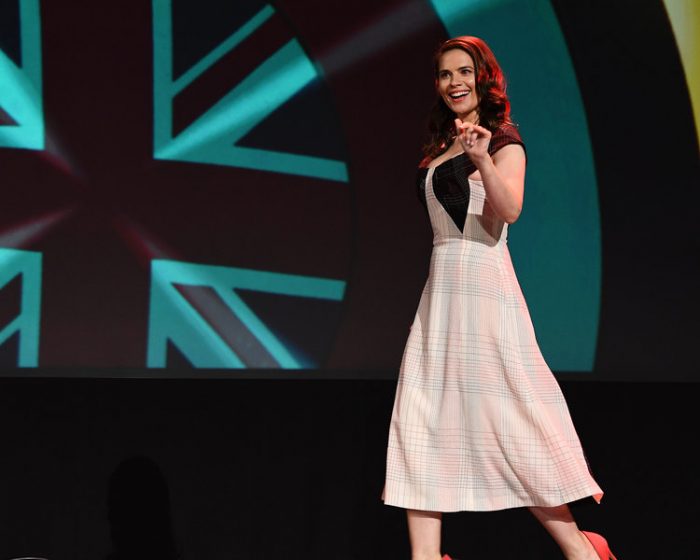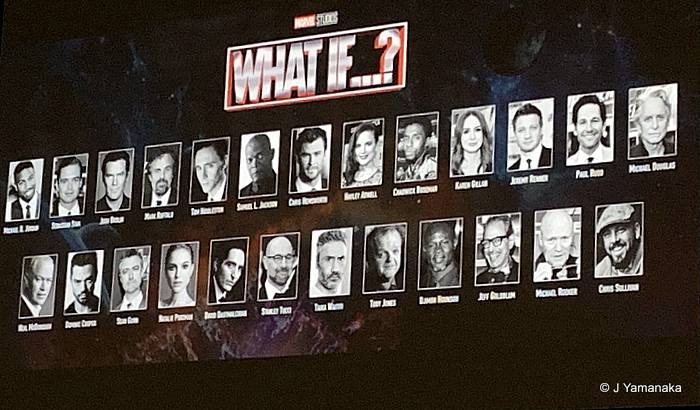 At this point, the MCU spin-off series came fast and furious as they briefly touched on the upcoming Loki, The Falcon and the Winter Soldier, Hawkeye, and WandaVision.  New announcements included the addition of Ms. Marvel, Moon Knight, and She-Hulk to the Phase Four roster.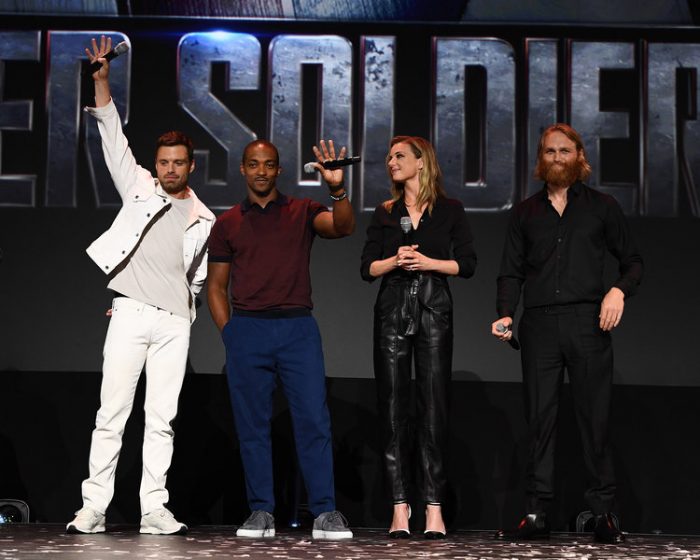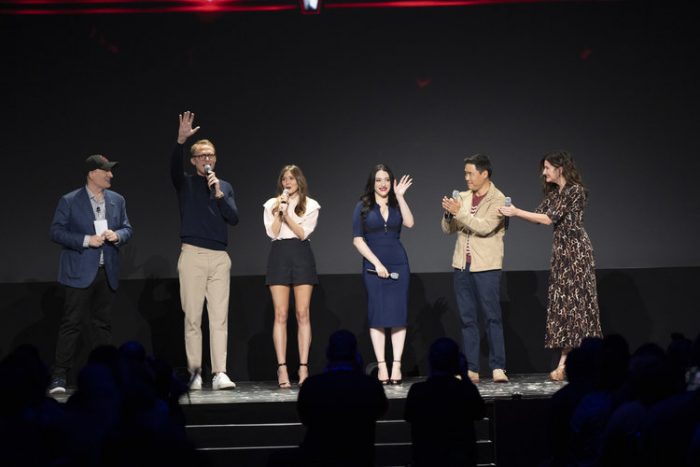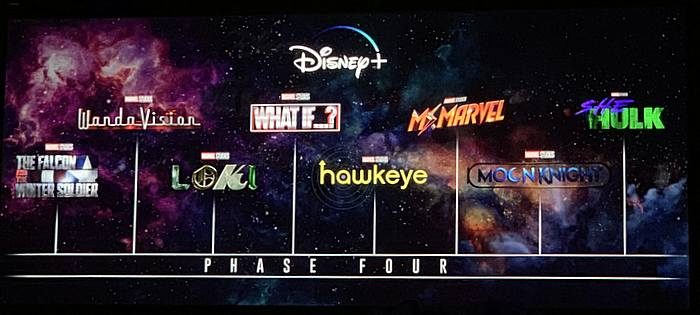 Disney will also be producing its share of original non-IP-based content as well.  In the genre of unscripted shows, The World According to Jeff Goldblum and Kirsten Bell's Encore are both planned to air at the start of Disney+ along with the live-action version of Lady and the Tramp.  Togo, your second dog-centric Disney+ film, is slotted for December 2019 along with the Christmas property Noelle.  Stargirl, Timmy Failure: Mistakes Were Made, Diary of a Female President, and the unscripted short-form Muppets Now are scheduled for sometime in 2020.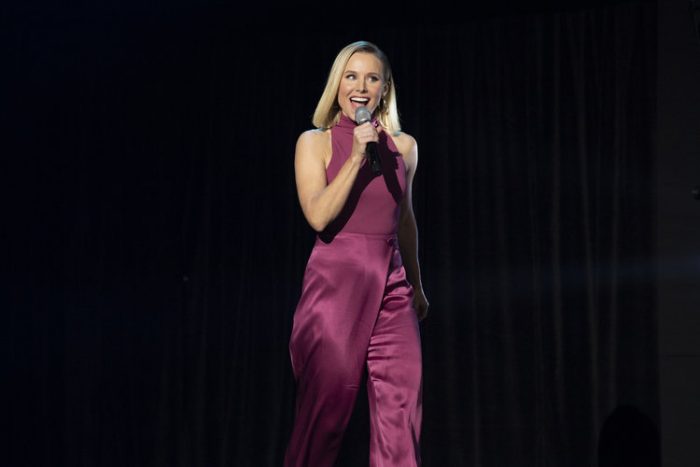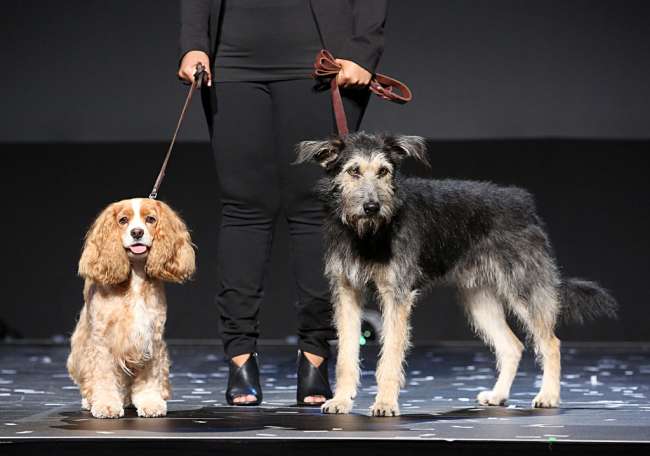 Finally, Kathleen Kennedy and Star Wars announced that all the Star Wars films will be available on Disney+ — many on launch day, along with their first live-action series The Mandalorian. 
Subsequent additions include the returning Clone Wars series and two untitled series:  A Rogue One prequel with Diego Luna and Alan Tudyk reprising their roles as Cassian Andor and K-2SO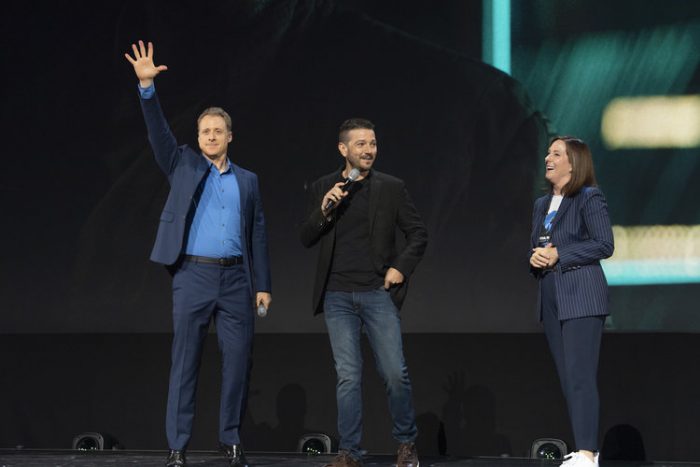 [Luna:  "It will be a prequel, so we will look younger!"  Tudyk:  "We will look gorgeous!"]
There will also be one featuring a long-rumored return of Ewan McGregor to his role of Obi-Wan Kenobi.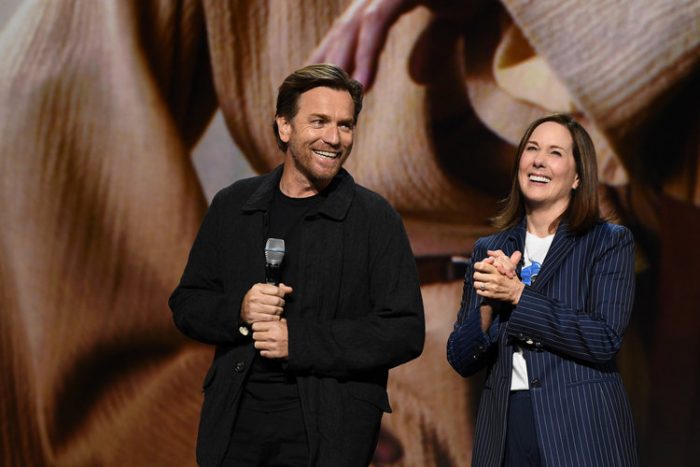 So quite a bit of content projected to come for Disney+, along with many other properties announced outside/prior to the D23 Expo Showcase, including the One Day at Disney documentary series.  While not everything that's announced always makes it to fruition, even just the films and series that exist now would make a formidable lineup.  In the fight for consumers' streaming dollars, Disney+ definitely has enough starpower in its corner to come out swinging in November.
For highlights from the presentation:
Questions?  Comments?  Suggestions?  Drop us a line below.
Be sure to follow @allearsnet on Facebook, Instagram and Twitter!
Check out our YouTube Channel for reviews, news, information and more!
Click below to subscribe to the AllEars® newsletter so you don't miss any of the latest Disney news!

Are you excited to check out what Disney+ has up its sleeve? Let us know in the comments!