As recently reported, Disney plans to significantly reduce its plastic waste over the next few years. One of the ways it plans to achieve this is by switching over to refillable in-room amenities (shampoo, body wash, conditioner, etc.), instead of using smaller individual, single-use bottles. Disney projects this effort will reduce plastics in in Disney hotel and cruise ship guest rooms by 80 percent.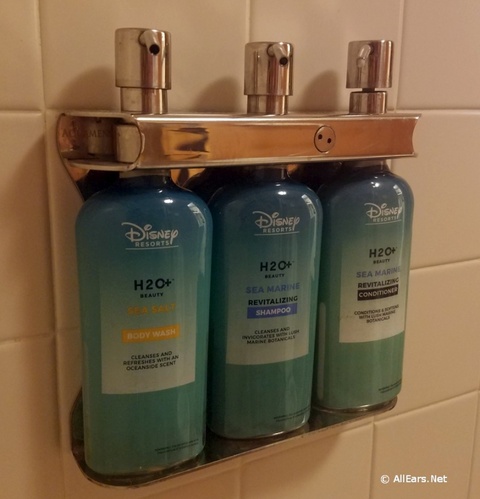 Wall-mounted dispensers like the ones pictured above have been placed in Walt Disney World's value resorts for some time now. (The photo above was taken recently at the All-Star Music Resort.) But we hear reports now that similar set-ups have been spotted in some moderate resorts, too, specifically Port Orleans French Quarter and Caribbean Beach Resorts.
As you can see from the photo, these larger dispensers are locked in place, to reduce the chance of tampering with the bottles. For those fans of the H2O+ bath products (yours truly included!), it seems that Disney is continuing to provide this high-end line of lotions, soaps and shampoos.
Unfortunately, we've already had reports of guests finding empty dispensers when they've checked into their rooms — perhaps housekeeping isn't yet used to checking the product levels routinely.
One thing's for sure — we'll miss taking home our partially used individual bottles and using them once back in our day-to-day routine! Just one whiff of that sea marine shampoo takes us back to happy times, lounging around our resort, or getting ready for a busy day in the parks.
Have you seen these new refillable amenities during your recent visit to the World? What do you think of this change? Leave a comment below!