After the sell-out success of "Little Mermaid Live in Concert at the Hollywood Bowl" back in 2016, Disney has returned to the venue with "Beauty and the Beast Live in Concert at the Hollywood Bowl."
In conjunction with a showing of the 1991 animated classic, the night also featured a costume contest..
A performance of "Bare Necessities" by recent American Idol winner Maddie Poppe…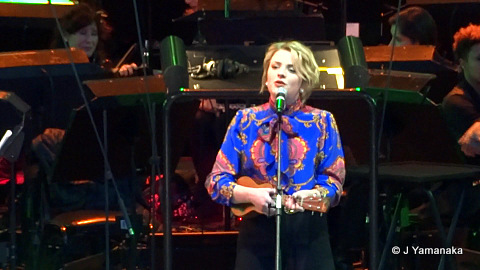 Several songs by DCappella, Disney Music Group's new a cappella singing group…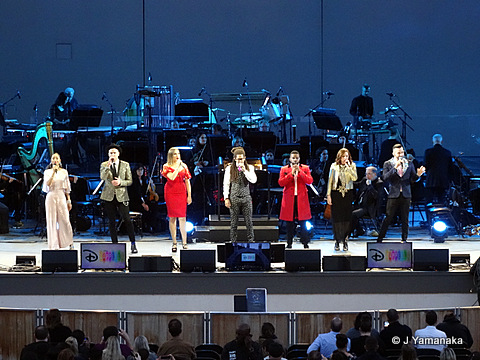 …And a few instrumental versions of Disney tunes by pianist Emily Bear performing the 1948 Disney short "Bumble Boogie," and violin soloist Sandy Cameron and cello soloist Tina Guo performing numbers from the film.
The main event consisted of concert performances of the musical numbers from the film, with star performers Zooey Deschanel as Belle, Kelsey Grammer as Lumiere, Taye Diggs as Gaston, Rebel Wilson as LeFou, Jane Krakowski as Mrs. Potts, Anthony Evans as the Beast, and Marissa Jaret Winokur as Wardrobe.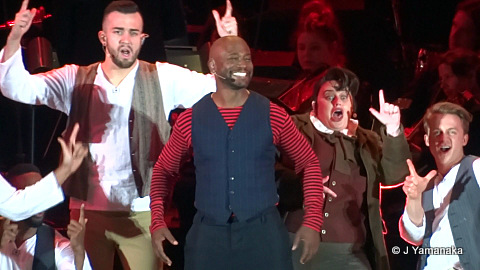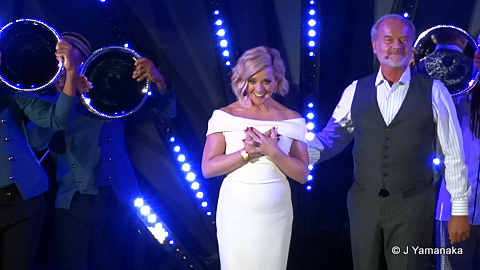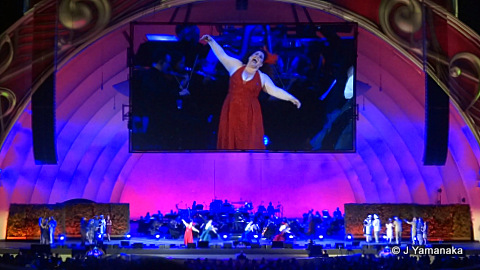 The songs were done as professionally as you'd expect, with Tony award winners Krakowski, Grammer, and Winokur as vocal standouts strong enough to make Deschanel's Belle seem a little tentative. The orchestra, led by conductor Michael Kosarin, sounded gorgeous and included many musicians who played on the original soundtrack.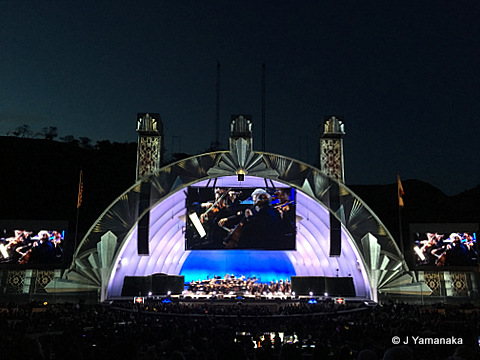 Probably the best addition to the film was the framing animation added to the iconic Hollywood Bowl facade which really added to the immersive viewing experience.
The movie, of course, is as brilliant as always. There are always those who will quibble about plot consistency or the timelines or mutter (as Wilson's Gaston did) of bestiality–as if being anything in a Disney movie ever made you ineligible for love–but there is so much that is perfect about "Beauty and the Beast" that it remains my personal favorite animated feature. From the amazing Howard Ashman songs, to the heroine who is sufficiently self-confident to dump her trespassing suitor into the mud, to Gaston, who I feel is one of the best Disney villains of all time–all the more frightening by how easily he wins the town's approval and plays on their fears and paranoia to fan them into a violent mob.
The night closed with an appearance by composer and Disney Legend Alan Menken who beautifully performed "How Does A Moment Last Forever" from the recent live-action remake, followed by the titular "Beauty and the Beast."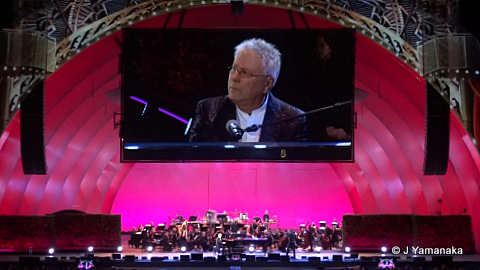 "Beauty and the Beast" in Concert provided a great musical evening showcasing a masterpiece of animation as should befit a Tale As Old As Time.