Hey, listen up! Don't stand when photographing if you want to take unique and different photographs at Walt Disney World or anywhere else. I will say most of the photos we take we are standing and it shows. They are not as interesting as there are so many of the same everywhere you look online, in magazines and even billboards. I often tell people when taking photographs of children or small animals to get level with their eyes. In that way, you are not looking down on them.
For this blog, I show how not standing can create unique and memorable photographs. Starting with the beautiful Beauty and the Beast topiaries I photographed in the France pavilion of Epcot's World Showcase during the Flower and Garden Festival a couple of years ago. I kneeled down and rested my elbows on the concrete edge surrounding them. This allowed me to use the flowers in front of them as foreground interest with the pavilion's buildings in the background. With the Sun behind them, I used fill flash to balance out the light.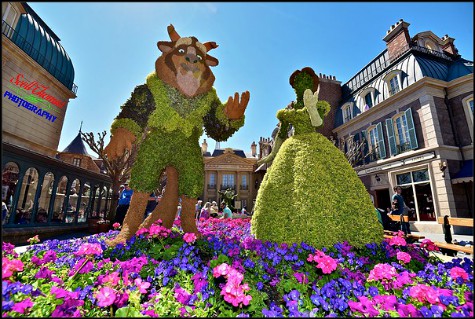 Beauty and the Beast topiaries in the France pavilion during the Flower and Garden Festival back in 2016.
Nikon D750/16-35VR, 1/200s, f/8, ISO 100, EV 0, 16mm Focal Length, Fill Flash.
I used a wide angle lens which distorted the buildings a bit. I decided I liked how they framed the topiaries and left the distortion in.
After riding Test Track in Epcot's Future World, people walk through Chevrolet's showroom. In 2015, this white Corvette got me to kneel down using a fisheye lens. The extreme wide view of the fisheye and the low angle allowed me to include not only the car but the ceiling, too. An area most people do not bother to see.
Chevrolet Corvette on display inside Test Track.
Nikon D750/Sigma 15mm Fisheye, 1/25s, f/4, ISO 6400, EV 0.
Returning to another Flower and Garden Festival, this time in 2014, I was sitting down on the edge of the walkway near the Norway pavilion when I looked over my shoulder and saw this troll. I quickly took in the composition with my camera and snapped another low angle view.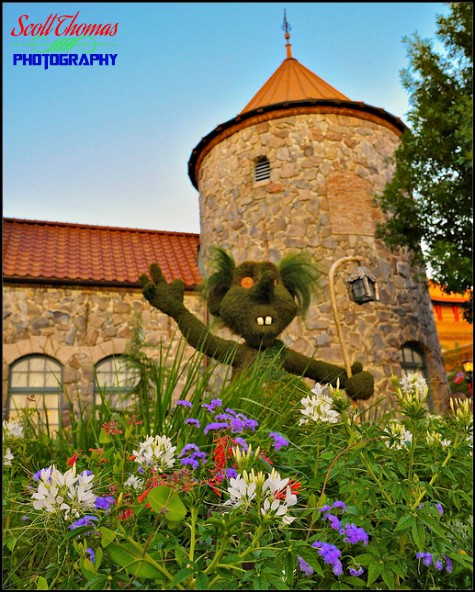 Troll topiary among the flowers at Epcot's Norway pavilion.
Nikon D700/24-120VR, 1/125s, f/8, ISO 2200, EV -0.3, 24mm Focal Length.
When I got the idea to tell you don't stand to photograph at Walt Disney World, I thought I would have lots of examples as I often kneel to take pictures while in the parks. What I found was many of those photos do not look like I was kneeling because of the subject being at the same height as my camera. This tells me I need to get even lower on my next trip. My knees might complain but I will be much happier with the results. Give it a try!
/blogs/photoblog/2009/01/wide_world_of_disney.html