Charm bracelets never go out of style — designers just keep reinventing the presentations. Their widespread appeal lies in the ability of each owner to personalize a piece of jewelry and continue to add to it over time.
As a young girl, I had a traditional-style charm bracelet with dangling charms that I collected mostly on vacations. Then came the charm catcher necklace, followed years later by the link-style Italian charm bracelet. And then the oh-so-popular Pandora bracelet, which I wear almost every day. I never knew I needed a Pandora bracelet until the Disney Parks collections were released!
Now that I've seen the new Disney and Princess collections by KEEP Collective, I've fallen in love with this band-style charm bracelet, too. I was invited to review the new charms, so I spent days perusing the collections. I was drawn to the rose gold bands and charms because that color is so fashionable right now, especially with Walt Disney World merchandise. I couldn't help thinking the rose gold band would look great with the theme park's mouse ears and spirit jersey, and I know I'm not alone.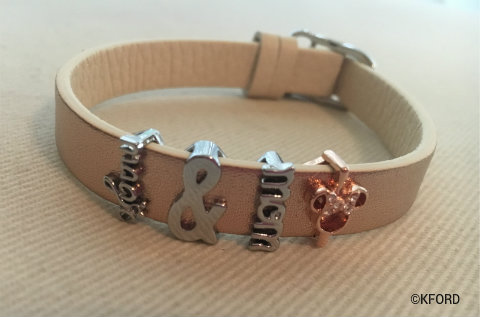 I settled on a single leather band that is reversible from blush to champagne, which is a metallic rose gold color ($29) and one of the company's mainstays. The bands are adjustable and one-size-fits all at 8.9 inches long, although this particular band comes in an extended size (9.75 inches), as well. There also are double-wrap leather bands in a variety of colors. The hardware is silver ionic plating, and it has been tested for lead and nickel.
There are two rose gold bands ($39) in the Disney collection. One has an imprint of "If you can dream it, you can do it," and it reverses to a black band with embossed Mickey Mouse icons. The other is Minnie Mouse-themed with cut-out polka dots and bow detail at hardware. It's not reversible, but inside the band is red with the imprint "Never Stop Dreaming."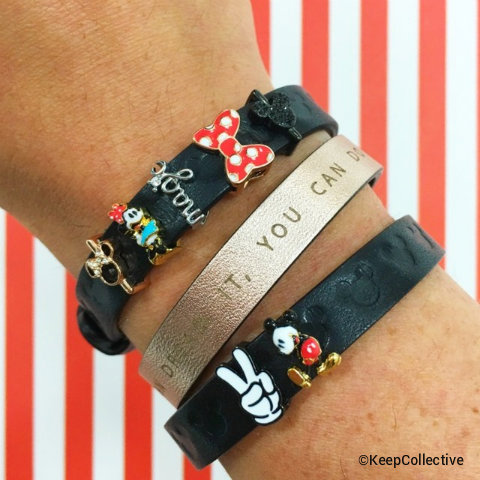 KEEP Collective just launched its second Disney collection focusing on the Disney Princesses. Customers will find a silver mirror leather band (with an aqua color and "Make Your Own Fairytale" imprint in the inside) and crown detail on the snap ($29), as well as charms representing Belle, Cinderella, Ariel and Tinker Bell. They range in price from $15 to $25.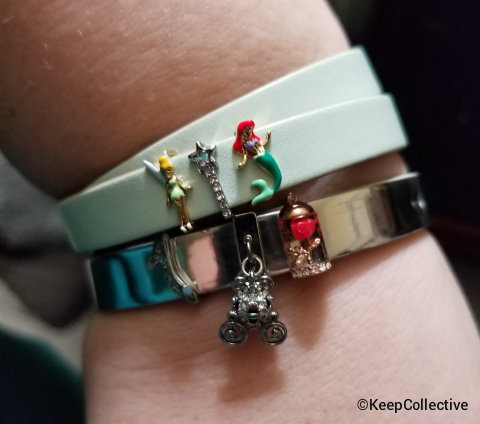 I chose charms for my bracelet from the Mickey and Minnie Collection, which includes a Mickey pave charm in black or rose gold that can be engraved. It's $35, but engraving is included in that price. There are other dangles, as well as silhouettes and vintage Mickey and Minnie characters. I chose the rose gold Minnie Silhouette ($19) and the words "mom & magic" because that's the name of my blog. How perfect! The "magic" charm ($15) is part of the Disney collection, but "mom" ($9) and "&" ($7) are in the regular collection.
In addition to its Disney charm collections, KEEP Collective has hundreds of charms representing sports, activities, hobbies, birthstones, letters and words, faith and more. This month's Collector's Edition features items perfect for Valentine's Day gifts, including a heart candy band and a candy heart charm in rose gold. And if leather bracelets aren't your thing, there are other styles of bracelets plus necklaces and key fobs on which to display your favorite charms.
KEEP Collective is a direct-sales company so it offers business opportunities for fans of its jewelry. Anyone can sign up to host a sales session in his or her home with a designer and in return earn rewards, such as discounts and free products. KEEP Collective designers are the salespeople for the product, and they earn commissions as well as incentives for their sales. There are directions on the website on how to get started selling if this is something that interests you.
The designer I worked with was Courtney Crane, and she welcomes the opportunity to help new customers. You can connect with her at www.keepcollective.com/with/courtneycrane or on her Facebook page, Courtney's Personalized KEEPsakes.
KEEP Collective was started in 2014 by Jessica Herrin and Blythe Harris. A decade earlier they launched the Stella & Dot jewelry business. "We share a deep belief that living a happy life comes from always keeping in mind what truly matters: love, faith, family, friendship & adventure" they write on their website. "Each of our Keepsakes is a wearable touchstone, an instant reminder of the little things, the big things, and all things that make you unique."
DISCLAIMER: For this story, I was provided with some merchandise and I purchased other pieces myself from the Disney collection. My opinions are my own. Neither AllEars.Net nor I endorse any job opportunities offered by KEEP Collective. This is solely a review of the merchandise from a consumer standpoint.