A couple of weeks ago I wrote about a few bad habits you want to stay away from when photographing at a Disney property. This week I want to go over a couple of good habits. I am often asked how I get such good photographs of Walt Disney World. I do a couple of things most people do not take the time or effort to do.
The first is stopping when I see a shot. Now, before you say but I cannot as I am with my family or a another group or some other excuse. It does not take long to take a photograph. When my children were young I got very good at the grab shot. The photos in the collage below were all taken when I took the time to stop when I saw a good photo opportunity.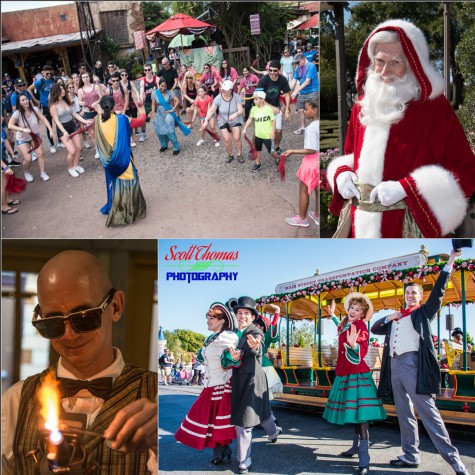 Photos from Walt Disney World.
From top left: DJ Anaan dancers in Asia entertaining guests in Disney's Animal Kingdom, Père Noël in Epcot's France pavilion, Trolley Show dancers in the Magic Kingdom and a Glass Blower in Arribas Brothers at Disney Springs.
I have written about how to get great photos at Walt Disney World after the Sun sets many times. The common denominator for all those posts is to secure your camera for long exposures. The best way to do that is with a tripod. I know tripods are big and a pain to carry around the parks and resorts. Remember, you can rent lockers at all the parks to store tripods in until needed.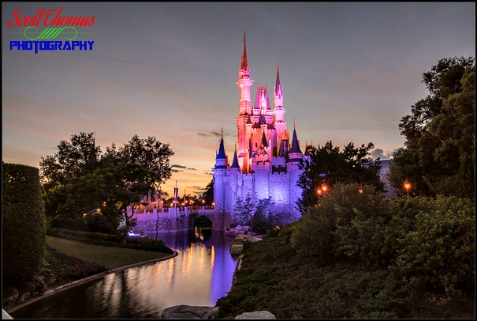 Cinderella Castle after sunset at the Magic Kingdom.
Nikon D750/16-35VR, 6s, f/16, ISO 100, 0 EV, 22mm Focal Length, Tripod.
Do you have any habits or tips for getting great photos at Disney? Pass them along in the comments below.