What is it that motivates a couple of normal, rational Canadian Disney fans to drive 656 miles to Dayton Ohio for a one-and-a-half day stay, then drive 656 miles home again? The answer is Dayton Disneyana.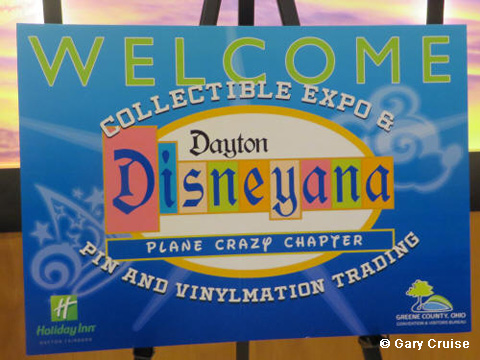 It's a gathering of Disney fans from across the continent who meet in Dayton once a year to buy and sell Disneyana collectibles, trade Disney pins, attend interesting seminars presented by well-known Disney personalities and hang out with people who share our Disney obsession. If we can find any spare time we have also been known to sit around, over adult beverages, swapping Disney stories and tips.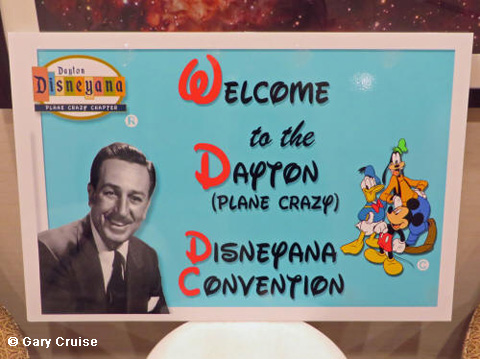 This was our fifth trip to Dayton in as many years. As usual, our son Rob came along; like Carol, he's a hoarder a pack rat an avid Disney collector. I'm not a collector; it's the seminars that I enjoy!
On Friday June 9th we were on the road bright and early and arrived at the Thousand Islands border crossing, about 25 miles from our home, just after dawn. There wasn't a single car ahead of us.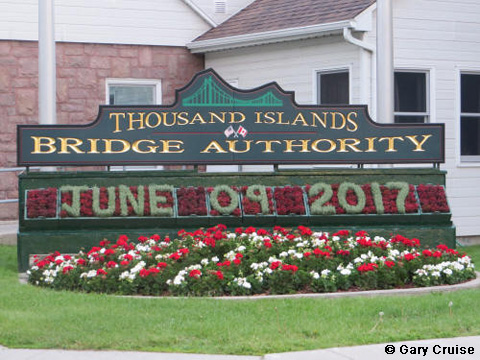 The US Border Patrol Officer spotted the two big boxes full of acrylic globes in the back of the vehicle and asked what they were. When I told him they were Mickey Mouse lamp posts he raised an arched eyebrow, then waved us on through. I'm not sure if he was amused or bewildered!
Our journey took us from Ontario through New York, Pennsylvania and finally to Ohio.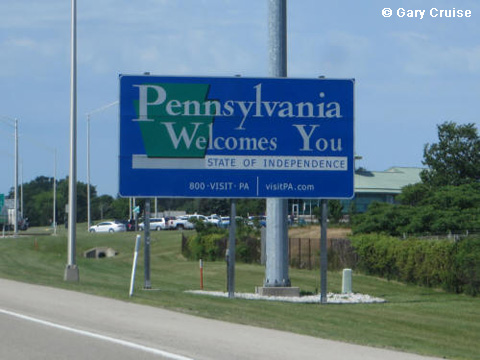 The weather was good, traffic was light and we made great time. We made one fuel stop and took one rest area break before pulling off the highway in Erie, Pennsylvania, for a bite. We don't have Chik-Fil-A restaurants in Canada and it was the unanimous choice for lunch!
We were back on the road in no time and carried on westbound across the southern shores of the Great Lakes. At Cleveland we turned south and passed through Columbus on our way to Dayton.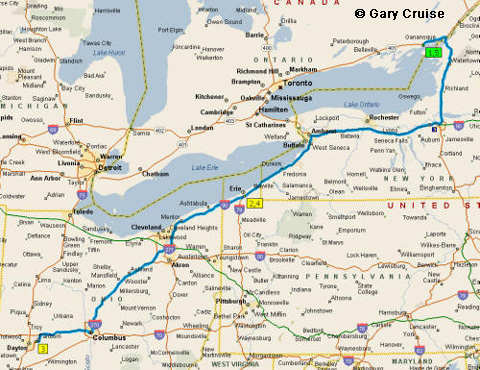 We pulled into the Holiday Inn, Fairborn Ohio at 4:30 and, after sitting in the car all day, enjoyed a few minutes of stretching as we settled into our rooms.
We didn't have long to rest though; I quickly assembled the Mickey Mouse lamp post we were donating for the charity raffle and we tracked down the event organizer, Anita Schaengold, to deliver it. She was busy in the grand ballroom where 29 vendors were setting up a whopping 74 tables full of Disney collectibles. Carol was vibrating with anticipation as we walked past the closed doors of the ballroom.
The first official function was a 6:00 p.m. dinner, held in a meeting room near the grand ballroom, and this was our first opportunity to meet Disney artists and animators Mike and Patty Peraza who were featured guests for the weekend.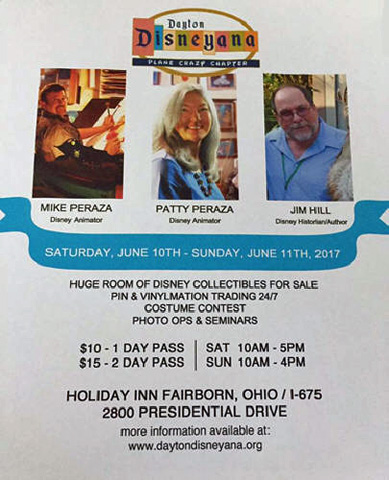 After we enjoyed a nice dinner, the emcee for the evening, Disney historian Jim Hill, introduced the husband and wife animation team to the audience of 100 to 120 people. It was a small crowd and there was plenty of interaction between the speakers and those of us in the audience.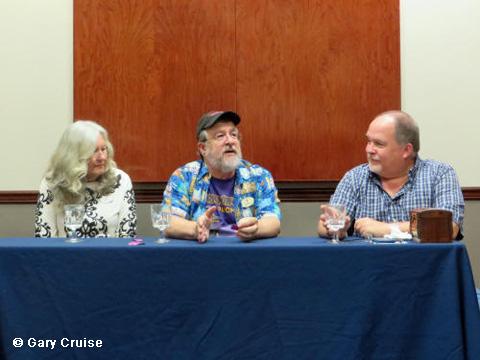 Each of them gave us a brief description of their life-long careers with Disney and briefly mentioned a few of the films and features they worked on. The Fox and the Hound, Mickey's Christmas Carol, The Black Cauldron, Dragon's Lair, Space Ace, The Great Mouse Detective, TRON, The Little Mermaid, Return to OZ, Ducktales, Chip and Dale Rescue Rangers, Talespin, Goof Troop, Darkwing Duck, Who Framed Roger Rabbit, Aladdin and Beauty and the Beast are a few of the projects they talked about.
Both Patty and Mike are graduates of the prestigious California Institute for the Arts, a university that Walt Disney himself established. Mike entertained us with a few unusual stories from his days at "CalArts" when his roommate was Tim Burton. I think it's a given that any story that includes Tim Burton has to be a bit unusual.
Patty put a different spin on her CalArts story. She was a Graphic Design major at University of Delaware when the dean approached her to recommend the Disney Animation program at CalArts. She knew that CalArts was a bit beyond her family's financial means so she respectfully declined. Just a few weeks later the dean returned, this time with the offer of a full scholarship. Patty quickly applied and was accepted.
She was the first female graduate from CalArts hired by the Disney Corporation and during her long career with the company she picked up some pretty strong "vibes" about her scholarship. She was never able to confirm it, but she is pretty sure that it funded by Walt Disney's wife Lillian.
Mike and Patty kept our interest for a full hour and left us all wanting to hear more. I was looking forward to their seminar the next afternoon.
The last performance of the evening featured Anita and Randy as they drew some fabulous, one-of-a-kind door prizes.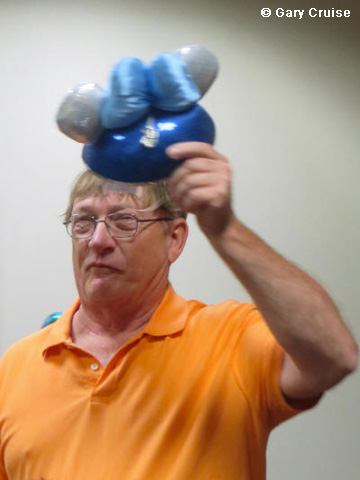 Randy claimed to be Vanna White's younger brother and he did a wonderful job presenting, modeling and demonstrating each of the prizes!
After the official events wrapped up a few of adjourned to the bar beside the hotel lobby for a comforting adult beverage. Rob and I joined in the imbibing crowd while Carol dashed back to the room, gathered up her bag of pins and headed off to the training tables.
By 10:00 that evening my long day behind the wheel had caught up to me; I headed back to the room. Carol was tired, too; she was back by 11:00 p.m.
Saturday Jun 10, 2017
We were up bright and early. Carol and Rob were two of the 75 people who paid $30 each to be "early-birds". Early-birds are allowed to enter the ballroom and shop for 90 minutes before the doors open for everyone else. They are also eligible to win door prizes provided by each of the vendors and they get a goody bag full of interesting Disney "stuff"! Carol assures me that she get's more than her money's worth… but I think she'd pay the Early-Bird fee even if she didn't get the goody bag or the chance at the door prizes. She'd be happy just to get the extra shopping time!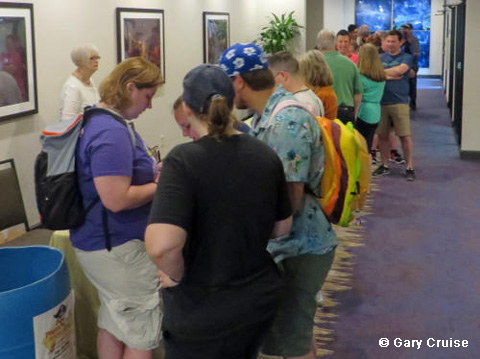 Just after 8 a.m. Carol and Rob joined the line of eager early-birds in the hall outside the ballroom.
I snuck into the ballroom to get a few pictures before those avid shoppers arrived!
I think the vendors enjoy Dayton Disneyana as much as the collectors do; many of them travel long distances to get there. This year there were four vendors from Florida and one from Southern California.
I'm pretty sure the vendors were just as excited as the crowd waiting in the hall for those doors to swing open!
You want thingamabobs? I got twenty!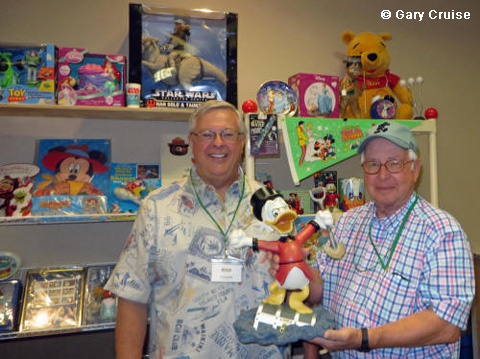 Gary and Gary from Ozark Missouri had several tables full of wonderful Disney items, including this great Scrooge McDuck figurine!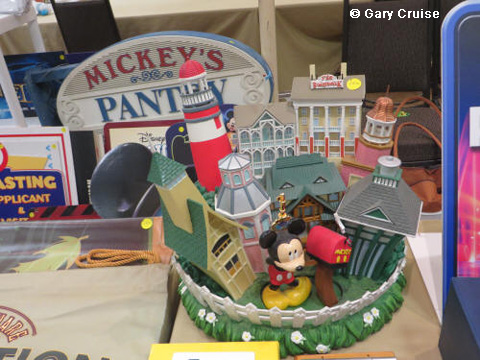 There were popcorn buckets, figurines, snow globes, watches, glasses, mugs, plates, movie posters, magazines, telephones, pins, Vinylmations, and so much more. No matter what you collect, you are sure to find it at Dayton Disneyana.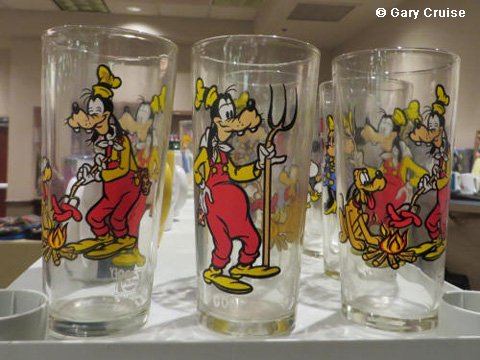 Need a talking alarm clock? Two to choose from!
How about a Goofy phone? There were two of them as well!
A Mickey Mouse corn popper. The first one I've seen!
This year Dayton Disneyana had a bit of International flavour… and it was not just because of the four car-loads of avid Canadian shoppers who made the long drive! The first Canadian vendor was there; our friend Cheryl from the Toronto area. Her hand-crafted Mouse Ears and EPCOT Passports have been selling like hotcakes through her "LetsMakeSomeMagic" ETSY store so she brought some along to Dayton.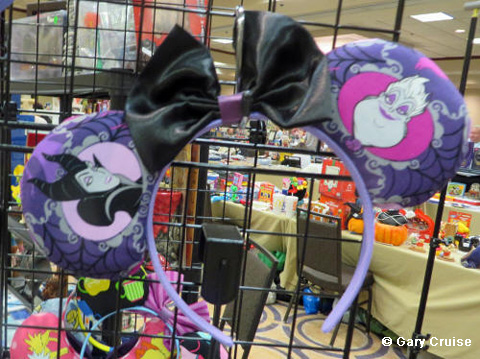 One of Cheryl's unique creations!
If you have a favourite Disney character, a princess or a villain, Cheryl can customize some ears just for you!
The passports are a great activity for kids. Children can have them stamped at all of the KidCot activity stations. Most of the cast members will also add a personal greeting in their native language. It's a fun way for kids to learn about foreign cultures and customs!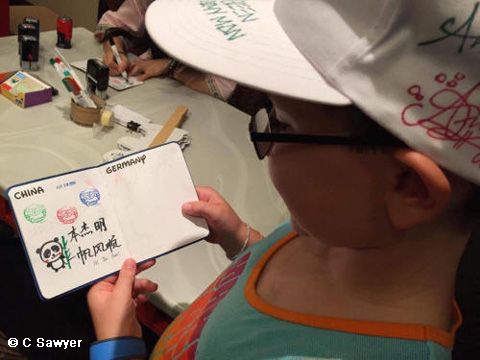 The passports can be personalized with your children's names, the date of your trip, etc.
There are even honeymoon passports so newlyweds can collect some unique wedding wishes in a variety of languages!
What a great idea!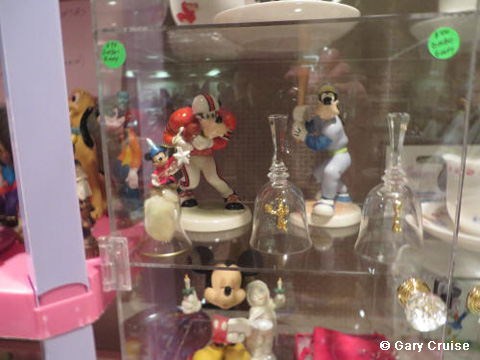 Some unique figurines!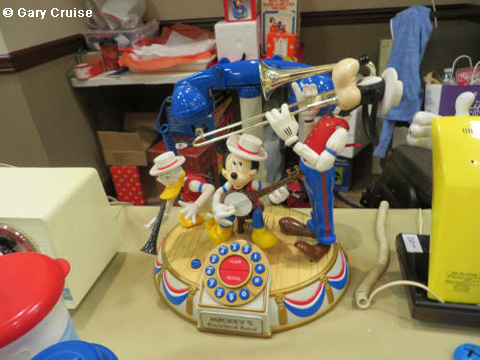 I wonder what the ringtone sounds like on this phone?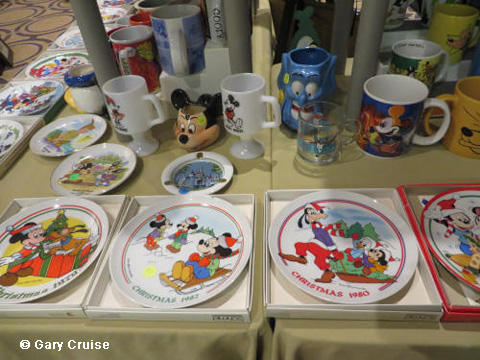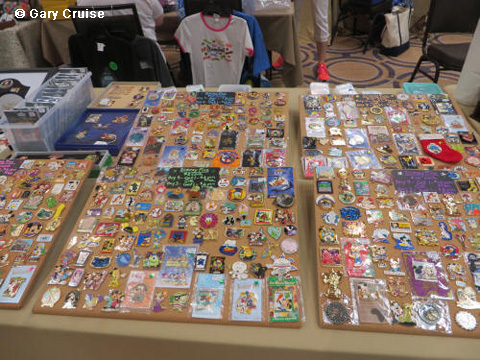 By 8:15 the vendors were all set and there were plenty of early-birds waiting impatiently in the hall. Anita decided to let the shoppers in early… there was a round of cheering in the hall as she made the announcement!
Carol was about 20th in line this year. She paused for just a brief second to show me her bag of free early-bird goodies, then scurried off to shop!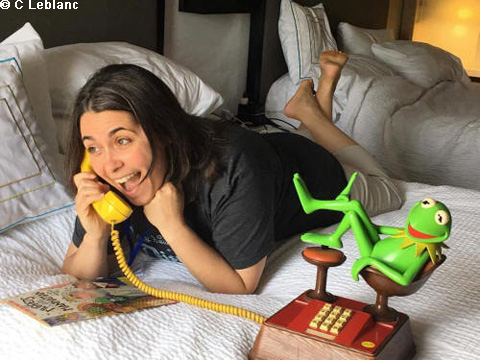 Our friend Carrie couldn't wait to get back to her room and make a call on her brand new Kermit phone. Isn't it a beauty?!
Mike Peraza with Rob
By 10:00 both Carol and Rob had been around the ballroom a couple of times and they had picked up about half of what they would purchase over the weekend.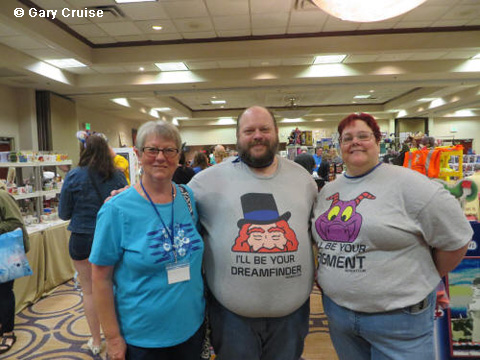 Carol with friends Eric and Trisha from Ohio. She sees them every year at the annual Epcot pin event. This was their first time at Dayton Disneyana.
At 10 a.m. the doors opened for the rest of the shoppers. In less than a minute the crowd in the ballroom doubled as everyone rushed in to join the early-birds.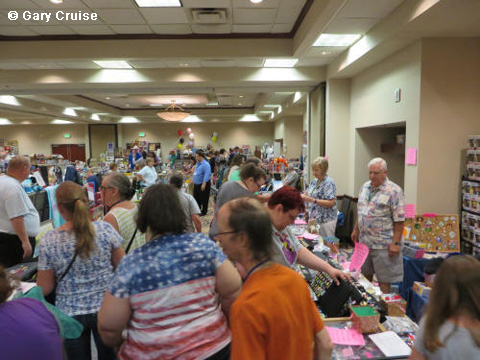 Fortunately there was plenty of merchandise to go around!
Before long Carol and Rob dropped their new-found treasures off in their rooms and adjourned to the pin trading room.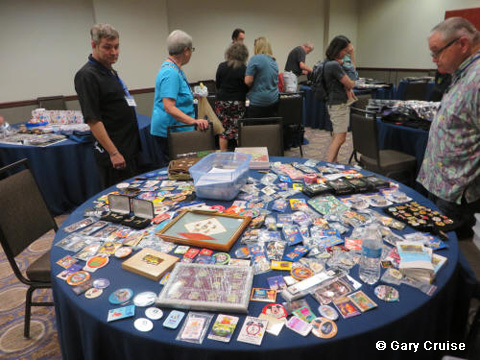 There were plenty of traders who had pin books, pin binders, Disney buttons, boxes full of Vinylmations, Sorcerer Cards, Transportation Cards, all sorts of Disney collectibles to trade!
Traders of all ages joined in the fun!
Carol would pop back into the ballroom once in a while to do a quick lap… when things on the tables sell the vendors reach into boxes stacked under the tables and pull out more merchandise.
She found a few unique treasures because she kept going back to the ballroom for another look!
There were several different games organized in the trading room throughout the day. That happy crowd in picture above are playing Pingo. It's similar to Bingo, but the entry fee is a pin and the prizes are pins!
I picked up some fast food for lunch and we enjoyed it in the trading room before Rob and I headed off to the seminars and Carol continued trading.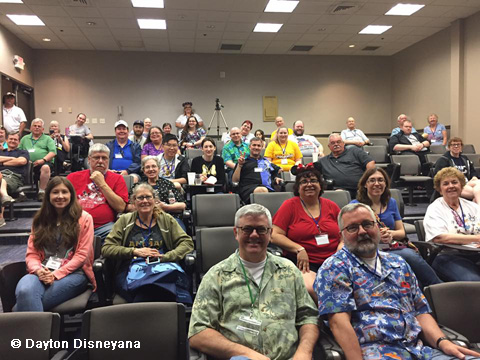 The seminars were held in a meeting room directly across from the ballroom.
Before the speakers began their presentation Anita introduced us to Joe Cox, the president of Pirate Packs, a local charity which provides food for needy children in the area.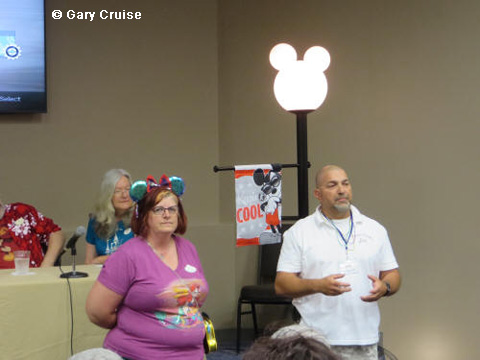 All of the money raised over the course of the weekend was donated to Pirate Packs.
There are school programs which give hungry children access to three meals a day, but for some children there is no food in the home on days when they don't go to school.
That's where Pirate Packs comes in!
When those kids go home for the weekend they take a backpack that contains three meals a day for each day they'll be away.
It's a great program and the assembled Disney fans were happy to support it. Over the course of the event there were silent auctions, live auctions and a bicycle raffle. The 402 Disney fans in attendance helped Dayton Disneyana raise almost $3,000.00 for Pirate Packs! Well done folks!
At 1 p.m. Jim Hill introduced the featured speakers, Mike and Patty Peraza. They kept us spellbound for an hour and a half. They used audio-video images and clips to describe their Disney careers and told us some very interesting "inside stories" about the many movies, cartoons, park attractions and other projects they worked on.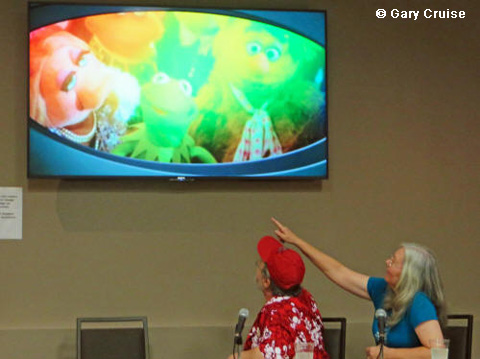 I think every Disney fan gets a special kind of chill, or goose bumps, when they are part of a very small audience and share a room with people like Mike and Patty who have worked directly with Walt Disney, Jim Henson, the Nine Old Men, even Lillian Disney. Our 90 minutes passed in a flash, none of us wanted it to end.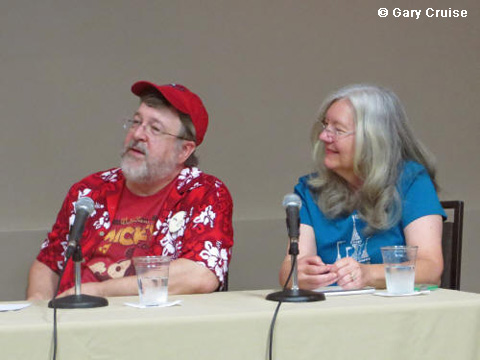 Words cannot describe how much I enjoy the seminars, you'll just have to come to Dayton and experience them for yourself!
The second seminar of the afternoon featured well-known Disney Historian Jim Hill. Jim is not a cast member, he never has been, but he has a wide network of contacts in the organization and an encyclopedic repertoire of the history and lore of the organization.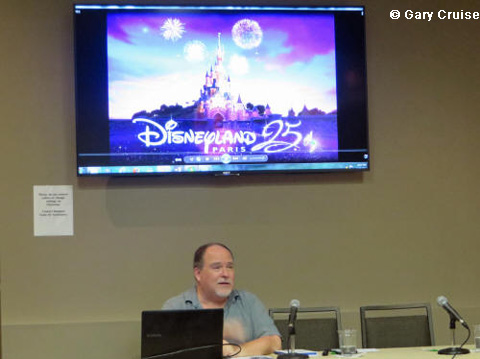 He talked about the original design of the Disneyland Paris park and the new challenges the Imagineers faced with their first foray into an international location. Imagine that as you stand in line at an attraction the people standing near you could speak as many as five different languages and none of them speak English or French.
You can't put five languages on a sign; it was interesting to hear some of the innovative solutions those talented Imagineers came up with!
Immediately after the second seminar it was time for the costume contest. Naturally Disney costumes dominated.
After the judging was done all the competitors paraded through the ballroom so the vendors could share in some of the fun too!
Saturday evening there was a sort of "impromptu" dinner. It wasn't part of the original schedule, all the planning was done late Friday afternoon. There were only 33 seats available in the small dining room we shared with Mike and Patty Peraza and Jim Hill. The hotel donated the space and all the hors d'oeuvres we ate! Each of us paid $30.00 to attend and it all went to Pirate Packs!
After we enjoyed a bite to eat Jim Hill introduced Mike and Patty who shared some more stories and experiences with us. Each of them showed a few of their favourite creations on the large TV screen.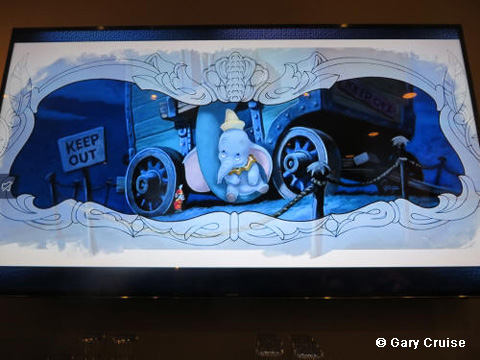 One of Mike's favourite pieces. He created this painting of Kermit holding a Jim Henson puppet just after Mr. Henson's death. It now hangs in the Henson home.
We were seated at the table right next to the Disney artists and were able to chat one-on-one with them throughout dinner. After their presentation was finished we resumed the chatter while we waited for the charity auction to begin!
Our friend Sarah was the successful bidder for a Minnie Mouse sketch Patty Peraza donated for the auction. Patty spent a few minutes personalizing the sketch for Sarah, and while Patty was doing that her husband Mike created a matching sketch of Mickey. Wasn't that a nice gesture?
Nice things like that happen quite often at Dayton Disneyana!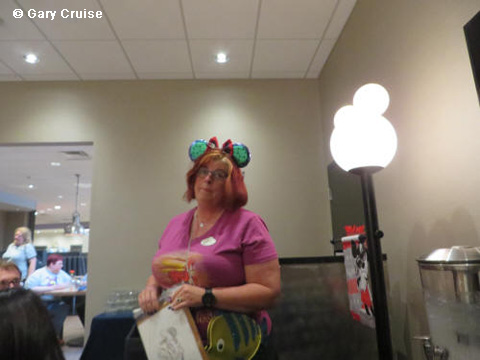 The final auction item was the Mickey Mouse lamp post I donated. The lamp was surprisingly popular and the bidding was intense. It sold for $220 and all of the money went to Pirate Packs!
After dinner a few of us gathered in the bar for some refreshments. Rob and I joined the saloon crowd while Carol did some more pin trading!
Sunday Jun 11, 2017
We had a more leisurely start on Sunday. The ballroom full of vendors didn't open until 10:00 a.m. Naturally Carol, Rob and I were there when the doors opened.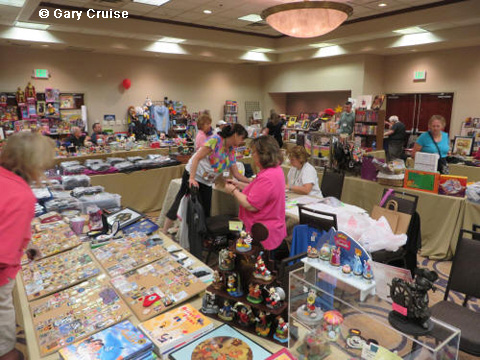 I chatted with a few friends and took some more pictures while they scoured the vendor's tables one last time.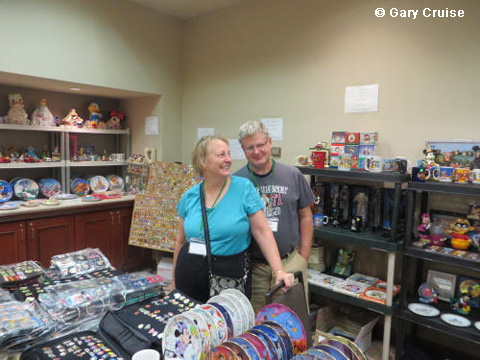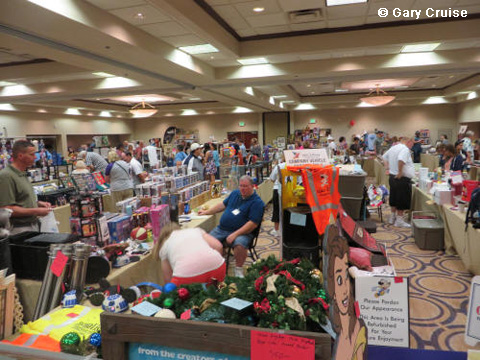 All too soon it was time to think about that long drive home. I always regret missing the Sunday afternoon seminars, but with a 10-hour drive in store we always try to pull away by noon.
We said our goodbyes and thanked the organizers, Anita and her committee, for another wonderful event. We began our northeastward trip home at 11:30 a.m.
Traffic flowed well, there were no accidents or other tie-ups and we arrived home safe and sound at 10:30 p.m.
You might think that our 656 mile drive to Dayton was the furthest that anyone traveled… but it wasn't.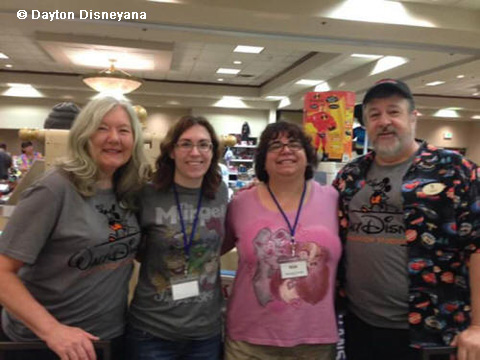 Joann flew from Hartford, Connecticut, to Ohio and met friend Abby from Norton, Ohio, for the trip to Dayton. That's about 775 miles! There sure are some dedicated Disney fans around!
I didn't buy anything all weekend, but I came home with some wonderful memories and a few new Disney stories that I picked up from the speakers.
You're probably wondering what Carol and Rob brought home after their many hours of determined shopping. Here are a few pictures of the booty they collected.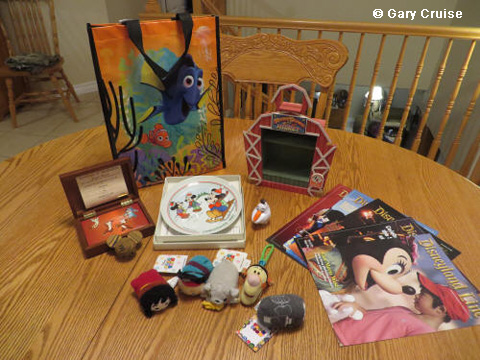 Raffle prizes and early entry gifts – all this stuff was free!
Rob's new treasures.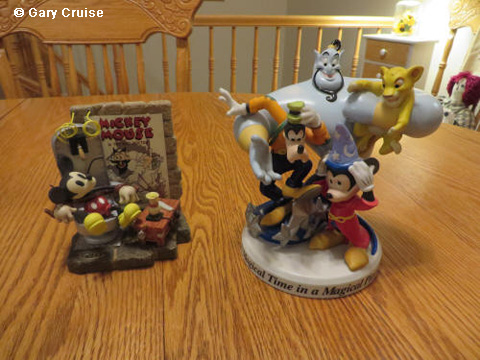 I asked Rob to select his favourite – he couldn't decide between these two.
Rob's fan page – signed by Kathryn Beaumont who was
the voice actor in the 1951 Alice in Wonderland movie.
Carol's new treasures.
Carol's new plates.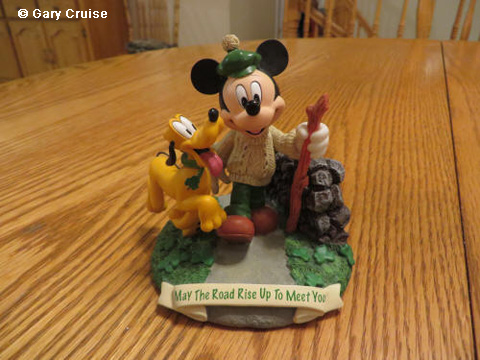 Carol's favourite.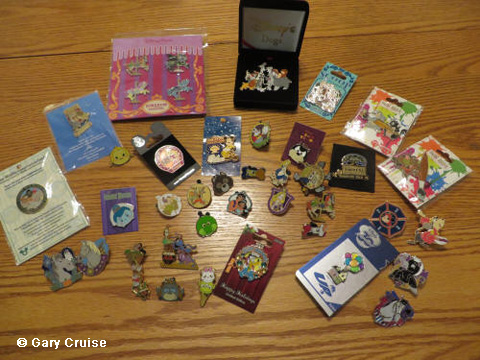 Pins Carol found in Dayton.
In 2018 Dayton Disneyana will be held at the Hope Hotel and the adjoining Richard C. Holbrooke Conference Center on June 8th, 9th and 10th. They are located at 10823 Chidlaw Road, less than two miles from the site of the 2017 event.
The new venue will provide much more room for vendors and that has Carol very excited!
I don't care about the vendors… I'm already wondering who the speakers will be!
We hope to see you there!
Follow for more details on Dayton Disneyana 2018 on their Web Site HERE or on their Facebook page HERE