Earlier this year many long-time runDisney runners and race volunteers were very surprised when runDisney announced that they would not be using volunteers at the upcoming Tinker Bell Half Marathon Weekend. Instead race support would be provided by employees of two temporary employment agencies. Employees would be compensated at a rate of $13/hour – higher than the California minimum wage of $10.50/hour.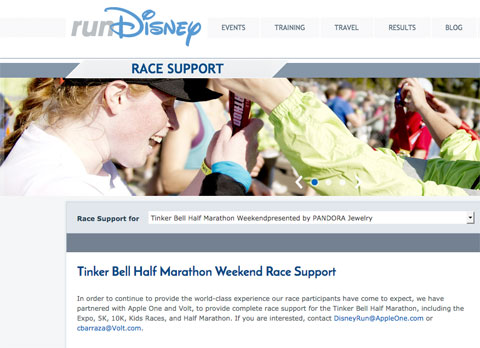 There's been no explanation for the change, though there's lots of speculation. I personally do not believe it was a cost-cutting measure. It's quite an involved process to hire that many people, and given my experience it does not seem that it was a cheaper option for runDisney.
I'd never volunteered for a race before, but I was curious about how this new process would work. (I should mention that we'd decided not to run any of the Tinker Bell races this year and instead had a family vacation scheduled to start that weekend.) I had Thursday free so I contacted the two agencies – Apple One and Volt – to see if I could work that day. Apple One didn't really respond to my inquiry – I received an empty email in response. The coordinator at Volt got right back to me with information and answered a few of my questions. She told me which shifts were available – at that point it was Expo shifts on Thursday and Friday, and early morning race support shifts on Friday, Saturday, and Sunday. I could work every day if I wanted to (but only one shift per day). I told her that I was only available to work on Thursday, and she was OK with that.
So then we started the process. And it was a process. I think it's much more complex than the volunteer system. To begin with I filled out an on-line application form. It was a generic form for prospective Volt employees, and nowhere did it say that I was applying to work Race Support, so I was a little worried. In addition to listing previous jobs, etc., I had to provide a point of contact for a previous job reference – though that person was never contacted.
One twist: runDisney required that the two agencies run a seven-year criminal background check on all those who were hired. So that was the next on-line form that I had to complete.
Within a few days I received another set of "paperwork" in my email. These included some forms that had to be printed and signed to complete my "onboarding". The agency was in Irvine, and I was in San Diego, so they arranged for me to visit their San Diego office to complete the paperwork. The main thing they needed to verify was my "right to work" in the United States, which required that someone verify my documentation (passport, in my case) and attest that it was valid. I could have had a friend or neighbor do that (but NOT a family member) and return everything to Irvine via FedEx. But the reality was that there were so many documents, and I wasn't sure what I really needed to sign or not, that it was much more straightforward to just go to the local office to do it.
Less than 10 days out I had to sign a Non-Disclosure Agreement that Disney provided. That one I printed out, took a photo of the signature page and emailed it back.
On the Tuesday before I was scheduled to work, I received information on parking and check-in. They provided a parking pass to park for free in the Mickey and Friends garage. I was checking in at the Disneyland Hotel in an area next to Packet Pickup. I also received information on the dress code and lunches and breaks. I was advised to bring as little as possible since there was no place to store belongings.
Whew. As I said – it was a process. And since it's a job, I think it's quite a bit more invasive than it was in the past for volunteers – between the job application and the background check I had to provide a lot of personal information. I can understand that going through all of that would not be attractive to a lot of people – and it took a fair bit of my time to do it all.
It seemed like the company representative did a good job passing information along (I think she got it to us as fast as Disney got it to her). She verified and re-verified what shift I was working – but I think that getting people to show up for something like this can be a problem. She certainly kept offering me more shifts if I wanted them! As of Wednesday they were still trying to find people to work Sunday's half marathon. They apparently also drew upon people who had previously signed up with their agency – the woman I was working next to knew nothing about runDisney, but said Volt had contacted her and said they had some work if she wanted it. She was working four days – including two early morning race shifts.
So…as of Wednesday night I had my parking pass and instructions on where to meet and when.
Thursday morning I arrived at the parking garage about 7:20 – I was supposed to check in by 8:00. I was pleased to see that there were signs directing to the Disneyland Hotel, although once I reached the hotel itself there were no signs telling me where to go – fortunately from previous experience I knew where I was going.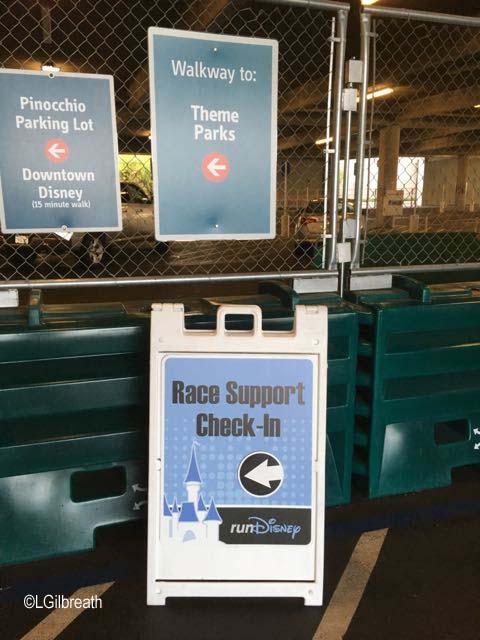 Along the way there were some race weekend signs.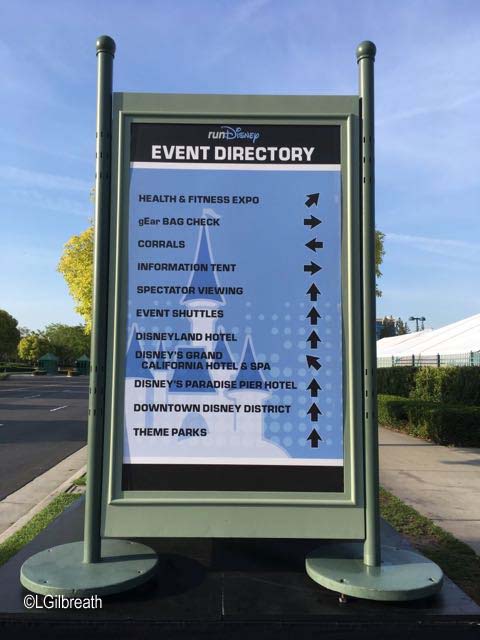 The Family Reunion area was still being put together.
The Finish line was in place, and workers were assembling the bleachers.
Once I checked in I got my Race Support shirt – this was to be worn as our top layer.
Who knew that Race Support had sponsors?
Then at the next table I received my assignment for the day. Everyone from Volt was being assigned to Runner Shirts and everyone from Apple One was going to Packet Pickup. I would've preferred to work Packet Pickup, but oh well.
The Expo wasn't scheduled to start until 10:00 (though we heard it would open at 9:30), so we still had a lot of time where we were just sitting around. Fortunately there were enough tables and chairs for everyone. Other than ice water dispensers and cups there were no refreshments of any kind. One of the men sitting at my table had volunteered at a number of runDisney events in the past, and said that they used to provide food and beverages to the volunteers – but that's gone by the wayside.
The workers were generally older – there were a number of retired people, though there were some younger people who looked like they were in their early 20s.
About 9:00 a couple of runDisney people came to give us a pep talk about how important we were to the process, etc., etc., and then escort us to our work areas, where we would receive whatever training we needed.
My group went upstairs to the main Expo floor and the shirt distribution area. Most of us would be giving out shirts, but they needed a few people to work the Shirt Exchange and others to be the "runners" who brought out additional shirts and bags from the back as they were needed.
The process was quite simple – each runner's bib had a tear-off strip indicating the size of shirt they were to receive. Each of us had only one size shirt available at our station – I had 5K shirts, size Adult Small. So I had to verify that the bib was a 5K bib, and the shirt size was "AS". Then tear off the strip and put it in a plastic bag that was taped to the counter. Under the counter was the stack of clear plastic runDisney bags, which already contained a Clif bar and a packet of safety pins, and each runner received one of those in addition to the shirt.
Here's a photo of one of the shirts I was distributing. I thought they were really cute, and I was surprised that a number of runners didn't like the color or the design. Most thought that it was really cute, though. You can't please everyone. At least it wasn't gray. 🙂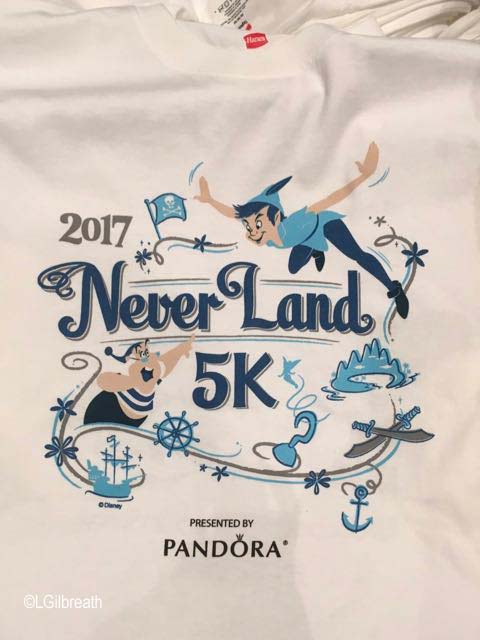 The runDisney guy in charge of the shirt area had very definite ideas on how he wanted it to work. Understandable, since obviously he has lots of experience at this. Whatever size was at our station was what we gave out – we were not to reach over or move to fetch a different size. If the bib said they were to receive a small, but they wanted a medium, we gave them a small and directed them to Shirt Exchange. We were always to face the guests. We were to refer anyone with questions beyond "where do I get my shirt?" to one of the black-shirted runDisney employees, or direct them to the information booth in the lobby. No cell phones. We were to smile and thank the guests, but not chat too much with them. We were not supposed to lean on the counters. (Since we were standing the entire time, that was a little bit difficult.) We were always supposed to have a full contingent of workers at the counters, even when things were slow. So that meant if anyone needed a break, our leads had to bring someone up to fill the space. I guess there were some extra "floaters" who did that.
Here's what my area looked like. That space between the bins held two of us – not much room to move around. The woman to my right had two sizes of Youth 5K shirts.
We didn't really see the first people come to shirt pickup until after 10:00. In the meantime we could see what the Expo floor looked like with no one in it.
It all was in spurts. Sometimes I had people waiting, but most of the time I just stood there.
I got my first 10-minute break after about an hour, and wandered around the show floor briefly before I went back. There were two leads from Volt who made sure that everyone got their breaks and lunches.
We only got 30 minutes for lunch, which was really very little time to try to go someplace, get food, and eat. Since I was told not to bring a bag, I didn't bring lunch (I had been warned that lunch would not be provided and that I would only have 30 minutes). About all I had time for was to grab some yogurt at Tangaroa Terrace… I didn't have time to go through the security line and into Downtown Disney.
The afternoon was like the morning – brief periods when it was busy, but mostly a lot of standing around. A little excitement when one of the guys restocking shirts dumped the wrong size shirt in one of my bins – but I caught it before I gave any of them out. I was quite ready for my 10-minute break, which I largely spent sitting down backstage. I'm fairly used to standing for long periods of time, but not having any room to move around made me more tired.
At about 3:30 they brought up the people who would be working the afternoon/evening shift. We were responsible for training them – not that there was much to that. Though I think we got all of about five minutes before they told us to move out. Our group was escorted back downstairs. I clocked out with the Volt representative and my day was done.
I mentioned that my group seemed to be an older crowd. The afternoon shift appeared to be quite a bit younger on average.
In my area I didn't see any problems with having paid employees versus volunteers. I heard that there were issues in packet pick-up – some people said that no one checked their IDs! And we had one woman come to shirt pickup who had been given an extra bib that wasn't hers. Fortunately she realized that and gave it to a runDisney person. She was pretty frazzled and said that packet pick-up had not been a good experience for her. I'm curious to hear what the on-course experience is like for runners with the paid support versus the volunteers.
Working the Expo was an interesting experience for me. Not exactly challenging, but I enjoyed my interactions with the runners. I only saw one person I knew (Hi, Gail!), but I saw a number of people I recognized from previous Disney races. I'd do it again, though I'd like to try Packet Pick-up the next time. For one thing you get to sit down for that!