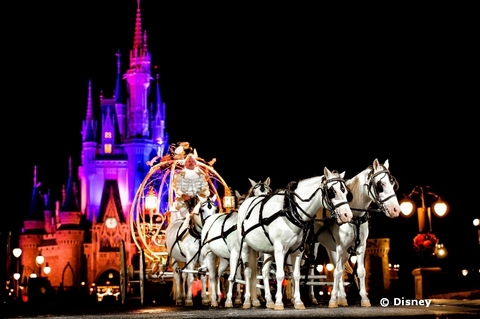 New Wedding Options, Princess Dresses and Accessories Kick-Off a Yearlong Anniversary Celebration Marking 25 Years of Magic.
LAKE BUENA VISTA, Fla., Oct. 6, 2016 /PRNewswire/ — Disney's Fairy Tale Weddings & Honeymoons, the global brand synonymous with creating wedding and honeymoon dreams come to life, is celebrating its 25th anniversary during a 12-month celebration.
Since 1991, the expert team at Disney's Fairy Tale Weddings & Honeymoons has helped to create and execute fantasy engagements, weddings and honeymoons, delivering everything couples may dream about for an unforgettable event. Couples may choose from a variety of magical settings and destinations around the world, including theme parks, breathtaking beaches and grand ballrooms.
In honor of 25 years of making couples' dreams come true, enchanting new products, experiences and fashion will roll out as part of this yearlong celebration, including:
— A new wedding experience that offers the ultimate fairy tale come true — an after-hours wedding in Magic Kingdom Park. This exclusive experience allows couples to wed in a private ceremony at Cinderella Castle, followed by an enchanted reception filled with dancing and world-class entertainment. This customized evening affair is the latest addition to the Wishes Collection.
— All-new princess wedding gowns inspired by the unique styles of Mulan and Pocahontas. The arrival of the new dresses will mark the first time brides everywhere will have the chance to wed in attire inspired by any of the 11 Disney princesses.
— Two anniversary collection bridal gowns adorned with glittering crystals, recently announced at bridal fashion week, draw inspiration from two of Disney's most iconic princesses, Cinderella and Belle.
— New custom tiaras, designed exclusively for Disney's Fairy Tale Weddings in celebration of 25 years of fairy tales, were created by the Enchanted Disney Fine Jewelry Collection. The design of these two headpieces mirrors the look and style of the matching Belle- and Cinderella-themed dresses.
"At Disney's Fairy Tale Weddings & Honeymoons we've helped make countless couples' dreams come true," said Korri McFann, Marketing Director for Disney's Fairy Tale Weddings & Honeymoons. "As we celebrate 25 years of love, magic and happily ever after, we wanted to craft new offerings that would help make this our most enchanted year to date. From wearing a dress fit for a princess to walking down the aisle culminating in a beautifully lit castle of dreams, we've found more ways than ever before to make fantasy a reality."