by Guest Blogger Kay Belin
December is the month that draws many guests to Walt Disney World to see their famous holiday decorations and events. This year I decided to take one of their premiere tours, Holiday D-Lights, which takes you into three parks to see some of these amazing sights.
The tour begins and ends in Epcot making it easy to figure out the transportation. Park tickets are not required and you meet outside the Guest Relations window in front of Epcot. The tour has a maximum of 40 guests which is very manageable and transportation from park to park is on one of the Disney cruise/Magical Express buses.
Our guides and tour coordinators appeared and met us singing and in festive moods making everyone excited about the next few hours on tour. Name Tags and paper work were taken care of quickly and we were soon on our way to the Wilderness Lodge for dinner. Our guides for this tour were Donna, Jim, and Nancy and they were all wonderful and informative.
Whispering Canyon was not open to the public yet so we had the entire restaurant for the group. They were ready for us and soon we had amazing barbecue feast platters set on the tables with baskets of cornbread. The food consisted of ribs, pulled pork, chicken, sausage, corn on the cob, baked beans, and yummy mashed potatoes. Guests with dietary restrictions were easily taken care of and offered great alternatives by the chef. Drinks included water, coke, and ice tea and were constantly being refilled by the service staff. We were not given dessert but told we would have a surprise later in the evening.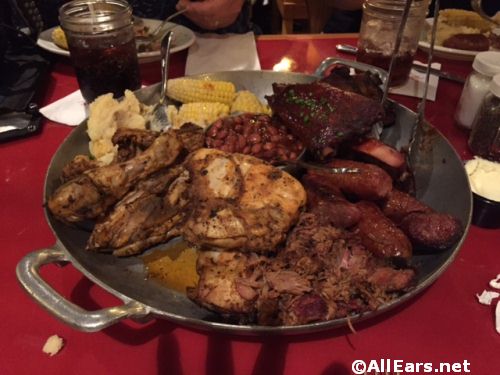 Time was provided to take pictures of the Wilderness Lodge lobby and a bit of history was given about the tree. We observed,in my opinion, one of the prettiest resort trees on property as it's decorated with canoes, teepees, and Indian drums and obviously very unique for the resort.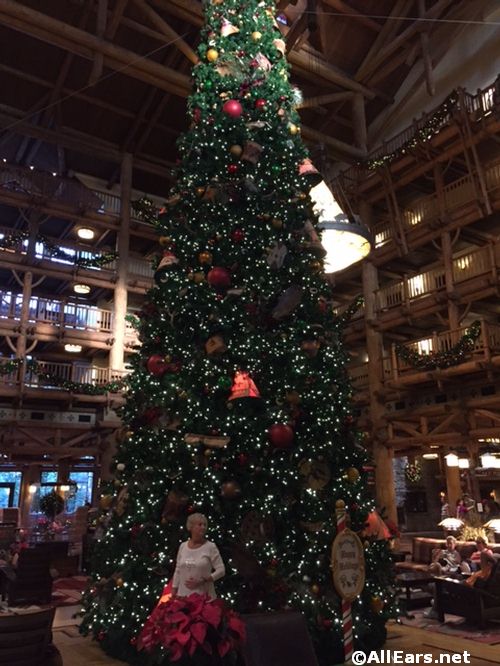 Back on the bus and on our way as we headed to the back stage area of the Magic Kingdom. Our next stop was to visit the Event and Decorating Support Team. They work out of a massive warehouse and put together not only the castle lights but also special staging pieces that might be needed or requested for the parks or groups. The main emphasis was learning how they decorate the castle with the lights using LED light strands and special dyed and flame retardant netting.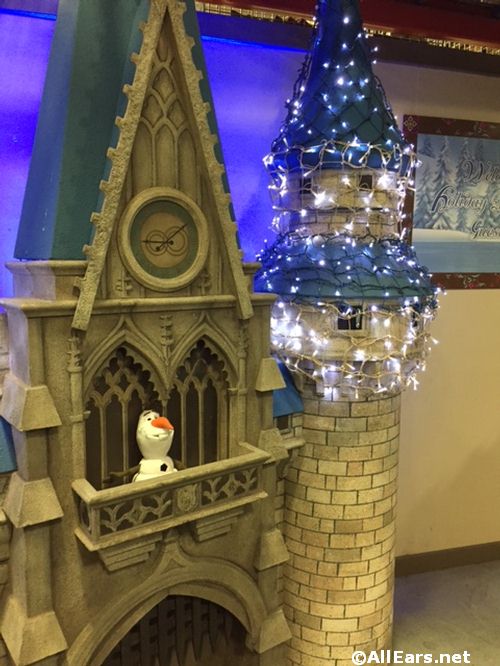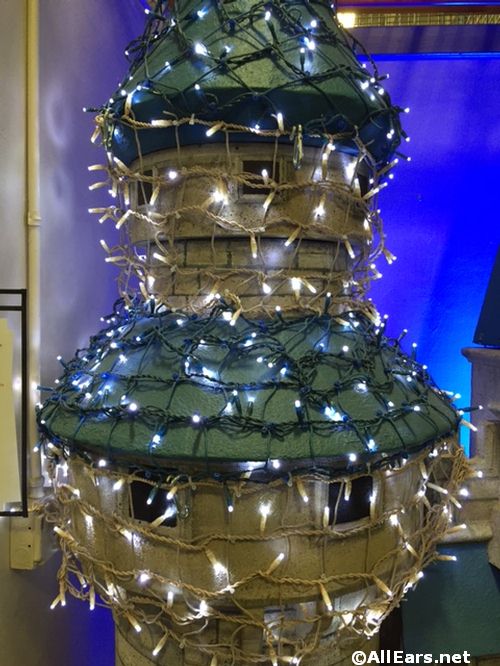 Every strand of lights are checked at least three times before they are put on the castle and this whole process actually begins in May. Work on the castle cannot begin each night until all guests leave the park so when the Magic Kingdom is open late it just makes it a little more difficult to get it all done on time. But Disney is used to making magic and it always happens and most never know what it took to get the amazing outcome.
After learning about how the castle is lit we hopped back on the bus and headed to the Magic Kingdom to see the castle lighting show. Our guides provided us with listening devices so crowd noise would not be an issue while in the parks. The group was divided into two making the numbers much easier to handle and we were then dropped off back stage and walked a short distance to the Castle hub where we then observed the great lighting of the beautiful castle. With a theming from Frozen the castle went from a lighted structure to a magical sparkling icicle wonder. This is probably the most magnificent piece of holiday magic Disney offers its guests.
Time to head to Hollywood Studios! We were given a Rice Krispie holiday treat as we entered the bus and were shown a short video of how all the Disney castles worldwide are decorated for the holidays. The actual castle lighting idea began at the Paris Disney park and only the Tokyo Disney castle is not lit as it is actually not a Disney owned park. It was very interesting to learn facts about not only Walt Disney World but about the parks around the world.
Our next spectacle of Disney lights was the Osborne Family lights in the Studios. It was bittersweet to visit this amazing street filled with millions of LED lights as it is the last year for this display at Disney. We kept to our two smaller groups and were led down the street listening to more amazing facts from our guide Jim. Some of the great trivia he shared include that at the far end of the lights you will see many blue angels flying overhead. Look for a white one and that is representing Jennings Osborne, the patriarch of the Osborne family and who started this light tradition for his daughter. In this same area you will find a large Mickey and Santa shaking hands which is supposed to represent the agreement Jennings Osborne and Disney made to bring the lights to the park. If you look closely you will see they are shaking left hands which is the hand that is closest to the heart.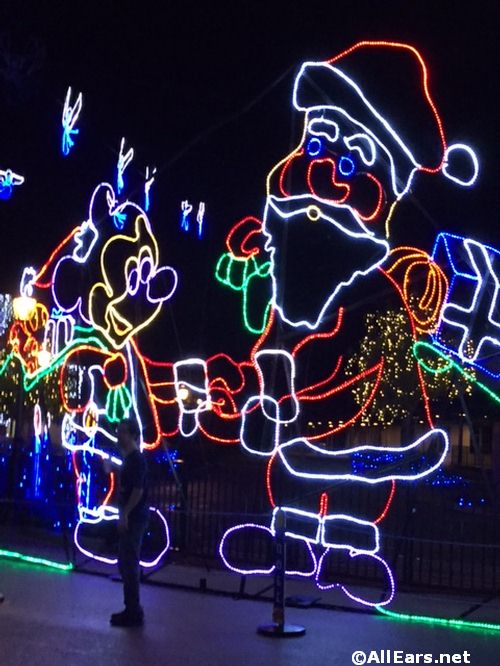 As we moved down the street we were told to look for over 150 lit Mickeys and also the purple cat.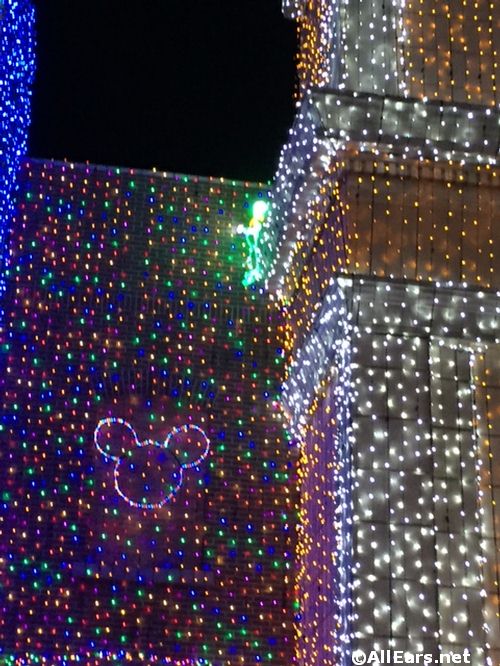 The story behind the cat is when they shipped the decorations this one Halloween cat got mixed up with the Christmas lights and the Osborne family told Disney to just keep it. So every year the cast enjoys placing the cat in different locations and changes it almost every week so guests can hunt it down.
By the large tree in the center of the street you will see toy soldiers surrounding the bottom. The soldier in the center is a bit different as he proudly wears Mickey ears. This is to honor the cast member, Dan, who was responsible for inventing the different relay lighting systems needed for the show each night. He passed away a few years ago and they found his name tag in his locker and if you look closely this soldier is also wearing a Disney name badge.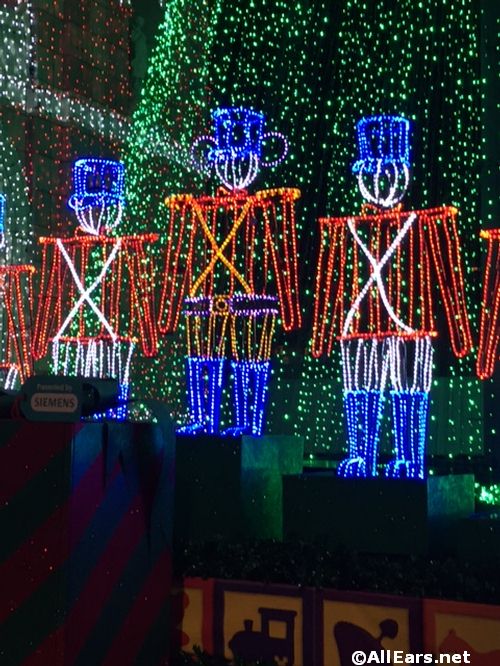 Continuing down on the left side you will see what appears to be crossed light sabers in the upper floor window. The story goes that this is now marking the spot where they will begin the dismantling of the Osborne Lights to begin the new construction of the future Star Wars Land. Not sure if this is true but it does make a nice Disney story.
Cross the street here and in the first floor windows you can see photos of the actual Osborne Family light displays from their home in Arkansas.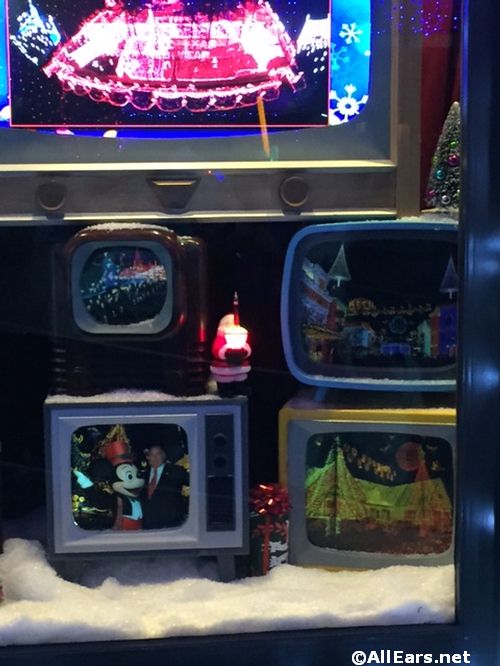 The last bit of trivia to add is heading back up the street and in a little alcove. Look up and you will find Kermit sitting up high playing a banjo. The word is that he is actually using a banjo pick from the famous Mulch, Sweat, and Shears group that entertained guests in the Studios for years but are now gone. There are many, many more things to see and observe and on this tour it was fun to have someone share some of the more unknown stories and facts.
Once again we were back on the bus and again headed to a backstage area of Epcot. Our last special treat of the evening was the incredible Candlelight Processional. It was fascinating to learn that the Candlelight show was started in Disneyland with Dennis Morgan as the first narrator. Walt met with the USC music director, Dr. Hirt, who suggested the format that is still used today. Guest choirs, full orchestra and guest narrators are brought together for this moving spectacle. It was later moved to Walt Disney World where it held shows for a few years at the train station in the Magic Kingdom. Rock Hudson was the first narrator there and when Epcot was built it found its permanent home in this park where we watch it today.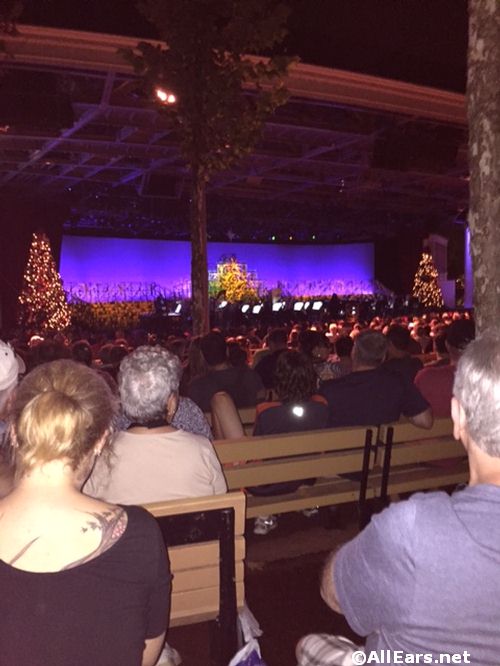 Watching the Candlelight Processional is always moving and inspirational but I was disappointed in our reserved seats. We were led to the second and third last rows and had a few trees to dodge to get unobstructed views. This was the end of the tour but everyone had the opportunity to stay and watch Illuminations if they chose to do so.
This tour is one of Disney's most expensive tours at $269 plus tax per person so one needs to think hard about what they hope to see and do for their time and money. I think it is a great choice for the guest who might have a very limited time at Disney and who wants to experience as many of the holiday events as possible. Park tickets are not required which is a savings and you are offered a meal that is included. To be able to see the Magic Kingdom castle lighting, the Osborne Spectacle of Dancing Lights, and the Candlelight Processional (and Illuminations on your own) in one evening is amazing. Plus you get some backstage stops and professional guides who can answer questions and offer information you might otherwise not receive.
The biggest disappointment was the fact that seating for the Candlelight event was in the far back rows. You would hope that paying a large amount of money for a tour would also get you better seats to a show. You would actually get front seats if you chose to do a dinner package instead. We were sitting among guests who had been in the stand-by line. It would also have been nice to offer water on the bus at some point. The tour is five hours long and many of us were needing refreshment. The Rice Krispie treat is cute but not much of a dessert treat, again on what they tout as their premiere holiday tour.
This tour can accommodate guests who use scooters or wheelchairs but they must provide their own. They cannot use Disney park rentals. The minimum age for the tour is 16 as you will be visiting backstage areas. Cameras are welcome but guests must adhere to rules about not using them in backstage areas. Backpacks and bags are allowed but you will be subject to bag inspection at all parks even though you enter through backstage areas. Closed toe and heel shoes are also required as I believe this is also a rule for anyone using backstage areas.
I am not sure what they will do next year when the Osborne Lights will be gone. I would imagine they will reinvent a holiday tour to include possibly something else. If you are planning a several day Disney vacation at this time of year you can easily do the events on your own. This is especially true if you plan on being in the parks to do other things and buying a daily ticket is not an issue. Besides a commemorative pin for the tour and backstage access you are not getting anything special beyond what the normal guest would experience on their own. That was disappointing for the price but as I said before this is a great tour for the guest with one night to see it all.