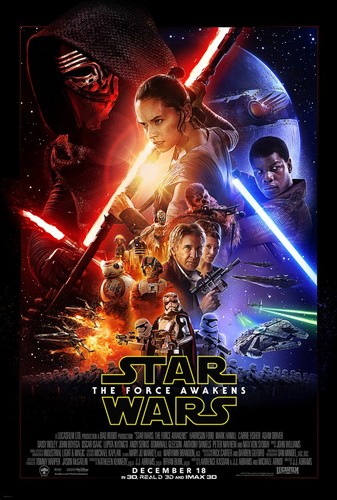 Walt Disney World has announced a special ticketed event on December 17th for Star Wars movie fans to be held at the AMC Theatre in Disney Springs. Ticket prices reflect a variety of format options for the movie, including 2D ($94.99), 3D ($98.99) and 3D ETX ($99.99).
Starting at AMC Disney Springs 24 between 7 and 8 p.m., guests of the Opening Night Event will have a confirmed seat at the first few public showings of "Star Wars: The Force Awakens" and then enjoy a private after-hours party at Disney's Hollywood Studios until 2 a.m. The party will include access to the new Star Wars Launch Bay exhibit, the Star Tours — The Adventures Continue attraction, and a DJ dance party. The night will be highlighted with the preview of a new fireworks spectacular set to the iconic "Star Wars" score. Event attendees will also get a commemorative souvenir event ticket. Guests of the Event are encouraged to come dressed in costume showing allegiance to the light side or dark side of the Force.
HOW TO GET TICKETS:
The newest "Star Wars: The Force Awakens" trailer will debut in ESPN's "Monday Night Football" Monday, October 19, during halftime of the National Football League (NFL) game between the New York Giants and the Philadelphia Eagles. Tune in to ESPN to watch the premiere of the final trailer or join your fellow Star Wars fans at Downtown Disney District at the Disneyland Resort in Anaheim, CA to watch the trailer on a giant screen outside AMC Downtown Disney 12 theatres. The fun begins at 5:00 p.m. counting down to the trailer release.
Following the trailer launch, tickets to the "Star Wars: The Force Awakens" Opening Night Event will be on sale. For tickets to the "Star Wars: The Force Awakens" Opening Night Event at Walt Disney World Resort, visit amctheatres.com/starwarswdw to purchase.
For more information read the FAQ on the event!