So when we last spoke, the Disney Interactive panel had just finished, and we had battled our way to receive our Expo exclusive power disc that smarter minds than mine sold on ebay for around $200 before we were even out of the room.
[Photos and video not otherwise attributed were provided by Disney.]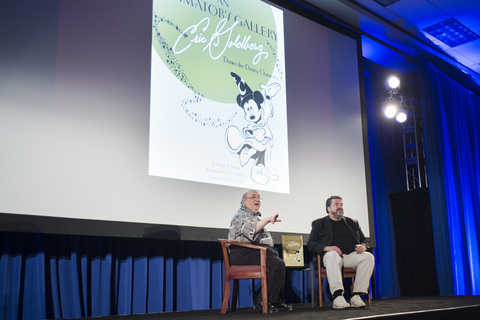 The next presentation I saw was "'An Animator's Gallery': Presented by Dave A. Bossert and Eric Goldberg." A film director and long-time Disney animator, Goldberg has done work on a number of animated classics such as "Aladdin," "Fantasia/2000," and most recently, the short "Get a Horse!"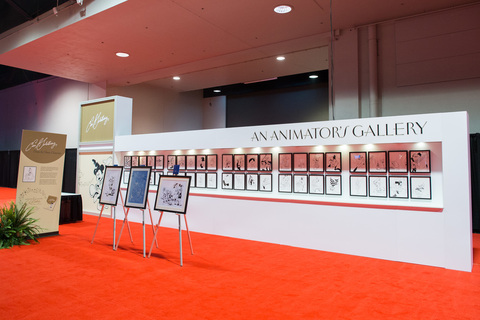 As part of the decor for a projected "Sardi's"-esque restaurant for Shanghai Disneyland, Goldberg drew over 200 caricatures of Disney characters in a style inspired by Al Hirschfeld. The collection of images were on display at the Roy E. Disney Animation building in Burbank, and are now viewable in his new book, "An Animator's Gallery: Eric Goldberg Draws the Disney Characters."
http://www.amazon.com/Animators-Gallery-Goldberg-Characters-Editions/dp/1484723929/ref=sr_1_1?ie=UTF8&qid=1441372029&sr=8-1&keywords=eric+goldberg+animator%27s+gallery
The book was available for purchase at Expo, in advance of general release, and Goldberg did several signings of both the book and some special images he drew particularly for Expo, including one of his characters, Aladdin's Genie, to celebrate the late Robin Williams.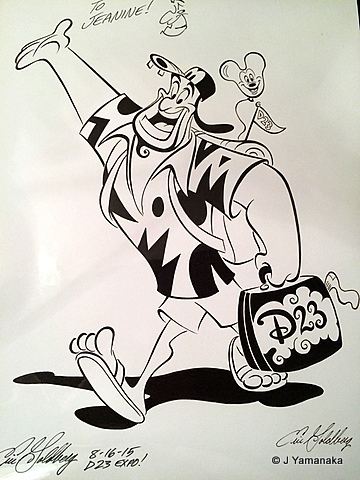 Next up was one of the big concerts for the weekend, "Frozen FANdemonium: A Musical Celebration!"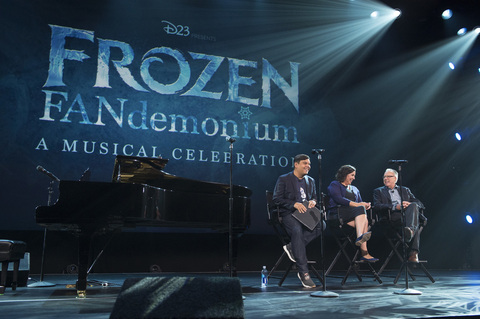 Hosted by Chris Montan, President of Walt Disney Music, the hit songwriting team/couple Kristen Anderson-Lopez and Robert Lopez took us through their journey in creating the music and songs from the blockbuster "Frozen."
Not only singing the familiar songs from the movie, they also performed some songs that did not make the cut such as "Take Off All Your Clothes and Rub Yourself With Snow," and "Someone Else's Shoes" (featuring such masterful lyrics as "his feet smell like reindeer poop/your feet smell like tomato soup.")
[Fun Fact: All the male trolls are sung by cast members of "Book of Mormon," and all the female ones are sung by cast members of "Kinky Boots."]
Then the original cast of "Do You Want To Build A Snowman" assembled, with Agatha Lee Monn and Katie Lopez joined by Kristen Bell!
After Bell sang a couple of numbers, including the cut song "More Than Just the Spare," our second surprise guest, Josh Gad, took the stage for "In Summer."
At this point, Montan noted that there was one other song to the score, and as they all feigned pondering what it was, Lopez played a few bars of "Frozen Heart," which Anderson-Lopez termed "everyone's favorite song about ice cutting."
A rousing singalong to "Let It Go" ensued, as the panel's entire cast was joined onstage by "Frozen" filmmakers Directors Chris Buck and Jennifer Lee, Executive Producer Peter Del Vecho, and John Lasseter.
As all good Disney finales do, it ended with a burst of confetti and thunderous applause from the audience, which also included "Once Upon A Time" stars Ginnifer Goodwin, Josh Dallas, and Lana Parilla.

Video by MouseInfo.
Finally, we come to my very last presentation for D23 Expo 2015: "Celebrating Walt Disney's Mickey Mouse Club – 60 Magical yEARS."
Author Lorraine Santoli moderated a panel of some of the original Mousketeers: Sherry Alberoni, Sharon Baird, Bobby Burgess, Tommy Cole, Darlene Gillespie, Cubby O'Brien, and Doreen Tracey. Together they reminisced about the process of filming the classic series, and the people involved with it.
Prior to the start, I think I was unsure whether I was really going to connect with the presentation, given that (as old as I am,) I wasn't around to see the original series when it first aired. Ultimately, however, it was utterly charming. All the cast members were so full of enthusiasm for being together and going over old times, and so ready to perform at the drop of a hat, as they must have been back in the day, and had such fond memories of their time on the show, that it was impossible not to see how they mesmerized people with their good-hearted joie de vivre on the 1955 show.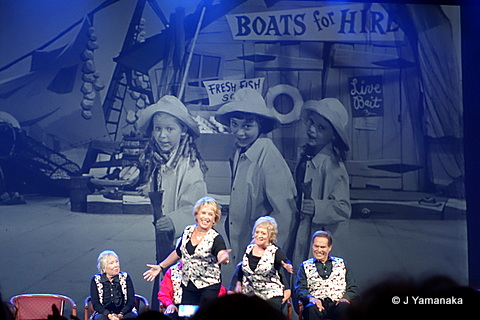 Each of them in turn got up and did a number with their old selves on screen which was simply swell. I encourage everyone to watch the full video of the panel because it's amazing that 60 years later they can match the energy, if not always the movements, of their original performance.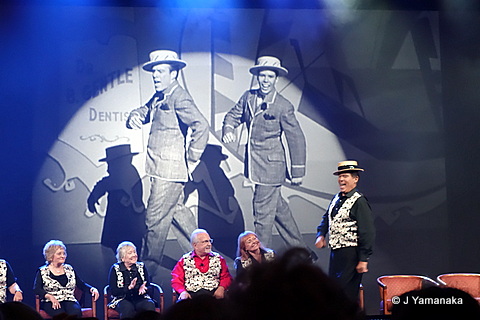 Afterwards, they spoke a bit on some of the various serials that were introduced on the show; they eventually got to the popular "Spin and Marty," at which time Tim Considine and David Stollery took the stage to share their memories.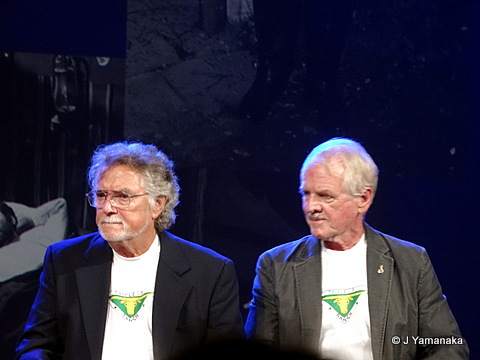 As part of a tribute to some of the old cast no longer with us, Tommy Cole sang Jimmy Dodd's song "Annette."
After the traditional ending of the Mickey Mouse Club, Director of the Walt Disney Archives Becky Cline surprised all the original Mouseketeers with a special presentation by Leonard Maltin. Original "Mousecars" that Walt had made up for special intra-company awards and never given away had been found and were presented to each person on the panel.
In return, the Mouseketeers surprised Leonard Maltin for all his work in keeping alive the memory of The Mickey Mouse Club by making him an Honorary Mouseketeer.
In a time where every child star seems to have about three good years before they burn out in some horrific and publicly reprehensible fashion, it is such a relief to feel that this group was exactly as they seemed on camera or off–happy kids working hard and having a blast in an environment that had been tailored to keep them that way, who continue to have nothing but fond memories of one of the greatest periods of their lives.
"Till we're old and grey, we won't forget the day of the Mouseketeer Matinée!"

Video by Laughing Place
Thoughts on the Expo:
The Good:
–I felt like this year's Expo had more programming and more interesting booths than the last one. Although none of the individual booths matched the breadth and scope of the 2013 Imagineering/Parks and Resorts booth, the addition of Pixar to the Studios/Animation area really punched them up as far as talks/demos/signings.
–The Archives Exhibit benefited greatly by being on the floor this year, instead of relegated to upstairs in one of the ballrooms. Not only did it make it stand out a lot more, but the openness of it made it possible for people to get at least a look at the contents if they weren't able to stand the hours-long line that it typically had.
–The Charter Lounge which, in the past, has been pretty anemic, had much improved offerings this year, including complementary coffee and popcorn. It may not seem like much, but when you haven't had time to break for food all day, free popcorn that you don't have to line up for can make all the mood difference in the world.
–The mobile app was terrific. If you go to a bunch of conventions, you've noticed a growing trend towards using mobile apps for schedules and maps, etc. versus having to cart around a large, heavy booklet that is often outdated by the time the convention actually takes place. Previously, most of the apps were pretty unhelpful, with a non-intuitive interface, but this year everyone seems to have finally figured them out–both SDCC and Expo's apps were incredibly effective, to the point that I never needed a physical schedule for either one at all. Listings were updated when StagePasses were out for a given panel, and alerts were sounded when something timely was happening, like trading card releases. It was a huge asset.
–The cosplay was really impressive this time around. Out of all the conventions I've attended this year, the Expo cosplay in general looked way more detailed and elaborate than any of the others.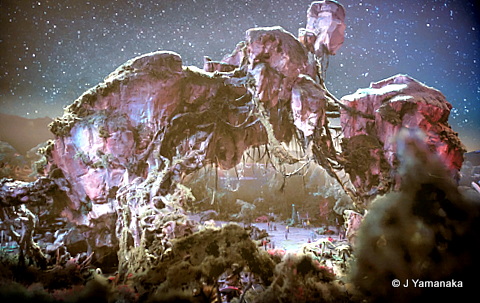 The Bad:
–Lines still are and probably always will be the bane of convention-going. While I think everyone realizes and accepts that there will be some line-waiting, I dislike the growing movement towards making it impossible to see popular panels if you're not either willing to pony up a huge amount of dough, or wait out on the sidewalks with the roaches and the hobos the whole night before.
–In the Blair Witch-esque basement housing the big Hall D23 lines, there were a lot of monitors showing promotional videos for people waiting down there for hours. Why couldn't they simulcast the Hall panels in there, for the people in overflow who couldn't make it in?
–Similarly, everyone also understands that there is so much programming no one person can see it all…but it was disappointing that so much of the major content was programmed against each other (likely to make people choose and cut down on lines.) It often seemed as though there would be around three or four different panels that sounded fantastic at the same time, and then a couple of hours where there was relatively little happening–in particular, Friday and Saturday seemed overflowing with presentations, and in comparison, Sunday seemed kind of lean.
–Time also feels particularly crunched since Expo cut back from four days to three days. Adding back that fourth day would really help on spacing out talks so people could see more of them. Alternately, Disneyana structures their convention so that talks happen on the first few days, and then the last day is solely for the sales floor. If they can't extend the panel schedule to a fourth day, maybe they could run an extra day just for the floor, so that people could have more time to see the offerings down there without worrying about leaving to go stand in lines elsewhere.
–There's still a lot of miscommunication on things like where and when lines are supposed to form, passes are to be given out, etc. On the first day, it's fairly understandable, but after that there really should be a structure of how volunteers and convention workers can find out the answers to questions in place.
–Lack of evening content. The first Expo, they ran movies with filmmaker intros way into the night. The second one, they had the big Richard Sherman/Alan Menken concert in the evening. This year there really wasn't anything past about 7pm. That, and the lack of a big finale event, gave it a little bit of an unfinished feeling which might have been ameliorated by putting either the "FANdemonium" or "The Originals" in the Saturday night slot.
The Ugly:
–Shopping was probably the number one least pleasant experience I had at Expo. The lines were amazingly long–often hours long–and I personally did not find the StorePass useful at all. In the first place, you had to be in line for StorePass right around 9am, because the line was usually cut before 9:30am (making it virtually unobtainable for general admission ticket holders, who couldn't enter until 10am.) The one time I did get in line around 9am, we were marched over to the pass desk and then…nothing. I finally asked when they were going to hand out the passes, and they said they weren't going to start until 10am, which meant that you were looking at an hour's wait for the pass on top of whatever wait you were going to find when you returned.
–[Side Note: This was the first Expo I attended with a Media pass, and while there's no denying it allowed me to see more than I would have seen without it, the shopping restrictions were pretty impressive. We were initially told we (holders of "non-revenue passes") could not enter the stores during convention hours, but could come in for an hour after the floor closed. When I returned to Mickey's of Glendale, they said they had changed their minds and were only letting cast members purchase things then, but I could come back during the next day. When I came back the next day, they said again, that we could only enter that evening. When I pointed out that I had and was denied, they replied that they had seen media inside the store. When I said that could very well be true, but it wasn't me, they shrugged and started to leave. When I asked if there was someone I could ask who might know definitively, they said "no. Sorry, we're busy."
To their credit, they were always very polite, and a different store worker did let me in at the very end of the Expo, but they clearly neither needed nor were particularly concerned about getting your money if you did not have a paid ticket.]
–Trading Cards. I didn't really participate in this, but I understand a lot of people enjoyed collecting them, which is great. On occasion, however, they would issue alerts through the app that a special card was being handed out at a certain time, and then you saw a mob scene like people were trying to get on the last copter out of 'Nam. I guess it's to their credit that they developed something that people embraced with such enthusiasm, but wow, they maybe need to put some more people out there regulating it because it was just luck it didn't all end in bloodshed.
–Size of Archive Stage. While I thought they did a much better job this year getting larger capacity rooms for the popular panels, the Archive Stage, in my eyes, was way too small. Expo is a celebration of the Disney Company in all its myriad facets, and one of the most important is its history. To relegate some of the fantastic presentations they had to such a tiny area is to really limit their exposure in a completely unnecessary manner. I saw almost none of them, partially because it didn't seem worth the time investment to go all the way over there for such a small chance of getting in. For a club with a fanbase so interested in every aspect of Walt Disney and his company, D23 probably should be able to have faith that they can execute this level of historical programming and have a good sized crowd show up.
All in all, however, it was a grand Expo–probably the best since the first one. Although some might find the emphasis on Disney's recent acquisitions Star Wars and Marvel a dilution of the Disney content, I think there's no denying the increase in energy and star power the two properties bring to occasions like this. They haven't formally announced the next one, which I find a little worrisome, given that they usually say something about it at the end of the current one, but here's hoping we all reconvene in two years time, to continue celebrating the fantastical company Walt built, along with all its wondrous creations.
"Fun and wonder are the important elements, in addition to quality in production and performance, which are most responsible for the success of Disney productions." -Walt Disney