I am confident that when it comes to lights and lighting, Disney uses about any kind of light you could think of and probably a lot we never knew about. From the amazing lights used on Cinderella Castle to create the Ice Castle during the holidays to the lights which illuminate the exit paths if a ride stops and guests have to leave their ride vehicles, there are millions of lights used at Walt Disney World and Disneyland.
Below is one example of a light we see all the time driving around our cities and towns. A simple traffic light which became the center of attention during the Pixar movie, Cars. By it's only flashing yellow during parts of the movie, the light signified loneliness and isolation. When the light was turned on for full use, the town of Radiator Springs came alive with activity and hope.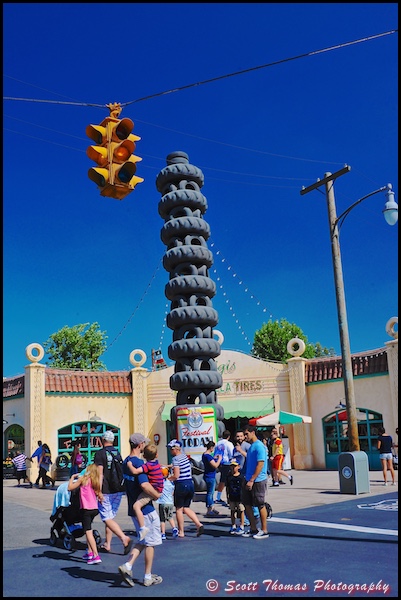 Traffic light in the center of Carsland at Disney's California Adventure.
Nikon D700/28-300VR, 1/125s, f/16, ISO 400, EV -0.3, 28mm focal length.
Deb will be here tomorrow to quiz you on a light she found in a new, fun location.