The conversion from Downtown Disney to Disney Springs continues with the opening of the Village Causeway, linking the Marketplace from the Rainforest Cafe to the Lego Store.
New kiosks are open…..
Flour & Sugar – This kiosk offeres freshly baked cookies with Florida flavors like coconut, key lime and strawberry. You can buy them individually or in easy-to-transport canisters of six.
Florida Bath Co. – This kiosk offers products made with home grown ingredients like organic vegetable juices and essential citrus oils. Florida Bath Co. is owned by the same folks as Basin.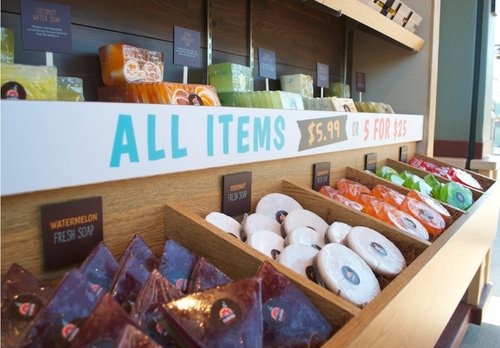 Icon Jewellery by Bico – Concepts like Love and Friendship, Protection, Strength and Luck are represented in pieces crafted from hand-polished fine grade pewter and enhanced with fine materials like Swarovski Crystals, New Guinea Rosewood and genuine leather.
Kate & Leo – Creativity and imagination toys and games for kids including travel games, magnetic story boards, beautiful art supplies and more, no batteries required.