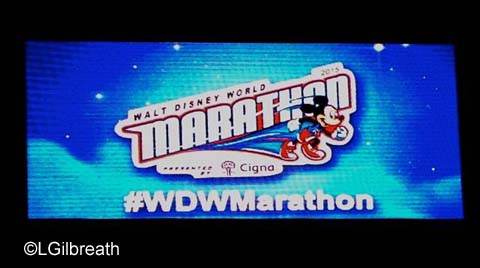 Sunday, January 11
I slept a little better Saturday night so for a change I was asleep
when the alarm went off. A few minutes later we received our wakeup
all from Baymax, who told us to have a "fun-filled day".
It was hard to get up, and I really wanted to just go back to bed.
Lee and I both wondered how we managed to do it four mornings
in a row last year when we did the Dopey Challenge..
It was a much warmer morning – 56 degrees at 3:00, which was 10
degrees warmer than the day before at that time. We only needed a
throwaway shirt and our trusty trash bags. I also had gloves and a
couple of "Hot Hands".
We left the room a little after 3:30. There was a little more
traffic driving to Epcot, but not bad, and we were actually
parked two rows closer than for the half marathon.
There was a very short line to get through the bag check and we
entered the race area. There was a stage with a DJ, and there were
a couple of photo backdrops with the Marathon logo on them.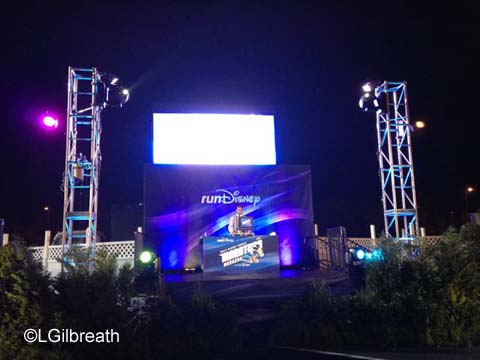 Before we went to the corrals we hung out with a lot of our running
friends – it was nice to see a lot of our former Team All Ears
mates!
We were running with a group of friends, and around 5:00 we all
headed to Corral K. The race started at 5:30, but we knew we
wouldn't start until after 6:00. The walk to the corrals was a
little more crowded than it had been the day before, but still not
bad.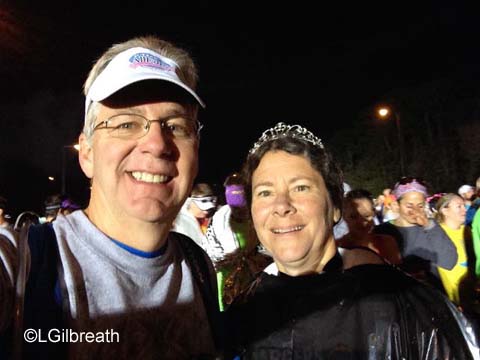 There were 26,000 registered for the marathon (though there's always
some number of runners who are unable to participate), separated
into 16 different start corrals – A-P. As they did for the half
marathon, each corral had their own set of fireworks. One thing
I hadn't realized was that they shoot the fireworks off from a
couple of locations, and we could see both the ones at the start
line, and some that were off to our right. As we moved forward
those were behind us.
Our corral started around 6:10. It's always a relief to finally get
going. Our group was doing 2:1 intervals: two minutes running and
one minute walking. It was really a wonderful morning for running:
nice and cool – ~58 degrees and not too humid. By mile 3 I had
discarded all of my throwaway clothes, though I hung onto the "Hot
Hands" for a while longer.
The character lines were significantly shorter than they had been
the day before as we made our way towards Magic Kingdom. It was all
the same characters, so I guess a lot of runners (since about half
were either Goofy or Dopey) had gotten their photos during the half
marathon. But we stopped for a photo with Wreck-it Ralph – and got
photobombed by several other friends who caught up to us just as we
were posing. 🙂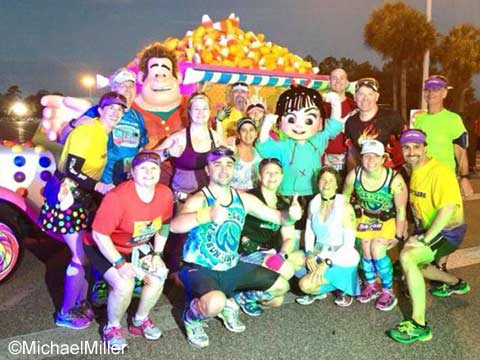 The runDisney banner was staked down at the bottom this time, so I
was able to get a better look at it!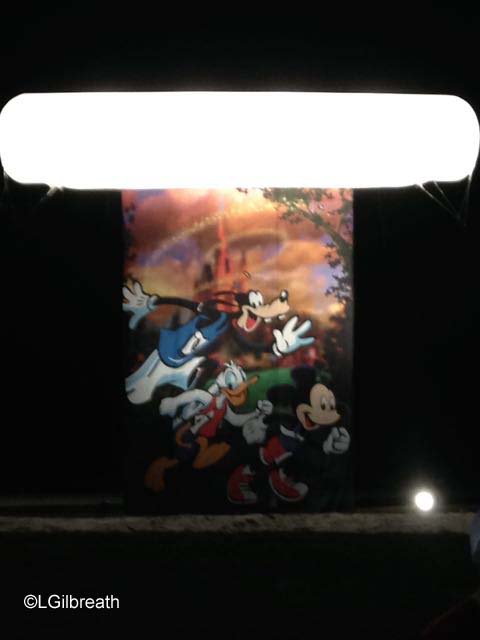 It was starting to get light as we approached the "underwater
overpass" where we go under the channel that connects Bay Lake and
Seven Seas Lagoon. The "Big Hands Guy" is always there playing
music and cheering us on.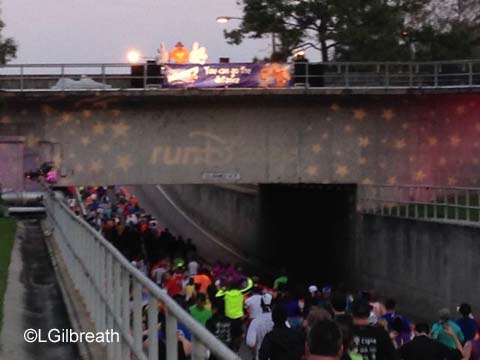 There was a pretty sunrise as we looked towards the Contemporary
Resort.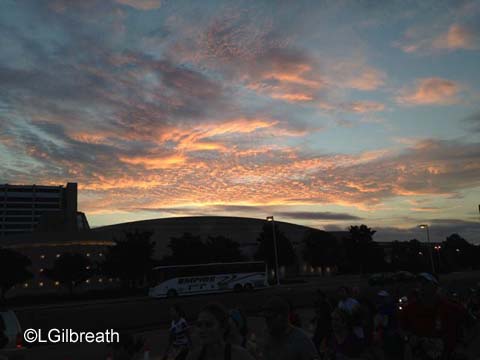 Once we reached Magic Kingdom we enjoyed running down Main Street.
At the end we had some friends who were there cheering for us. It's
always so wonderful to see some familiar faces when we are running,
and we appreciate them getting up way early to come out and support
us.
Anna, Elsa, and Kristoff were cheering us on from the castle balcony
again.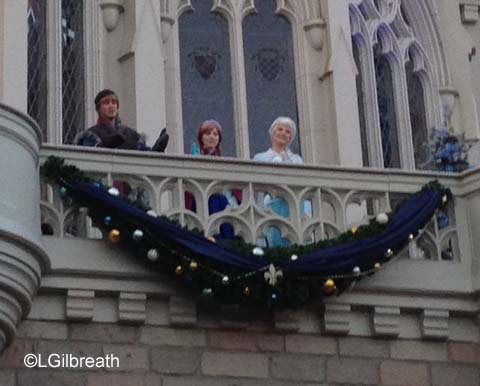 We stopped in front of the castle to get a group photo.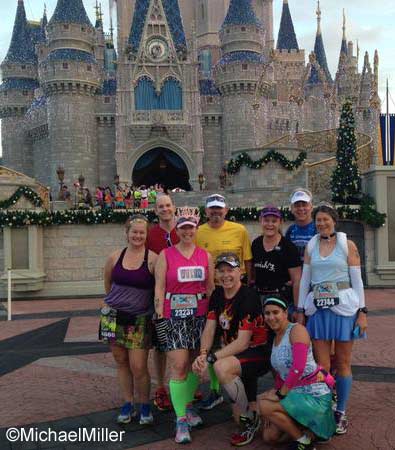 After we left the Magic Kingdom it was time for the dreaded "Cone
Alley" section from there to past the Polynesian. We were further
back in the pack than we had been during the half, and there were a
lot more people. Plus we were running as a group of eight, so we
couldn't really run together. We get really frustrated with big
groups who run side-by-side on the narrow parts, so we tried to stay
mostly single file, especially when we were walking.
There were some new signs up today. The "song" for this part of the
course was "This is the Best Day of My Life". (How would you like to
be the DJ working that area, having to hear the same song over and
over and over..).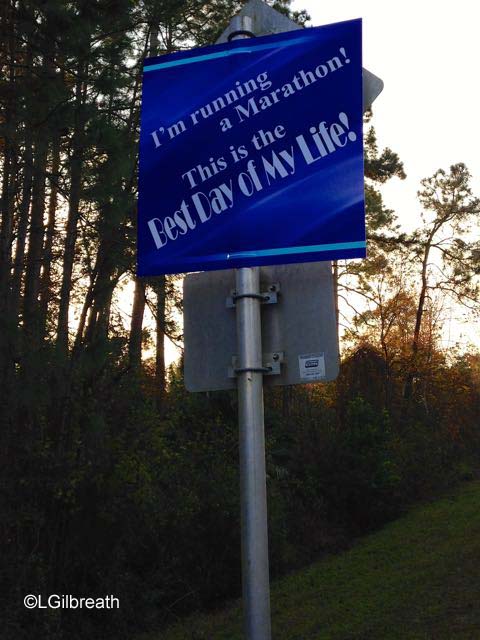 Until just past mile 8 the course had been identical to the half
marathon the day before. But from there on it was different. We
made a left to the Walt Disney World Speedway, where we took a
lap around the track.
`
There were car enthusiasts who had brought out their cars and were
cheering us on.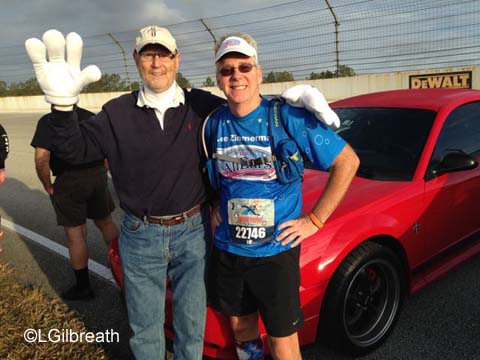 `
After we left the speedway we had to run across the grassy median to
get onto Bear Island Rd towards Animal Kingdom. Our path across the
median was marked with pink (and green) flamingos, which I found
very amusing.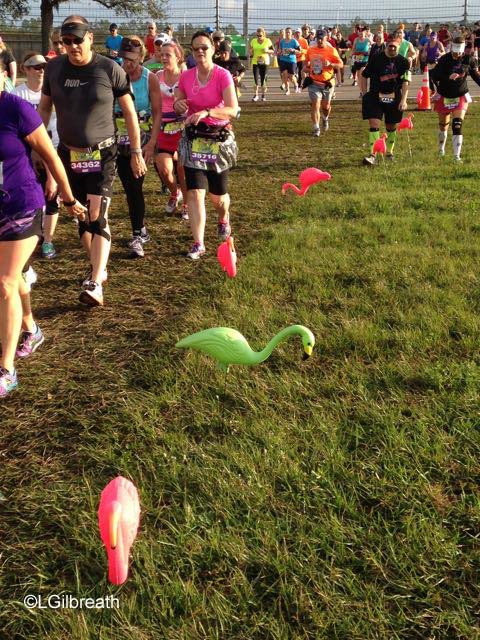 There were a number of character stops along the road, but the lines
were a little longer than we wanted to stop for. As we neared Animal
Kingdom we ran by the Waste Treatment facility. It did not smell
very good in this area, but there were a number of informational
signs to read as we ran by.
The group from Robin Hood was out for photos! You don't see them
very often.
A lot of us wanted our photo taken with this Goofy topiary!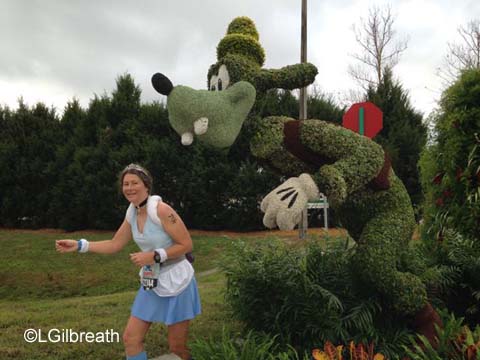 As we neared Animal Kingdom some of the animals were out with a
number of animals and birds. Beaker the vulture had his own way of
encouraging the runners to "look alive" and keep moving. 🙂
Emme Lu the pig was even wearing a marathon bib! I thought there
were more animals this year. It's a lot of fun to see them.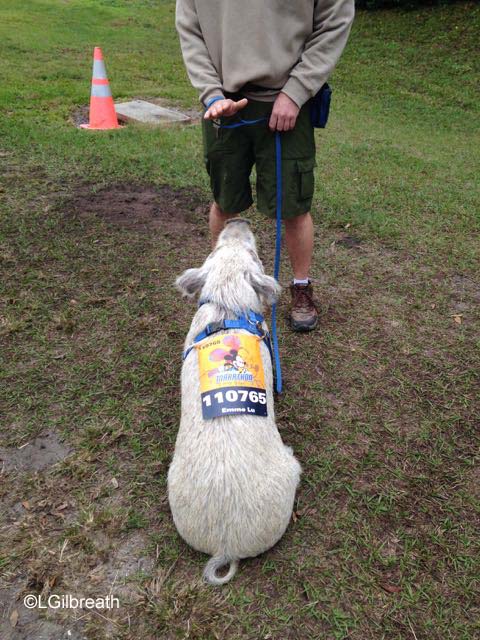 Because of the construction between Harambe and Asia we entered
Animal Kingdom by the Maharajah Jungle Trek instead of Harambe. We
were almost to mile 13 by then. The park was open, and we got in
line to ride Expedition Everest! It only took about 10 minutes
and it was really fun. Where else can you ride a roller coaster in
the middle of a marathon? 🙂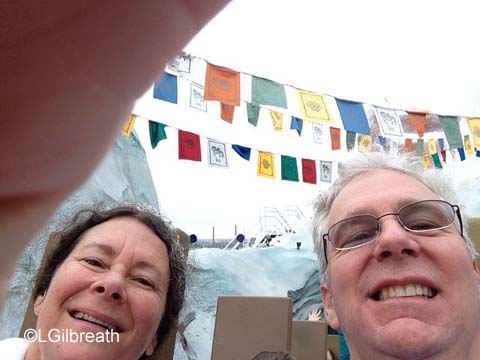 But all of that fun took a long time – about 3:25 to do the first
13.1 miles. I wanted to finish in under six hours, so I said
goodbye to my running companions (including Lee) and picked up the
pace a bit. I switched to 4:1 intervals, which is what I'm used to.
After leaving Animal Kingdom there's about a mile of narrow paths
and roads. That was pretty frustrating, but I was happy to see Mike
Scopa's smiling face along that stretch!
Once we were back on the main road towards Wide World of Sports it
widened out a bit, but there were still a lot of people. And since
I was moving faster than almost everyone else I had to weave my way
through a lot of traffic.
About mile 15 it started to drizzle, and then it rained lightly for
10 minutes or so. The temperature was up to about 65, which was
still a comfortable running temperature for me – I was actually
really pleased with the weather, since it was not quite as warm as
had been predicted. According to the weather forecast the rain was
supposed to hold off until 1:00, but it was only about 10:00. I
was really hoping we weren't going to have a repeat of the rain we
had for the Wine and Dine half marathon.
As the course turned right to go towards Wide World of Sports it
went down to one lane – because on the other side were all of the
people who were exiting WWoS who were almost four miles ahead of me.
This part was decidedly not fun – I dislike it even more than "Cone
Alley".
Once we turned right again just before mile 17 we were no longer
facing the other runners and the course got a bit wider. Volunteers
were handing out cool towels, and those felt really good! Also in
this area was a huge Baymax towering above us. Signs posted at his
base said things like: "I heard a sound of distress", "I am not
fast", and "On a scale of one to ten, how would you rate your
pain?" At that point I was still feeling pretty good, but ask me
that question again in another 9 miles…
Most of the time in the Wide World of Sports complex we are running
on concrete walkways – pretty narrow and hard on the feet. But we
get to run almost a lap on the track, and that has a rubberized
surface that feels really good on the feet after almost 18 miles!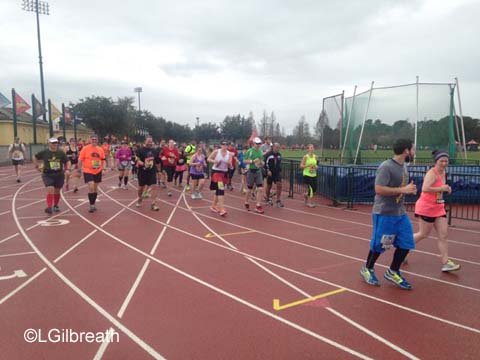 Just after mile 19 we did a lap around the field at Champions
Stadium. I know some people don't like the dirt surface, but I find
it's a nice break from the concrete and asphalt.
The race banners from the Expo had been moved so they would be next
to the marathon course.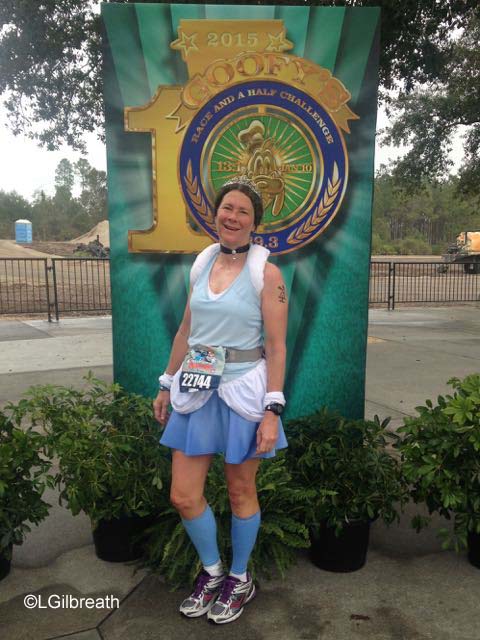 Once we left the WWoS complex we were again down to one lane, but
this time we were the ones who were a long way ahead of the oncoming
runners. I really did not like this part of the course. But I
think I already said that.
At mile 20.5 I found cheerleader extraordinaire Laura Ozo. She had
asked people in advance what they wanted her to have for them, and
offered me a variety of choices – chips, candy, coke, etc., but I
wanted an orange slice, which tasted really good. Thanks, Laura!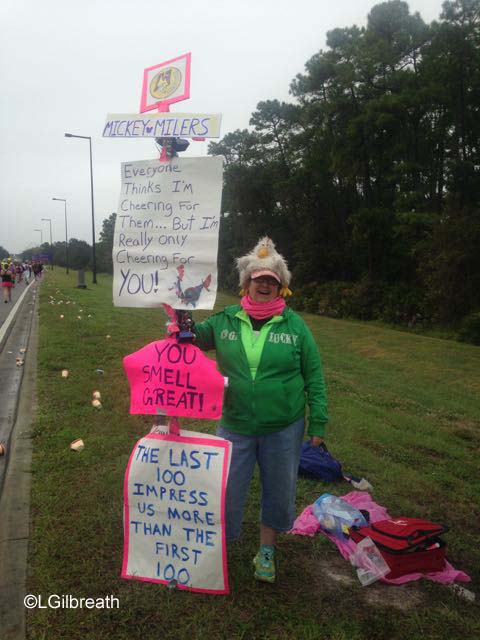 By mile 22 I was starting to feel pretty tired. I knew I could
still do the last four miles, but my running pace was slowing down
a bit, though I was still able to do 4:1 intervals.
I was very happy to reach the Studios – just over three miles to go!
They were handing out chocolate there – I didn't take any, but it
was nice to have the option. No gummies this year, which is what I
would've liked. I love chocolate but not during a race.
Several character stops but they had lines so I didn't stop. I
passed by the Sorcerer's hat with all the construction walls around
it – that might be the last time that I'll see it, since it is being
removed.
After leaving the Studios the course narrowed again as we ran on the
path along the waterway towards the Epcot Resort area. It was so
wonderful to get to the Yacht Club and see Deb and Linda there to
cheer in the same spot they'd been during the Team AllEars years! I
got two great hugs to speed me on my final two miles.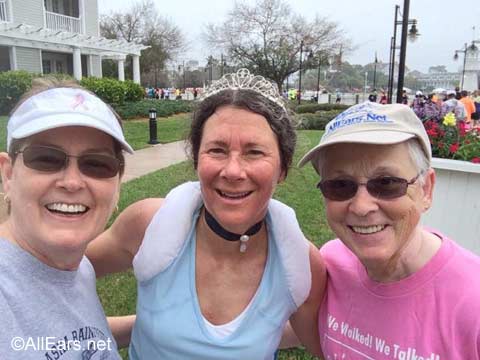 That was about when it started to rain again, and by the time I
reached the International Gateway it was really raining. Ivana
Dream, the self-proclaimed Marathon Fairy, was out. She was
impressed that I knew who she was (but that's only because I asked
her last year during the Princess Half Marathon!).
As I came into World Showcase at the UK, I found Phil, Pam, and
Nancy cheering – rain hadn't dampened their enthusiasm!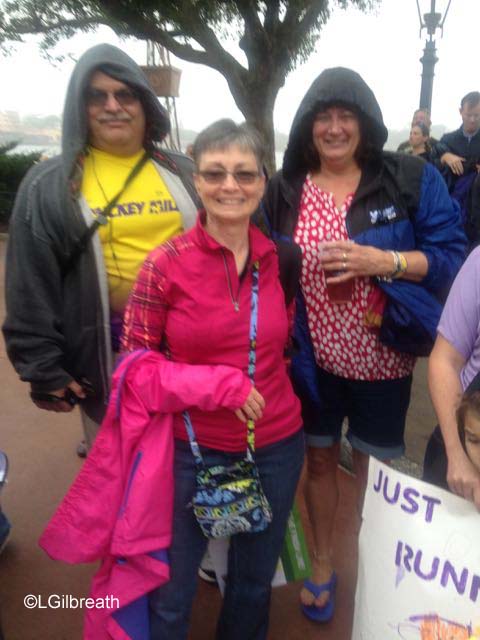 Because of the rain the characters who are usually out during the
race had either been pulled or were in sheltered spots. I was able
to get my photo taken with Aurora in France.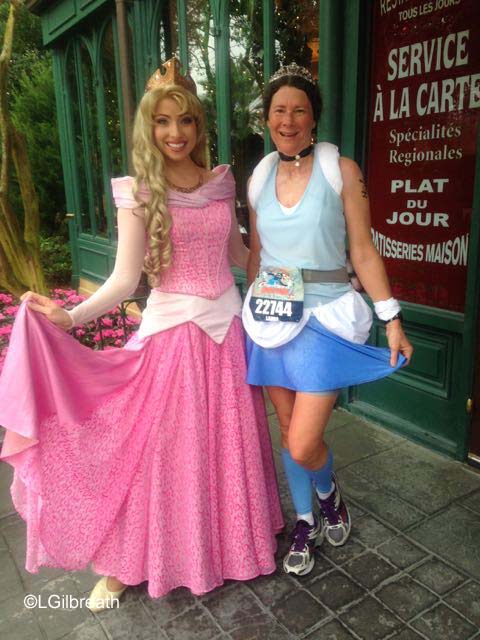 And Mushu in China.
It was raining and I just wanted to finish so I didn't stop for a
frozen margarita in Mexico this year – plus I still had my eye on
that under 6-hour finish.
The gospel choir was still out singing in spite of the rain, though
it had slowed to a drizzle by then.
And I did it! I finished in less than 6 hours: 5:51:42, to be
exact. I ran the second 13.1 in 2:25, and I was very happy with
that!
The rain stopped about the time that I finished. I got my Mickey
medal from the nice volunteer and a cool towel from another. It
wasn't uncomfortably warm, but it still felt good to wipe my face
and hands and arms.
I made my way to the Dopey/Goofy tent. I was skeptical about how
well this photo process would work, but it went very well. They had
a lot of lanes open with a computer and volunteer at each one. The
volunteer punched in my bib number and said "You're good to go –
congratulations!", and then I went through and the next person gave
me my Goofy medal. (The woman in front of me was not so fortunate,
and she was immediately directed off to the side to talk to a
manager.)
I saw lots of runners with the runDisney mylar sheets, but no one
was handing them out. I was wet, and concerned about getting
chilled (I hadn't checked a bag, so didn't have any dry clothes,
and Lee had the car keys), so I went looking for one. I asked one
runner where she got hers, and she directed me to Medical. I went
to Medical, and was told I couldn't get one if I didn't have a
Medical condition – that I needed to go to Self Treatment or the
Massage tent. Those were outside the finish area in the Family
Reunion area. Ok. As I exit, I see lots of people, including
spectators, who have the sheets. I go to Self Treatment, but they
don't have any. I go to the Massage Tent, and they don't have any
– though the answer I got was "I can't give you one". But still…how
are there no mylar sheets for runners??? I eventually got one that
a spectator was discarding. I ended up not really needing it,
though.
After all of that I went to the Champagne Station and rewarded
myself with a glass of champagne.
I checked the on-line results and saw that Lee had finished so I
went back into the runner's area to find him. By then not only had
the rain stopped but the sun had come out a little bit. Which is
why we're both squinting in this photo. 🙂
He had continued to have a good time with the group, so that was
great. But we were both tired and wet and ready to get out of
there, so we headed back to the car. It really didn't take long to
get back to our room at all. We were pretty wiped out – after we
showered we snacked on my leftover chicken parmesan from the night
before ("Chicken parm you taste so good") and what was in our
runDisney MRE boxes, and took a nap.
After we got back I took a closer look at the Goofy medal. It's a
spinner, but Goofy is upside down on the orange side! It's not a
mistake, because the writing is correct. Just Goofy being, well,
goofy.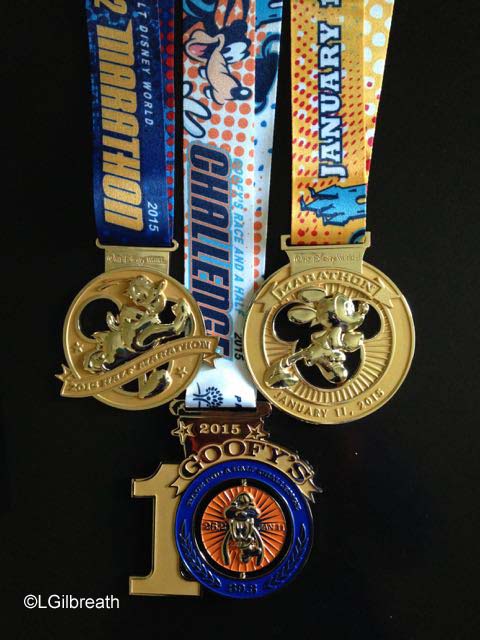 So. We're glad we did it, and it's nice to have that anniversary
medal, but we are done with marathons for a while. I won't say
"never again", but it's going to have to be something pretty
special. We just don't like the marathon distance, and all of the
training required. Love the halfs, but marathons are just not for
me. I have friends who run multiple marathons a year, and I don't
know how they do it.
Next up is Star Wars Half Marathon Weekend at Disneyland this
next weekend. Another Inaugural event! We will be doing the
Rebel Challenge which is the 10K and the half marathon. And
we will be earning our Coast-to-Coast medal, also.
Thanks for reading, and thanks for all of the good thoughts and well
wishes!
Learn more about my runDisney experiences on AllEarsNet TV Show #33:
You can follow me on twitter: @AllEarsLaura