A Disney Fan's Adventure of a Lifetime
Several members of the AllEars team spent most of March visiting Disney destinations far from home. We visited Hong Kong Disneyland, Tokyo Disneyland, Tokyo Disney Sea, and Aulani in Hawaii. Along for all or part or this journey were AllEars' Deb Wills, Laura Gilbreath, Lee Zimmerman, Jeanine Yamanaka, Linda Eckwerth, and Deb Koma, and friends Jack and Pete.
In Part 1 you probably read enough background and now you're ready to learn something about the park and the attractions, right? 🙂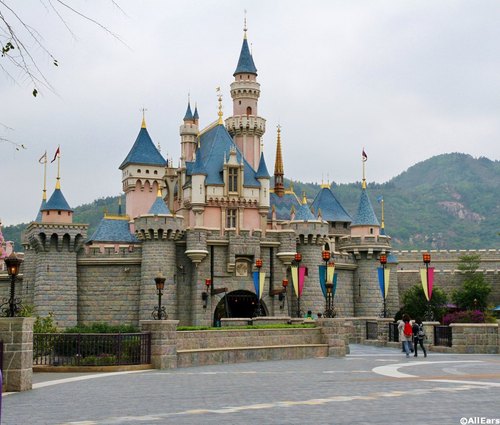 But first…This was the start of a dream come true for most of us. I asked everyone in our group to tell me what went through their mind when they walked on Hong Kong Disneyland's Main Street for the first time, and this is what they told me:
Deb Wills: My first impression was WOW, I am really really here! I was a tad disappointed most of the right side of Main Street was in scrims and reminded myself that's how first time visitors to WDW feel. I slowly changed my focus to down the road and started to think "the Castle is small." But when I realized there were huge mountains behind it I started to appreciate the beauty of the scene. I did miss the Partners Statue… but hey I was in HK DL!!!! And I was so excited!
Linda Eckwerth: The first thing I noticed, no rail tracks running down Main Street to twist my ankle. The park seemed small & quaint, like Disneyland and not crowded. It felt very inviting.
Lee Zimmerman: My very first impression was that I had flown 15 hours to go to Disneyland… including the same tiny castle. 🙂 My second impression was that it was Disneyland but bigger and newer.
Jeanine Yamanaka: When I was walking down HKDL's Main Street, I think most of my thoughts revolved around how this was the last operating Disney park in the world I had left to see–and how fitting it was, that it looked so much like the first Disney park I had ever seen.
Pete Loscalzo: I think seeing the Castle with the mountains in the background. It was Disneyland but something was different and I was slightly dazed & confused. I came directly from the airport after traveling 16 hours, dropped my bags at the hotel and just about ran to the park! Seeing Jack at the end of Main Street near the Hub (without a Partners statue I might add) brought an even bigger smile to my face! What a rush those first few minutes in the park!!!!
Jack Tarulli: I'm thinking one of my first reactions were about the brick main street….. I really loved the distinctive look. I think my second reaction was how come Lee and I were 20 feet ahead of everyone else!
Laura Gilbreath: My first thoughts were: "It's Disneyland! But it's not Disneyland – it's bigger! And we're really here!"
Linda took some pictures of us as we walked down Main Street that first time. We look like excited little kids – all smiles and wide-eyed wonder. Those were some wonderful moments.
Of course, we were also stopping to take pictures everywhere… 🙂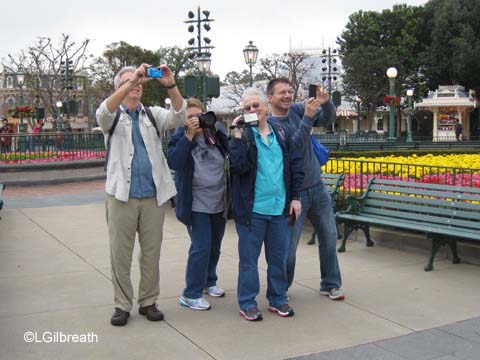 During our trip we tried to focus on the attractions that were unique to Hong Kong, though we also enjoyed experiencing those that were familiar but different, such as The Jungle River Cruise and "it's a small world."
On one morning, Hong Kong Disneyland graciously set up a guided tour for us where we could experience some of the rides and attractions that were new to us. We started in the three newest areas of the park: Grizzly Gulch, Mystic Point, and Toy Story Land. Our guides Hayley and Helen shared a lot of information with us, both on the park itself, and on the many, many details in these new lands, much of which we would have missed on our own. We had a wonderful time with them, and I think they really enjoyed us as well, because we were so enthusiastic and interested in everything that they had to tell us.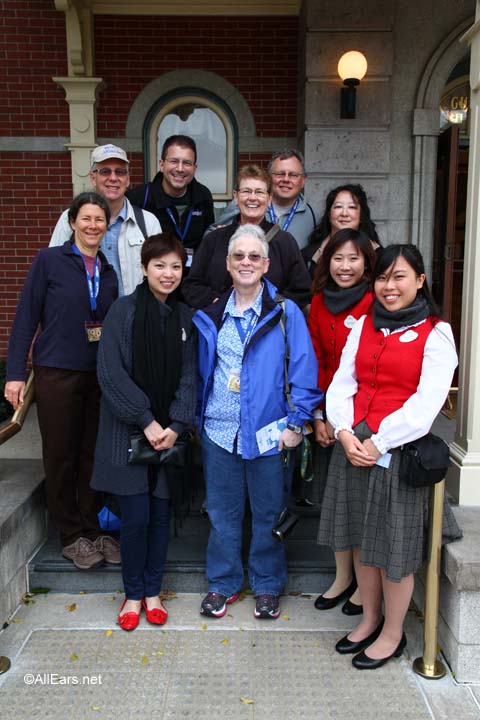 We began in Grizzly Gulch, which opened in 2012. It looks like a mining town in the American west.
The attraction here is Big Grizzly Mountain Runaway Mine Train, which is now my favorite roller coaster. It's like Big Thunder Mountain Railroad meets Expedition Everest. It's very similar to Big Thunder Mountain in the beginning, then partway through, and with no warning while going up a hill, it starts going backwards. Unlike Everest it's never totally dark, nor does it do that partial corkscrew that is so disorienting. A high speed launch starts the cars going forward again – 0-35 (though it feels faster) just like that.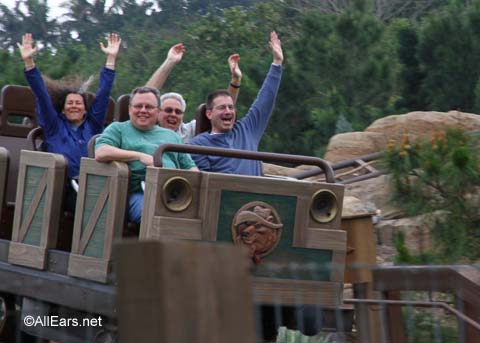 Instead of a yeti it has troublesome (but cute) audio-animatronic grizzly bears. It's a long ride – almost three minutes. It was fast and smooth and fun. We loved it.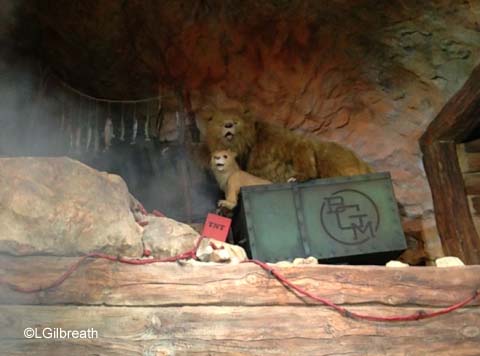 Helen and Hayley told us that numbers have significance in the Chinese culture – for example, the number 8 is considered lucky. Grizzly Gulch was founded on August 8, 1888, making it a VERY lucky town!
Numbers are also important in the ride. While 8 is a lucky number, 4 is just the opposite, and 44 is even worse. On the runaway mine train, it's a bear scratching his back on the switch control that causes the train to switch from mine shaft 8 to mine shaft 4. And then just before it starts backwards, we see water tower 44 beside the track. Uh oh.
Some additional details that Helen and Hayley shared with us:
Gold was discovered because the grizzly bears were using one of the rocks as a back scratcher, and wore away the surface, revealing veins of gold underneath.
The resulting gold rush town was built around some active geysers – there's a smell of sulphur in the air.
Lucky the dog (a golden retriever, of course) had a talent for sniffing out gold nuggets, and one day, in Shaft #8, found the 150 lb. "lucky" nugget that is on display in front of the assay office. Lucky's footprints can be seen in the concrete in front of the office.
There's a golden hidden Mickey nugget visible on the canyon walls.
The golden grizzly bears are also considered lucky. There's a bear family in the area: Rocky is the dad, and Lode and Nugget are the mom and cub. Their paw prints are visible on some of the walkways, and all three of them appear at various places in the attraction.
Lucky's footprints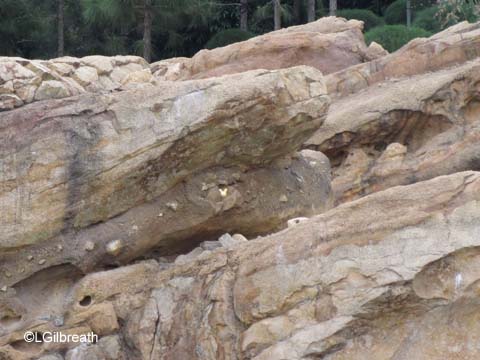 One very different thing about this area: the attraction was built first, and then the rest of the land was built around it. So the walkways go up and over the tracks of the roller coaster, and the ride is much more integrated into the land itself.
Next on our tour was Mystic Point. I could write an entire blog just on this part of the park, but I'll try to keep this to a reasonable length. 🙂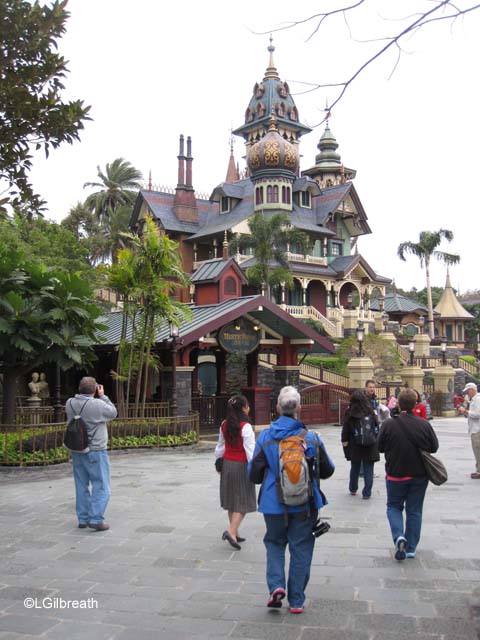 Mystic Point opened in May, 2013. This area looks like a tropical island, but right in the middle is a Victorian mansion – Mystic Manor.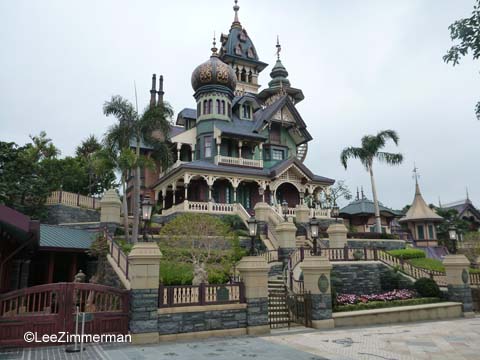 It is the home of Lord Henry Mystic, an explorer and collector of antiquities and curiosities. He has a monkey companion named Albert, who he rescued from a giant spider, and they have become lifelong friends. He graciously allows visitors like us to tour his home and view his extensive collection.
Guests travel through the various rooms in Mystic-Magneto vehicles. In the pre-show Lord Henry introduces himself and Albert, and explains that he and Albert have recently returned from Bali, where they acquired a curious music box – it supposedly has the power to bring inanimate objects to life. As you might expect, Albert opens the box (after being told not to), and then the real fun begins.
We see Albert in several of the rooms, and initially he is as charmed and curious as we are as the enchanting sound of the music box (score by Danny Elfman) brings artifacts like musical instruments and paintings to life. But things get a little frightening for Albert as the power gets out of hand and the objects become more menacing, culminating in a cyclone as various objects plus Albert and all of us whirl around the room until the music box is closed again.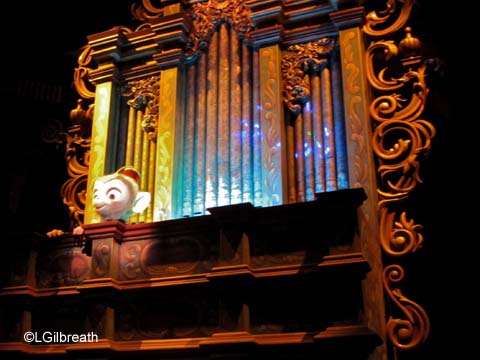 It was just magical. I loved it – it's my new favorite Disney attraction. Wow, wow, wow!!!!
The vehicle technology is like that used in Pooh's Hunny Hunt in Tokyo Disneyland, with a trackless ride system and vehicles that are remotely computer-controlled. There's audio-animatronics and lots of state-of-the-art special effects. The vehicles move through the attraction in groups of four. You still see everything, but you get a slightly different view from each vehicle.
Hayley and Helen shared some other interesting facts with us:
This is Hong Kong Disneyland's version of the Haunted Mansion – hence the owner's initials: HM
Mystic Manor opened for tours in 1896, but the attraction is set in 1908 – both are the Year of the Monkey.
At the entrance to the house there's a photo of the ribbon-cutting ceremony at the grand opening in 1896. Walt and Roy Disney (as young men) appear in the photo.
Lord Henry is a member or an organization called SEA: Society of Explorers and Adventurers. There's a portrait of the SEA members, including the ill-fated Harrison Hightower, owner of the Hotel Hightower in Tokyo DisneySea – their Tower of Terror.
Other recognizable SEA members are J.L. Baterista (Imagineer Joe Lanzisero) and Maestro D. Elfman (Composer Danny Elfman).
The mysterious music box has monkeys on the side of it, which explains some of Albert's curiosity.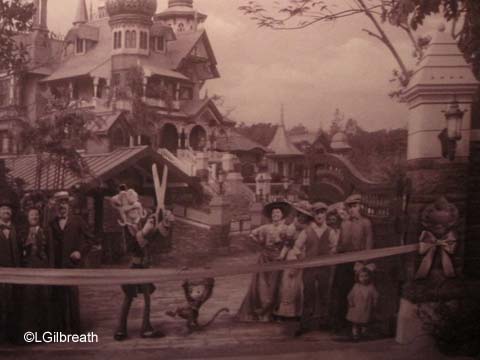 This is an amazing area – take a look at the video below if you're interested in seeing more of it. The video still does not do it justice, though.
Our next tour stop was Toy Story Land. This was the first of the new lands to open, in 2011. Before we went into Toy Story Land we stopped at the entrance, and Helen and Hayley told us we'd be shrinking to the size of a toy when we stepped in. They pointed to the concrete where you can see the huge imprint of Andy's sneakers.
Toy Story Land has two entrances, and on one entrance the footprint is going out, on the other it's coming in. Rex is at one entrance, and Woody is at the other – they are the lookouts, since they are the two tallest toys. Both of them speak (in English) periodically, "Well pull my string, you must be the new toys!" "I'm a predator…no really, I am! Roar!"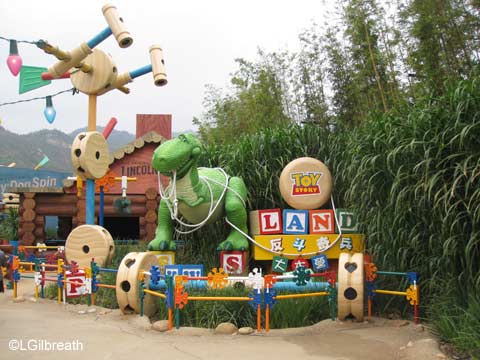 There are three rides in Toy Story Land: Slinky Dog Spin, Toy Soldier Parachute Drop, and RC Racer. I thought this area was for younger kids, but only Slinky Dog Spin doesn't have a height requirement – the other two really aren't little kid friendly at all. More for tweens or teens. But the area offers lots of over-sized toys to play with, and a number of photo opportunities, including photo backdrops and the "Barrel of Fun" character meet-and-greet area. Toy Story characters are available there during most of the park's operating hours. There were plenty of small children in the area who seemed to be enjoying themselves even without being on the rides.
Toy Soldier Parachute Drop is between Disney California Adventure's Jumpin' Jellyfish and the former Maliboomer in intensity. Not recommended for those with a fear of heights, though there are some wonderful views of the park and the surrounding area when you are near the top of the 80′ tower.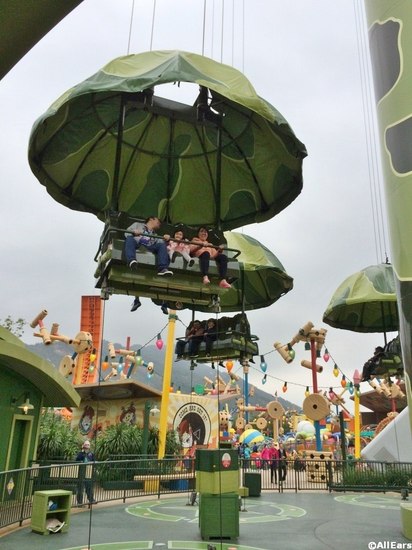 RC Racer is a "thrilling, gravity defying race, speeding back and forth on a soaring U-shaped track". Most of us did it, and I think we all decided that once was enough. 🙂 I really enjoyed the first few passes when the car went way up to the end of the track and hung briefly at the apex, slightly over center, but then the back-and-forth motion started getting to me after the fifth or sixth change in direction, and I was very glad when we stopped. I think we were all at least slightly disoriented.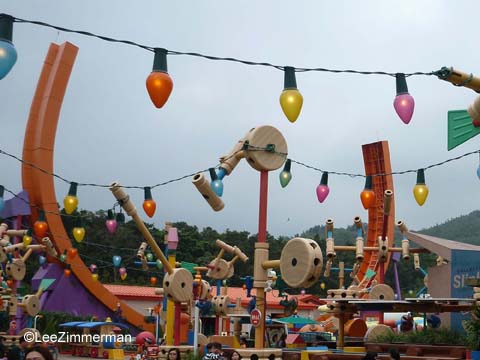 Slinky Dog Spin is very cute – I don't think you can look at the smile on Slinky Dog's face and not smile yourself! It's a pretty gentle around and up and down ride as he chases his tail.
This is a really cute area – lots of bright primary colors, and SO many references to classic toys and games – dominoes, Cooties, Lincoln Logs, Tinker Toys, etc. But it's very small, and I was surprised that there wasn't a Toy Story Mania attraction here.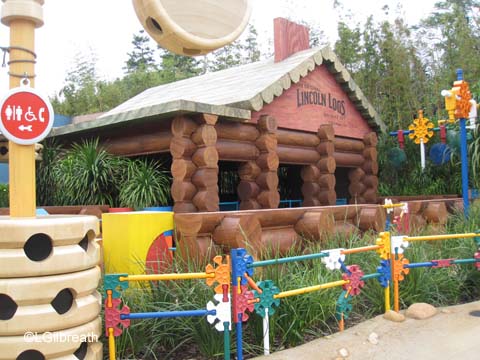 Next, we made our way to the Storybook Theater in Fantasyland, where we had reserved seats for the Golden Mickeys stage show. If you've been on a Disney cruise, you've probably see the Golden Mickeys show on board. It's an "awards show" with categories like "Heroes" and "Romance", and each category features scenes and music from the "nominated" Disney movies, with lots of Disney characters. On the ships the storyline follows the reluctant Ensign Benson, who is forced into hosting duties but eventually overcomes her stage fright. Here it's a red carpet reporter (think "Entertainment Tonight") named Bebe who becomes part of the awards show. The show was in Cantonese (though all of the songs were performed in English), so I missed most of the dialog on how that came about. There were English subtitles, but since we had such great seats in the center I had to look to the side and away from the stage to read the subtitles, so I didn't do it very often.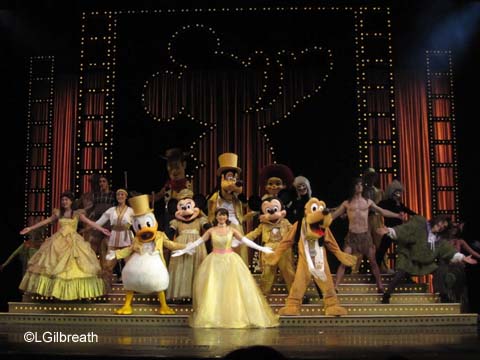 I thought this show was MUCH better than the Disney Cruise Line version. Though it really wasn't all that different since the musical numbers were very similar – mostly it was just bigger, since it's a larger stage that isn't on a moving ship. I've always found the Ensign Benson thing contrived and slightly annoying, so maybe the fact that I didn't understand what was going on with Bebe was an advantage. 🙂 Still, it was an excellent production with a very talented cast.
Our last activity with our guides was the Jungle River Cruise in Adventureland. Though one thing I want to show you first…on the way to the Jungle Cruise they took us into a cave, which had some "prehistoric" artwork in it.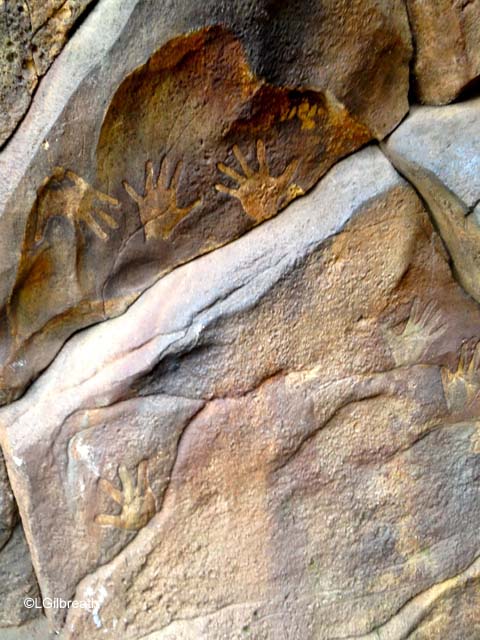 Now take a closer look at the hand print on the bottom left. 🙂
In Hong Kong the Jungle River Cruise, instead of being tucked away in a largely un-viewable area, runs on what we would call the Rivers of America. On the island in the middle is Tarzan's Treehouse, which is accessed via a raft.
Since there are three official languages in Hong Kong Disneyland the attraction has separate queues for tours in Cantonese, Mandarin, or English. Most of the skippers speak all three languages, so if the line for a Cantonese cruise gets long, they send out more boats with a skipper speaking Cantonese. The result is that no matter how long the queue seems, you still end up waiting about the same time no matter which language you select. Pretty slick.
A lot of the scenes are very similar, like the elephants bathing, hippos in the pool, gorillas trashing the camp and the rhino chasing the men up a tree. The ending is very different, though: the boat enters the "Canyon of the Gods" where there are big water geysers and even fire on the water!
As we all know, the Jungle Cruise relies a lot on humor. AllEars asked Joe Lansizero about the translation for an audience that may not have the same cultural references:
"The challenge there is that we work to make them translate. In the case of The Jungle Cruise in Hong Kong, we actually have three different languages there, so that the jokes were carefully re-written to work with the different languages, taking not only the understanding of the language but cultural references that may not have been appropriate or understood. And that's the same thing for the Stitch Encounter [in Hong Kong]."
My take…the jokes lose a lot in translation. Most of what we heard I wouldn't even call jokes. For me the fun part was the over-acting and the enthusiasm of our skipper – she was into it and that was infectious.
Unfortunately that was the end of our tour – we really would have liked to keep our guides with us longer! They were wonderful, and showed us so many great details. They were obviously so proud of the park (and rightfully so) and everything that has been designed into it because of the way their guests want to experience a theme park.
I couldn't put this into words at the time, but in looking back on it now I feel that Hong Kong Disneyland was crafted with a lot of love. Love of Disney, love of their guests, love of beautiful things. It really shows.
But back to the attractions…Lee and I did not have a chance to get to all of the attractions, but we made it to all that were new to us, plus some that we thought were different in Hong Kong. Here's a list, in the order that we did them:
Philharmagic – This was a shorter show – it left out the whole beginning part where Mickey tells Donald not to touch his hat. The dialog was in Cantonese, so we're not sure what was said (if anything) about the hat, since later on Donald was chasing it.
"it's a small world" – The exterior facade was much more like California, and it was also on the edge of Fantasyland like it is in California. It had Disney characters in it, but some of them were different than the ones I've seen in California – for example there were Mowgli and Baloo, Abu, Bambi and Thumper, and Marie. As you might expect it has a much longer and more varied Asian section. The U.S. was depicted by forested hills with Pocahontas, Flit, and Meeko, a desert scene with Jessie, Woody, and Bullseye, the Statue of Liberty and a New York skyscraper, and the Golden Gate Bridge.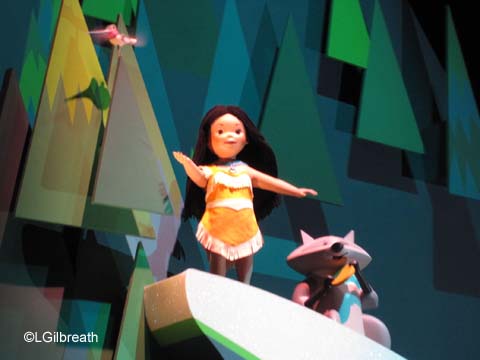 Buzz Lightyear Astro Blasters – More like Magic Kingdom, but the lasers are removable like the ones in California.
Space Mountain – very like the one at Disneyland, though the music was different. I liked the lighting in the load area better than California.
The Many Adventures of Winnie the Pooh – Except for the language, very much like the one in Magic Kingdom, if not an exact duplicate.
Tarzan's Treehouse – As I mentioned earlier, it's on an island in the middle of the Jungle Cruise, so you have to take a raft to get to it. Otherwise it's very similar to Disneyland, though it was different at the base – for one thing there was a stream with an audio-animatronic baby elephant in it.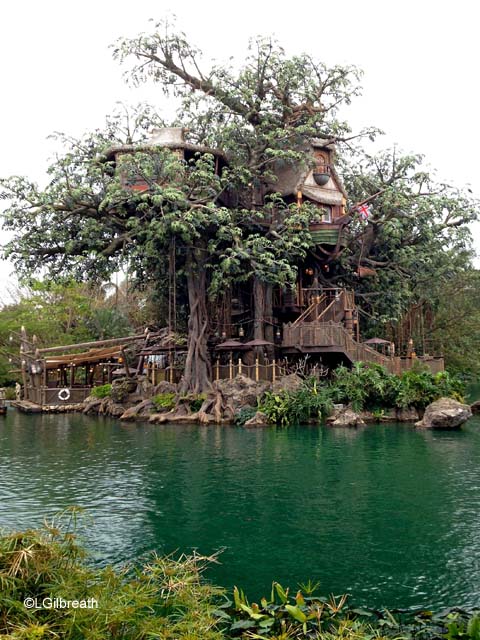 Stitch Encounter – This is the same idea as Turtle Talk with a smallish theater where an animated Stitch appeared on a large screen and interacted with the audience. There was a cast member who facilitated and took a microphone around
so guests could talk to Stitch. This one seemed a little more scripted to me, but I don't know if that's because we saw the English version. Cute show, though, and Stitch was appropriately mischievous and irreverent.
Prior to going to Hong Kong we'd had several people tell us that there wasn't that much to do at Hong Kong Disneyland, and that one day in the park was plenty. We didn't find that to be true at all, and in fact we would have liked to have had a third day in the park. Most of the attractions were really well done – Mystic Manor just blew us away, and we also really enjoyed Big Grizzly Mountain Runaway Mine Train.
Next up: the parade and fireworks show, and a look at some other areas of the park.