SeaWorld Orlando has quite a few Christmas and holiday attractions, but if you want to meet Santa and Mrs. Claus without standing in a long line, Santa's Fireside Feast is the place to go.
This special holiday dinner is held on select nights in November and December — Fridays, Saturdays and Sundays — plus each night during Thanksgiving week and the week before Christmas. The last night is Dec. 24.
My 10-year-old son and I attended the first night of the event this season, which was a new experience for us, with some friends. Typically, the price of the dinner show — $29.99 for adults and $19.99 for children ages 2 to 9 — includes reserved seating for A Sesame Street Christmas afterward. Guests are advised to pick up their seating passes at the Information and Reservations Counter at least 90 minutes before their meals.
Then, guests can gather outside Seafire Inn Restaurant. To the left of the main doors is a pathway along the waterfront that leads to the check-in podium and a backdrop for a complimentary family photo. Silly or serious smiles welcome!
Upon entering, guests will be seated on one of two levels in a semi-circle around a stage. Tables seat eight, so smaller groups will be placed together. The room is beautifully decorated in traditional Christmas colors, and it makes for a cozy setting with the fireplace on the stage. A server takes drink orders, and then each group is invited to visit the buffet, which has two identical lines.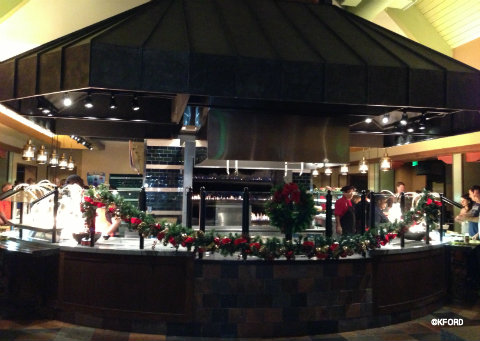 The menu includes:
Salads: Caesar Salad, Fresh Field Greens with Dried Cranberries and Pecans tossed in Balsamic Vinaigrette and Fresh Cut Fruit
Main Dish: Roasted Turkey with Gravy and Honey Baked Ham
Sides: Homemade Cornbread and Cranberry Stuffing, Sweet Potato Casserole, Mashed Potatoes, Glazed Honey Carrots, Green Bean Almandine and Macaroni and Cheese
Desserts: Pudding with Whipped Topping, Carrot Cake, Christmas Cake, Cinnamon Apple Cheesecake, Mint Chocolate Cheesecake and Hot Apple Cobbler.
Children's selections (which anyone can choose): Chicken Tenders, Hot Dog and French Fries
Beverages: Iced Tea, Coca Cola products, Coffee and Hot Tea
Our group found the main meat dishes to be flavorful, and some individuals liked certain side dishes more than others. For example, I ate every bite of the Sweet Potato Casserole, but my friend found it to be too sweet for her taste. The salads were not among our favorites, but even the adults liked the chicken tenders. The desserts were yummy, too. Be sure to try the Mint Chocolate and Cinnamon Apple Cheesecakes and the Caramel Pudding.
While we were dining, Santa, Mrs. Claus and some peppy elves appear on stage and begin telling stories, including Twas The Night Before Christmas. Their performances were entertaining without being so intrusive that guests stopped eating.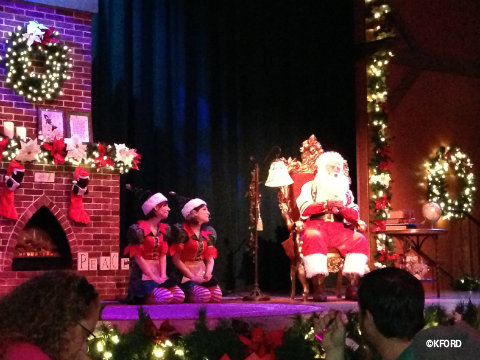 Next, an elf led guests, table by table, to the stage to see Santa Claus. Each child had ample time with Santa to discuss his or her wish list. Even adults who were on the Nice List were granted time on Santa's lap, if they so desired. You may take photos with your own camera, and a SeaWorld photographer also captures the moment for those who would like to purchase a professional photo.
Santa's Fireside Feast concludes with guests being served sugar cookies baked by Mrs. Claus herself. Then, it's off to see Elmo and friends!
Coming soon: I'll give you a look at the many other holiday offerings at SeaWorld.
DISCLAIMER: My son and I were guests of SeaWorld Orlando at Santa's Fireside Feast. This did not influence my story, and my opinions are my own.