Hi, guys! Time for a few shout outs!
Barrie and Craig! Whoo hoo! Good to see you! – Lee Anastasi: really?! Now I have to go look at the blog archives. LOL! – Patti McCaffrey: Welcome to AllEars and the Where in the World Photo Fun contest! We're so happy you found us. 🙂 – Larissa Huda: Enjoy your trip in August! Tell Walt Disney World that I said hi!
Claire Gregory: Mahalo for the note, Cousin! 🙂
Last but never least: Mike Venere? Where did you go, buddy? I look forward to your note each week. Hope you're enjoying a vacation!
This was Challenge #174: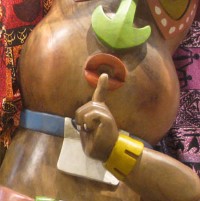 And here's the answer: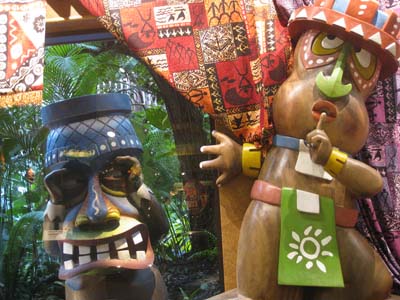 Copyright © 2010 Erin Blackwell Canon PhotoShot SD890 IS, 9mm, 1/6s shutter, f/3.5, ISO 320 (Interior Mode)
Tikis in the BouTiki Gift Shop (behind a cash register) in the Polynesian resort playing Hide and Seek! As I said last week, it's one of my favorite fun details in Walt Disney World!
Dawn Bach was the first to send in the correct answer for the challenge! Congratulations to Joshua and all the other readers who got the answer right: Betsy Bates, Mary Beth Tarbet, Evanna Huda, Jennifer Horst, Allison Burgess, Don Whiteman, Ed Suscreba, Hannah Couture, Carla C., Larissa Huda, Joy Johnston, Carolyn Como, Chris Kelly, Troy Parker, Jen Cerce, Kris Nixon, Elaine Johnson, Dale Knight, Danielle Ciotti, Agnes Ciotti, Daniel Record, Christine Rotella, Craig, Maureen Handy, Kathy Cordell, Melea Broekers, Sharon Pierce, Patty Carty, Kye Layton, Paul Cooper, Louise Barton, Tom Koval, Erica Sipich, Dylan Weidner, Bryan Timko, Erin Dagney, Christine Dagney, Dawn Burns, The Perras Family, Kyler Scott, The Scott Family, Jordan Scott, Ellie Argaluza, Diane Furtado, Ashley P., Sharon Dale, Ansley &Jen, Allison Palmer, Richard Palmer, Lisa Palmer, Julie Wickware, Lauren Thomas, Shaun Leake, Barbara Lawless, Kimberly Kusser, Kimberly Kusser, Anastasia Macneil, Kristen Mikos, Charles Wright, Chris Linscott, Linda Mac, Rich Kacprowicz, Claire Gregory, Stephanie Hardhouse, Jared Orth, Kelly Kobiela, Jaime Thomson, Hillary Waldroop, Stephanie Newell, John Dupre, Jennifer Toto, Christopher Hall, Brittany Siminitz, Tina Santacroce, Jennifer Tremley, Lee Krueger, Paul Ignudo, Jr., Alison Rosenberger, Kristen Carde, Carri Marotto, Jullie Pudem, Christina Cella, Sarah Holodick, Kelly Smith, Cara Richards, Phil Vickers, Diane Tredore, Marissa D'ambrosio, John Snider, Paula Massarelli, Steven Bowling, Katie Bowling, Elizabeth Scarborough, Jim Logue, Laura Pranaitis, Lee Anastasi, John Sheridan, Matt Degrandis, Heidi Goodhue, Lori Rienhardt, Bruce Hinterleitner, Les Whitten, Wendy Kemp, Tim Johansen, Ed Elder, Karen Aguiar, Patti Mccaffrey, Greg Papa, Leslie Stewart, Elizabeth Goodman, Kristen Mccoy, Patti Deluca, Jodie Schall, Christopher Barnes, Jennifer Bogdan, Gail Sheehan, J Brizzle, Jeannine Reid, Jeffrey Finger, Kim Steiner, Derek Carty, Barrie Brewer, Tricia Noble, and Noreen Rachub. Each of you are entered in the April winners' drawing.
Which leads us to announcing the April winner! This month's big winner is Katie Bray! Congratulations, Katie, you are the lucky recipient of a fabulous Disney book and some really cool AllEars® swag!
_______________________________________________________________________
Challenge #175: Where in the world is this?
This one is tougher. You have to be one of two groups (or both, like me) to have seen this: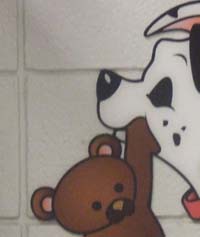 Do you know? Do you have a guess? Please send in your answer, before the end of the day on Thursday, May 5th, by clicking on the blue box below. Please do not post answers using the Feedback Form link at the bottom of this post. Remember to be specific with your answer – just naming a park will not get you into the drawing.
See you next week, Worlders!


_______________________________________________________________________
Everyone who sends in a correct answer to a Where in the World Challenge this month will be entered in a drawing at the end of the month for some special AllEars® goodies and a cool Disney book!