This was Challenge #148: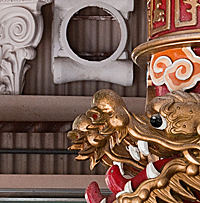 And here's the answer:


Copyright © 2009 Barrie Brewer, Nikon D300, 18-200mm VR, 1/40s shutter, f/8, ISO 400
Ooh, that one was tricky. Most everyone guessed either the China or Japan pavilion in Epcot. That's why I included some of the other things on the wall as a hint. Only three people knew exactly where this is – in the seating area of the Backlot Express restaurant at Disney's Hollywood Studios. Way to go Sarah, Tim Rachuba and Colin Buchanan. Other winners this week guessed that it was part of the Backlot tour. I thought that was close enough to be entered in the drawing.
Sarah was the first to send in the correct answer for the challenge! Congratulations to Sarah and all the other readers who got the answer right: Daniel Record, Susan Thompson, Claire Gregory, Dawn Bach, Tim Rachuba, Jeffrey Dunne, Timmy Saunders and Colin Buchanan. Each of you were entered in this month's winners' drawing.
It's time for our monthly drawing. Drumroll, please! This month's big winner is Patrick! Congratulations Patrick, you are the lucky recipient of a fabulous Disney book and some really cool AllEars schwag!
_______________________________________________________________________
Challenge #149: Where in the world is this?


Do you know? Do you have a guess? Please send in your answer, before the end of the day on Thursday, October 28, by clicking on the blue box below. Please do not post answers using the Feedback Form link at the bottom of this post. Remember to be specific with your answer – just naming a park will not get you into the drawing.


_______________________________________________________________________
Everyone who sends in a correct answer to a Where in the World Challenge this month will be entered in a drawing at the end of the month for some special AllEars® goodies and a cool Disney book!