Dark rides are the most challenging for us Disney photographers. Light is only available directly on the places Disney wants it and, while our eyes have no trouble, our cameras get starved for light. For years I got blurry photos. In fact I still do but I've gotten better. Fast prime lenses like the 50mm in all its iterations and image stabilization technologies have given me and many others some success. For my Disney Pic of Week on Dark Rides I choose to photograph the start, in fact, a very fast start to one of the fastest dark rides, the Rock 'n' Roller Coaster Starring Aerosmith.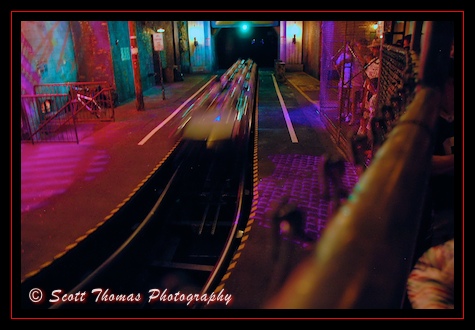 A Super Stretch Limo ride vehicle is launched into the Rock 'n' Roller Coaster.
Nikon D70/18-200VR, 1/5s, f/3.5, ISO 1600, EV +0.3, 18mm focal length
Rock 'n' Roller Coaster thrill seekers go from zero to 60mph in 2.3 seconds into a series of loops and high speed turns through California highways to the Aerosmith concert.
Lisa and Barrie will be here on Thursday and Saturday with their favorite dark ride photos.