Since wintertime is almost here, I thought I'd write about Blizzard Beach to help us get in the mood for some cold weather.
As the story goes, a freak snowstorm hit the Orlando area. A local entrepreneur, somewhat lacking in foresight, seized this opportunity and constructed Florida's first and only ski resort. But of course, warm weather soon returned to the area (as it always does) and the powdery snow began to melt. Dejected, the entrepreneur was about to shutter the establishment when he spotted an alligator sliding down the various slopes yelling "yahoo." Once again, the entrepreneur seized the opportunity and turned disaster into success by creating a water park. Soon, the slalom courses and toboggan runs were converted into downhill waterslides and the melting snow into swimming areas. Blizzard Beach opened on April 1, 1995 and the fun-loving alligator was dubbed "Ice Gator" and would become the resort's mascot. By the way, the mascot for Typhoon Lagoon is named Later Gator.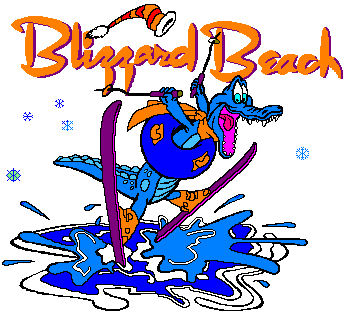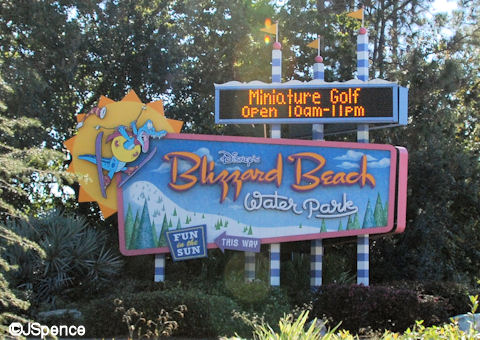 An alpine atmosphere is apparent from the moment you approach the ticket windows and main gate. Rough-hewn logs and river rocks make up the construction material and pine trees abound. Patches of melting snow are everywhere.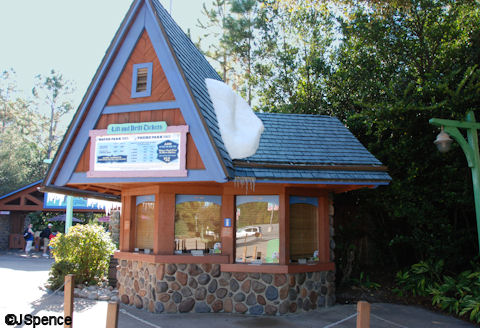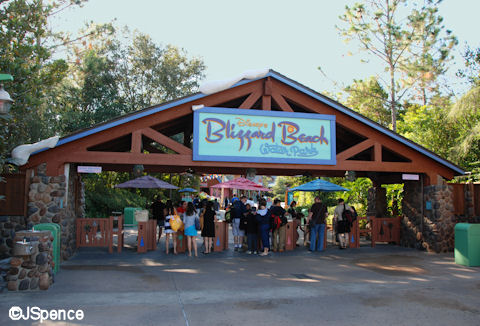 After passing through the turnstiles, a sales lot full of now useless cold weather sporting items can be seen to the left. The sleigh makes a great photo op.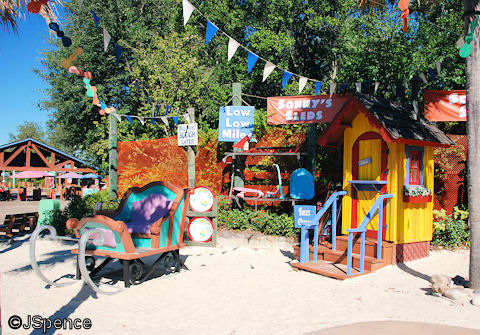 A little further down the path is the Beach Haus. This alpine store is your one-stop shopping place for souvenirs, locker rentals, beach apparel, towels, footwear, film, snacks, and sundries. Be sure to check out the hole-in-the-wall where Ice Gator came crashing through.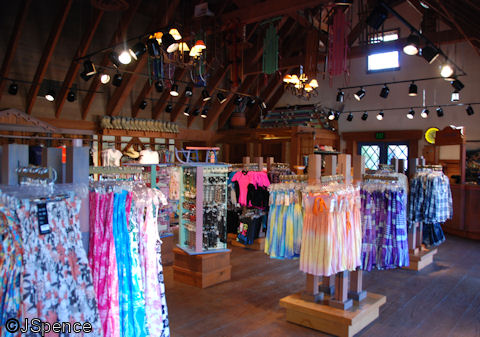 The music played at Blizzard Beach is an odd collection. Everything from the Beach Boys to Christmas tunes are played. You can even hear the yodeler from "it's a small world."
Here we see a photo op within a photo op. Notice that Father Snowman is snapping a picture of Junior.
Also near the entrance are restrooms, changing facilities, numerous lockers, and Snowless Joes. Snowless Joes rents lockers and towels and guests may secure life jackets free of charge here. Note, there are two other locker facilities in other sections of the park, but they must be rented either here or at Beach Haus.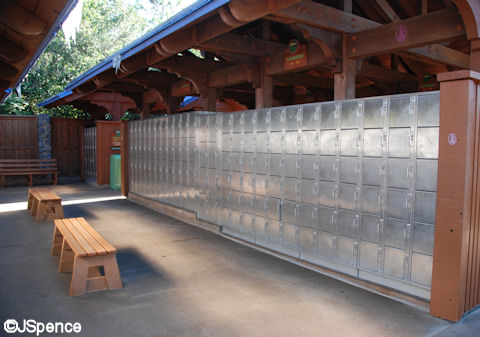 Mount Gushmore is the center piece of Blizzard Beach and the majority of the slopes radiate from various points on this peak. The mountain's elevation is 90 feet and can be scaled by several hiking trails. Water is heated year-round to between 75 to 80 degrees. Mount Gushmore is divided into three colored-coded slopes (Green, Red, and Purple) to help guests navigate the park.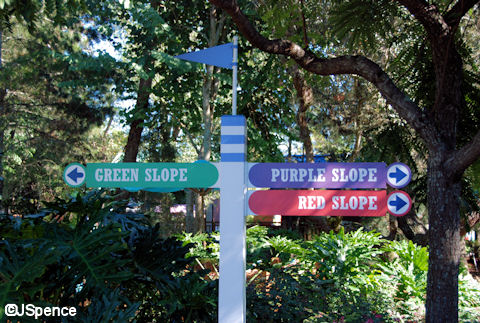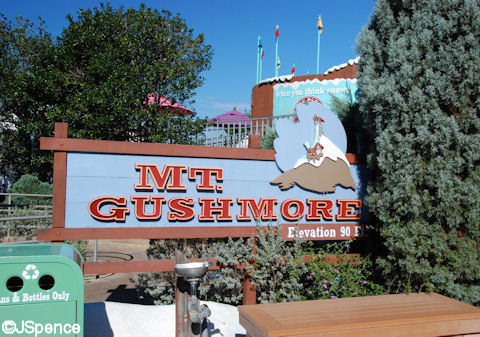 Green Slope
Chairlift
A chairlift is available for one-way trips to the top of Mount Gushmore and access to Summit Plummet, Slush Gusher, and Teamboat Springs. For those with disabilities, a gondola, which can accommodate a wheelchair and one companion, can be used to ascend and descend the mountain. Note, once the park gets into full swing, the line for the chair lift can be significant. It may be faster to take one of the hiking trails. Children must be 32″ tall to ride, 48″ to ride alone. Guest may not bring food, drinks, loose articles, or bags on the chairlift.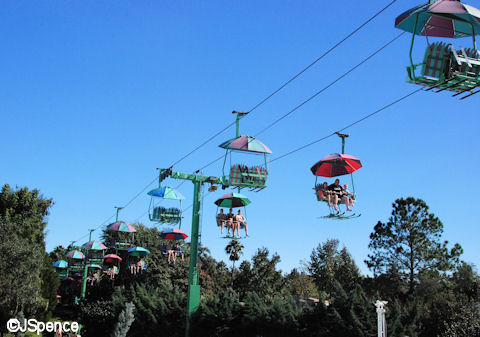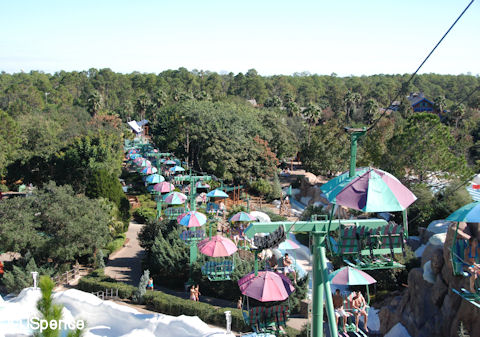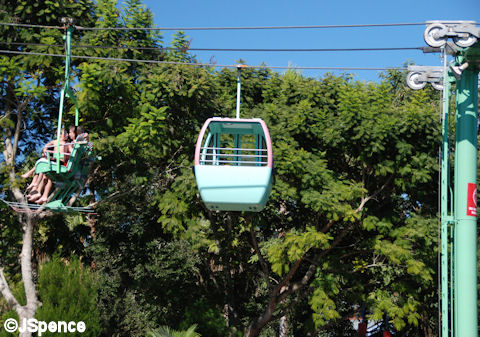 Summit Plummet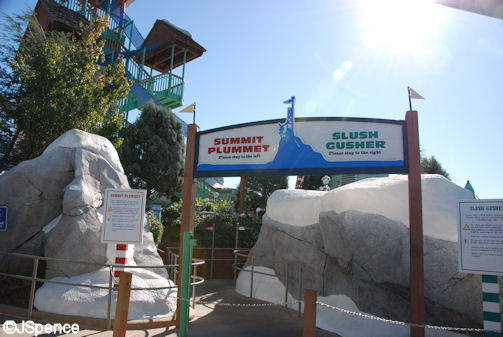 Summit Plummet is not for the faint of heart and possibly generates the best thrill in all of Disney World. Originally designed to be a ski jump, guests access this 120 foot high attraction via a series of stairs. From the top, you're struck by the magnificent view until the realization sets in that the only way down is via a very steep and fast incline. This water slide is the highest and fastest in the country and speeds of over 60 miles an hour are not uncommon. The proper position for experiencing Summit Plummet is ankles locked together and arms crossed tightly across the chest. There is a height requirement of 48 inches.
Notice when an intrepid soul vanishes out of sight, water gushes from the edge of the jump.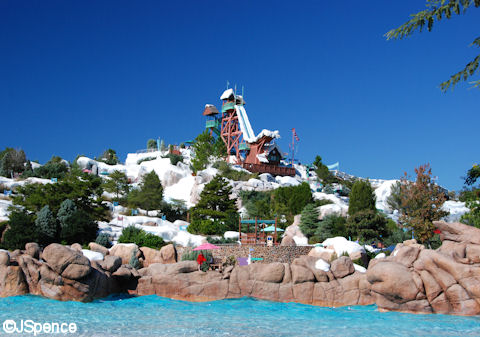 Every morning, one "lucky" person is selected to help open Blizzard Beach by being the first to experience Summit Plummet. While everyone else waits patiently behind ropes for the park to open, this brave soul is escorted to the top of Summit Plummet and is placed in the lime-light for all to watch as he or she experiences this grand-daddy of slides.
Slush Gusher
Located next to Summit Plummet is Slush Gusher. This drop features two "moguls" and your body actually leaves the surface of the slide and "flies" for a short distance as you pass over them. If you want to increase your "air time," raise your crossed legs just before you reach the second hump. Speeds of 50 miles an hour are generated on this adventure.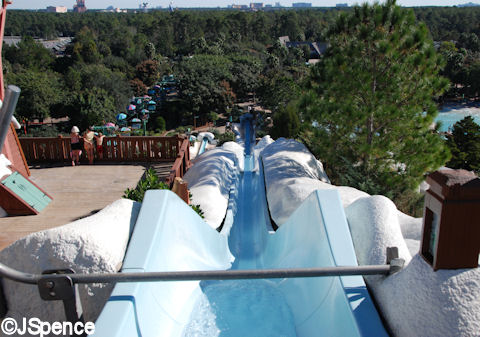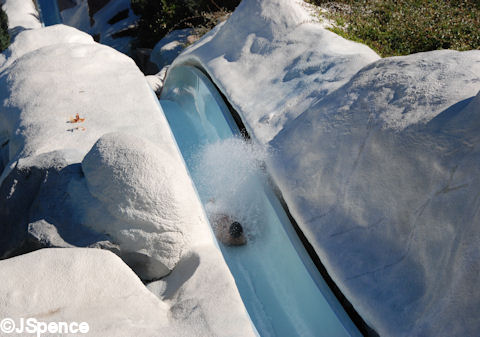 The wait times for both Summit Plummet and Slush Gusher can be significant. I recommend arriving at Blizzard Beach early and making these two slopes first on your agenda.
There are several good viewing areas from which to watch the fun. The first is at the base of the ski jump. This platform offers good views of the slides, Blizzard Beach, and the surrounding area.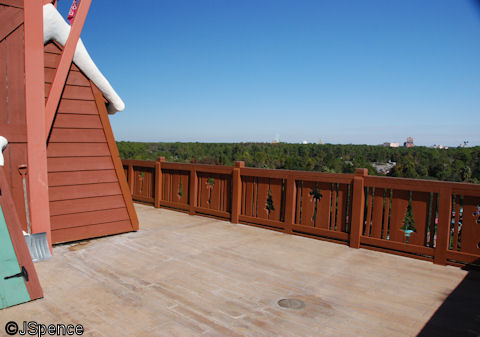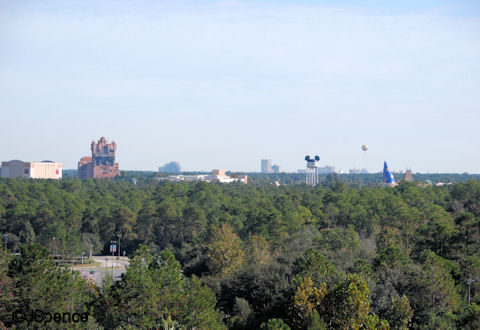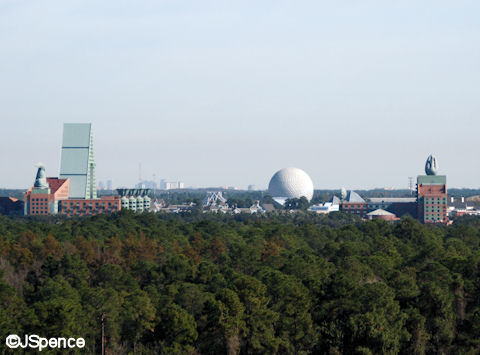 The second viewing area is adjacent to Summit Plummet and allows guest to see sliders whiz by as the drop begins to flatten out.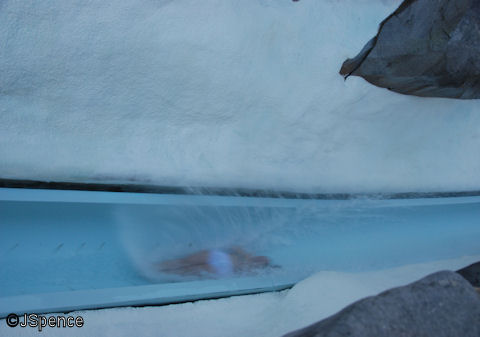 And finally, there is a viewing area at the bottom of these slides. It's great fun to sit here and watch the rider's reaction when they reach bottom and to see them pull the "wedgies" out. Women riders of Summit Plummet might consider one-piece bathing suits as they tend to stay on better than a two-piece. There is also a speed-clock that records the velocity you attained during your descent from Summit Plummet.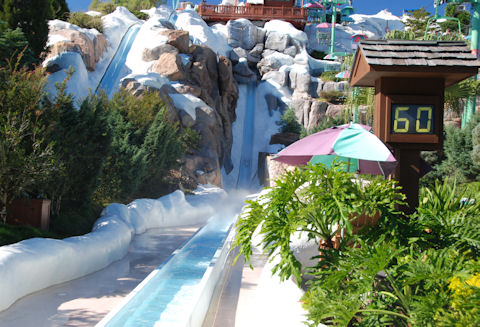 Teamboat Springs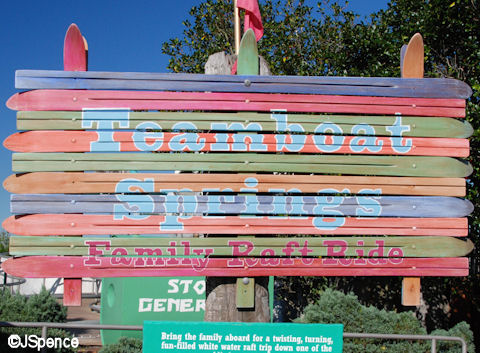 The final Green Slope attraction is Teamboat Springs. This is the world's longest "family white-water raft ride" and takes guests down a twisting and turning 1,400 foot river. The rafts, complete with handles to hang onto, hold a minimum of four and a maximum of six passengers. But don't skip this ride just because you are only a single or couple. Smaller parties will be grouped together in the loading area to fill up the rafts. And by the time you get to the bottom of the river, you'll feel like you know all of your fellow passengers.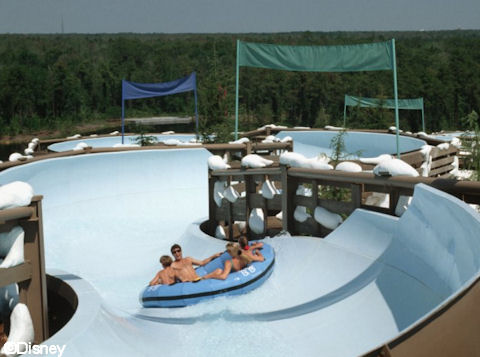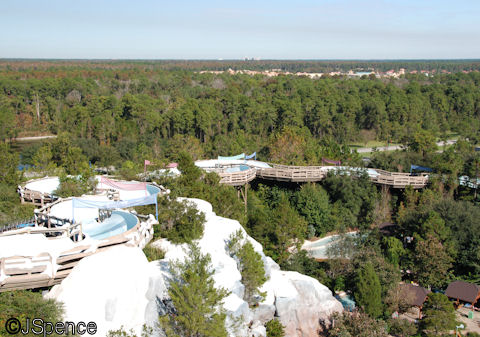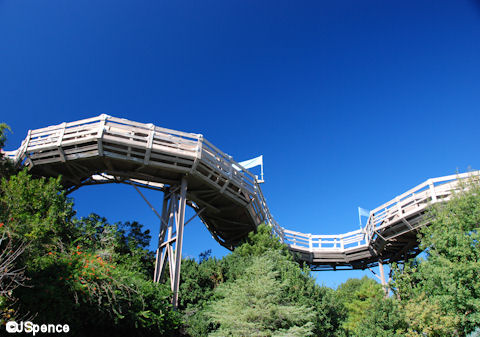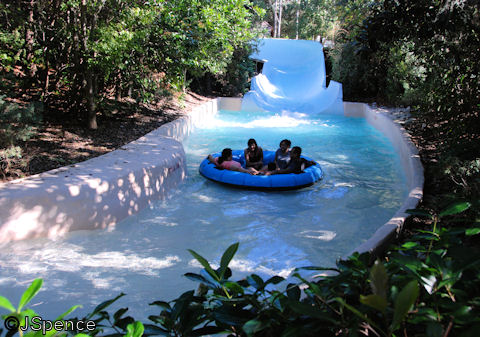 Red Slope
Runoff Rapids
Located on the back side of Mount Gushmore is the Red Slope with Runoff Rapids. Your adventure for this attraction starts at the bottom of the peak where you pick up your inner tube (either a single or double) then climb a long series of steps to the dispatch area.
Runoff Rapids consists of three flumes, two open-air and one enclosed. Each is around 600 feet in length and careens around pine trees and boulders before depositing guests in a splash-down pool. Each of the flumes is different from the others so you need to make the hike up the hill three times to experience all the thrills. The open flumes can accommodate both single and double tubes. The enclosed flume only allows single riders to traverse this somewhat dark encounter. Although there is no height requirement for Runoff Rapids, children must be able to sit properly in the tube. Also, be aware that the splash-down pool is just under four feet so little ones might need assistance when they reach the bottom.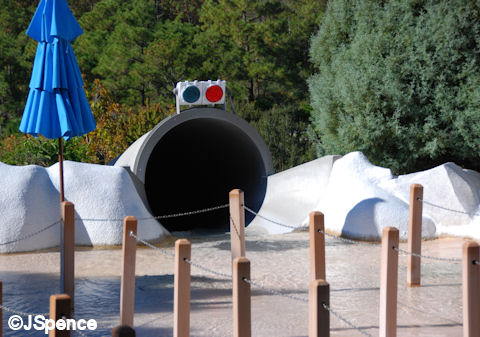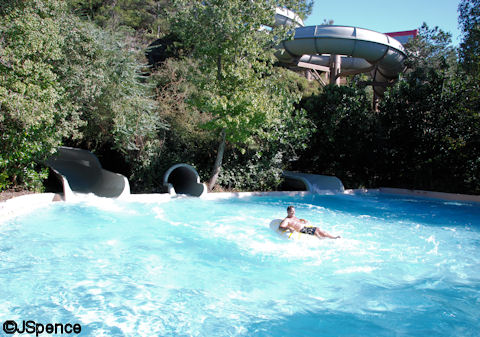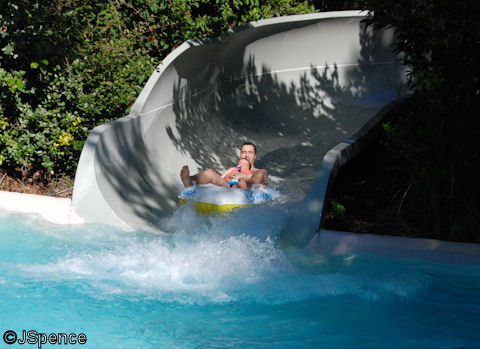 Meltaway Bay
At the base of Mount Gushmore is Meltaway Bay. This one-acre pool features bobbing waves and gentle water movement, but nothing as intense as at Typhoon Lagoon so body surfing is not an option here. Tubes are allowed in Meltaway Bay but supplies are limited and are distributed on a first come first served basis. This area is surrounded by a white sandy beach and numerous chairs and lounges.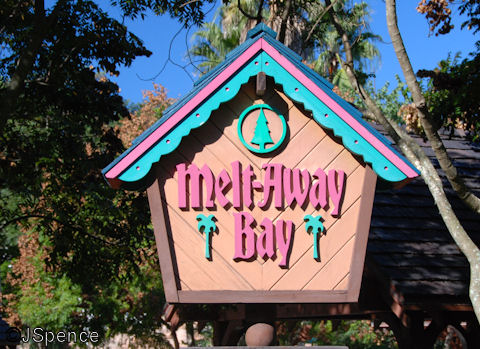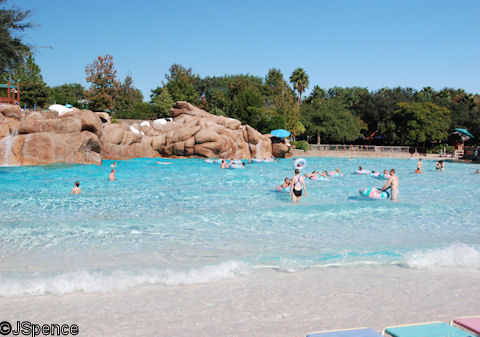 Cross Country Creek
Circling the perimeter of Blizzard Beach is Cross Country Creek. This slow-moving river is 3,000 feet in length and is perhaps the most relaxing activity available here. Located at various spots along the creek are seven entry/exit spots. It's here that you'll secure an inner tube and hop in for your thirty minute journey around the park. Note, you are not required to use an inner tube. You are free to traverse this waterway under your own power. Also, each entry point has a name so you can remember where you started (Flamingo, Manatee, Bunny, Polar Bear, Ice Gator, Penguin, and Reindeer).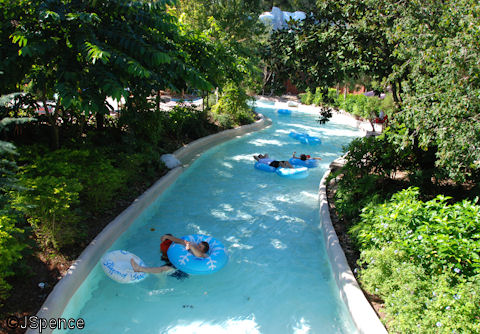 Cross Country Creek does hold one surprise for unsuspecting guests. When you enter the cave, very cold water drips from the melting overhead ice.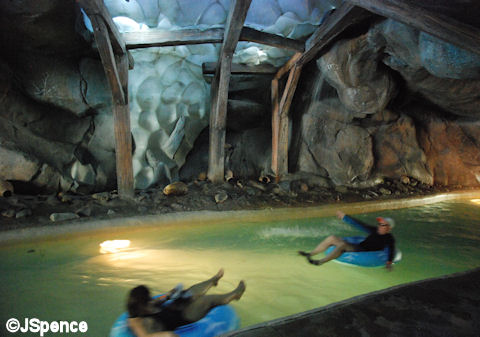 Tike's Peak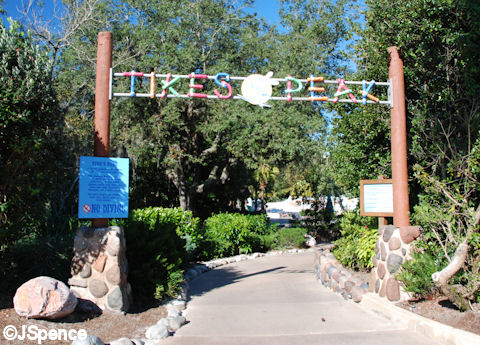 Tike's Peak was designed for the little ones. In fact, children must be under 48 inches to play here. This area includes scaled down versions of some of Blizzard Beach's other attractions. There are several water slides, a snow-castle, and various water features and pop-up jets. The water is very shallow in this area and barely covers your feet. There are a number of tables, chairs, and lounges for adults to relax in while their children play. Diaper-age children must wear Swim diapers. The pavement can get hot in this area so footwear is advisable.
Note, the water at Tike's Peak is kept at a slightly higher temperature than the rest of the park.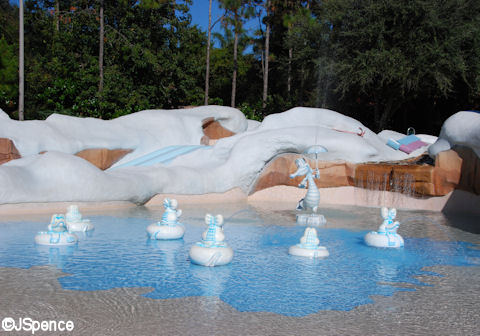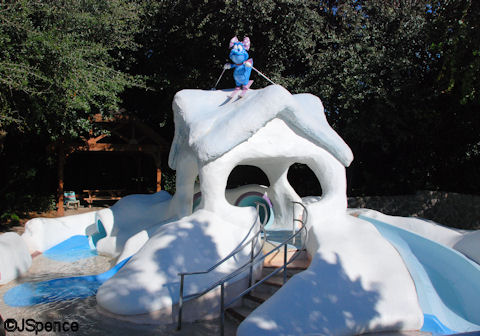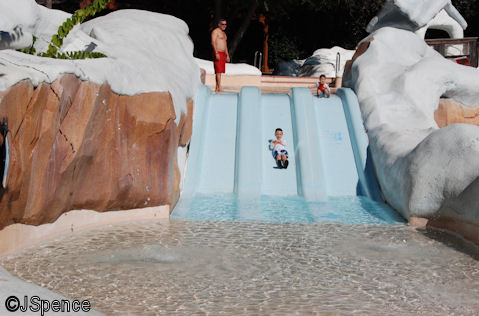 Ski Patrol Training Camp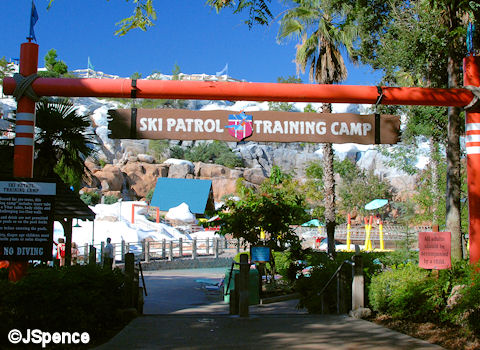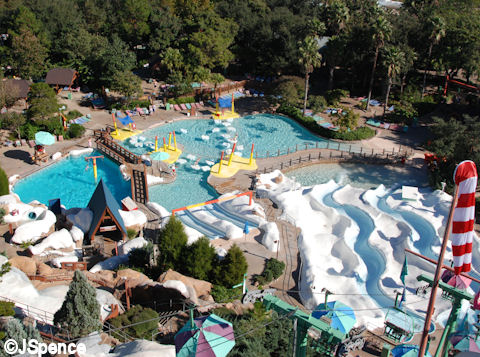 Ski Patrol Training Camp is for children too old or too tall for Tike's Peak, but who are not yet ready to experience the more challenging adventures of Blizzard Beach. There are a number of eye-appealing attractions here for preteens to enjoy.
Fahrenheit Drops
This adventure begins in an elevated hut where a T-Bar is automatically brought into a youngster's reach. They grab hold then propel themselves out over the water for zip-line experience and splash-down. The water is over 8 feet deep here so it is advisable that your kids know how to swim or wear a life jacket. Children must be under 5 feet to ride.
Freezin' Pipe Springs
This adventure features a short body slide. The thrills are tame, but it's perfect for youngsters. This ride deposits riders into the same, deep body of water as Fahrenheit Drops.
Leisure Pool
Besides swimming, the Leisure Pool offers Iceberg Walk. This adventure challenges kids to cross the pool by walking across floating icebergs. An overhead net allows them to hang on while maneuvering themselves from one moving object to the next. Children 13 and over are not allowed on the iceberg walks. The water depth in this area is 3 1/2 feet.
Cool Runners
Cool Runners has two sets of slides. One set is a very short, very tame straight run. The other set is longer and offers a few twists and turns on the way to splash-down. Guest ride in inner tubes on the latter set of these slides.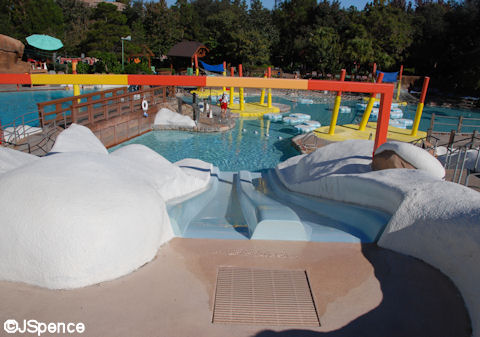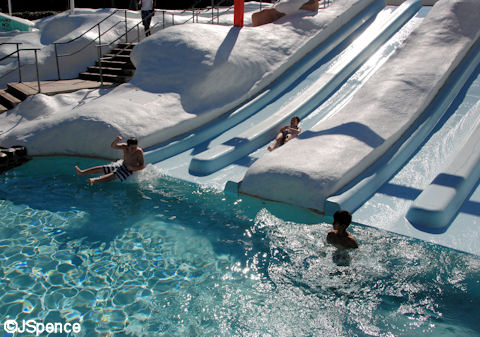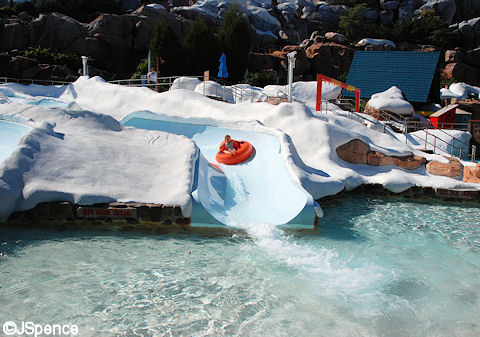 Purple Slope
The Purple Slope has three attractions, Downhill Double Dipper, Snow Stormers, and Toboggan Racers.
Downhill Double Dipper
This attraction features twin slides (50 feet in height and 230 feet in length). Here, two guests race side-by-side to the bottom while riding in inner tubes. Audio elements and automated gates begin each race to keep everything fair. Speeds of up to 25 miles per hour are clocked and racing times are registered at the finish line. When you've finished your race, be sure to place your inner tube on the conveyer belt so it can be carried to the top for other racers. There is a height requirement of 48 inches.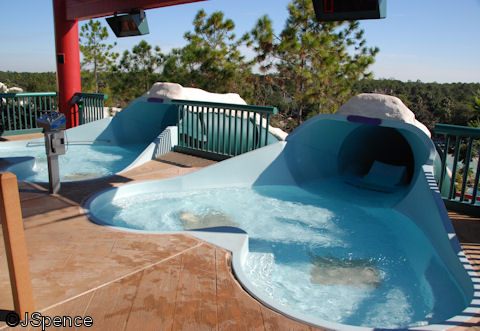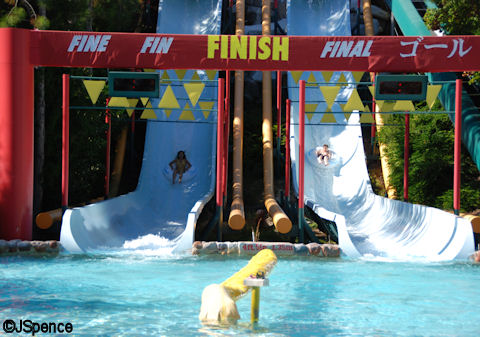 Snow Stormers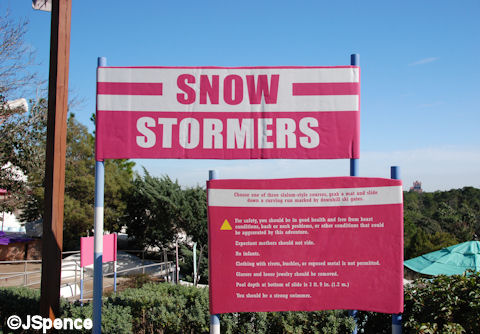 On Snow Stormers, guests lay face first on toboggan-style mats and ride through a series of switchbacks that resemble a ski-type slalom. There are three different runs, each approximately 350 feet in length.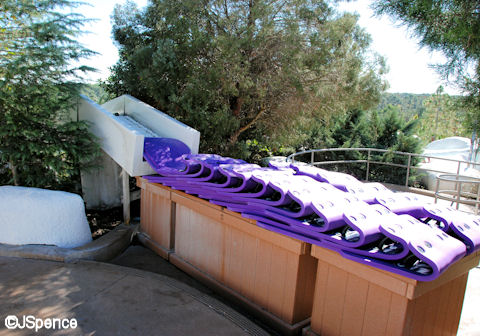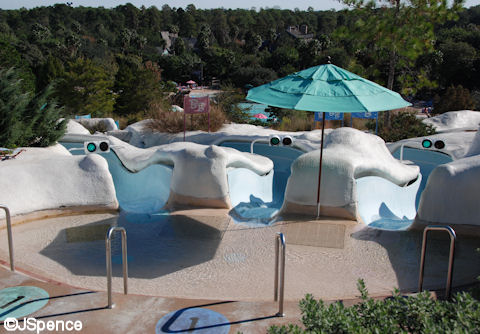 Toboggan Racers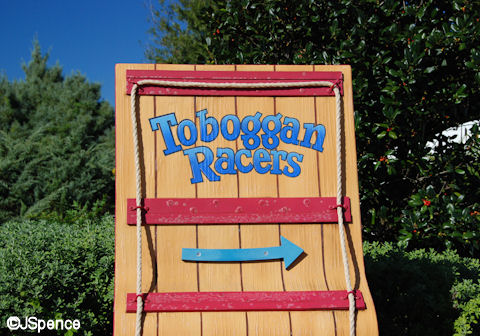 Toboggan Racers features 8 side-by-side lanes, each 250 feet long. This course is straight but has a number of dips along the way. Like Snow Stormers, riders lay face first on toboggan-style mats. The idea here is to race your friends and family to the bottom of the hill. But unlike Downhill Double Dipper, there is no official starting procedure. Tip: If you want your children to win the race, give them a head start.
Snow Stormers and Toboggan Racers share a conveyer belt where guests can place their mats upon completion of their ride to be carried back to the top.
Food and beverage
A number of food and beverage stands are located around the park, but the biggest is Lottawatta Lodge. This counter service restaurant offers hamburgers, hot dogs, wraps, salads, and other goodies to tide you over. A number of umbrella covered picnic tables are located nearby.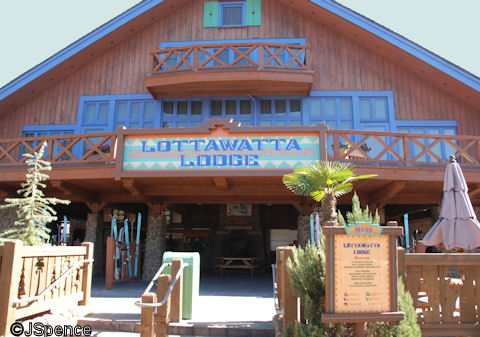 Guests may bring personal coolers into Blizzard Beach. However, they may not bring glass containers and alcoholic beverages.
Lounges and Seating
Located all around Blizzard beach are lounge chairs and picnic tables. Some are in the sun, others are shaded by huts or trees.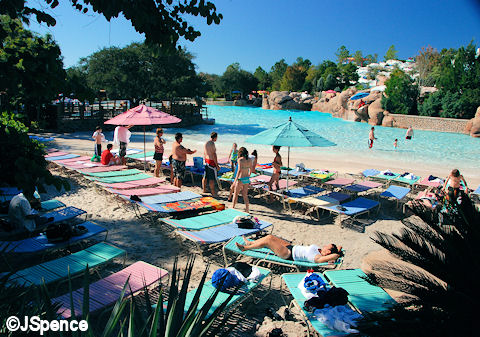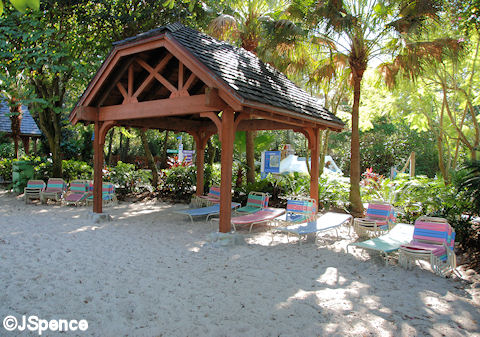 Premium Space
Guests may relax and cool off in their own reserved Premium Space at Blizzard Beach. Amenities include, an attendant, locker, all-day drink mugs, cooler with bottled water, cushioned lounge furniture, and towels. A cast member will be on hand to offer "tips and tricks" as well as provide assistance with food orders (purchased separately). Advanced reservations are available by calling 407-WDW-PLAY. Guests may inquire at the Shade Shack for same-day availability.
Rain Check Policy
If Blizzard Beach must be closed due to inclement weather, no cash or credit card refunds will be made.
If the guest has been admitted for less than four hours, and can present a valid 1-Day Blizzard Beach ticket, the guest is eligible to receive a Rain Check. No Multi-Day Tickets, Annual Passes, other Rain Checks, or any other tickets may be exchanged for a Rain Check.
A Rain Check is valid for one admission to Blizzard Beach. Rain Checks never expire.
Once Blizzard Beach reopens, no further Rain Checks will be issued to guests.
Additional Information
Guests may not bring boogie boards, surf boards, floatation devices, fins, masks or other water toys into the park.
Children under 10 must be accompanied by an adult.
No running or diving.
Swim wear with rivets, buckles, or exposed metal is not permitted on the attractions.