One of Walt Disney's most famous attractions of all time, it's a small world, conjurs up colorful, happy, and positive images of all the children of the world singing together in harmony. Whether you enjoy the soundtrack or it plays endlessly in your head, you can't deny it's message of peace and unity. While we know there are endless Imagineers who have worked on this attraction in Walt Disney World, Disneyland, Hong Kong Disneyland, Disneyland Paris, and Tokyo Disneyland but never before have the living dolls, the true stars of the show been given their turn to express themselves, until now.
I had the pleasure of sitting down with "Cast Members" from both Walt Disney World and Disneyland. Each one has an interesting story about their job and even how they were hired.
It's 2:11pm and a normal humid day in Florida, specifically at The Waldorf Astoria Orlando. Wearing faded blue jeans, a T-shirt that reads "May the Schwartz be with You," sandals, and sunglasses, Adam Rosenbaum walks in smiling and waving the moment he sees me in the lobby.
Adam, let's start at the beginning. How did you get your job with Disney?
My roommate saw that Disney was looking for college students to be part of a special program. I hadn't given any thought into working for them but I agreed to go with Ryan. It was interesting enough and I could get credit for participating in the program so I signed up. The first job they gave me was playing the groom in the Israel portion of it's a small world. Ryan works as a line cook at Chef Mickey's but he should be getting promoted soon.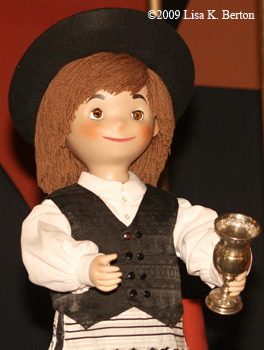 Where do you work now?
Well, I had the opportunity to study art in France once my committment to Disney ended so I left for two semesters. When I returned I went to Casting and was rehired for the same attraction only now I'm the gondolier in Italy. You know, what's really funny is that the wig I had to wear as an Israeli didn't cover my eyebrows which are black and the wig was a medium brown. Man, did my friends make fun of me! But it's all good, ya know. Now it's just me in a hat…yeah, well, and a costume. I don't think I'd get to keep my job if I just showed up in the hat. (laughs and applauds himself)
What's the best thing about your job?
Making people smile is the highlight of my day, for real. Oh, and seeing them try to fight off the temptation to sing along. Don't fight it, man, it's all good. (laughs)
What's the worst thing about your job?
Trying not to fall out of the gondola! My calves are rock solid from standing like that all day. Seriously, feel my legs.
Wow! They are solid. It's almost like they're made of wood.
Real funny. Har dee har har. I'm a real boy! (winks)
Thanks for your time, Adam. Is there anything else you'd like to add?
Yes, a message to the Guests, you wouldn't like it if I tossed wrappers, cups, bottles, and such in your house so don't do it in mine (referring to the Magic Kingdom).
Later that evening I returned to The Waldorf Astoria Orlando to meet with brothers Blake and Cassidy Trenton. Looking very dapper in a pin-striped navy blue suit with a white shirt, navy blue tie, and black dress shoes, Blake is the first to arrive. We make small talk about tourist attractions on International Drive until Cassidy arrives. In a navy blue Surfrider Foundation hoody, ripped jeans, flip flops, and his hair pulled back into a ponytail, Cassidy looks like the laid back California surfer dude that he is.
Thank you for joining me, gentlemen. I understand that you both were working at Disneyland. Why did you transfer to Walt Disney World?
Cassidy: Right, see we've been part of it's a small world since we were 19 years old so that's like what…5 years. Then they decided to redo the attraction so it closed for like a year, dude. Our boss offered everyone the opportunity to transfer to Florida, Hong Kong, Tokyo or Paris. So we chose Florida, dude!
Blake: Actually we were very lucky in that because Cassidy and I are identical twins, they knew they'd have two people to play one part. My girlfriend Peggy transferred to Walt Disney World as well but she's since moved back to California and is one of the new characters in it's a small world.
What's a typical day at work like for you?
Blake: I tend to get the morning shifts. On those days I'm up at 6am and out of the apartment by 7 o'clock. It takes 25-30 minutes to get from my front door to where I pick up my costume. I've got short legs obviously so instead of walking to the attraction they drive us all in golf carts. After a quick meeting, everyone's in place the moment the gates open and that changes according to the season and Extra Magic Hours but normally Magic Kingdom opens at 9am. Lunch breaks are scheduled for us. Mine is at 1pm and that's when Cassidy starts. So we spend the rest of the day switching back and forth covering breaks and I leave at 5 and he works until closing. If the park stays open late whether it's Extra Magic Hours or a private function, then a third guy will come in around 6 o'clock, switch back and forth with Cassidy and then finish the late shift.
Cassidy: I couldn't have said it better, dude. But you didn't tell the people who we arrrrrrre. Look for us, we're the blonde cowboy in the shiny duds, dude. Yeah, we're totally like rhinestone cowboys. (pretends to crack whip) Yeehaw! Get along little doggy. Ruff!
Is there any way for Guests to tell you boys apart?
Blake: No, we're identical. If we spoke to Guests then it would be clear but just from looks, no, you can't.
Cassidy: No way, you can totally tell us apart!
Blake looks completely puzzled and skeptical of what Cassidy is thinking.
Cassidy: I am tan and you my brother are pale. Annnnd, Mr. Suit and Tie falls asleep on the job.
Blake: Oh, thanks. It only happened once and I was heavily medicated with Benadryl for Children.
Cassidy: P'shaw!! Remember the time you fell asleep and tied yourself up cuz you dreamt train robbers tied you to railroad tracks?! (laughing hysterically) Whoooo. (wiping away tears)
Blake looks sternly at Cassidy who raises his hands in a "don't shoot" gesture.
It's been a delight talking with you. Would you care to add anything?
Cassidy: You might want to talk with Peggy. She plays Cinderella at it's a small world in Disneyland. She'd be stoked for an interview.
Blake: We're trying to transfer back to Disneyland. We've put in our requests and are waiting for a couple of openings.
Cassidy: This is really important so make sure you tell everyone, don't touch the water or the pirate water (Pirates of the Caribbean). Keep the water clean dudes!
I flew to Disneyland to speak with several Cast Members regarding their roles in the newly updated attraction. Blake Trenton connected me to his girlfriend Peggy Donovan. We met up after her shift ended and I drove us to Ruby's Diner in Fullerton.
What do you think of the changes made to it's a small world?
Overall I do like what they've done. The boats are a huge upgrade as well as the tubes they float in. Everything will last another 50 years, hopefully.
Where did you work prior to the closing, while in Florida, and what are you doing now?
First I was a Can Can dancer in the White Room. That's where Blake first saw me. He's a leg man. (giggles) While the Imagineers worked on the attraction I transfered to Orlando along with the boys and some of our other friends. Paris sounded wonderful but being away from the United States for 11 months just wasn't something I could handle. While we were in Orlando I worked in the White Room again but this time as a Scandanavian. When the calls came in for us to head back to California, the boys didn't act quick enough, that's why they're still in Orlando. You know how boys are… But, now I'm Cinderella! And I don't have to dance all day long. It's soooo much easier. I just have to stand there and look cute! (primps hair)
Are there any behind-the-scenes stories or secrets you can share?
Let me think. Oh! I know! One year for April Fools' about 15 or so of us went out and picked up the ducks that wander the park and put them in the attraction. You know, in the water. OMG! It was sooo funny. I think we had almost 30 ducks swimming around, quacking. You should have seen it.
Did anyone get in trouble?
We came close to being written up but we got the ducks out in time for opening. We just brought them over to Storybook Land Canal Boats and now thanks to Peter Pan they're called "really big ducks." Get it, cuz everything in Storybook Land is miniature…(giggles)
That is pretty funny. Is there anything else you'd like to say?
Yes, I'm not animatronic. All of the animals in my ride are animatronic and there are some actual toy dolls that you see but the rest of us are real. We like to call ourselves living dolls.
I had one more interview scheduled for this piece. After rescheduling a few times, the Kennsington Kids as they're fondly referred to and I finally got together for a quick chat and some dessert at The Block at Orange. The Kennsington Kids are dropped off by their parents with instructions to call as soon as they're done. The family is going to do some back-to-school shopping. All three teens are wearing khaki shorts and sneakers. The boys have matching green and black striped collared shirts on and Beth is wearing a purple top.
Before we get started can you each introduce yourselves?
Wally: I'm Wally, short for Walter. I'm the oldest. I'm a senior in high school, class of 2010. I've worked at Disneyland for almost 3 years now. I started out doing landscaping at Storybook Land Canal Boats and met some CMs from it's a small world when they were running around with ducks, as weird as it sounds. They told me I should work with them because they're crazy fun.
Willie: I'm Willie, my full name is Wilson. Technically I'm the second oldest but I'm not sure how you can differentiate time of birth for Siamese Twins! (glaring at Wally who is snickering) It's been about 2 years now since I've worked at Disneyland. I began as a Window Dresser on Main Street., U.S.A. and actually I still do that, too, in addition to working it's a small world.
Siamese Twins?
Willie: It's true. We were separated as toddlers. We were joined at the hip so it was a fairly simple surgery as far as those types go.
Beth: Hi, I'm Beth, I'm the baby of the family. I'm 17 and starting my junior year of high school. I'm a cheerleader. I work with my brothers but right now I'm being trained to fill-in for Cleopatra, Alice, and Jasmine. I know that sounds strange but we have a great hair and makeup crew.
You currently work together as the same character. Tell us about that.
Willie: Yes, we're all playing tin soldiers on the outside of it's a small world. When the clock strikes, several doors open up. On the left are 3 tin soldiers. In the middle there's a parade of nations, and then on the right there are 3 more tin soldiers and that's us.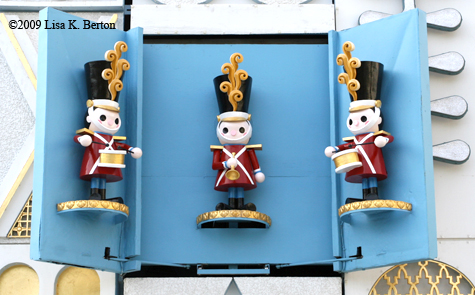 Beth: I'm on the left, Willie is in the center and Wally is on the right. Playing the drum is so cool. I'm taking piano lessons in school but I want a full drumkit so I can ROCK!
You've got quite the view. Seen anything interesting?
Wally: Somehow people think if they're on a boat no can see them. Guess what? We can see you and all the things you do. Not only that but there are cameras in the attractions. You learn more while working at Disney than in Health class if you get my drift.
Will you continue working for Disneyland after you graduate?
Willie: Yes, I think I will. It's a lot of fun meeting Cast Members, making new friends, dressing the windows and you can play basketball inside the Matterhorn. C'mon, that's insane! I do want to go to college but work at the same time.
Wally: After graduation I'm going to travel. I'm thinking of asking for a relocation to Hong Kong or Tokyo. I need to check into it and get all the details before I talk to my parents.
Beth: I've got 2 more years before I graduate so I'm not sure. Maybe I'll be a rockstar by then.
Thanks for your time kids. Any final thoughts or advice for Guests?
Wally: Try a mint julep in New Orleans Square, they're killer.
Willie: There are two lines for the Matterhorn on either side of the mountain.
Beth: (in a deep scary voice) Beware of strollers. Baw ha ma ha nya.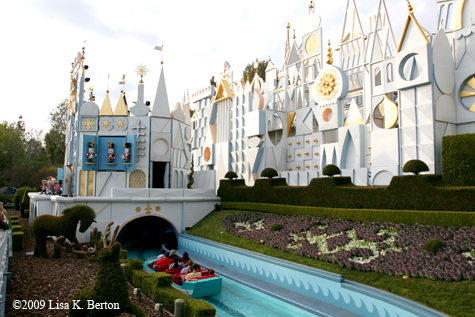 On a serious note…
October 18th marks the annual CHOC/Disneyland Walk in the Park, a fundraiser for Children's Hospital of Orange County. I'll be taking part for the third time in this fantastic fundraiser. CHOC treats every patient regardless of the family's ability to pay. These are kids who may require regular treatment, testing, and medication. Please consider supporting me as I walk. Any amount you can contribute makes a difference. Thank you. Click here to donate. If you'd like to walk and join my friends and I, select Team Fairy Godmothers when you sign-up and then drop me a note.