Everyone needs an escape from their own reality. If we didn't then Disney parks would be empty and movie theatres would never sell tickets. I was ready for an escape myself and when I found out that Disney was bringing some Pixie Dust to Boston I asked if any of my fellow Disney fans were going and willing to take me as a guest. The event was for Disney Vacation Club Members, something that I am not. As luck would have it, a few gals were going and Cheryl and Keith offerred to let me tag along.
In a medium sized auditorium at Seaport Hotel we were razzle dazzled by Disney in a way that only Disney can all with the ultimate intent of getting DVC members to buy more points. Trust me though, this was the greatest sales pitch I've ever seen.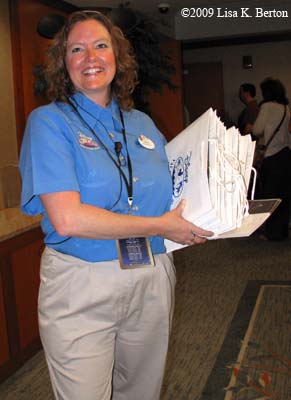 First you are greeted by a large staff of smiling and chatty Cast Members and given a gift bag containing a lovely portfolio with a full size notepad inside, a pen, and a chart pertaining to DVC points. You were also given a card to fill out for a drawing at the conclusion of the "show." Upon entering the theater, you got what looked like a funny calculator on a lanyard. We were seated in the second row, center section. I was having flashbacks to my Disney cruise a year and a half ago. I love musicals.
Anyway, things were kicked off by the MC, Wish-Meister. He reminded me of everyone from Genie (as seen in Aladdin the Musical in CA Adventure) to Pat E. Cake (birthday parties at Disneyland) to Liberace in his sparkling white coat tails and top hat. Wish-Meister explained that our Audience Response Device, that funny looking calculator was actually a Wishamacallit. Good to know. We used it to respond to demographic questions.
During the 90 minute presentation we were treated to a singing quartet who arrived as technicians to fix a glitch sort of like Four for a Dollar pretended to be stage hands before Beauty and the Beast at Disney's Hollywood Studios. We were also given some free goodies such as travel size binoculars and a travel agenda folder.
Nicole and Dave were the hosts who asked the audience questions about how often we travel and what types of vacations we enjoy. I'm sure each program will change from city to city as a joke about spending Friday night trying to get across the Bourne Bridge will go over the heads of anyone who doesn't deal with Cape Cod traffic.
The last thing that happened in the theater was the big drawing. The winner was a fellow sitting 2 rows behind me. He was too far away to tackle and besides, I feared that Mickey might scold me and not let me into his party.
That's right, there was a party after the sales pitch. I had read that light refreshments would be served and that Mickey and Minnie would be available for photos and autographs. That's an understatement. I walked into the room and it was a full-on fiesta with chocolates, cupcakes, lemonade, iced tea, strawberries, marshmallows, and pretzel rods for drenching in the chocolate fountain.
Uh oh. Did I lose the chocoholics? Come back here, I'm not done. The best surprise of all was when I looked to my left and saw…
Aaaaaaladdin! Excellent! Guess where I went first? After a much-needed hug and some photos I set out to take photos of Mickey and then Minnie on the dance floor. Where are those photos, you ask, they are going to be used in another blog.
If you get an offer to attend this by-invitation-only event, go. It's lots of fun for the whole family. Kids have their own room to play in while the adults are shmoozed and you're given pagers in case the kids want you to come and collect them.
I've left out a few details so you'll have some surprises when you go and if you could please do me a favor, tell my boyfriend to call me.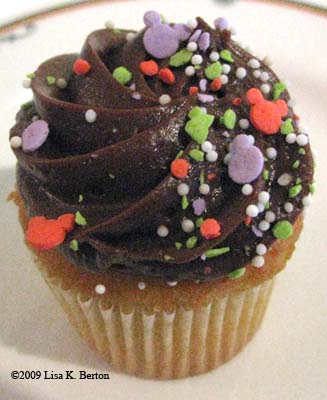 Don't lick your computer monitor.