I ate in Downtown Disney a couple of times last week, and thought I'd share.
The first time I was on the lookout for a snack. I was thinking of getting a Mexicone at Tortilla Jo's Taqueria, but as I was walking by Ralph Brennan's Creole Cafe, I noticed they had a few new menu items. The new section of the menu is "Cajun-Asian". I can't say I've ever associated New Orleans with Asian food, but ok. But on the menu they had a Cajun Wonton Salad, Chicken Pot Stickers, and Blackened Chicken Spring Rolls. (You can see the menu, with a more complete description of the new items, HERE.
Both the Pot Stickers and Spring Rolls sounded good, but I decided to go for the Spring Rolls. There were two of them, which they cut in half. The spring rolls were crispy, and filled with chicken, cabbage, caramelized onions, corn, tomato, and pepper jack cheese, and served on a bed of shredded lettuce and red cabbage, with a side of honey mustard dipping sauce. They were really tasty – just a little bit spicy but not overly hot. At $6.99 it's pricey for a snack – but in Downtown Disney you're not going to find much of anything for any less than that. I really enjoyed them, and would definitely get them again.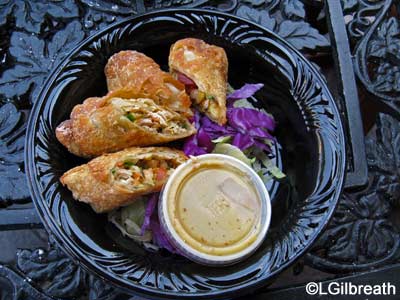 Friday night Lee and I had dinner at the Naples restaurant. We are still trying to get around to eating at every Disneyland Resort restaurant, but we still have quite a few left. We had a Priority Seating at 5:15, and were seated right away. At that point there were still empty tables. But the restaurant was full long before we left, and we were amazed at how quickly they really turned the tables – within a minute or two of a table being cleared it was re-set and they were seating a new party!
They have tables outside and inside – it was a very pleasant evening, and outside would have been fine, but the available outside tables were in the sun so we sat inside. But we were right next to the big door that opens to the outside, so it was kind of the best of both worlds!
Our server Florica took our drink orders – a glass of pinot noir for Lee and passion fruit iced tea (yum!) for me. And then she disappeared for a while which concerned us, but when she came back she apologized for the wait – she'd been handling a problem with the kitchen. And certainly after that we had very good service. Florica was back to check on us regularly, and anytime dishes were ready to be cleared someone was right there to do it.
While we'd been waiting to order they had served us a basket of really nice chewy (but not tough) ciabatta bread. It came with a bowl of olive oil and spices, which was also excellent.
We ordered the spinach salad to share – fresh spinach with goat cheese, pancetta and candied pecans with a citrus (orange) vinaigrette. I'm glad we ordered it to share because it was huge. Of course, for $12.50 it *should* be good-sized!
For entrees, we both wanted the Ravioli Della Zucca (Pumpkin Ravioli), but we decided to also try the Rigatoni Di Pesto Con Gambero (Rigatoni with Shrimp).
The Pumpkin Ravioli came in a light olive oil broth with chili flakes. It had just a little bit of a kick, but not enough to overwhelm the flavor of the pumpkin. It was really excellent, though they could have been more generous with the number of ravioli in the serving. There were also pieces of broccolini in it, and there could have been a few more of those, too.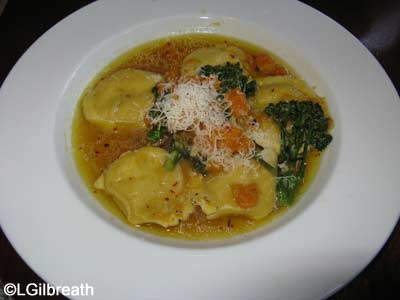 The Rigatoni was just ok – it was a fairly large serving of pasta, but there were only five shrimp in it, and I thought they were a bit tough. The pesto sauce was flavorful and not too garlicky. It also had a few blistered tomatoes and slivers of toasted garlic.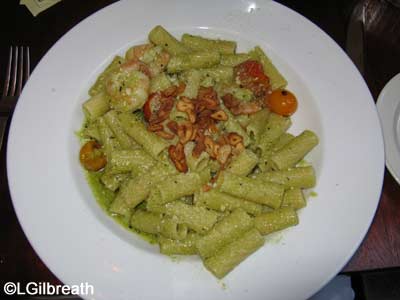 I have to say that nothing on the dessert menu looked particularly good to me. Our server recommended the Buttermilk Panna Cotta with Peppered Berries, but Lee wanted to try the Cannoli. It was filled with a sweetened ricotta cheese with cinnamon and some miniature chocolate chips. I didn't think it had very much flavor and I didn't really care for it – not something that I would order again, that's for sure.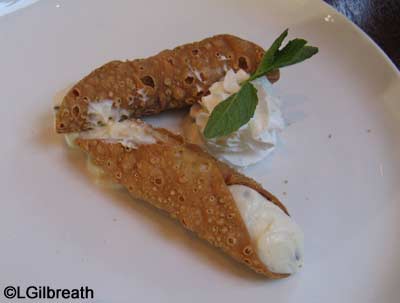 As Disneyland Annual Passholders we got a 10% discount on the bill, which was $78 with tax and tip.
Would I eat there again? I don't know…given the other choices available in Downtown Disney, probably not. The pumpkin ravioli was really good, but other than that nothing on the menu is all that appealing to me. And I think the pizza is ridiculously expensive – the cheapest family size pizza is $37.50.
You can view the Naples menu HERE.