The "it's a small world" attraction at Disneyland underwent a long rehab
in 2008 – it closed in January and didn't reopen until November. When it
did reopen, it was in the holiday configuration, so some of the changes
were not yet in place. The most controversial change seemed to be the
proposed addition of Disney characters to the attraction – a lot of Disney
fans were very vocal in their opposition to that idea..
After the holidays, the attraction went into rehab again, the holiday
overlay was removed, and the remaining changes were put into place. Today
the attraction was open to members of the media and to Annual
Passholders (the attraction opens to the public on Friday, February
6.). As a representative of AllEars® I was invited to do a ride-through
of the attraction with Imagineer Kim Irvine, which was quite an
honor!
But before the ride-through with Kim Irvine I was able to ride
twice, and get some idea of what the updated attraction was like.
Up front I have to tell you that I'm not a huge fan of "it's a small
world" – That Song really gets to me, and I can usually only stand
it in it's holiday configuration (though I love the holiday edition!).
So it's probably been almost 10 years since I was in the non-holiday
version.
I was very impressed with the new attraction. It looks just gorgeous –
lots of vibrant colors, and the lighting is much improved. And the
characters? They aren't in-your-face at all – they have taken
characters who fit into the various scenes (like Cinderella in
France, Mulan in China, Simba in Africa), and given them the same
stylized "small world" look. For the most part, if you didn't know
they were new, you wouldn't know they hadn't been there all along.
I actually had a hard time finding them all, and only found two of
them because other people told me where to look. I think that part
of the fun of the new attraction is going to be trying to find the
characters – I think that's something that will appeal to kids and
adults – I know I had fun with it. It would be nice if Disney would
hand out a list, though.
The other big change is the addition of the "Spirit of America"
scene. It's a western scene with a farm on one side, and hills
with some cowboys and Native Americans on the other side, Woody and
Jessie from Toy Story make an appearance as well. The scene was
based on original concept art by Mary Blair.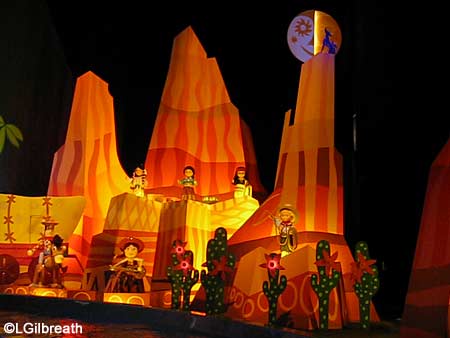 The soundtrack has been augmented with short snippets of themes from
Disney movies, such as "A Whole New World" from Aladdin. This is very
subtle, and I have to admit that I never could hear them, even though I
knew they were there.
I will have more on the ride-through with Kim Irvine after I have a
chance to listen to my audio recording – with That Song playing at a fairly
high volume it was hard to hear her sometimes. It was interesting to
hear what she has to say.
There are supposed to be 29 characters in the ride – here are the ones
that I found. Let me know if you think I got any wrong.
UK:
Peter Pan and Tinker Bell
Alice in Wonderland and the White Rabbit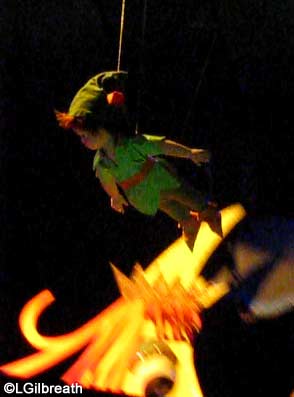 France:
Cinderella, Jacques, and Gus
Italy:
Pinocchio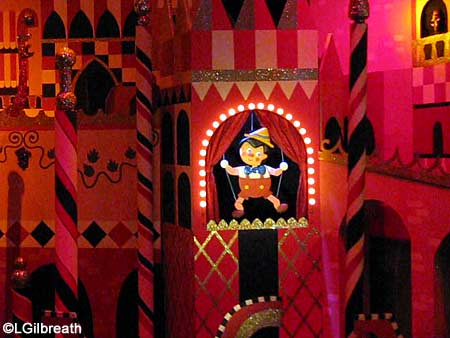 Middle East:
Aladdin, Jasmine, and Abu – and I think the Flying Carpet should count
as a character.
China:
Mulan, Mushu, and Mushu kite
Africa:
Simba, Pumbaa and Timon (I really like how they used the same hot pink
and purple color for Pumbaa that they use on the hippo in the same scene.)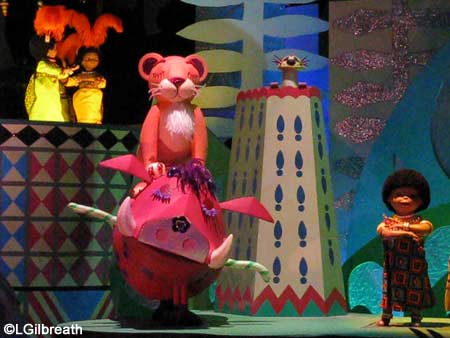 Mexico:
Donald, Panchito and Jose Carioca (Donald is the only member of the Fab
Five to appear)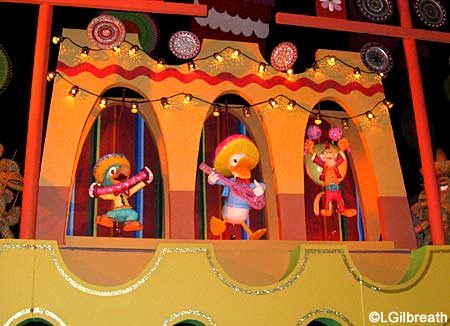 Under the Sea:
Ariel and Flounder (Ariel sings That Song as a solo)
Down Under:
Dory and Nemo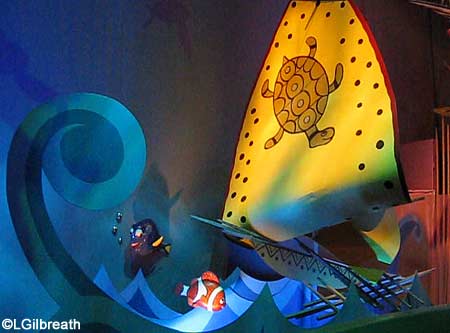 Hawaii:
Lilo and Stitch
Spirit of America:
Jessie, Woody and Bullseye
That's 29…does that mean I got them all? That's not counting the
flying carpet, and I'm not sure if the Mushu kite counts or not.
***Friday morning update:
AllEars reader Carol tells me that I missed Jiminy Cricket, who is in the Italy scene with Pinocchio. We think that he is just barely visible in the upper right hand corner of the Pinocchio photo posted further up. Thanks, Carol!