In this age when photo software can duplicate almost any effect film photographers used filters for, I still find one filter very useful. The Polarizing filter does just what polarizer sunglasses do, they cut down on the glare from the sun. Most people use a circular polarizing filter which means the filter moves once it is mounted on your lens in a circular motion. This gives you various amounts of polarization which you can see in your viewfinder.
In the photos below of the Dolphin resort in Disney's Boardwalk area, I used a Nikon 50mm f/1.8 lens with a 52mm circular polarizing filter by Hoya. The top image is with the polarizer in it's weakest position with no affect on the light. The bottom image is after I rotated the filter to it's strongest position giving the very deep blue sky color. Notice the loss of light hitting the camera's sensor. In this case, the shutter speed and aperture both decreased for a combined loss of 1 stop (see Exif data in the caption).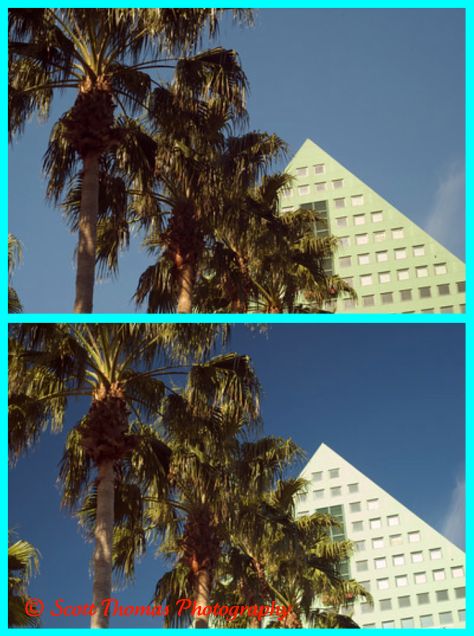 Polarizing Filter Effect.
Top Image: Nikon D70/50mm, 1/80s, f/11, ISO 200, EV +0.3

Bottom Image: Nikon D70/50mm, 1/60s, f/10, ISO 200, EV +0.3
I know what you are thinking. Even the most rudimentary photo program can deepen a blue sky. True, but I didn't have to take the time. It takes a second or two to move the filter into the position I wanted. Besides, that's not the only thing a polarizer filter can do.
Reflections can be greatly cut down and even eliminated using a polarizing filter. Check out the photos below where Spaceship Earth is reflected in one of the water pools near The Land pavilion in Epcot. The one on the left is with the polarizer filter at it's weakest position. The one on the right is at it's strongest position. In this case, only a half stop of light was lost thanks to a very bright Florida sun. You will notice how the reflection is diminished so you can see the rocks on the pool's bottom. This works on reflections through glass, too.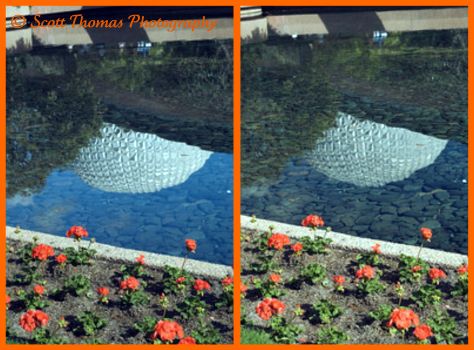 Water reflection Polarizing Filter Effect.
Left Image: Nikon D70/50mm, 1/60s, f/13, ISO 200, EV +0.3

Right Image: Nikon D70/50mm, 1/60s, f/11, ISO 200, EV +0.3
Reflections are a bit harder to get rid of in software. At least in the time it took me to rotate the polarizing filter.
Like any filter, circular polarizing filters come in various sizes to fit over many different lenses. Some are cheap, while others are more expensive. Other alternatives is to check a local photography shop to see if they have any used ones or on eBay. Make sure you know the size, in millimeters, of the lens you are buying for.