Amigos, I'm sure that some of you have sailed along el río with The Three Caballeros en México. Personally, me encanta (I'm enchanted) with the attraction even if most of my time is spent searching out that wandering fowl, Donald Duck or Pato Donald. At least I'm not the only one. Panchito and José Carioca are looking for him, también (also).
Photographing these pájaros (birds) is a lot of fun if you are prepared. Are you prepared?
A digital camera with a high ISO setting of 800 or higher and the ability to allow you to control your shutter speed and f-stops is necessary. Don't bother trying to use a flash to photograph the animation because you'll wind up with wasted shots.
Here are a few examples from two separate cameras and excursions. This first set was taken with the Canon PowerShot S5 IS.

ISO 400, f4, 1/80
This image is not only noisy (all that grain) but it's also underexposed due to a ISO of 400, shot at f4 at 1/80. The bad exposure lends itself to the noise.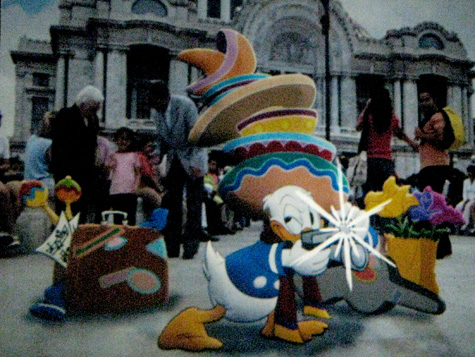 Here I had set the ISO to 800 and shot at f4, 1/125. The image has noise from the higher ISO but considering the lack of lighting and the fact that I'm photographing a movie, I'm content with the results.
Since I am moving and the cartoon is moving, a faster shutter speed at the widest aperature is most effective.
These next images were taken with the Canon 30D and the Canon 28-135mm USM IS lens.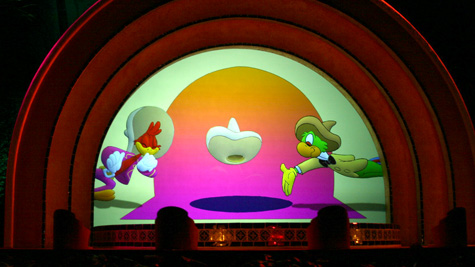 ISO 500, f4, 1/125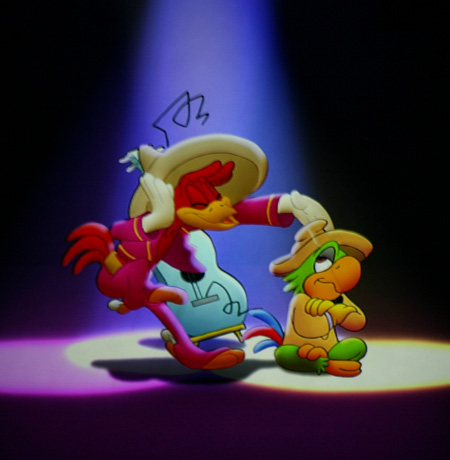 ISO 500, f4.5 1/20
Yes, I just said that shooting with a faster shutterspeed is ideal to capture movement however for this shot, since the boat had slowed down and maybe even stopped, (I forget-it's been a while), that I went for a slower rate of 1/20 and it worked out alright. There's some motion visible but I'm rather pleased with my shot.
Looking for the release of "The Three Caballeros" on DVD? Find it here, packaged with "Saludos Amigos."
Random acts of info: José Carioca is a Brazilian parrot who was created initially for "Saludos Amigos" as Joe Carioca. On the original posters for "The Three Caballeros" his name is still Joe but somewhere in time, he became José. However in Brazil his name is Zé Carioca. Zé being the Brazilian Portugese version of Joe.