To the beat of the rhythm of the night. Dancin' till the morning li ii ghh t. Hi. I didn't hear you come in. Ummm, have a seat and I'll tell you the rest of my story about participating in the CHOC Walk. Comfy? OK, good.
Let's see, we were just about to enter Disney's California Adventure. Once we passed through the gates we skimmed by Candy Corn Acres which is very vibrant with yellows and oranges. Not oranges you eat, the color orange. LOL You knew that cuz who has ever eaten a yellow?! Put your hand down.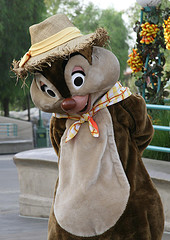 Dale was feeling very shy that morning. I think lots of people told him he looked exceptionally cute in his hat and scarf.
Hollywood! La la la la Hollywood! Walkers were led past Muppets 3D, Monsters, Inc Mike & Sully to the Rescue (Sully and Boo were outside) continuing along past Hyperion Theatre and backstage. The only cool thing I saw was a bumper car from Tuck'n'Roll's Drive 'em Buggies. It was a short very short like 3 apples high Smurf height kinda short time backstage. Once we came back onstage we were in Flik's Fun Fair and somehow I had lost my party.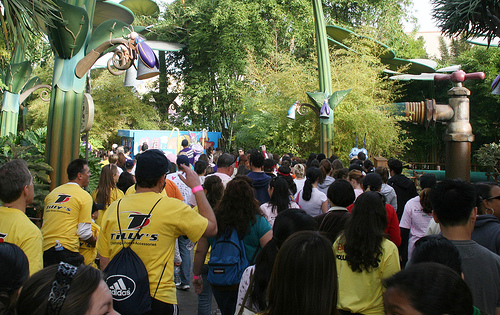 Unfortunately, my amigas and I don't have a cool way of calling out for each other if we get separated. I suppose we should work on that.
Once I caught up we were directed out of Flik's Fun Fair and towards Paradise Pier. Now here's something I still haven't figured out. We saw lots of people walking around Paradise Pier, near the Orange Stinger and the Maliboomer, you know, walking the walkathon. Only when we got to the point where we'd head left up the pier we were sent right in the direction of Grizzly River Run.

I have no idea what these kids were singing because I haven't seen High School Musical 2. I know, I know, I'm a bad Disney fan.
Before you knew it we had exited CA Adventure into Downtown Disney via a secret entrance near CA Soarin'. This is where people got really confused. I knew to keep walking because I'd been there done that and kept on trucking till we saw this guy.

Beyond that I knew there would be tables from the various sponsors. The girls and I split up…OK I wandered off on my own resulting in Drina, Jen, Kathy, and Yoli to wonder where I'd gone. When we caught up I was reprimanded and forced to wear a balloon tied to my camera backpack. They thought they were clever but it was the same balloon every other kid had.
This is the 5th time that Disneyland Resort has served as the location for the walk thus it's full name, CHOC/Disneyland Walk in the Park. It felt very well organized and I'd like to thank the custodial staff for having the restrooms open and sparkling clean. If you are interested in taking part in this awesome fundraiser or to learn more about Children's Hospital of Orange County please check out their website. The dates for 2008 have not been announced yet.
Thank you all for reading my blog. I enjoyed not only participating in the walk itself but being able to help kids who need medical care now and who in the future, will offer us "old" people Senior Citizen discounts at Disney parks.