We made another trip to Disneyland on the afternoon/evening of Friday, August 17…thought I'd share a few observations…
With the "Year of a Million Dreams" extended through 2008 (doesn't that make it "Years of a Million Dreams?" the banners in the main entry plaza have changed…and the letters in front of DCA that spell out "CALIFORNIA" now have a blue-sky-and-clouds look, like the "Dream" mouse ears.
The waits for most attractions were less than an hour (15 minutes for Indy, 5 for Pirates, 10 minutes for Buzz, etc.), but Finding Nemo was still two hours.
This was a first for us – the standby line for Big Thunder Mountain was shorter than the Fastpass Return line! Since the attraction loads on two sides they send Fastpassers to one side and standby riders to the other, so we got on faster than a lot of people who had Fastpasses!
We saw the Ratatouille "pre-parade" float with Remy and Emile – since it doesn't fit into the Parade of Dreams it gets to be its own mini-parade.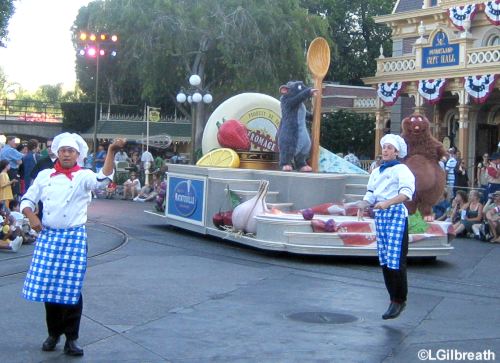 On our raft ride over to Tom Sawyer Island at about 4:25 we saw one of the Pirate Stunt Show characters climbing up to the "crow's nest" waiting to make his grand entrance – which was still about 10 minutes away. I recognized this particular actor as one that had been playing Jedi Master Endo Valaris in Jedi Academy…from Jedi Master to Pirate…guess he went over to the Dark side!
The Disney Gallery (above the Pirates of the Caribbean) is closed, which means no more Fantasmic! dessert buffet on the balcony…but Riverside Premium seating for Fantasmic! is still available.
Disney's new High School Musical 2 movie premiered Friday night, and a new street show at DCA, High School Musical 2: School's Out, opened on Saturday, replacing the High School Musical Pep Rally.
The three towers at the Disneyland Hotel now have signs over the entrances with their new names: Magic (formerly Marina), Dreams (formerly Sierra) and Wonder (formerly Bonita). The hotel map signs scattered around the property have not yet been changed to reflect the new names, though.
We had dinner at Hook's Pointe (review to come) – Lee noticed that there's a map of Never Land on the ceiling.
The Fantasy Waters show at the Disneyland Hotel has been gone for a while, but the fountains and lights still put on a little bit of a show – we seem to have been there at just the right time to see it.
Until next time…
Laura