Well, ok…make that Disney's Electrical Parade, now that it's at Disney's California Adventure and not Disneyland.
But it's still a "spectacular festival pageant of nighttime magic and imagination in thousands of sparkling lights and electrosynthomagnetic musical sounds!"
These days it runs at DCA during peak seasons, which generally means the two weeks around Easter, mid-June through Labor Day, and about three weeks during the Christmas holiday season.
We saw it on a recent Friday night visit – there were a fair number of people waiting in the area around Sunshine Plaza, but about 10 minutes before it started we walked up the parade route to a spot near the Golden Dreams Theater and had a front-row seat right on the edge of the parade route. We also saw the parade a lot earlier than all those people who were at Sunshine Plaza, since it starts at Paradise Pier and ends in Sunshine Plaza.
Soon enough the lights dimmed and we heard the first strains of that very bouncy Baroque Hoedown. Makes me smile just thinking about it. The Electrical Parade is by far my favorite – SO much better than SpectroMagic! (And I know there's at least two people out there who agree with me!) Lee leaned over partway through the parade and asked me what happened to the scary clowns, but nope, there's nothing creepy about the Electrical Parade – it's all whimsical and fun.
One thing we'd never noticed before is the music coming from the spin-around turtle, bees, and snail. They actually have their own "electrosynthomagnetic musical sounds", sort of a slower, deeper, more plodding-paced one for the snail, and a higher-pitched, faster snippet for the bee. I thought I recognized a bit of the melody for "Golden Afternoon" from Alice in Wonderland in there. For some reason I'd never really noticed the Cheshire Cat on the front of Alice's float – he fades in and out, so maybe he's just usually faded out when I see him!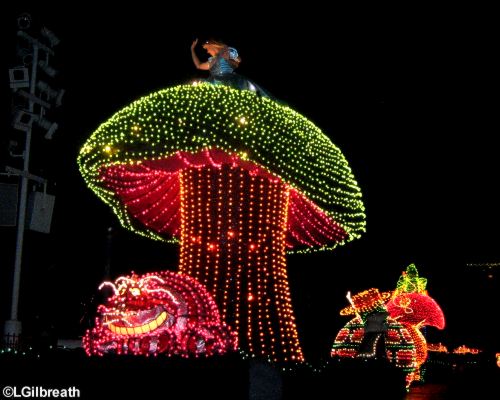 When I told someone at work that we'd seen the Electrical Parade he asked me if they'd switched it to using LED lights yet. Gasp! I was horrified! It wouldn't be the Electrical Parade if they didn't use light bulbs, would it???
Laura