Star Wars Weekends
Disney's Hollywood Studios
UPDATE 4/11/14: A new VIP tour experience will be introduced for this year's Star Wars Weekends at Disney's Hollywood Studios. For $499 plus tax, per person, you can have special access to Star Wars Weekends activities, expedited access to attractions, a private continental breakfast, table service lunch, and a VIP Viewing and Dessert Party for the new Symphony of the Stars Fireworks.
 Call 407-934-7973 to reserve this experience. Space is limited.
STAR WARS WEEKENDS -- Since 1997, Walt Disney World has sponsored a series of special Star Wars Weekends in the Disney's Hollywood Studios theme park. Activities normally include celebrity appearances, as well as trivia contests and prize give-aways, Star Tours "ride-a-thons," and a Star Wars Cantina street party, complete with a live disc jockey.
During Star Wars Weekends, celebrities from all the Star Wars films are on hand for motorcades and star conversations, as well as autograph sessions. Actors featured over the years include Jake Lloyd (young Anakin Skywalker), David Prowse (Darth Vader), Kenny Baker (R2D2), Peter Mayhew (Chewbacca), and Anthony Daniels (C3PO) among others. Lots of costumed characters, from Luke Skywalker and Queen Amidala to Ewoks and Jawas, can also be found milling about the park, with plenty of opportunities for Star Wars fans to meet and greet them.
2014 STAR WARS WEEKENDS
2014 Star Wars Weekends will be held every weekend
(Friday, Saturday and Sunday) from May 16-June 15, 2014.

Weekend I: May 16 - 18, 2014

Weekend II: May 23 - 25, 2014

Weekend III: May 30 - June 1, 2014

Weekend IV: June 6 - 8, 2014 -

For the first time in event history, Mark Hamill, the actor who brought Luke Skywalker to life in the original Star Wars films, will appear at this year's Star Wars Weekends. Hamill will be one of the celebrity guests for Weekend IV, June 6-8, 2014. Fans can see him in the daily "Legends of the Force" Star Wars-themed motorcade and in a featured talk show.

Weekend V: June 13 – 15, 2014
James Arnold Taylor will return to Star Wars Weekends 2014 as the event's official celebrity host. Taylor, a Star Wars Weekends fan favorite, is the voice of hundreds of animated characters, including Obi-Wan Kenobi on "Star Wars: The Clone Wars."

The theme for this year's event is "Join the Rebellion."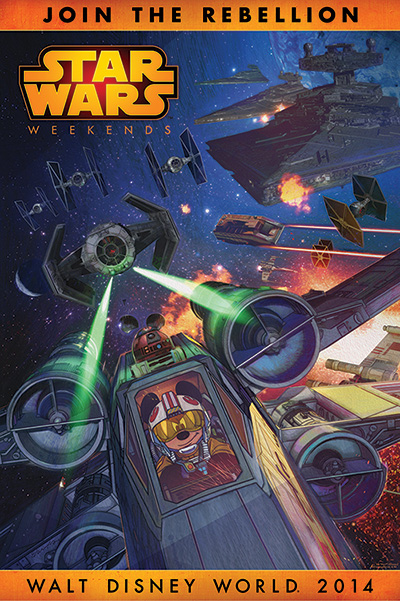 The Rebel Rendezvous, a ticketed merchandise event, will kick off Star Wars Weekends on Thursday, May 15, at 10 a.m. at Disney's Hollywood Studios. Attendees will receive:
Exclusive access to Darth's Mall one day before it opens to the public
A limited edition recruitment pack with items like a custom messenger bag, cadet hat, tumbler, lanyard, pin and medal set
Preferential opportunity to purchase select 2014 Star Wars Weekend merchandise
Special meet and greet opportunities with characters and Disney artists
Register for the event at www.DisneyParksMerchandise.com.
SPECIAL DINING: From May 4 to June 15, 2014, at Disney's Hollywood Studios, Star Wars-themed character meals will be offered at Hollywood & Vine for dinner and Sci-Fi Dine In for breakfast.
-- Jedi Mickey's Star Wars™ Dine at Hollywood and Vine -- The Fantasmic! dinner experience at Hollywood and Vine has been transformed into a Star Wars™ themed venue where Mickey, Minnie, Donald, Goofy, and Chip & Dale will all be dressed as their favorite Star Wars™ characters (Jedi Mickey, Princess Leia Minnie, Darth Goofy, Stormtrooper Donald, and Ewoks Chip & Dale). The characters will meet and greet and interact with Guests throughout the evening.
Times: 4:15 to 8 or 8:30 p.m. (sometimes 9 to 9:30 p.m. based on park close)
Price: Adult - $59.99 with Fantasmic! Package or $55.99 without; Child - $36.99 with Fantasmic! Package or $32.99 without
A digital photo of the party with the Ewoks Chip & Dale on a commemorative PhotoPass card is included.
-- Star Wars™ Dine-In Galactic Breakfast -- The Sci-Fi Dine-In Theater becomes the Star Wars™ Dine-in Theater for this character dining experience. Characters include Stormtroopers, Jawa, Greedo, and Boba Fett and a Darth Vader Meet & Greet after check-in. Additionally, the traditional Sci-Fi clips shown in the restaurant will be replaced with Star Wars™ clips, trailers and music.
Times: 8 a.m. - noon
Price: Adult - $47.99; Child - $29.99
A digital photo of the party on a commemorative PhotoPass card is included.
These Star Wars-themed meals are available for booking now at 407-WDW-DINE or online at disneyworld.com/dining
TOURING TIPS
CLICK HERE for AllEars® Readers' Star Wars Weekend Tips!
Star Wars Weekends activities are included with regular Disney's Hollywood Studios admission.
If you plan on attending any of the Star Wars Weekends, be sure to arrive at the park early. Although the official park opening time is 9 a.m., you will be allowed into the park around 8:30. You will not be able to get over to the Star Tours area until the official rope drop at 9, though.
Information Desk for the event is usually located at the entrance to the event area, across from the former Drew Carey: Sounds Dangerous. This will be the place to have all your event questions answered and to sign up for different Trivia contests.
Many children, and even some adults, dress in Star Wars costumes for the event -- this might be something to consider to add to the fun.
KIDS AND CHARACTERS
Many costumed characters circulate throughout Disney's Hollywood Studios during Star Wars Weekends, presenting lots of great photo opportunities.
This is a listing of characters that may appear during Star Wars Weekends:
Ahsoka
Anakin Skywalker
Aurra Sing
Boba Fett
Cantina Band
Chewbacca
Clone Troopers
Darth Maul
Darth Vader
Ewoks
Gamorrean Guard
Jango Fett
Jawas

Jedi Mickey
Kit Fisto
Leia Minnie
Mace Windu
Princess Leia
Luke Skywalker
Queen Amidala
R2-D2
Shaak Ti
Stormtroopers
Stormtrooper Donald
Tusken Raiders
Vader Goofy
Zam Wesell
Check your daily Guide Map for the best times and locations to meet these characters.
---
Weekend Highlights
Jedi Training Academy (Star Tours Stage): Each young Padawan who is chosen will learn a lightsaber combination as they prepare to face the dark side. Check Times Guide for show times, but show times for May 17-19 are as follows:

8:45am; 9:20am; 10:05am; 10:35am; 12:00pm; 12:30pm; 1:00pm; 1:30pm; 2:00pm; 2:30pm; 3:00pm; 3:30pm; 4:00pm; 4:30pm; 5:00pm; 5:30pm; 6:30pm; 7:00pm; 7:30pm
Legends of the Force Motorcade and Celebrity Welcome: Marvel at a grand motorcade featuring a galaxy of your favorite Star Wars characters and five Star Wars celebrities. The motorcade begins at the front of the park and travels to the Star Wars Weekends Event Stage, concluding with a grand celebrity welcome. Motorcade begins near Main Entrance 11 a.m. Celebrity Welcome at Star Wars Weekends Event Stage 11:15 a.m.
Hyperspace Hoopla: This high-energy, one-of-a-kind show is a chance to see some of the famed Star Wars characters performing like never before. It will take place on a stage in front of the Sorcerer Mickey hat on Hollywood Blvd., and is scheduled to begin at 8 p.m. each event evening.
Autograph Opportunities: As always, there is no additional charge for the celebrity autograph sessions at Star Wars Weekends. The autograph lines will once again be handled via a FASTPASS-type system. An extremely limited number of FASTPASS tickets are distributed on a first-come, first served basis at Disney's Hollywood Studios main entrance, to the right of the turnstiles. Distribution may begin prior to Park opening based on demand. You must have a FASTPASS ticket to receive an autograph. To receive a FASTPASS ticket:
Join the line of the celebrity you would most like to meet. You may not save a place in line for other party members.
While in line, you will receive a wristband. Your Theme Park admission media and wristband allow you to receive one FASTPASS ticket. Only one autograph FASTPASS ticket per Guest. Each Guest must be present to receive a FASTPASS ticket. You may not get FASTPASS tickets for other members of your party.
After receiving your ticket, continue to wear your wristband. You will need to be wearing your wristband to get an autograph. Your FASTPASS ticket will have a designated autograph return time. Until that time, you may enjoy other Star Wars Weekends activities.
At your designated time, proceed to the Celebrity Autograph Location at Echo Lake to show your wristband and present your FASTPASS ticket. Once FASTPASS tickets for visiting celebrities are distributed, we may distribute a limited number of stand-by tickets with a return time. Stand-by tickets do not guarantee you an autograph.
Behind the Force: Star Wars Voices: At the Premier Theater. Listen closely as host Ashley Eckstein, the voice of Ahsoka Tano from Star Wars: The Clone Wars, along with two very special Clone Wars co-stars reveal the fascinating art of voice acting utilized throughout the Star Wars saga and beyond. . Showtimes: noon & 1:45 p.m.
Stars of the Saga: At the Premier Theater. Kick back with Star Wars Weekends host James Arnold Taylor as he puts on this entertaining and often surprising 30-minute, Star Wars -themed talk show. Experience the fascinating life and movie-making adventures of two Star Wars celebrities. Showtime: 3:30 p.m.
Visit to the Maul starring Ray Park: At the Premier Theater. Learn film and martial arts techniques from the actor who brought Darth Maul to life -- the man, the Sith, the legend, Ray Park. In this unique presentation, the martial arts master performs impressive demonstrations as he reveals his journey to action-star fame. Showtime: 5 p.m.
Obi-Wan and Beyond starring James Arnold Taylor: At the Premier Theater. Feel the force flowing as James Arnold Taylor takes his audience on a fun and fascinating journey into the world of voice acting. In this Star Wars Weekends exclusive, James performs over 200 popular and iconic characters. Showtime: 6:30 p.m.
Padawan Mind Challenge: Star Wars Weekends Event Stage. Join a pair of wacky intergalactic hosts, and a few other Star Wars surprises, as they provide two fun and interactive Star Wars trivia challenges, featuring younglings ages 4 to 11. Watch as they wield their mental force alongside a popular Star Wars character. The Challenge begins at 2:10 and 4:30 p.m. Signup begins at Park open in front of ABC Sound Studio. Space is limited.
Darth's Mall: Blast into Star Wars Weekends 2013 with limited edition pins, artwork and collectibles, plus limited release apparel for the entire family! Authentic Star Wars Weekends collectibles, must-have merchandise, and special artist signings and book signings can be found at Darth's Mall located in the courtyard between Rock 'n' Roller Coaster Starring Aerosmith and The Twilight Zone Tower of Terror .
The Star Wars – D-Tech Me experience returns for Star Wars Weekends at Disney's Hollywood Studios 2013. The experience will be located inside Darth's Mall, the themed merchandise destination located in the courtyard adjacent to Rock 'n' Roller Coaster Starring Aerosmith. This year, Disney is bringing back the popular "cast yourself in Carbonite" option that was inspired by a scene from Star Wars: Episode V The Empire Strikes Back. A new option features the elite soldiers of the Galactic Empire, the Stormtroopers. The 10-minute experience uses the world's highest-resolution, single-shot 3D face scanner created by Imagineering scientists with Disney Research labs. That captured image is later sent to a high resolution 3D printer to create the figurine. The completed figurine will arrive within 4-6 weeks after the experience if shipping domestically (it takes a little longer if shipping internationally). Guests will also receive either a Carbon-Freeze Me light-up band or a collector button depending upon which option they choose. The Star Wars – D-Tech Me experience is $99.95, plus shipping and applicable sales tax. To book your experience, call 407-WDW-TECH (407-939-8324) to ask about availability. The experience will only be offered during Star Wars Weekends 2013. Please note: Separate theme park admission required for Disney's Hollywood Studios. No discounts apply unless otherwise noted. Guests must be at least 3 years old to participate. A valid accepted credit card number is required at time of booking. No-shows or in the event a reservation is cancelled within 48 hours of scheduled experience will result in such credit card being charged a $25 cancellation fee. The experience, due to its personalized nature, is non-refundable and not eligible for an exchange. Children must be accompanied by an adult at least 18 years of age or older during the entire experience. Certain restrictions may apply. All prices, components and information are subject to change without notice.

If you have comments or tips to share with others about Star Wars Weekends at Disney's Hollywood Studios, please email me. Thank you.