TOURING
AT A GLANCE...
COMMISSARY LANE
HOLLYWOOD BLVD.
SUNSET BLVD.
ECHO LAKE
STAR WARS:
GALAXY'S EDGE
- LATE FALL 2019!
ANIMATION COURTYARD
ENTERTAINMENT
SPECIAL EVENTS
DISNEY'S HOLLYWOOD
STUDIOS ARCHIVES
OTHER WALT DISNEY WORLD
THEME PARKS
OTHER DISNEY THEME
PARKS
Disney's Hollywood Studios Archives

Honey, I Shrunk the Kids
Movie Set Adventure

New York Street
Disney's Hollywood Studios
The Honey, I Shrunk the Kids Movie Set Adventure will close April 2, 2016, to make way for additions to Disney's Hollywood Studios, including the announced Star Wars and Toy Story Lands.
Introduction | Attraction | Touring Tips | Kids and Characters
Dining | Shopping | Interesting Facts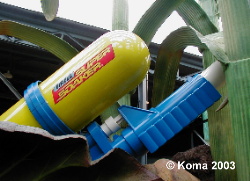 INTRODUCTION
This interactive kids' playground, located just off New York Street on the far right, is home to larger-than-life props from the hit movie. Scale super-sized anthills and spider webs, crawl in and around a can of Play-Do or slide down an abandoned film canister, and dodge the drips from the biggest leaky Super Soaker you've ever seen!

ATTRACTION
Basically a place for kids to blow off some steam and cool off, this play area features some intriguing props from the Honey, I Shrunk the Kids movie. The flooring is a spongy mat-like material to prevent bad bumps while the children can attack a variety of physical challenges amidst 30 foot tall blades of "grass":

Large, chattering ants that you can ride on
Convoluted anthills and mazes to explore and hide in
A spider web/maze with climbing ropes
A slide made to look like a canister of Kodak film
A giant sniffing dog nose that sprays mist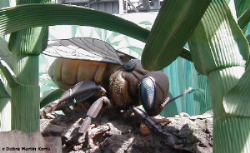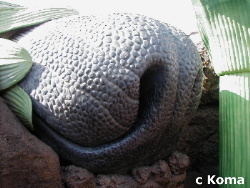 TOURING TIPS
The Honey, I Shrunk the Kids Movie Set Adventure is for children 4 years and older. Smaller adults may be able to move around in the tunnels and slides, but the areas really are scaled for children.
There's a map at the entrance of the playground to help you figure out just which areas you want to explore!

Be sure not to miss the sniffing dog's nose! But beware - he also snorts!

There's no time limit at this attraction - the hardest part may be coaxing your child out of the play area!

Don't panic if you exit the playground and you can't find your stroller! The Cast Members often have to move strollers and relocate them at this attraction. Just ask a CM where your stroller might be.

This attraction is wheelchair/ECV accessible, but would be very difficult to navigate.
KIDS AND CHARACTERS
There are no characters associated with this attraction. Check your Times Guide for times and locations of Character Meet and Greet opportunities around the Disney's Hollywood Studios.
DINING
The Studio Catering Co. is adjacent to the Honey, I Shrunk the Kids playground, but its opening is frequently alternated with other counter service restaurants in the park. You may have to look for snacks elsewhere.
SHOPPING
There is no shopping area in the immediate vicinity of the Honey, I Shrunk the Kids playground.
INTERESTING FACTS
The Honey, I Shrunk the Kids Movie Set Adventure opened at the Disney's Hollywood Studios on December 17, 1990.

The blades of grass in this playground are 30 feet tall.

The soft play surface used throughout this play area is also used in the Animal Kingdom's play area The Boneyard in DinoLand.

References to the "Honey, I Shrunk…" movie trilogy can also be found in Epcot's Honey, I Shrunk the Audience and Journey into Your Imagination attractions.
If you have comments or tips to share with others about Disney's Hollywood Studios' Honey, I Shrunk the Kids Movie Set Adventure, please email us. Thank you.