TOURING
AT A GLANCE...
COMMISSARY LANE
HOLLYWOOD BLVD.
SUNSET BLVD.
ECHO LAKE
STAR WARS:
GALAXY'S EDGE
- LATE FALL 2019!
ANIMATION COURTYARD
ENTERTAINMENT
SPECIAL EVENTS
DISNEY'S HOLLYWOOD
STUDIOS ARCHIVES
OTHER WALT DISNEY WORLD
THEME PARKS
OTHER DISNEY THEME
PARKS
Stars and Motor Cars Parade

Disney's Hollywood Studios
Archives
The Stars and Motor Cars Parade at Disney's Hollywood Studios was last performed on March 9, 2008.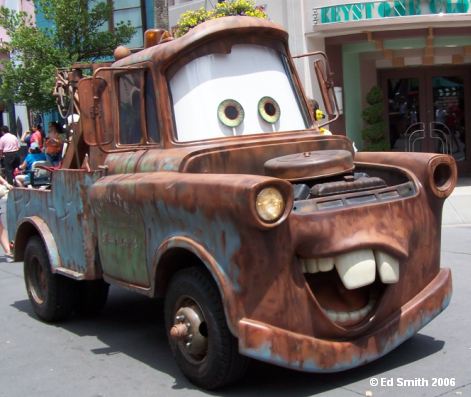 Introduction | Attraction | Touring Tips | Kids and Characters | Interesting Facts
Disney's Stars and Motor Cars Parade in Disney's Hollywood Studios was introduced in conjunction with the 100 Years of Magic Celebration, the year-long celebration of the 100th birthday of Walt Disney.

ATTRACTION
DISNEY'S STARS AND MOTOR CARS PARADE: Disney's Hollywood Studios stars join together in a celebrity cavalcade that features custom cars honoring Walt Disney's movie-making career. Celebrities from television and the silver screen take over the streets during this interactive parade. Aladdin and Jasmine, Luke Skywalker, Power Rangers, Miss Piggy, Mary Poppins, Mickey Mouse and others all are on hand.

Walt Disney, who got his start in motion pictures, is honored in a pre-show that pays homage to his pioneering creativity. Commentators along the parade route will share Walt wisdom as the parade makes its way through the park. More than a dozen stars ride in customized cars, many of them vintage models:
-- The newest addition to the parade are the cars from the Disney/Pixar movie Cars -- Lightning McQueen, the bright red race car (left), and Mater, the tow truck, pictured above.
-- The Power Rangers joined the parade in spring 2005. Five generations of Power Rangers -- consisting of Time Force, Ninja Storm, Wild Force, Dino Thunder and Space Patrol Delta Power Rangers -- ride in the parade in a sleek, black roadster with lightning bolts streaming from the hood and a giant fan arching over the trunk.

-- The Monsters, Inc. car features Sulley and Mike Wazowski, atop a bright red car with the company logo.

-- The Toy Story car is a whimsical car in the shape of Andy's bed features Buzz Lightyear and Woody, along with Bo Peep, Jessie, Mr. Potato Head and the Green Army Men.


| | |
| --- | --- |
| | |
-- The Mary Poppins car is a carousel of fun, with Mary Poppins, Bert and Dancing Penguins strolling down the street. The colorful car is topped with old-fashioned dancing carousel horses.

-- The Muppets car has Kermit the Frog, Miss Piggy and Sweetums "floating" along. A giant balloon balances over this unit.

-- The Star Wars Unit features Luke Skywalker and Princess Leia "flying" through the parade aboard their space travel machine. Walking nearby are Darth Vader and R2D2.

-- The Mulan vehicle features Mulan and friends under a giant dangling Chinese umbrella. Mushu and the Chinese Warriors walk side-by-side, escorting the courageous victor down Hollywood Boulevard.

-- The Aladdin unit carries Aladdin and Jasmine atop the Genie vehicle. Harem Girls also dance down the parade route.

-- The Hercules car splashed with thunderbolts carries Hercules, while Phil, Pain and Panic stroll alongside.

-- The Evil Villains follow with this 'wicked' float. From Hades to Cruella De Vil to Jafar, the Wicked Queen and Frollo, these scoundrels keep each other company atop a stretch limo -- painted black, of course.
-- Lilo and Stitch follow in a float covered with surf boards and palm trees.

--The Mermaid Unit celebrates the sea with Ariel and Sebastian, seashells, seahorses, and other favorite under-the-sea attendants.

-- The Playhouse Disney friends include Bear, Stanley, Treelo, and P and J Otter inside a big blue house car. JoJo and Goliath also walk along with the parade now.

-- Snow White & Dopey travel in a tribute to Walt Disney's first Oscar.

-- The Grand Marshal Unit gives guest riders the opportunity to "feel like a star."

-- The Finale is a 1929 Cadillac, with Mickey, Minnie and friends. Other characters interacting with guests include Alice, White Rabbit, Pinocchio and Geppetto.
TOURING TIPS
The Stars and Motor Cars Parade lasts about 25 minutes and is performed daily in the late afternoon.

Parade Route: The parade steps off at the Star Tours gate, travels down Hollywood Boulevard and exits near the front of the park at Crossroads.
Viewing Spots: A good place to view the parade is at its beginning, at the Star Tours gate. Another good spot is near Sid Cahuenga's, down the side, where the parade exits.
Streetmosphere performers are stationed at various points along the parade route to act as "emcees."

KIDS AND CHARACTERS
This parade is meant to be interactive, with guest participation. There are many walk-around characters who will stop and shake hands with guests along the parade route. Seven guests are selected each day to act as Grand Marshals or carry banners near the end of the parade.
Disney's Hollywood Studios Characters At A Glance
Character Meet and Greet FAQ!
INTERESTING FACTS
This parade debuted officially on October 1, 2001, as part of the 100 Years of Magic Celebration. It ended its run in March 2008, when it was replaced by the Block Party Bash, which was imported from Disney's California Adventure.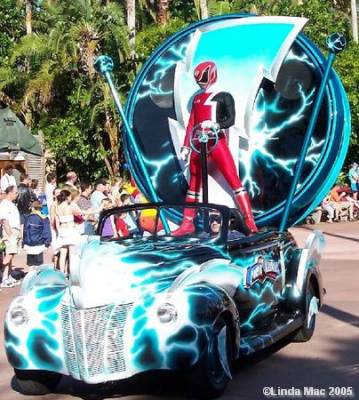 The parade featured15 cars and 2 motorcycles. Cars changed over the years -- the Power Rangers, Monsters, Inc., and Lilo and Stitch cars, for example, were not original.

There were about 60 character performers and 18 drivers in the parade.

The parade's musical score was orchestrated by Gordon Goodwin and recorded in Los Angeles.

The parade costumes were designed by Douglas Enderle and created at Walt Disney World Creative Costuming.

Walt Disney was infatuated with parades from the time of his youth in Missouri. "When the circus came to [Kansas City]," chronicles author Bob Thomas in Walt Disney: An American Original, "Walt followed the parade from beginning to end, his sister Ruth striving hard to keep up with him. He devised his own circus parade, enlisting Ruth and the neighborhood children to help decorate floats atop play wagons."

If you have comments or tips to share with others about touring Disney's Hollywood Studios, please email us. Thank you.