TOURING
AT A GLANCE...
COMMISSARY LANE
HOLLYWOOD BLVD.
SUNSET BLVD.
ECHO LAKE
STAR WARS:
GALAXY'S EDGE
- COMING IN 2019!
TOY STORY LAND
- OPENING JUNE 30, 2018!
(Currently PIXAR PLACE)
ANIMATION COURTYARD
ENTERTAINMENT
SPECIAL EVENTS
DISNEY'S HOLLYWOOD
STUDIOS ARCHIVES
OTHER WALT DISNEY WORLD
THEME PARKS
OTHER DISNEY THEME
PARKS
Disney's Hollywood Studios Archives

The Legend of Captain Jack Sparrow
This attraction began "soft openings" November 17, and officially opened December 6, 2012. This attraction closed for good on November 6, 2014.
Pre-Show area - Pirate Skull sets the stage for what you will see next. (approx 3-4 minutes)

Show: Do you have what it takes to sail with Jack Sparrow? (approx 8 minutes)
---
First Look: November 8, 2012
Guests will journey deep into an eerie lost grotto, where a mysterious pirate skull puts them to the test to see if they have what it takes to set sail with the legendary Captain Jack Sparrow. Along the way, they must face all the perils of a pirate's life as their favorite moments from the films come to life before their eyes.
The new walk-through attraction will open December 6, 2012.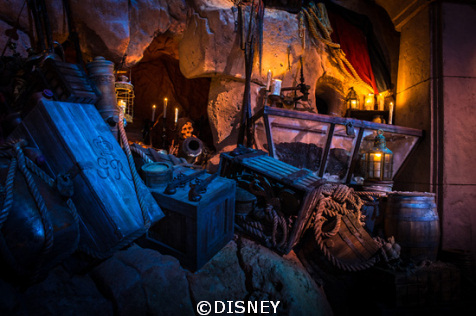 It is expected that the new attraction will be in Soundstage 4, the location which formerly housed Journey into Narnia. An exact opening date for the attraction will be announced later this year.
The Legend of Captain Jack Sparrow will give guests a chance to become immersed in the world of the four "Pirates of the Caribbean" films. According to Jason Roberts, show producer for Walt Disney Imagineering, "This is going to be an immersive experience. We'll really delve into the story of Captain Jack Sparrow and put our guests in the middle of it all in new and exciting ways. Story is always the most important thing for us at Walt Disney Imagineering, but we're always looking at new ways to tell the story that our guests have never seen before. In this attraction, we'll let you walk in the footsteps of Jack Sparrow It's not 'the making of,' not 'behind the scenes' ... it is really a first-person experience. We worked with the archives as well as the filmmakers while they were shooting the last movie. And as a fan, I just loved sitting through those films again and again, going through all the details and leveraging them for this new experience. It's really been a blast."